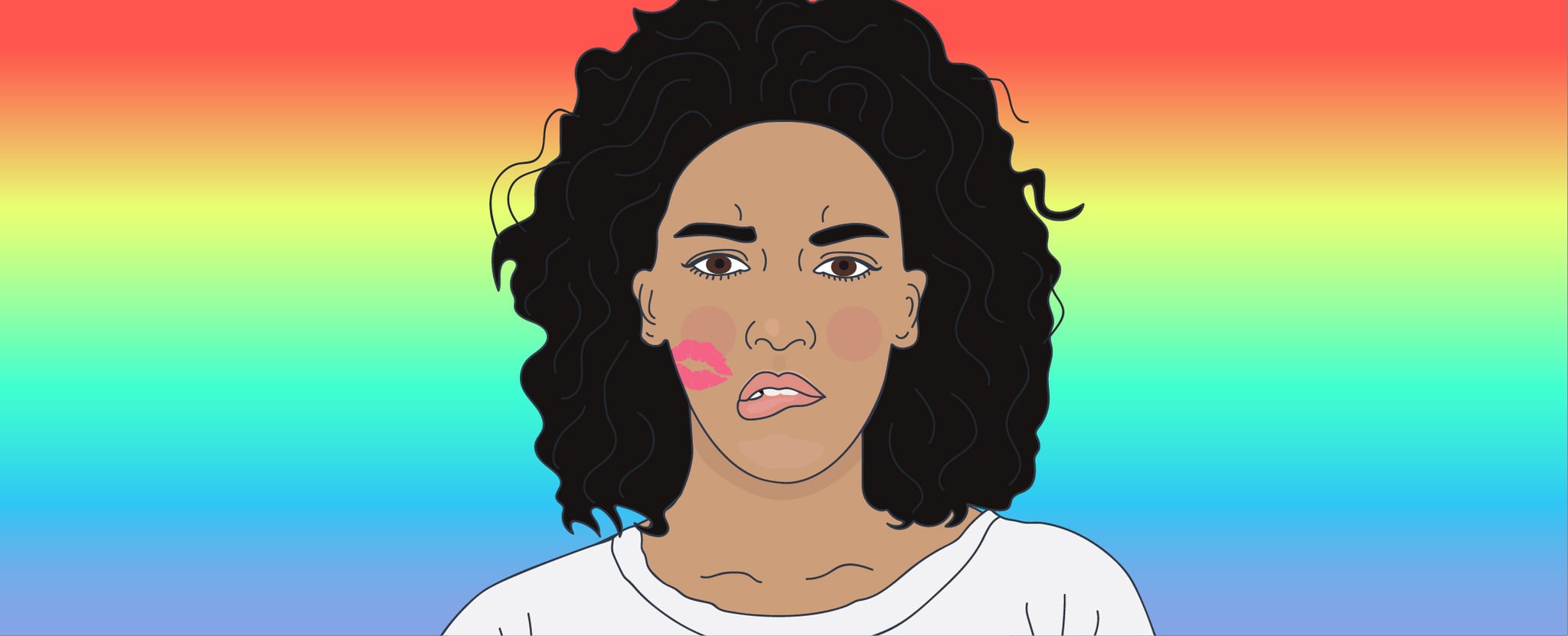 Image Source: Illustrated by Hannah Parker
Lesbians in Beauty Industry Stereotype
The Invisible Double Standard of Being Gay in the Beauty Industry
Editor's note: this story has been changed from its original version.
It was a balmy August evening. I was sitting across from a publicist friend, waiting for my tuna tartar in full anticipation of the inevitable question: "So, who are you dating these days?"
The truth? I was dating a woman — my first since ending a four-year relationship with my college boyfriend. Not that I told her that. "Oh, you know, just dating around," I replied.
Part of me wanted to share. But there was another, far stronger pull happening inside of me: to keep quiet, especially because nobody else in the beauty industry was out. Years later, after slowly explaining to colleagues, friends, and my family that I date both men and women, I started to wonder: when did being gay in the beauty industry become so exclusive to one gender, and why in the hell is no one talking about it?
When Not All Gays Are Created Equal
Ask a person — any person! — and they will likely have crossed paths with a nonheterosexual-identifying male hairstylist, makeup artist, or beauty retail associate at one point in their lives. No matter if it was once, many times, or only on social media, the fact of it remains: the same cannot be said about lesbians or bi women. Instead, those sitting at the opposite end of the spectrum (or really, even somewhere in between) have had to settle for the crumbs in terms of mainstream beauty inclusion.
Even now, as brands are beginning to embrace the LGBTQ+ community as a whole, gay women rarely receive the same measure of attention as gay men. "We see gay men in fashion all the time — it's so normal," said model and beauty vlogger Cassandra Bankson, who came out on YouTube earlier this year. "But the second a woman comes out, it feels unknown or a little awkward. There's a definite fear in the industry."
To be clear, this is not to say that there are no exceptions — there are. Ellen DeGeneres broke a barrier when she came out in 1997 and landed a monumental cosmetics contract with CoverGirl 11 years later. And since then, small groups of individuals like Bankson have been open about their sexuality. Still, seeing as how women take up half of the 10 million people in the US who identify as LGBTQ+, the lack of representation in beauty begs the question: where is everybody else?
"It's actually been surprisingly easy to connect with other queer women in the industry," explained Rachel Winard, founder of Soapwalla and a self-identified gay woman. "However, many are not out. Without speaking for them or their experiences, I wonder if it's partly due to the larger idea of what beauty looks like, who values what's considered traditionally feminine, and the spaces that lesbians — vs. straight women and gay men — get to occupy."
"It's been surprisingly easy to connect with other queer women in the industry. However, many are not out." — Rachel Winard.
How the Industry Keeps Women Quiet
In many instances, it's not unusual to keep your work and personal life completely separate. Your boss needn't know whom you're dating, when, or why, so long as it doesn't affect your day-to-day responsibilities. But in the beauty industry — a field that relies heavily on social media and often requires the editors, executives, and influencers within it to sustain a public persona — these lines can become blurry.
So where does the fear start? Loni Venti, the editorial director at Ipsy and a former magazine beauty editor, experienced firsthand the criticism that comes with publicly identifying as bisexual. "I could be open at Cosmo and in my current position, but sadly, not every workplace was as accepting," she said. "I did experience discrimination for being bi throughout my career. The worst was at one of my first beauty editor jobs. Once my manager found out I was in a same-sex relationship, things became emotionally abusive. I was scared to go to work every day, but I loved working in beauty too much to quit. For years, I stopped speaking about anything personal. If someone asked me if/who I was dating, I would change the subject. It wasn't worth potentially enduring that all over again."
It's that same trepidation that kept Bankson from coming out for nearly two decades. She, too, kept mum after an especially traumatic incident: "When you're a model, you end up changing in front of 20 other people backstage. I'd never really spoken about my sexuality, but I ended up coming out to a friend. That blew up in my face — I was dropped from the campaign because it made the designer and other women uncomfortable that a lesbian was backstage changing with everybody else. That taught me, years ago, do not open up."
Sometimes, though, the secrecy is strictly business. From a brand perspective, Bankson — who has a wildly popular YouTube channel — worried that the higher-ups at beauty companies wouldn't approve of working with a gay woman. "The corporate world, even in beauty, is run by older white, cisgender men," she said. "I was terrified they wouldn't understand what it means to be LGBTQ+." Before coming out, Bankson also feared persecution from her heteronormative-minded followers.
This is a reality Winard knows all too well. Even now, it's not uncommon for former Soapwalla customers to send her hate mail after learning she is an out lesbian. "My standard response is to look up the customer's purchase history, total up the amount they have spent at Soapwalla, and then donate that amount to an LGBTQ+ organization," she said.

As for why there is such a divide, the answer isn't so cut and dried. One theory is that self-identified lesbians are historically typecast as the masculine characters, making these women the obvious outliers in a field — like skin care or makeup — that has been so outwardly feminized.
"People have looked at me and said, 'You're too pretty to be a lesbian,'" Bankson recalled. "I'm like, What does that even mean? But in the '80s, people had this idea from the media that all lesbians looked like biker chicks or had tattoos or shaved heads, which, by societal standards, does not align into this idea of femininity that rules the beauty industry. But gay men can have longer hair, wear flowers, or put on a bright lipstick because those things are considered feminine in the eyes of the media."
While these stereotypes subsist on outdated standards of beauty, there may also be a deeper significance at play. "There are many facets to this, but one not-insignificant part has to do with misogyny and deeply held beliefs about what constitutes masculine and feminine," said Winard. "And lesbians don't fit the mold of what is 'sexy' or 'pretty' — or who they want to look good for — and that complicates simple binaries."
"The corporate world, even in beauty, is run by older white, cisgender men. Before I came out, I was terrified they wouldn't understand what it means to be LGBTQ+." — Cassandra Bankson
Breaking Down the Stereotype
Lesbian culture remains widely indiscernible to America at large, but the good news is that visibility in beauty is shifting — and brands are starting to realize that they, ultimately, must hold the pen that moves the needle. "It's a step in the right direction that corporations are embracing gender identities, presentations, ages, cultural backgrounds, and body sizes," Winard said, adding that now is a great opportunity to bring lesbians and bi women into the conversation.
There are a few big players in the industry leading the way. Milk Makeup, for example, is known for its inclusivity when it comes to representation in product campaigns. Fluide, a new start-up founded on creating a safe space for queer people in beauty, donates five percent of its profits to organizations that support the LGBTQ+ community, like the Sylvia Rivera Law Project.
"My biggest fear in coming out was that people wouldn't want to work with me," said Bankson. "That was not the case at all. Brands you might not even know to be Pride-friendly were reaching out, saying, 'Hey, we'd be interested in doing a campaign with you' or 'We'd like to learn the best way to approach this topic.'" (Among the companies that reached out were Pacifica Beauty, Glossier, Smashbox, and Ipsy.)
"My personal experience absolutely influences my decision to support the LGBTQ+ community in my work, as well as other marginalized groups and really all people who are fighting to be seen and heard," Venti said. "Even though it can be seen as a risk — since the community might interpret it as 'political' or, unfortunately, find LGBTQ+ content offensive — [Ipsy is] proud to create content that is inclusive. We have to advocate for each other, learn from each other, and hopefully grow together."
Adds Bankson, "If something is unknown, it's by default scary. Everything I did in my life was run by fear of rejection, but being quiet about who you are breeds guilt, shame, and discrimination. When it comes to the beauty industry, if we don't talk about it, then lesbians, transgender people, or gender nonbinary people will be further marginalized and not have an opportunity to express themselves. The world will be shut off from such a beautiful, colorful, and diverse community — and do we really want to let that happen?"
"Stop leaning on the cookie-cutter image of femininity. There are thousands of ways to be beautiful. Let's celebrate all of them." — Loni Venti