LilyAna Naturals Eye Cream on Amazon
This $18 Eye Cream Works Miracles, According to Amazon Reviews
As POPSUGAR editors, we independently select and write about stuff we love and think you'll like too. If you buy a product we have recommended, we may receive affiliate commission, which in turn supports our work.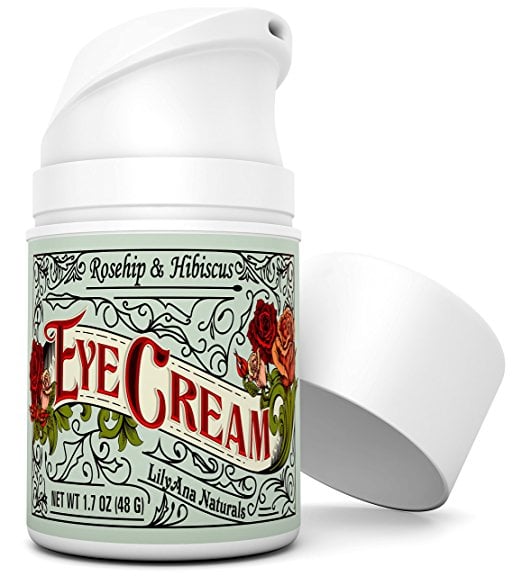 As a woman with chronically dark circles who came out of another woman who also has chronically dark circles, I always thought under-eye cream was sort of bullsh*t. Sure, there are steps you can take to brighten up things, such as sleep (duh), eating more vitamin K-enriched foods, and cleaning out your car. But for the most part, those pesky little bags are genetic. I always thought I was stuck with them — but after reading the reviews of one eye cream sold on Amazon, I'm not so sure.
LilyAna Naturals Eye Cream ($18) currently has an average of four-and-a-half (out of five) stars, as given by satisfied customers. The brand, which is perhaps best loved for its Retinol Cream, makes products that are cruelty- and paraben-free, contain no artificial colors or fragrances, and are USDA-certified organic. According to people who use and love the formula, the streamlined, nourishing ingredients are one of the reasons it works so well.
This eye cream is made out of vitamins C and E, rosehip oil, and hibiscus flower extract. That blend is responsible for hydrating, tightening, and firming the skin around your eyes, but it's gentle enough to be used all over your face and neck, if that's what you're into.
One thing reviewers consistently cite as the factor that sold them the most on this eye cream is the speed at which results start to show. As one wrote, "I LOVE this cream! I noticed a change in my eyes within days of using it. . . My puffy under eyes [have] started to deflate; my upper-lids [have begun] to lift; and my fine lines are fading."
Another person with psoriasis wrote that they use it as a full face cream to combat flare-ups. "It's not too thick, yet it is very moisturizing, and soaks in nicely." It helps that the formula is "thick, but not goopy," as one person wrote. "It does not irritate my sensitive skin."
Plus, at 18 bucks a jar, this stuff is further proof that you don't need to spend more than your ConEd bill on high-performing skin care. Score!