Makeup Artist Review of Glossier Lidstar
After 10 Years as a Makeup Artist, I'm Insanely Impressed With This Eye Shadow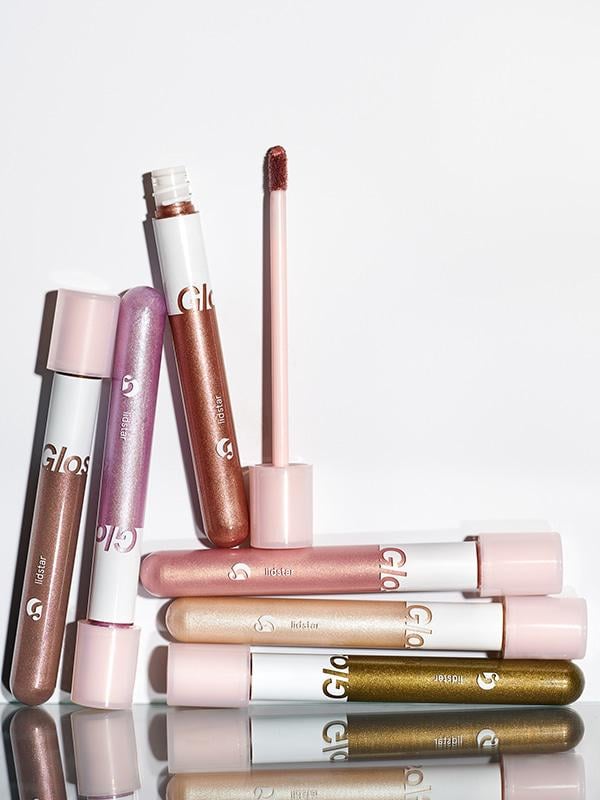 I'm somewhat of a groupie when it comes to beauty brands. While I've spent a decade as a makeup artist, I have my tried-and-true brands that I will almost always go back to, especially if the formulas have stayed the same or experienced minimal change. You will almost always find me carrying a item from Glossier (because of course), a lipstick from Chanel, and my skincare routine hasn't changed in over a year. I'll try anything once, but I'm a brand loyalist.
That being said, I will also hate on my beloved brands so hard if I'm disappointed. I turn into Regina George, and if I'm less than impressed with a product, you can be sure I'm giving it away to an unsuspecting and totally enthused coworker.
When it comes to Glossier's new eye shadow, Lidstar, I was skeptical . . . no wait, absolutely positive that this new item in their cult collection would be a dud. After all, their focus is on skin, and color products can sometimes take a backseat in brands that specialize in one silo of personal care. Nonetheless, being the beauty tramp that I am, I order the twofer deal and added Moon and Cub to my cart. Complete Order. We got your order (thank you!), and we're getting it ready to ship out.
I spent the next few days circulating through Glossier Instagram photos and stories, reading about how Beyoncé wore Fawn to the Grammys and obsessing over how I really couldn't see the shades well enough on each actress who debuted them at the Oscars. In my mind, I was already handing these over to my sister. Good luck, hope you like 'em!
I'm an idiot.
After delicately opening the classic Glossier box, and pulling the newly suctioned lid and doe foot applicator out of the first color Moon, I was already feeling guilty. Sure I'd seen and used many cream eye shadows, but this was not quite even that. This was like the love child of Chanel Illusion D'Ombre and Stila Shimmer & Glow Liquid Eye Shadow. The texture was oh so soft, and the colors were beautiful.
But what had me holding my breath in excitement? What had me talking crap to myself, about myself? The control. THE CONTROL, PEOPLE! Not only did this formula and packaging allow for easy application, it flirted with me. Just one dab, and I had sheer and subtle shimmer, just a glimpse into the romance. A few more dabs, and I had a very recognizable shade, and the lid coverage was perfect, like the ever reliable friend zone. As I kept layering, the product transformed into a high pigmented shadow with blending capabilities that left me wanting more.
It was like three products in one, and I could build on top of multiple shades to get a more personalized color. Also, this little sucker isn't breaking if you drop it on the floor, a fate that my Becca Opal Pressed Powder Highlighter suffered just last week. It's like the product development team at Glossier knew I needed a more reliable way to shade my lids, without the fear of fall out or creasing. Oh and you know what else? It lasts for six hours.
So what did I learn? Well I learned that as a Pisces, I'm way too emotional and judgmental about the small stuff. I also learned to remember Glossier has impeccable style and sense, and I'm a Lidstar lifer.