Q-Tip Beauty Hacks
Put Your Q-Tips to Work With These 18 Easy Beauty Hacks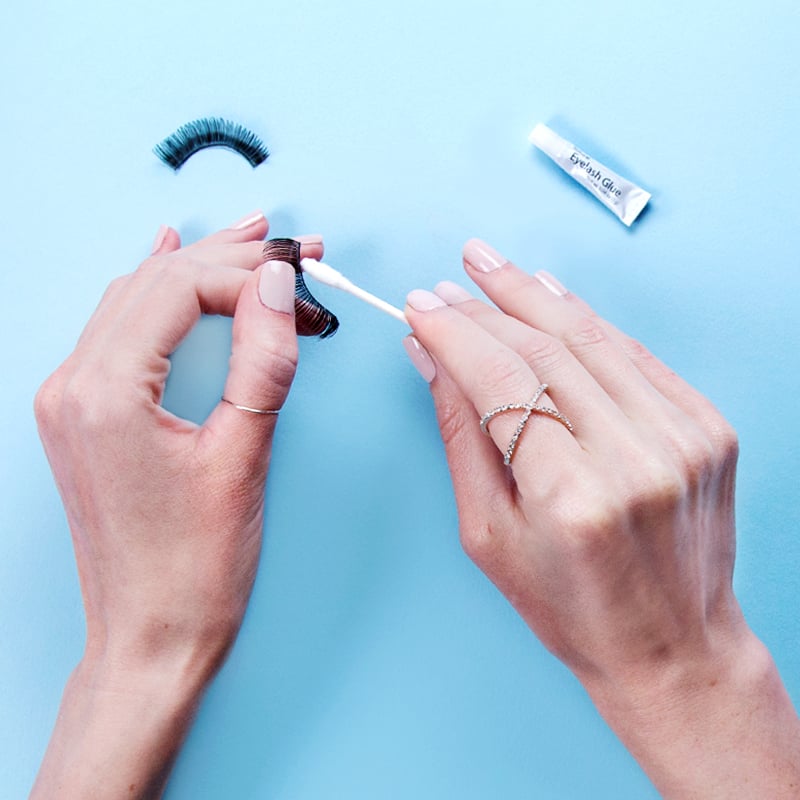 Cotton swabs have been a staple in our makeup bags since we were old enough to have a makeup bag. They've been responsible for many of our best beauty looks for years. From cleaning up our many cat-eye mistakes to buffing out a beautiful smoky eye, they've proven themselves useful time and time again. But they can do so much more than perfect eye makeup! The humble Q-tip ($5) can create a chiseled nose, hide a pimple, and even make mastering DIY nail art simple. Keep reading to learn just how many ways you can use this drugstore staple.
Shadow Packing Hack: Load up a few swabs with your favorite eye shadow before a trip, and store them in a plastic bag. This way, you can travel light and not have to worry about shattering your beloved palette in transit.
Softly Define Your Smile: Instead of using a hard line to define your lips (which can look severe), border them with a line made up of soft dash marks. Blend the dashes with a cotton bud to make your lips look naturally defined.
Restore Shattered Shadow: Pour the powdered remains of your shadow into a spare, clean contact lens case, then add a few drops of rubbing alcohol. Use the cotton tip of the tool to pack the product back together, then let it dry. The shadow will be as good as new in a few hours!
Three-Second Smoky Eye: Draw a thick, heavy line of your favorite creamy eyeliner close to your lashes. Smudge upward with a swab to create a quick smoky eye.
Conceal a Pimple: Use one end of a Q-tip to dab concealer onto a blemish, then blend away any harsh edges. Then use the other side to set the makeup with loose powder. Because you'll throw it out once you've finished, this technique is more hygienic than using a brush!
Fake Awake Eyes: For brighter, more alert-looking eyes, dab a light shimmery shadow on the inner corners of your eyes with a cotton bud.
Contour Your Crease: Shade your eyelid along the "outer V" (in your crease to the outer edge of your eye, and then along the lash line) with a darker shadow, using the rounded edge of the tool. Not only will your makeup look more defined, but your eyes will also look larger.
Highlight on Fleek: Smooth a cream highlighter along your cheekbone and brow bone with an ear stick to get a gorgeous glow.
Fake a Nose Job: Apply concealer or highlighter along the center of your nose with one end of the stick for a longer, thinner look. To make your nose look even slimmer, apply and blend contouring powder two shades darker than your natural complexion on the sides of your nose.
Faster Fake Lashes: When applying false lashes, it seems that the edges never fully stick to the lid. Once you've applied your falsies, put a bit of lash glue on the end of the tool, then dab it on the ends of the strips to make them stay in place.
Perfect Your Polish: Clean up cuticles after a DIY mani with a cotton swab dampened with nail polish remover.
DIY Your Own Nail Lacquer: Pour a dime-sized amount of clear polish onto a piece of aluminum foil, then mix in some crumbled eye shadow of your choice. Mix with the stick to customize your own color, then apply with a nail polish brush.
Prevent Cuticle Cracks: Slick shea butter directly onto your cuticles with a cotton bud to keep your skin hydrated.
Brighten Stained Nails: Rehab your nails with a quick whitening treatment between manicures. Blend one part baking soda to one part hydrogen peroxide, and rub into your nails with a Q-tip. After three minutes, rinse the mixture away — your nails will be brighter!
Open Stubborn Bottles: Dab vegetable oil onto the threading of your lacquer bottle tops after each manicure with an ear stick. This ensures the caps will be easy to remove next time.
Polka Dots in a Pinch: If you don't have a dotting tool, you can use the ends of the tool to easily create spots on a manicure.
Ombré Made Easy: After applying a fresh manicure, paint a layer of darker polish on top. Once it's fully dried, use a swab dipped in acetone to gently rub some of the darker polish off (we suggest from the cuticle to halfway down the nail). Stop once you get your desired faded effect, then seal with a topcoat.
Dazzling Digits: Add a bead, rhinestone, or glitter to your nail without making a mess! Just dab some adhesive on your manicure with a cotton bud as desired, then apply your favorite accent.
Image Source: Courtesy of Q-Tips