Rihanna Leg Hair Picture on Instagram
Rihanna Basically Missed a Spot Shaving, and Now Fans Are Throwing Away Their Razors
We're all pretty well acquainted with Queen Rihanna at this point, and if you're not, welcome to the club. The 30-year-old singer and entrepreneur is an expert at blowing our minds while simultaneously keeping things very real, and this was no exception when she posted her Summer vibes to Instagram on May 2.
Rihanna shared a sexy snap in the sunlight and captioned it "When you can't wait for summer," which is a relatable mood, if I've ever seen one. In the pic, she's casually wearing a fringe tank top and tiger-patterned bikini bottoms, but it's not her outfit that ended up catching fans' attention.
While you may need to squint to see it, look in just the right direction, and you'll notice a little glint of leg hair in her first two pictures. Even though the hair is seemingly undetectable, that's all the internet needed to kiss their razors goodbye. Fans started responding to Rihanna's photo, tweeting, "If Rihanna doesn't shave her legs neither am I" and "If Rihanna doesn't shave, I won't shave." Hey, the hassle of shaving during the Summer is real. I. Get. This.
Rihanna hasn't commented back about her leg hair specifically, but she did reply to one commenter who mistook the sunlight for stretch marks.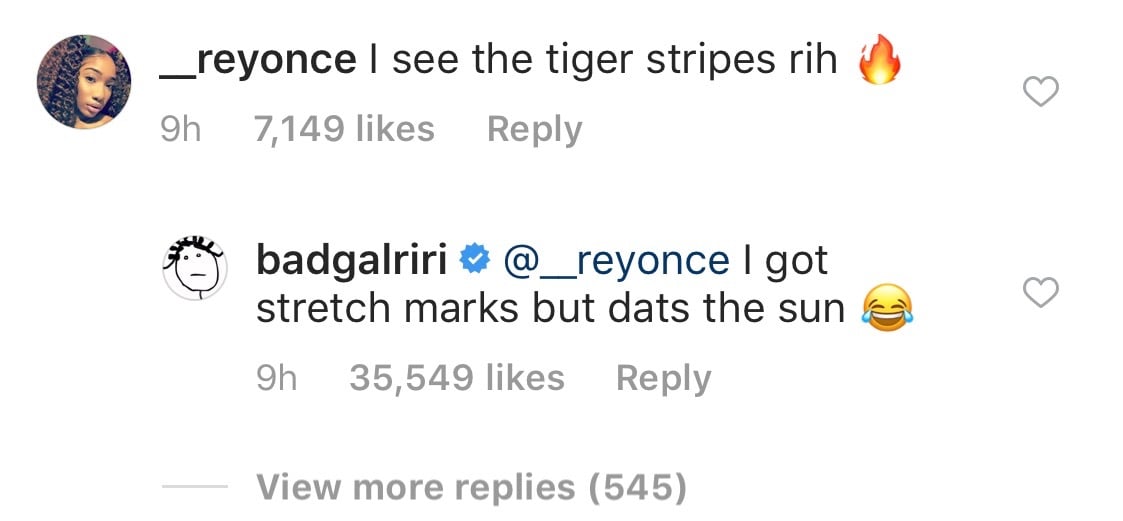 Regardless of how you feel about Rihanna's leg hair, the decision to ditch shaving or go hairless is completely up to you! In the words of Rihanna herself, you've got to do things your own way, darling.