Superman Nail Art
4 Clever Comic-Inspired Nail Ideas For Superman Lovers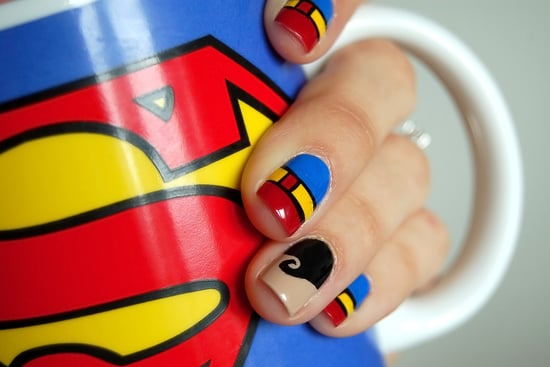 Source: honeymunchkin
All the talk about the upcoming Batman versus Superman flick has been striking quite the interest in comic-inspired nail art, and we've found four clever ways to deck out your digits with the DC Comics hero. The above look from honeymunchkin features four nails with a belt design and an accent nail complete with the superhero's famous coiffure. It's a quirky way to showcase Superman's secret identity.

Source: Concrete and Nail Polish
For the more advanced nail guru, try creating a pop-art nail look like this one from nail artist Naomi Yasuda. The intricate design features the Superman symbol along with comic book-inspired motifs for a visually stunning result. To cheat the style, try cutting out nail-shaped sections from an actual comic book, applying a generous coating of clear nail polish to set your work.

Source: Instagram user naominailsnyc
April Brooks of Concrete and Nail Polish developed this sparkling manicure with Zoya PixieDust ($9 a bottle) for a glistening matte finish. The off-center Superman logo on her ring finger adds more interest than a standard logo painted right in the middle of the nail. Plus, the traditional Superman shades, when paired with an unexpected pop of shimmer, makes for one truly knockout look.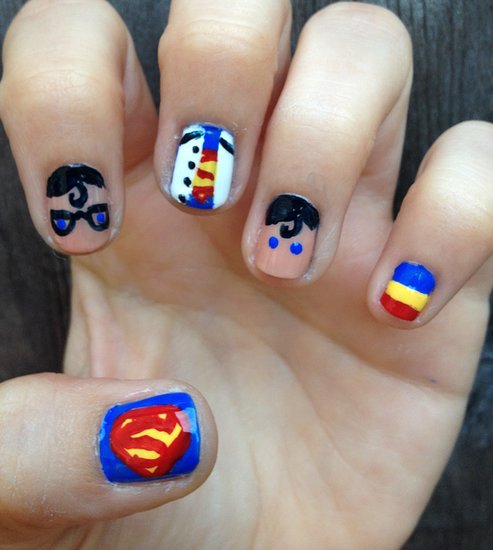 Source: Miscellaneous Manicures
For a nail design inspired by both Superman and his alter ego, Clark Kent, Cara and Kate of Miscellaneous Manicures conceptualized an adorable nail art design featuring both characters. From Clark's black-rimmed glasses to Superman's spandex uniform peeking out under that signature white button-down, this alter-ego manicure is twice as nice.