Xiao Wen Interview Victoria's Secret Show 2017
What the Shanghai VS Fashion Show Means to 1 Asian Model: "My Parents Can Come Watch"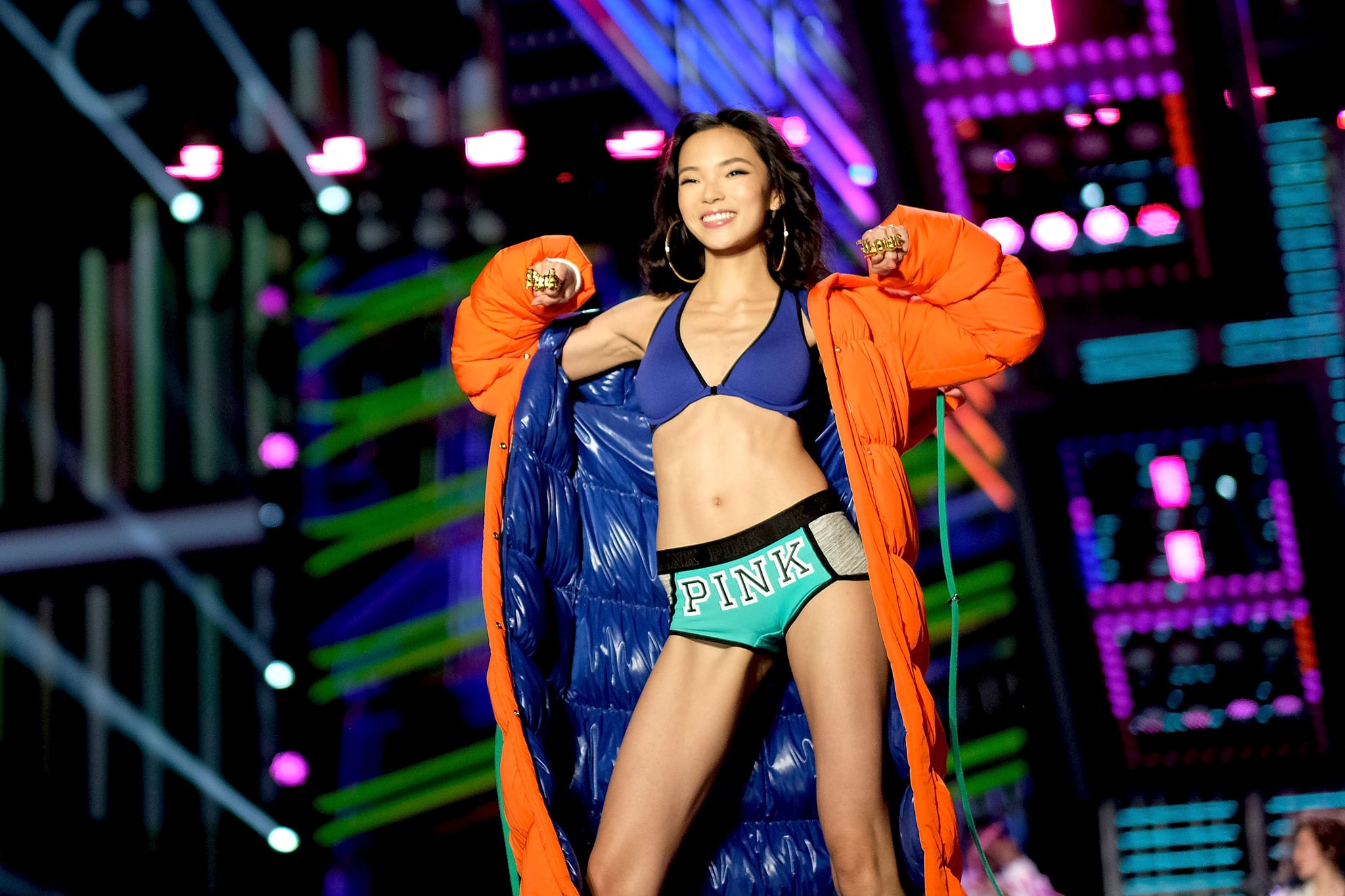 There are many reasons the 2017 Victoria's Secret Fashion Show in Shanghai is the brand's most unique catwalk yet. First of all, the show was filmed in China! That meant Victoria's Secret flew all of the models, staffers, crew, editors, etc. halfway around the world — which is no small feat. Second, it was the most ethnically inclusive roster of models to date. The were 55 models, 20 countries represented, and almost half of them were women of color. As one of the only editors who got to watch the show live in Shanghai, I felt empowered to see so much diversity on the runway.
Of this diverse cast, there were five Asian women — one of them being Xiao Wen. The 28-year-old beauty has a unique perspective because while she grew up in Xi'an, China (her parents still live there), she now resides in New York City. Since breaking onto the scene in 2011, she has walked in runway shows for major brands like 3.1 Phillip Lim, DKNY, Louis Vuitton, Prada, Marc Jacobs, and more. We chatted about why her second season in the Victoria's Secret Show in her home country is so special to her.
"At the beginning I was like, really?! It's really so far away," she told me backstage about learning of the show's location. "It's the opposite of America here. Then, I was so excited because it's in my home, and my parents could come. If the show wasn't here, I don't think that my parents would go to another country to watch it."
She went on: "It's a different culture in China. Victoria's Secret is a totally different culture — between the Eastern and Western culture. Also, it's happening in Shanghai, which is a really diverse city. Everyone coming here is a big change for us. It's really nice."
Her family is filled with pride to see her literally strut her stuff, and she feels grateful to be included in the Victoria's Secret cast. "There are so many beautiful Chinese models," she said. "So I just feel lucky to be here."
We chatted about the difference between Eastern and Western beauty values. "When I was in China, I had only one view on what beauty is, because I only saw one skin tone," she said. "When I went to America, there are so many different colors. Beauty is so different, and everyone is different. You have your thing, I have my thing. Everything is beautiful to me. It opened my mind when I went to America — especially in New York. New York is a fantasy city for me."
It's commonly known that Asian women and advertisements focus on skin brightening, whereas many Americans favor bronzing formulas. Heck, just look at the Kardashians and their beauty empire. Xiao weighed in on what she has observed living on both sides of the planet.
"The biggest difference is people here love being white — like really bright skin," she said. "Since a long, long time ago, Asians used pearls to make skin white. They make skin really white and think that is beautiful. The worlds are not open to each other. In America, it's the opposite. They like the sun and [being] tan. This is the biggest difference."
"The biggest is difference is people here love being white — like really bright skin."
That is not to say every Asian focuses on having whiter skin and every American wants to be tanner, but it's a generalization based on consumer buying trends and marketing.
When it comes to keeping her own skin bright, Xiao is an avid SPF user. "I have Lancome sun cream," she said. "When you put it on, it makes your skin look a little bit bright, and it lasts a long time. When I went to Cuba, I used that, and my skin was the same from the beginning to the end. So it's good."
To prep her skin from the show, she got a microcurrent facial and body treatment from Joanna Vargas Spa in NYC. "There is a Double Happiness treatment for your body," she said. "They can take off all of your bad skin and give you oxygen on your whole body. After that, your skin looks so smooth."
She also practices gua sha, a skin-scraping technique used in traditional Chinese medicine. "I learned it from a Japanese makeup artist," she said. "It's the same technique as cupping; it helps to reduce the bad things from the body. It's kind of like a detox, but it's on your face. You help the blood on your face run fast, so you can make more collagen." Xiao noted that she bought a gua sha tool on Amazon.
Tune in to see how gorgeous Xiao — and her skin! — look on the Victoria's Secret runway on Nov. 28 at 10 p.m. ET on CBS.