9 of the Best (and Easiest) DIY Acne Hacks We Found on TikTok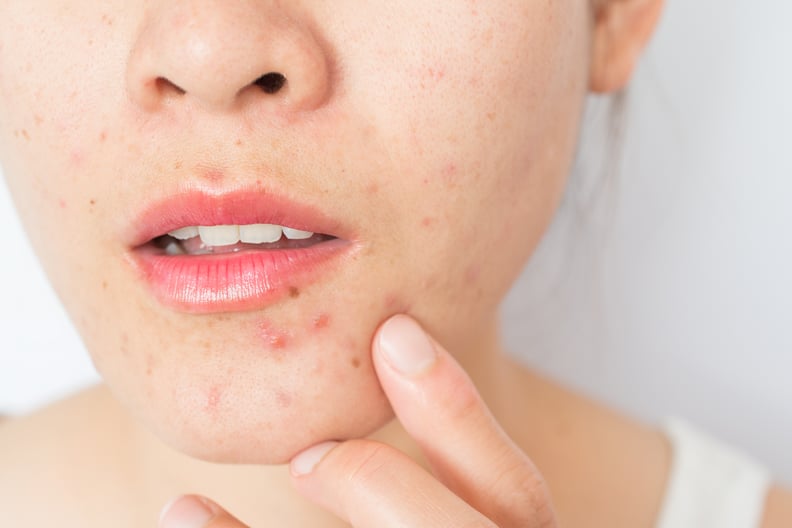 OK, so you're bored in the house (and you're in the house bored). What better way to waste time and get creative than DIYing everything in sight? For beauty people, that may include coloring your hair, mixing up a three-ingredient waxing formula, or finding innovative ways to treat your acne. Thanks to TikTok, the latter option is looking pretty promising.
Judging by how large the beauty community is on other social media platforms like YouTube and Instagram, it should come as no surprise that TikTok is brimming with makeup, skin care, and hair hacks. Lately, we've noticed several DIY acne treatments popping up in particular — many of which call for common pantry or medicine cabinet ingredients to create. From tea bags and turmeric to spot treatments and toners, keep scrolling to see nine of our favorites. Trust us, you won't even have to leave home to try them.
.
Cystic acne is never fun to deal with, but don't even think about trying to pop it. Instead, open up your pantry and try this DIY tea bag hack. Once refrigerated, it'll act as a cold compress and help reduce redness.
If mixing up your own treatments isn't up your alley, perhaps repurposing a product in your first aid kit is. Using a Hydro Seal Band-Aid, this TikTok user showcases how to get rid of those white, pus-filled pimples. They function just like a zit sticker and are easy to custom cut using scissors.
Spot treatments and masks aren't the only formulas you can whip up at home. Enter this DIY green tea toner. All you need is water, green tea bags, and a cotton ball or round.
It's time to put that aloe you've been growing to good use. The succulent plant is well-known for its inflammation- and redness-reducing properties, which can come with the territory of a breakout. Here, a user shows how she removed the gel from a leaf and applied it to her skin.
Looking to dry up acne spots fast? This three-ingredient treatment has you covered. All you have to do is add calamine lotion, witch hazel, and tea tree oil to a small container and apply to your face with a Q-tip.
Turmeric is a fan-favorite DIY acne ingredient, and this face mask is a good testament to why. In this recipe, it's blended with chickpea flower and honey for a slightly different texture and extra benefits. Rubbing the mask off (versus rinsing) will gently exfoliate your skin.
Everything can have more than one purpose if you just believe. In this video, a TikTok user shares an acne-clearing method she's been using for years: mixing crushed aspirin with water to create a paste. This can be used as a spot treatment or mask.
You could have greek yogurt and oranges as a snack, or you could put them on your face. This time, it's the latter. Watch above as a user creates an easy brightening and breakout-clearing mask with the ingredients.
The chlorophyll water trend has gained a lot of traction on TikTok in the past month, with many claiming it works wonders for acne. While there's little science to back that up, board-certified dermatologist and chief medical officer at Sanova Dermatology, Ted Lain, MD, previously told POPSUGAR: "Chlorophyll is a potent antioxidant, meaning that it can help reduce the damage caused by stress, the environment, and sunlight." So, it wouldn't hurt to try.