As POPSUGAR editors, we independently select and write about stuff we love and think you'll like too. If you buy a product we have recommended, we may receive affiliate commission, which in turn supports our work.
While I'm willing to fight anyone who tries to argue Thin Mints aren't the best Girl Scout Cookie, I've never put anything mint on my body beyond toothpaste. I can easily imagine tasting it in lip gloss, but I definitely wasn't expecting to find it inside a shampoo — or to love it there as much as I did.
In all honesty, I shouldn't have been surprised, because the products from Black-owned brand Adwoa Beauty are called Baomint. (I know, I'm almost embarrassed to admit my oversight.) Turns out, there are actually three types of mint inside, and I truly wish you could smell this review. You'll have to settle for my words ahead, then check out the hair-care products on your own.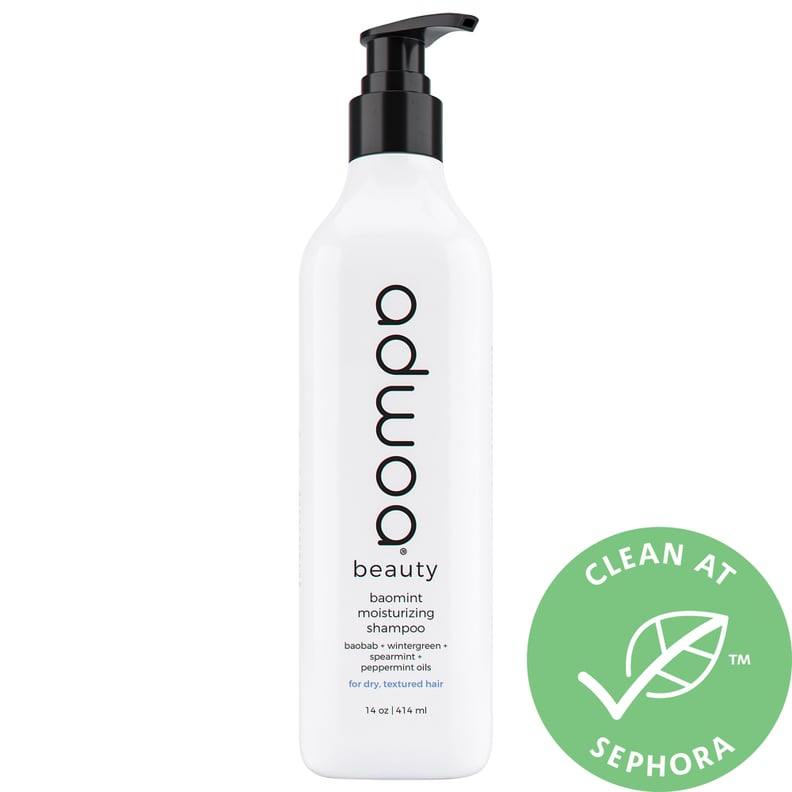 Adwoa Beauty Baomint Moisturizing Shampoo
Ever since I first tried it, this Adwoa Beauty Baomint Moisturizing Shampoo ($22) has been part of my hair-care routine. I'll admit I was skeptical reading instructions to massage the shampoo in for three minutes as I was fairly sure that was at least two minutes longer than I normally would. But with the first squirt, it was like Christmas came early as my entire shower instantly smelled like a candy-cane-filled spa. This product's wintergreen, spearmint, and peppermint oils offered a cool tingling on my head, and rubbing it in made it feel even better.
It turns out this blend (also including baobab oil as the "bao" part of "baomint") mimics the body's natural sebum to add these oils back into my dry scalp — and my hair felt so clean after just one rinse.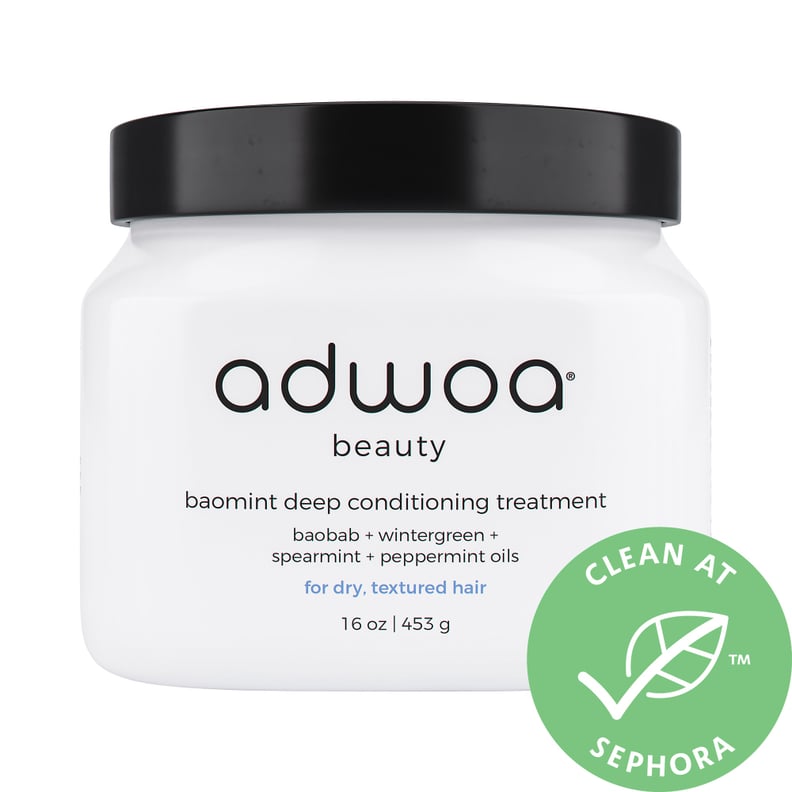 Adwoa Beauty Baomint Deep Conditioning Treatment
If you're looking to replicate a salon-quality, deep-conditioning treatment at home, this Adwoa Beauty Baomint Deep Conditioning Treatment ($36) can work on fine and medium hair textures but really shines on thicker hair like mine. Yes, it still has mint oils inside, but it's also packed with nutrient-rich prickly pear and pumpkin seed oils to nourish and protect your scalp, cuticles, and hair, too.
Even though it's recommended you put a hot towel over a shower cap or use a hooded dryer to help this unclog pores and loosen dead skin, I've gotten great soft, detangled results from simply applying this cream, sectioning my hair, and waiting 15 minutes without doing anything else.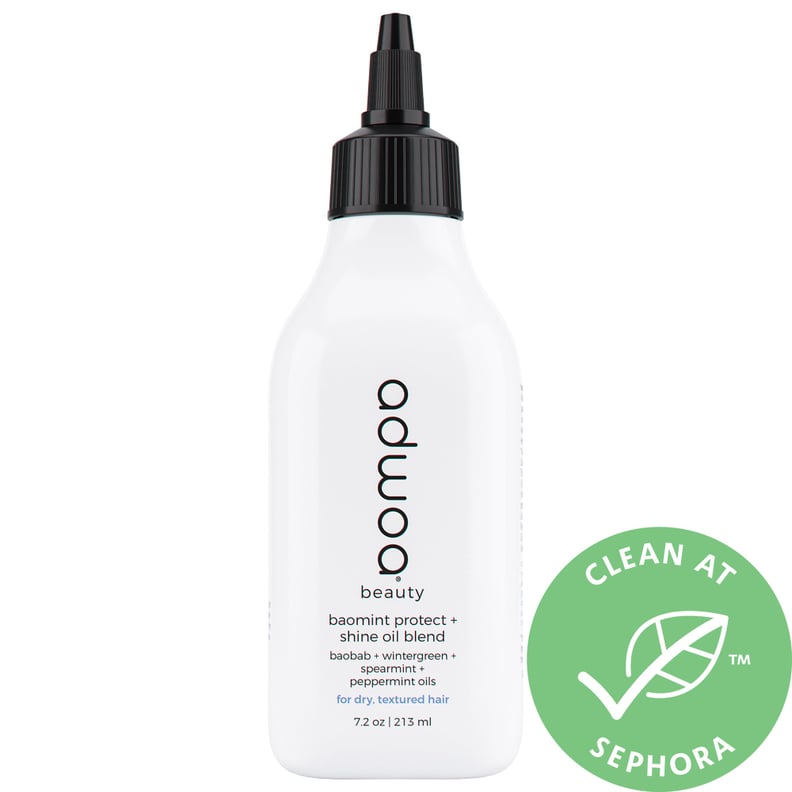 Adwoa Beauty Baomint Protect + Shine Oil Blend
The Adwoa Beauty Baomint Protect + Shine Oil Blend ($20) can be used in many ways to add hydration and shine to your hair and body. I added a couple drops to the deep-conditioning treatment as an extra boost, and my hair soaked it right up. I can't speak to how this would work on finer hair, but a dab of the minty oil also worked well on dry (as in the opposite of wet) hair that's also dry (as in brittle). Packed with coconut, pomegranate, and grapeseed oils, it's important to note that this is lightweight . . . but a little goes a long way.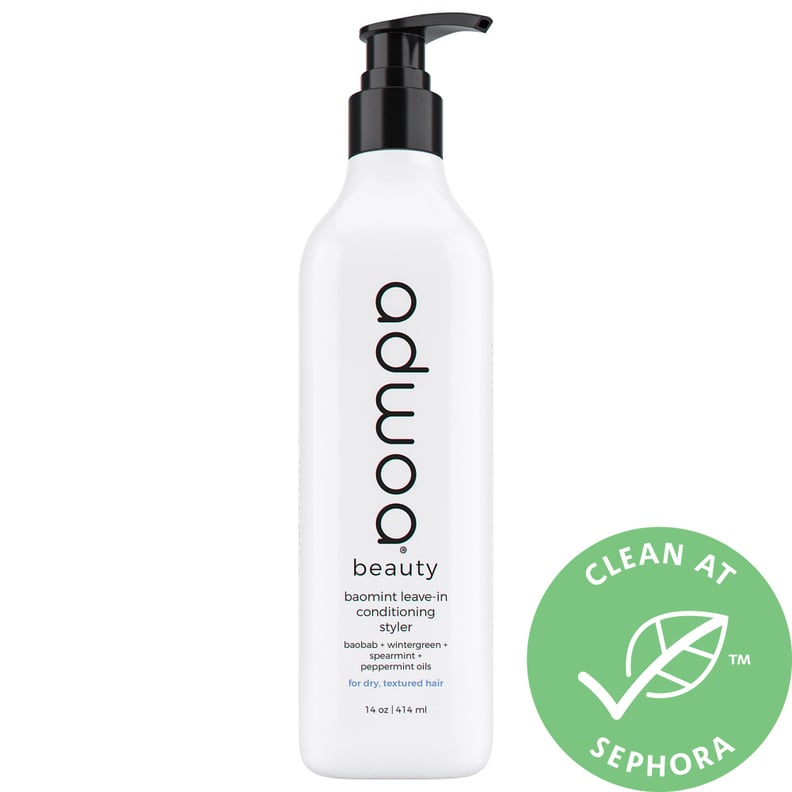 Adwoa Beauty Baomint Leave In Conditioning Styler