Barbie Ferreira Adds a Rose to Her Collection of Hidden Tattoos
One "Euphoria" character who's earned rave reviews for her makeup prowess (and lessons in empowerment) is fanfic-churning Kat Hernandez, leading to an even bigger interest in Barbie Ferreira, the actor who plays her. While we know Ferreira had a modeling career that led her into the acting world and that her online social media presence showcases body positivity in all its glory, one thing we rarely see on her Instagram grid is her newish collection of hidden tattoos.
In a recent interview with Allure, Ferreira opened up about her anxiety in light of the global pandemic. In addition to the work she did on herself "that I would not have done if I wasn't paused," she also did the unexpected and got some DIY ink. Living at her newly purchased LA home with her three cats — Mortimer, Magdalena, and Thomas — and partner, musician Elle Puckett, Ferreira told the publication: "I was like, 'F*ck it. I can't die and not have tattoos.'"
While many of her designs aren't very readily visible because of their placements — she has a butt tattoo in the stick-and-poke technique and two others located in the side-boob area — each one has a fun backstory that's well worth the read. Keep scrolling to see what we mean.
Barbie Ferreira's Sternum Rose Tattoo
In an Instagram post shared in June 2023, Ferreira debuted a rose tattoo on her sternum, which was visible under her loosely tied robe. She got the design sometime between 2022 and 2023.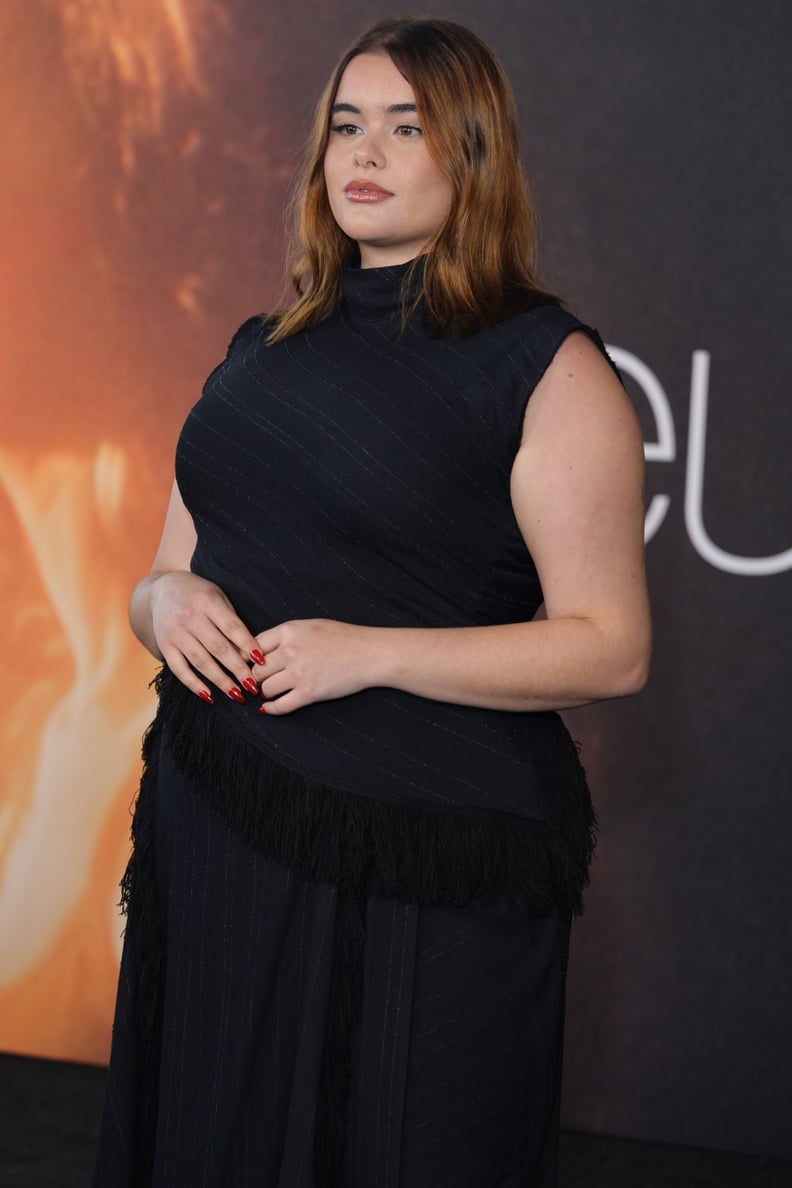 Barbie Ferreira's Butterfly Lower-Back Tattoo
On April 25, 2022, the "Euphoria" star appeared on tattoo artist David Enth's Instagram Stories, where she showed off her first back tattoo: an abstract butterfly etched on her skin in black ink. Ferreira's massive new tattoo, which stretches from her midback past her waistline, features delicate yet sharp lines that create the silhouette of a butterfly with outstretched wings.
Barbie Ferreira's Symbol Arm Tattoo
On the inside of her arm, located near her elbow, Ferreira has a small symbol tattoo. It's unclear exactly what the design is.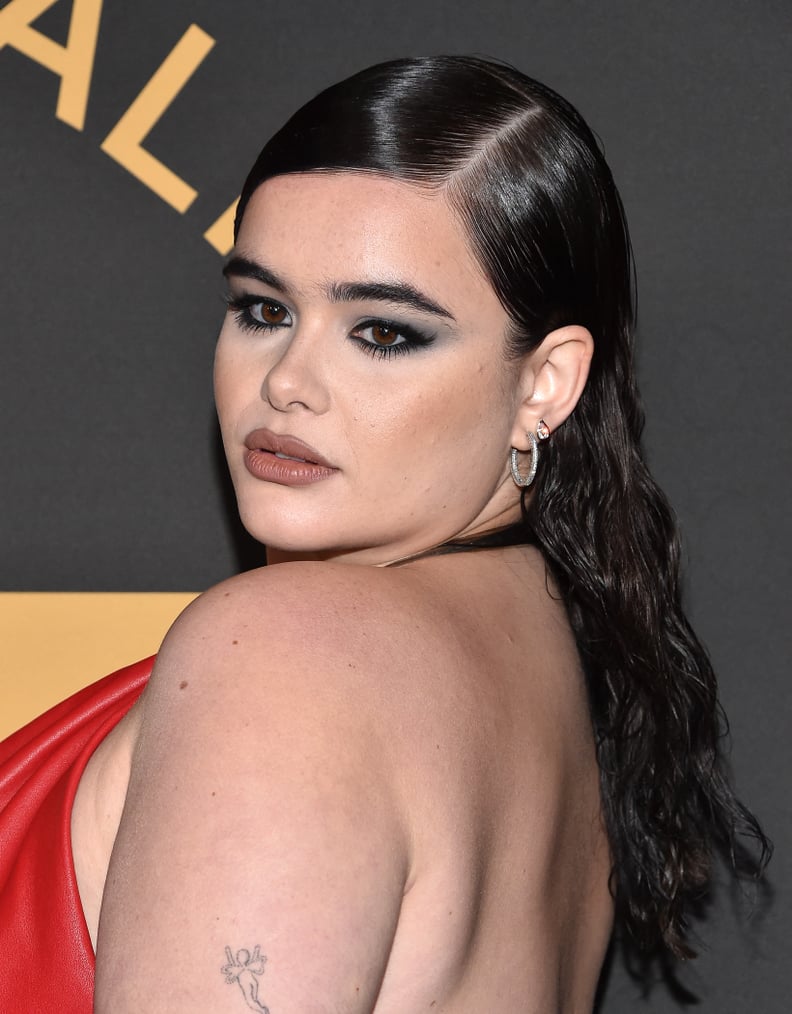 Barbie Ferreira's Fairy Arm Tattoo
On the back of her arm, Ferreira has a small tattoo of a fairy with zero shading or detailing. The fine-line design appears to show a tiny creature in flight.
Barbie Ferreira's Cat Thigh Tattoo
Ferreira has a black-ink tattoo on her upper thigh, near her hip, for her pet cat, Mortimer. The design is of a sphynx and is supposed to look just like him.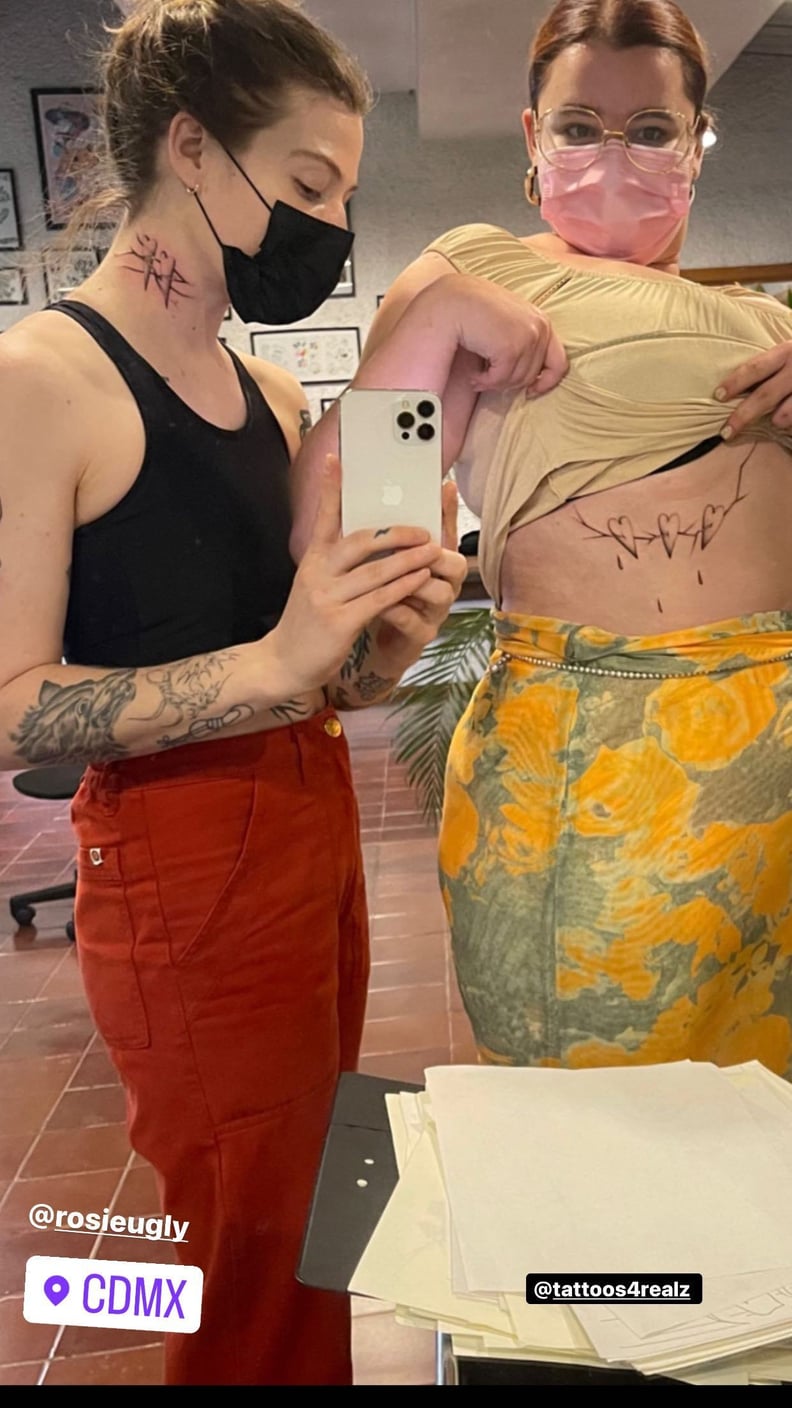 Barbie Ferreira's Heart Rib Tattoo With Elle Puckett
On March 8, 2022, the "Euphoria" star shared a photo on her Instagram Stories of herself and her longtime partner, musician Elle Puckett, with matching heart tattoos by artist tattoos4realz. The ink features three angular hearts dripping with blood after being strung together on a jagged tree branch along her ribs.
Barbie Ferreira's Side-Boob Tattoo
Ferreira followed up her DIY ink with a professional design, this time inked near her left breast. She had a specific reason she decided on inking this particular part of her body. "The artist, Pix, does these really cool lines," she told Allure. "So I [had her do] something around my boobies. I always do things around my boobies. I think it's because I grew up not liking my boobs. So now it kind of makes me feel cute."
When asked if her tattoos hold any visceral meaning behind them, Ferreira said matter-of-factly, "Absolutely not. Well . . . I really felt like I couldn't do anything [to my body] for so long. I couldn't even cut my hair one inch, or I'd lose clients when I was a model. So I guess it does represent something — me taking over my own self."
Barbie Ferreira's Butt Tattoo
In an interview with Cosmopolitan in September 2020, Ferreira revealed that she had Puckett do an inaugural stick-and-poke tattoo on her butt with a kit that she gifted them for their birthday. The design? "It's a spiral on my butt," she told the publication. "A spiral for my quarantine spiral."
While the actor hasn't shared the artwork widely with her Instagram followers, she assured Allure that — despite it being a new hobby for Puckett — "now they're really good."