I Tried the "Bat-Wing" Eyeliner Hack For Hooded Eyes
I Tried That Viral "Bat-Wing" Eyeliner Hack
As POPSUGAR editors, we independently select and write about stuff we love and think you'll like too. If you buy a product we have recommended, we may receive affiliate commission, which in turn supports our work.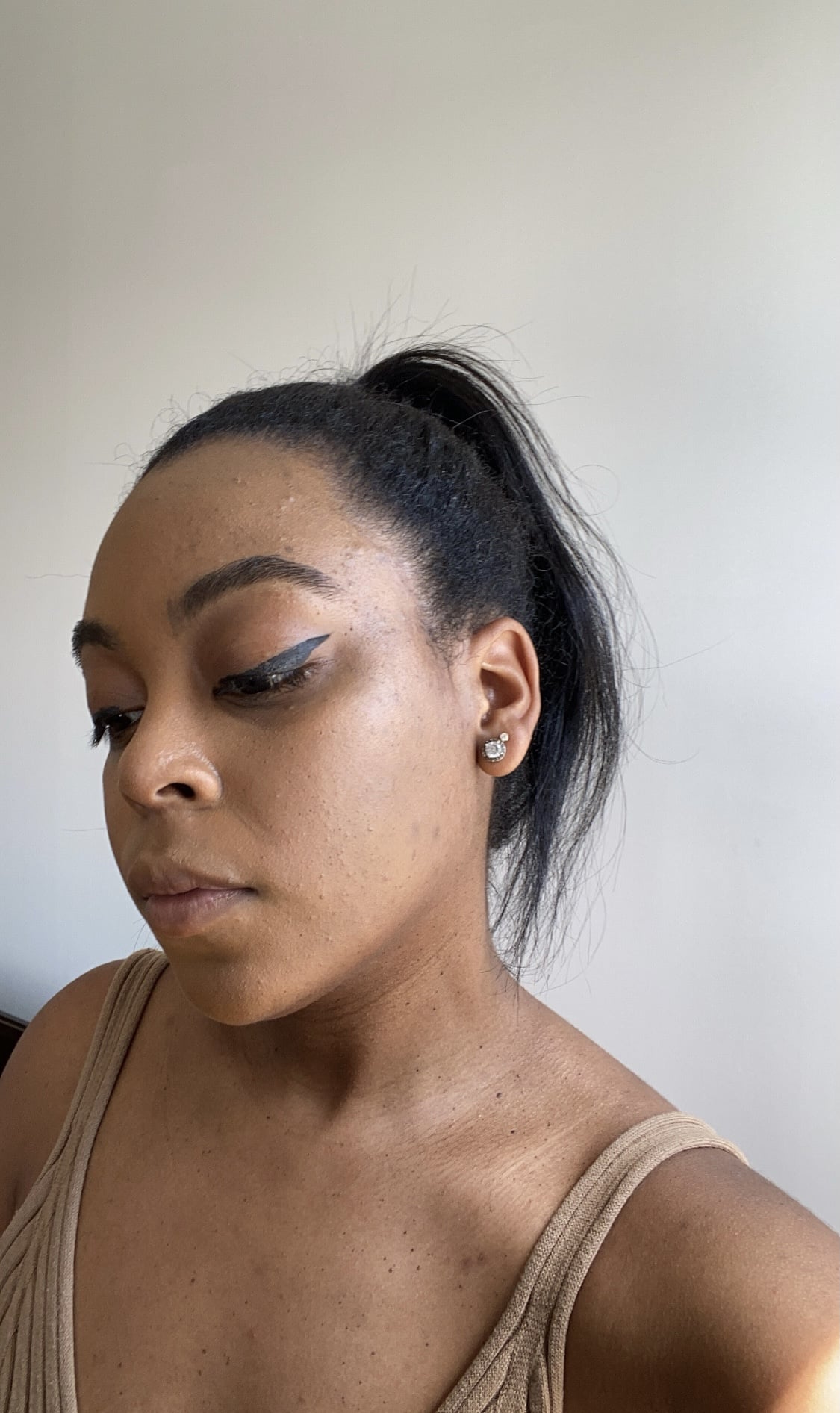 The "bat-wing" eyeliner hack is said to help people with hooded eyes get the perfect wing.
Thanks to makeup artist Katie Jane Hughes, it's gone viral on TikTok.
One editor put the hack to the test on her hooded eyes.
Eyeliner and I don't have the best relationship. For one, I wear glasses, which immediately takes away from the glamorous eye looks I often see shared on social media. I also have hooded eyes, which essentially hide all of the work that I do to create some of these looks. In short, I've come to the conclusion that eyeliner, for the most part, isn't my thing.
However, while scrolling TikTok one day, I came across a video by makeup artist Katie Jane Hughes in which she demonstrated how she made winged-eyeliner looks work on her hooded eyes. In the video, she started off by applying a liquid liner along her lash line and then, when creating the wing, kept her eyes open and went over the fold or "hood" of her eye. This created what she called a bat-wing effect on her eyes. Once finished, whenever she looked straight ahead, the liner looked completely normal, but whenever she looked down, viewers could see that the wing was on a higher level of her eye than the rest of her liner. Given that I would do almost anything to make eyeliner work for my eyes, I decided to test this hack to see if it really worked.
On the rare occasions I do attempt a liquid liner, the Stila Stay All Day Matte Liquid Eyeliner ($23) has always been my go-to, so I knew I could depend on it to see me through this test. Starting at the base of my lash line like Hughes did, I took small strokes, bringing the liner closer to the end of my eye with each swipe. When I did get to the outer end, however, I realized that my fold was much higher up than Hughes's, and as a result, I didn't get the bat-wing effect that she did, just a normal wing that left me with the same problem: my eyeliner being swallowed by the crease of my eye.
Starting over, I decided to start the liner wing first and go directly over where the fold of my eye is. Starting at the very top of my eye, I kept my eyes open as Hughes suggested and brought the liner straight down to connect to the lash line. At first, it seemed like this method would work, but after I connected the wing and the rest of my eyeliner, I was left with a large black stripe on my eye that was way too thick and high up on my face and just made my eyes look much smaller.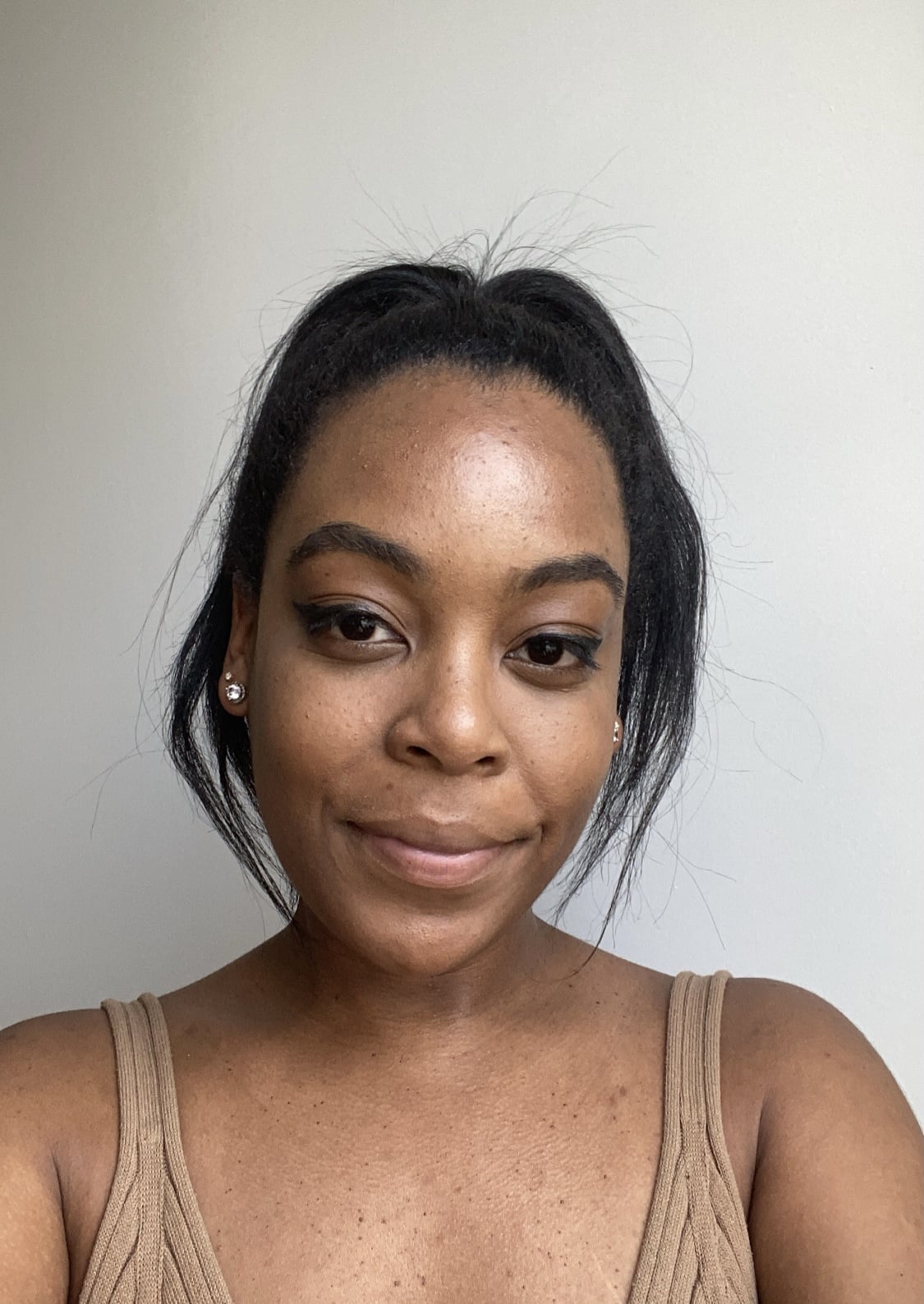 In all, this hack didn't work for me because the hooded areas of my eye may be a bit higher, so eyeliner starting from that angle would look a little unnatural. That said, it may work for someone whose eye folds are lower or who has smaller eyes in general. To still partake in the fun, I'll stick with graphic-eyeliner looks that utilize space on the whole eye instead of just the lid — that, or keep hunting for a hack that works for me.
Image Source: POPSUGAR Photography / Ariel Baker