What Will Beauty Shopping Look Like In 2021? We Asked the Pros
"You can take small, quick whiffs if you need to smell the candles, but we ask you to try to keep your mask on at all times," the sales associate at a candle shop told me and the 20-person line behind me. This encounter is one of many — including lipstick swatching on white paper towels — that's become the norm for the beauty industry over the last 10 months of the pandemic.
Figuring out how consumers can sample beauty products before buying has been a big hurdle for brands far and wide. The fact of the matter is, shopping for products is a lot easier in person. There is a joy in smelling, touching, and seeing what shades look like on the skin. But to control the spread of COVID-19, retailers have had to come up with alternatives to the traditional testers, in addition to enforcing social distancing with six-foot markers on the floor in between the shopper and cashier, facial coverings, hand-sanitizing stations, and store capacities — all while facing a 50 percent decrease in in-store foot traffic, according to marketing firm Zenreach.
The global beauty industry at large, which generates $500 billion in sales annually, has had to rethink marketing strategies, establish sanitation standards, and invest in a consistent supply of online stock. It begs the question: now that stores are continuing to reopen up across the country, how will people's shopping behaviors change when product testing is no longer an option?
Earlier this year, we examined how the novel coronavirus impacted beauty shopping, and for the most part, many of those predictions — including contactless interactions, virtual try ons, and makeup above the mask — will still ring true in 2021. But what else can you expect beauty shopping to look like in 2021? We spoke to representatives from a handful of major retailers to get some ideas.
Beauty Shopping Prediction: Retailers Will Roll Out Immersive Experiences
Beauty brands have had to get creative in getting customers to see their products in stores. Mega brand Ulta, for example, signed a partnership deal with Target to launch minimstores in 100 Targets in the second half of 2021. Located within Target's beauty section, Ulta's expert beauty consultants will walk customers through their grand assortment of hair, makeup, and skin-care brands. Following suit, Sephora partnered with Kohl's to release 200 Sephora pop-ups by the fall of 2021, equipped with beauty advisors as well.
Both Target and Kohl's have committed to housing products on their website for easy digital shopping. These immersive experiences appeal to younger generations who love social media and relish in new products, a customer base many beauty retailers are honing in on.
"We are seeing a millennial cohort buy 30 percent of our products," Patrice Varni, Dermstore's chief marketing officer, told POPSUGAR. "This cohort is investing in their skin health and want to engage in accurate, transparent content."
In 2018, CVS created BeautyIRL, a multiyear platform that would bring a new experience to the next generation of beauty to the drugstore. The shop-in-shops feature mini beauty services from GlamSquad and redesigned, immersive beauty aisles that allow younger customers to discover new brands and trends. Inside you see aisle headings that read "#nowtrending" and "Glamsquad." Store associates can even help customers mix a custom hair color via the eSalon. Despite the pandemic, CVS continued to roll out BeautyIRL floor designs to help meet the expectations of the customer whose needs change so rapidly.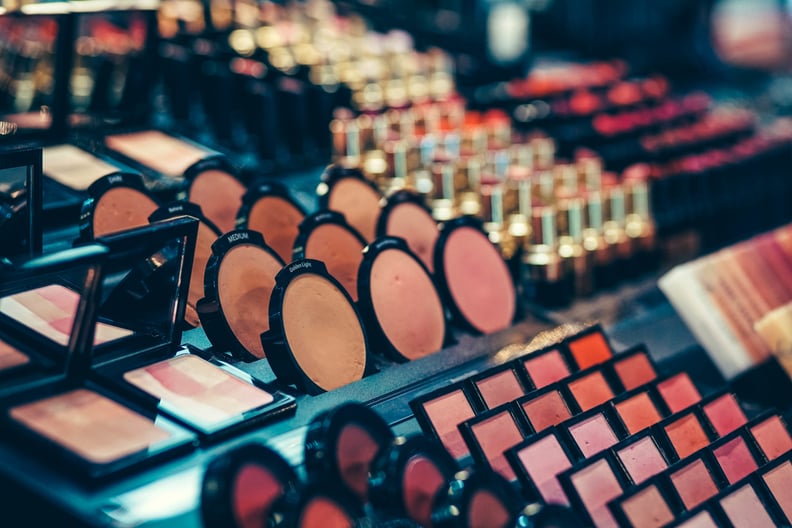 "We had planned to open more [stores] through 2020, which we successfully did. We are a little under 100 now. COVID-19 certainly delayed a few things but we were still able to open a majority of them," Andrea Harrison, vice president of beauty and personal care at CVS, said.
Customization will be a big factor for success. In September, Sephora launched two new checkout services: reserve online to pick up in store and Instacart. Through the Sephora app and website, clients can reserve products online and pick up in store, with products held for 48 hours. They will only be charged for the purchase upon pickup. Sephora also became the first beauty retailer to partner with Instacart.
Beauty Shopping Prediction: Tester Alternatives Will Be Introduced
While it's unclear when in-store product testers will be reintroduced, many brands are seeking other options for customers to try before they buy. At Shen Beauty, a beauty retailer in Brooklyn, guests will receive a Shen Beauty painter's palette for personal testing throughout the store. Shen staff will assist guests with any full size samples they would like to try - applying a small amount on each paint palette, eliminating the need for shared testers while encouraging product trial.
Product sampling will also get a virtual makeover, with more and more brands offering "try on" experiences via app or online to act as a stand in for the in-person experience. Ulta Beauty, for example, has its Glamlab app that can help you narrow down your product selection. Sephora does the same, including with a virtual makeup artist.
Even Google Shopping is getting creative with virtually testing products. In partnership with ModiFace and Perfect Corp, Google has launched a tool that shows customers what products will look like on them with the help of a front-facing camera, letting you swatch everything from eyeshadow to lipstick before buying.
Plus, because consumers can't test products as easily, more retailers are stocking up on options that are less likely to cause skin irritation or potential harm. CVS identified hundreds of products on shelves that are considered safe for sensitive skin to offer "another element of confidence in a space where customers are sometimes confused and could use that extra degree of certification to help make decisions," Harrison said.
Beauty Shopping Prediction: (Digital) Educational Content Will Boom
Brands are tasked with discovering new ways for customers to interact with products. As people have more time to read, research, and perfect their beauty routines at home — and because there may not be as much in-person access to in-store associates — a big priority has been to feature more educational content around products online.
"We see customers spending time on our site, digesting the rich content we have from expert doctors, estheticians, and hair-care specialists. They are researching regimens, researching solutions, and researching ingredients," Varni said. "They are looking at what retinol is, who should use it, what are the different strengths it comes in, how do you ease yourself into it, what can it mix and not mix with? We saw these searches and created content around it and got very high levels of engagement."
The current customer across all demographics is research oriented. Varni called this phenomenon "expert seeking, for expert living. They are customers who want to read about things and arm themselves with as much information as possible. They are saying, 'I don't just want a serum or a neck cream, I want the one that really works, I want the best one and I want to understand why.'" Dermstore, for example, saw customers directing themselves to expert content and had four times the conversion in sales versus shoppers not reading content beforehand.
Beauty Shopping Prediction: DIY Beauty Products Will Soar
Since stay-at-home orders and salon closures swept the better part of 2020, customers have had to become their own beauty professionals and DIY treatments became routine. As a result, retailers saw upticks in sales on nail files, scissors, clippers, nail polish, wash bins, and more. "We sold more treatments, masks, and at-home professional tools," Varni shared about Dermstore. "We saw people doing their best to care for themselves and their skin in new ways and new levels, and at a conservative price point."
Customers are seeing the value in doing their services at home versus at nail salons, hair salons, and spas. As a result, beauty retailers are strengthening their relationships with at-home grooming suppliers to meet the demands of their customer base, because this trend isn't going anywhere.
Discovery shopping will also continue to trend. "Customers in general tend to be hesitant to try new things when the stakes are high. For example, they are less likely to try a new skin-care product right before a big event, in fear of how it will turn out," Harrison said. "But now with Zoom, it's really opened up a degree of 'Hey, I'm sitting behind a computer, if it's really that bad I'll just turn my video off.'"
Beauty Shopping Prediction: Sustainable Products Will Be in High Demand
Today's consumer, specifically Gen Z, is adamant about sustainable packaging, ethically sourced ingredients, and healthy labor conditions. They are quick to scrutinize a brand for not being transparent and want to purchase products that align well with their values. As consumers continue to work out the role sustainable and ethical products play in their lives, retailers are seeing a consistent focus on ingredients.
"Clean beauty is not new, but what we are seeing is a real focus on ingredients, not just the ingredients that they know, but the other chemicals," CVS's Harrison shared with POPSUGAR. Sephora is also working out initiatives around clean beauty. "We offer a highly curated assortment of clean makeup that adhere to our 'Clean at Sephora' initiative without sacrificing quality and performance," a Sephora representative said.