Neon Cherubs, Varying Acrylic Lengths, and Glitter Are Among the Best Celebrity Holiday Manis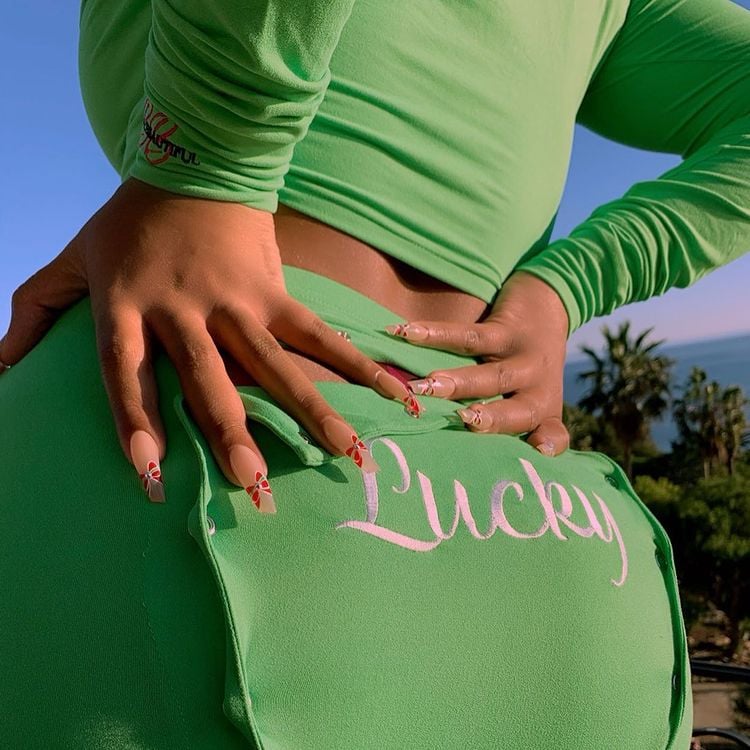 What do you do when a global pandemic puts all traditional holiday parties and extravagant events on pause? Channel all your energy into a holiday manicure, of course. That's what so many celebrities are doing ahead of the holidays this year.
As much as we love traditional holiday nail art like candy cane designs, hand-painted snowflakes, and ornament decals, we're also suckers for insanely creative manicures. Dua Lipa takes the cake for the most out-of-the-box, nontraditional holiday design ever with her neon heart and cherub mani (it's one you have to see for yourself), while Megan Thee Stallion's lipstick-shaped nude manicure with red bows is so festive, it looks like it was pulled out of a Hallmark movie. But if we had to pick, Barbie Ferreira wins for the best holiday manicure of the year — not just because we love her marble-green french tips so much, but because of a very small, genius detail. While the rest of Ferreira's nails have longer acrylics on them, her index and middle fingers on her right hand are without. She doesn't explain exactly why she opted for this manicure style but her fans have their suspicions. Either way, we're obsessed.
See all the best celebrity holiday nail art looks so far, ahead.
Dua Lipa's Holiday Nail Art
There's nothing traditional about Dua Lipa's holiday nails, and we'd expect nothing less from her. Each nail features a different design by celebrity nail artist Mei Kawajiri.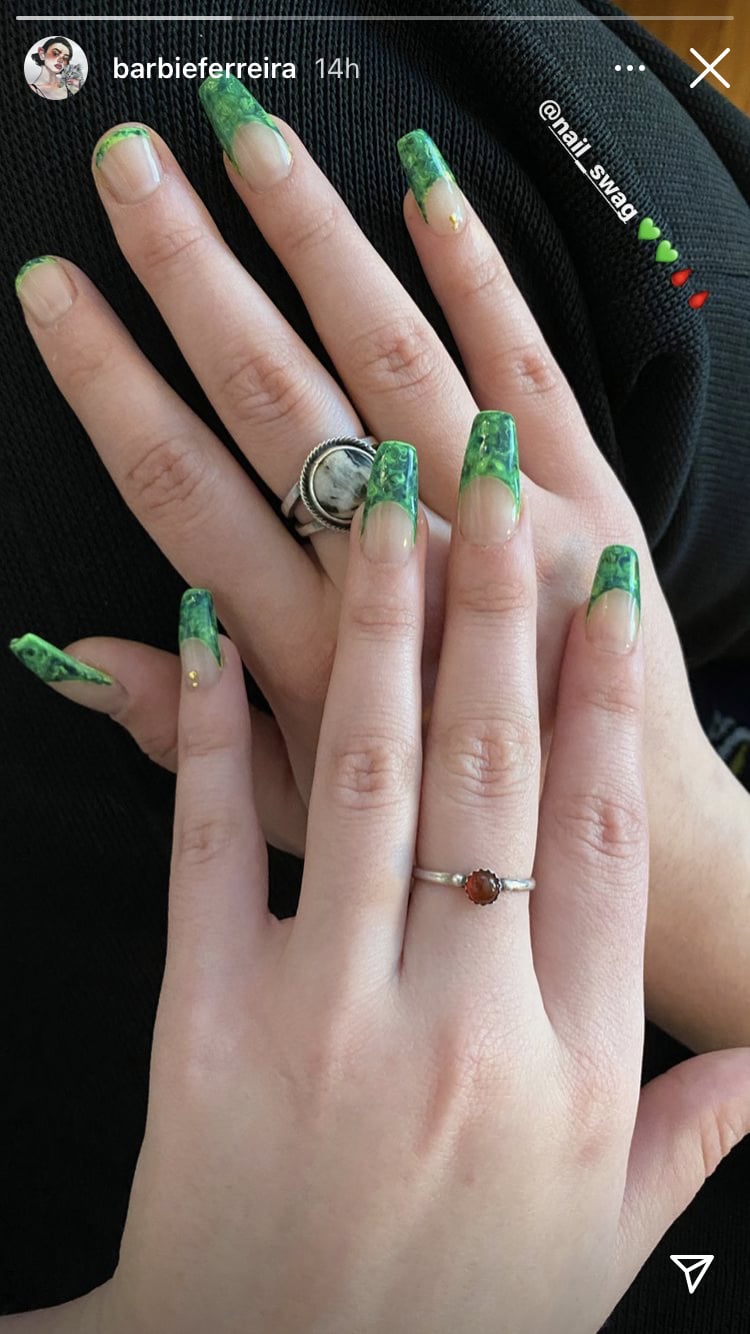 Barbie Ferreira's Holiday Nail Art
Barbie Ferreira's deep french manicure with green malachite tips by celebrity manicurist Natalie Minerva looks super chic, but our favorite part is her two shorter nails.
Megan Thee Stallion's Holiday Nail Art
Megan Thee Stallion's neutral, lipstick-shaped manicure with red and green bows is the perfect holiday manicure — it's just festive enough.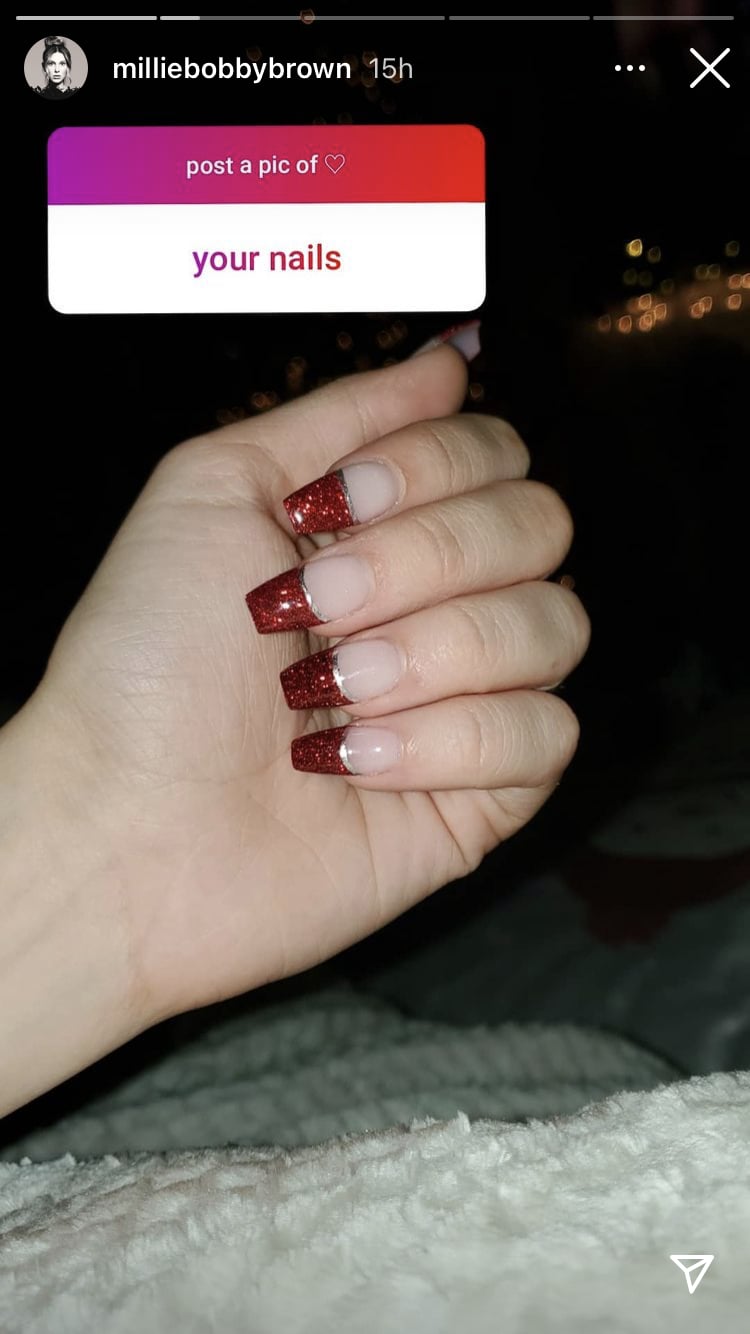 Millie Bobby Brown's Holiday Nail Art
Millie Bobby Brown's holiday manicure features red sparkly french tips against a nude base with silver striping tape.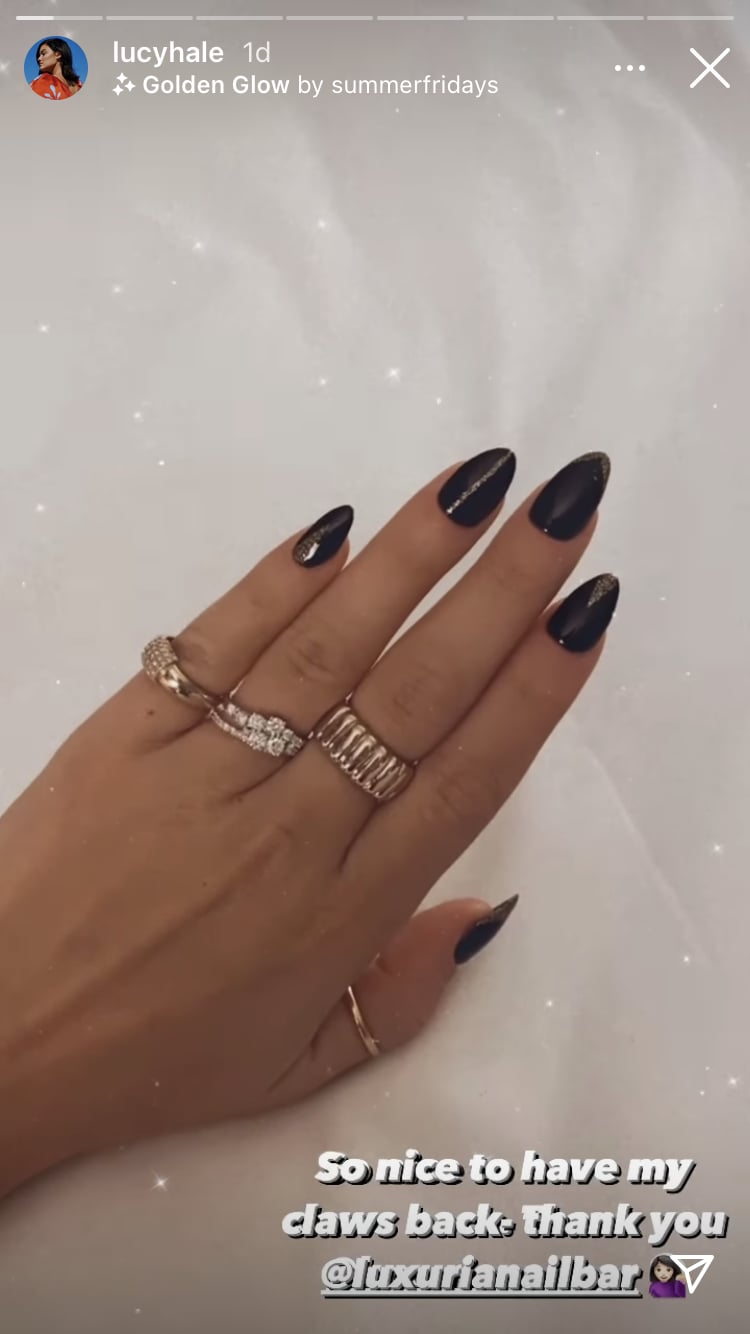 Lucy Hale's Holiday Nail Art
Lucy Hale, who usually hosts a New Year's Eve bash this time of year, showed off her simple holiday manicure by Luxuria Nail Bar on Instagram Stories.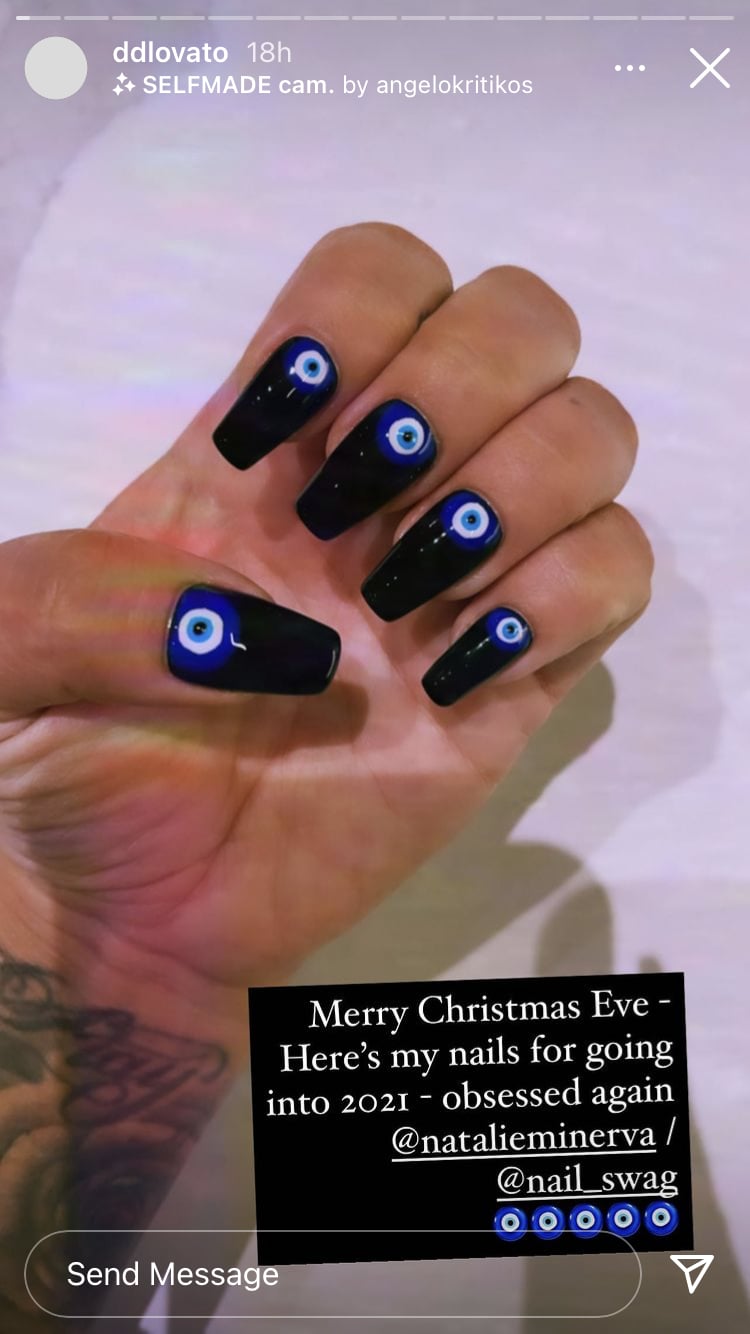 Demi Lovato's Holiday Nail Art
On Christmas Eve, Demi Lovato posted a picture of the nails she chose for ringing in the new year. The manicure by nail artist Natalie Minerva of Nail Swag features evil eyes on all five fingers.
Debby Ryan's Holiday Nail Art
Debby Ryan admitted on her Instagram Stories that she has trouble keeping nail polish on her fingernails so sometimes she opts to glue on tiny gems instead to dress up her hands.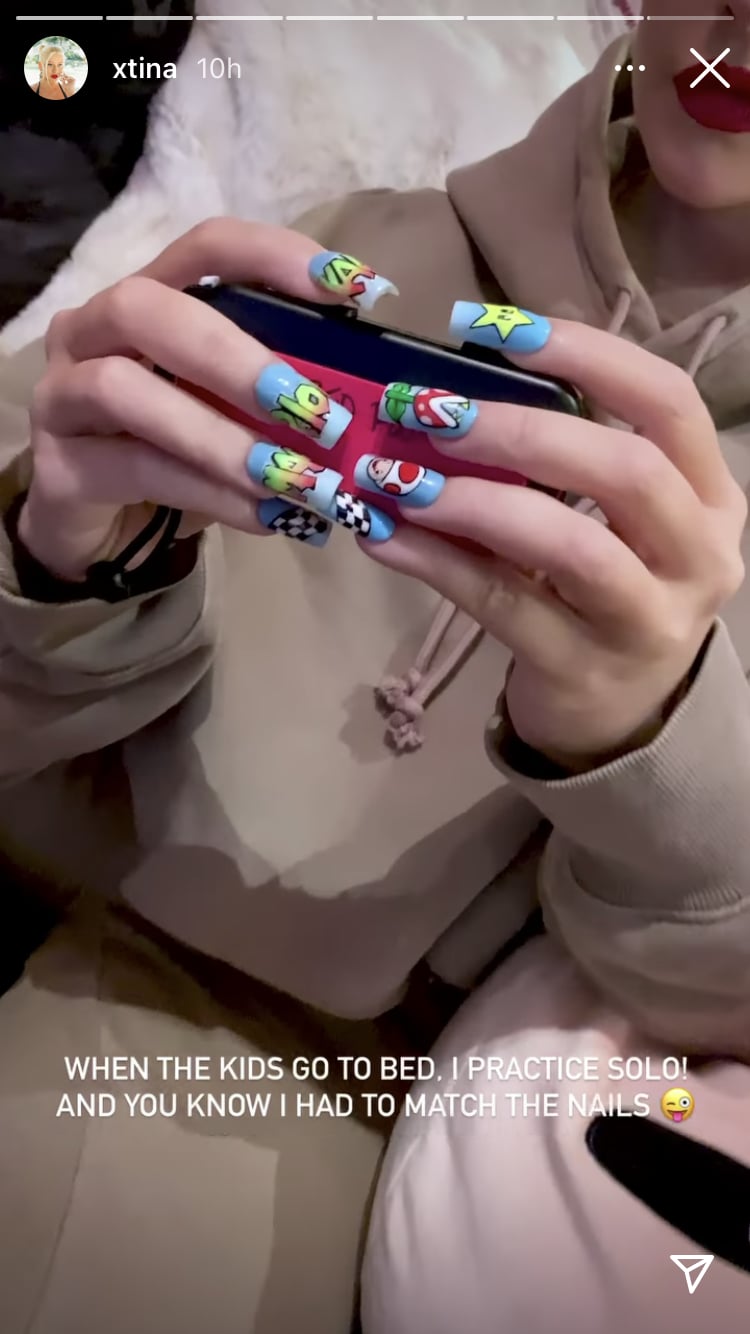 Christina Aguilera's Holiday Nail Art
Christina Aguilera has been enjoying the Nintendo Switch she got her kids for the holidays so much that she went with a Mario Kart-themed set.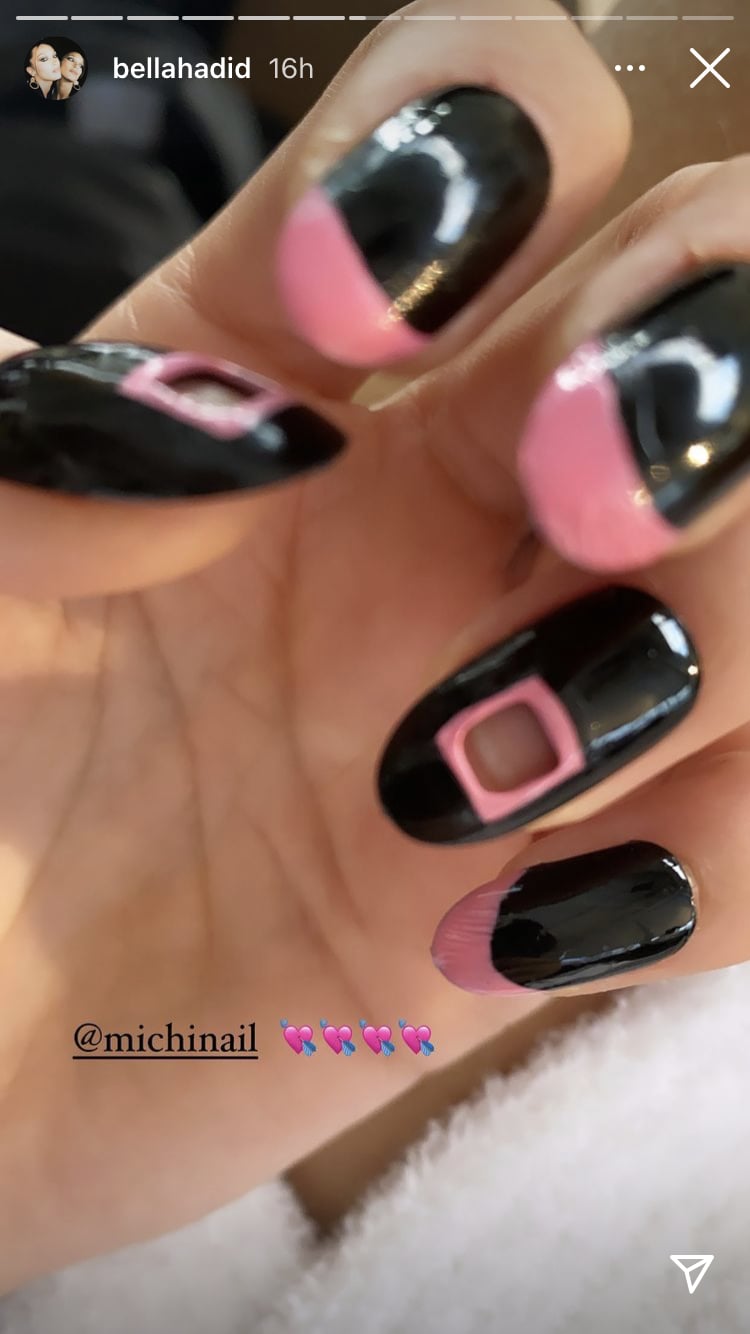 Bella Hadid's Holiday Nail Art
Bella Hadid paid a visit to New York City-based manicurist Michina Koide for these fun black and pink nails. The set features french tips on three of her fingers and a negative-space buckle design that kind of resembles Santa's belt on the other two.
Ariana Grande's Holiday Nail Art
Ariana Grande's triangle-shaped french manicure for the holidays doubles as her engagement mani. We love how the twist on a classic nail design mirrors her modern engagement ring.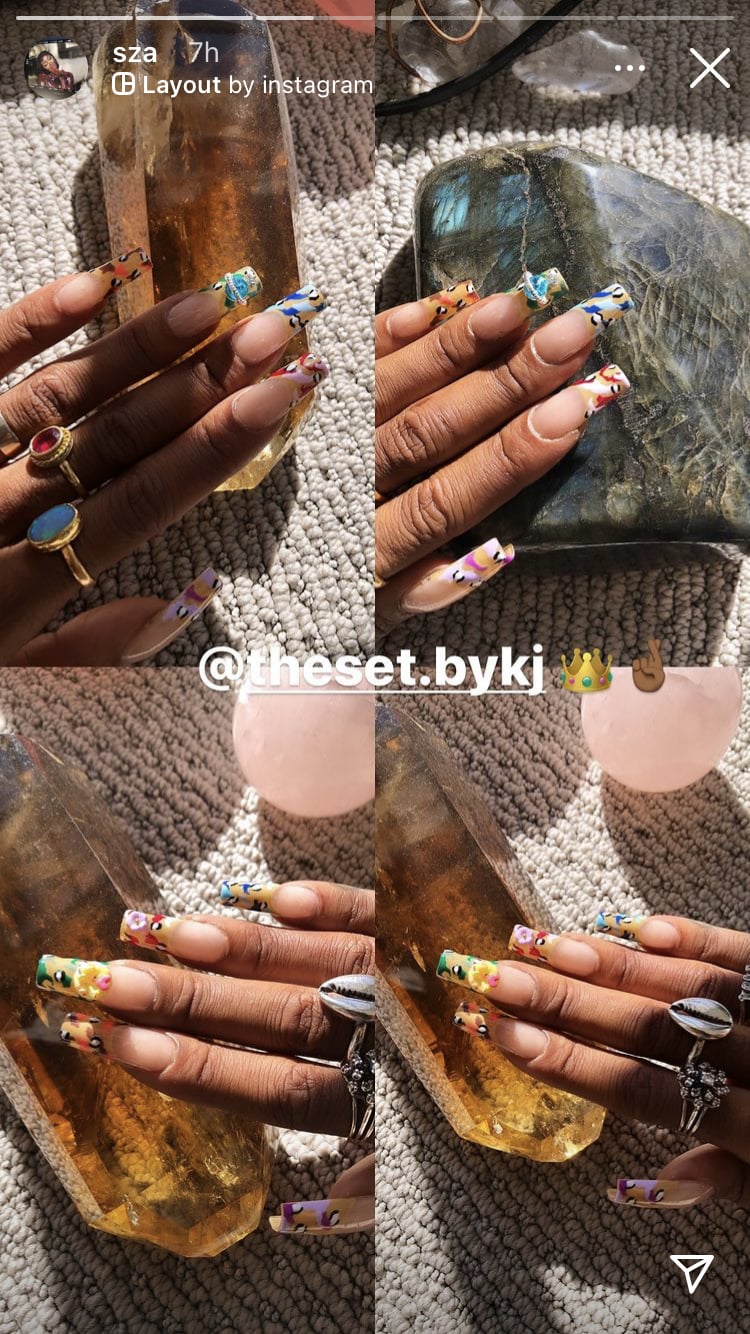 SZA's Holiday Nail Art
SZA went for a nontraditional, square-shaped holiday manicure with french tips by California-based manicurist Karen Jimenez.
Kylie Jenner's Holiday Nail Art
Kylie Jenner clearly couldn't pick a holiday nail look so she went with two different designs. On her left hand is a red slanted french manicure and on her right is a white and black abstract line design.
Victoria Beckham's Holiday Nail Art
Victoria Beckham went with a classic, crisp red manicure for the holidays, and we expected nothing less from her.