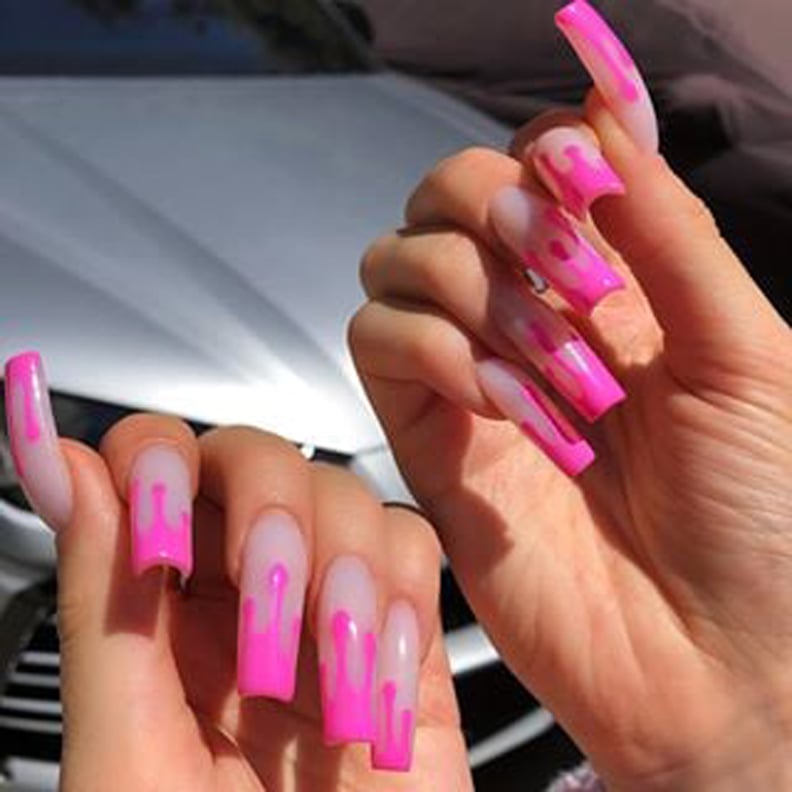 Kylie Jenner recently repeated one of her past manicures with her drip nail art. The look, which was created by manicurist Chaun P. Legend, featured a pink drip design that trickled from the tips of her nails toward her cuticle, and has taken Instagram by storm.
If you've been inspired by Jenner's look, you can try it out yourself with one of the following manicures. On this list, you'll find drip manicures that have been paired with today's most popular trends including the use of logos, iridescent accents, and neon hues. Check out the prettiest drip nail looks, ahead.
Kylie Jenner's Neon Pink Drip Nail Art
Kylie Jenner debuted her neon pink drip nails on Instagram, created by go-to artist to the stars, Chaun P. Legend. The nail art, which looks like a liquid dripping from her tips, is a repeat of one of her manicures from back in 2016.
Kylie Jenner's Blue Drip Nail Art
Jenner's blue drip nail art was in celebration of her Kylie Lip Kit restock, as the drip effect is featured in her brand's logo of the product.
Neon Pink Drip Nail Art
Recreate Jenner's nail art using a neon pink hue that is just as bright.
Drip Nail Art With Logo
Try the drip nail art trend with a logo. You can emblazon your nailbeds with the one that appears on Jenner's Lip Kits or the classic interlocking C's a la Chanel.
Glow-in-the-Dark Drip Nail Art
Drip nail looks are even more eye-catching when they glow in the dark.
Rainbow Drip Nail Art
Creating a rainbow ombré across the drip design is a popular take on the trend.
Drip Nail Art With Neon Base
Combine the drip nail art trend with a neon nail polish. Using these fluorescent hues has been popular among celebrities this Summer, as stars like Billie Eilish and Rihanna have all been seen wearing them.
Holographic Drip Nail Art
Adding holographic accents to your drip nails will make your friends stop and stare. The look can be easily created by dipping the nails in a high-shine powder.
Pearlescent Drip Nail Art
Using an iridescent base is another way to make your drip nails stand out even further. The pearly look that magically shifts colors in the light is one of Korea's biggest nail trends and works well with the falling liquid design.
Drip Nail Art With Glitter
Your friends will "Ooh" and "Ahh" at your glittering drip manicure.
Drip Nail Art With Negative Space
Pair this nail trend with the popular negative space look by painting it over a nude-toned or clear base.