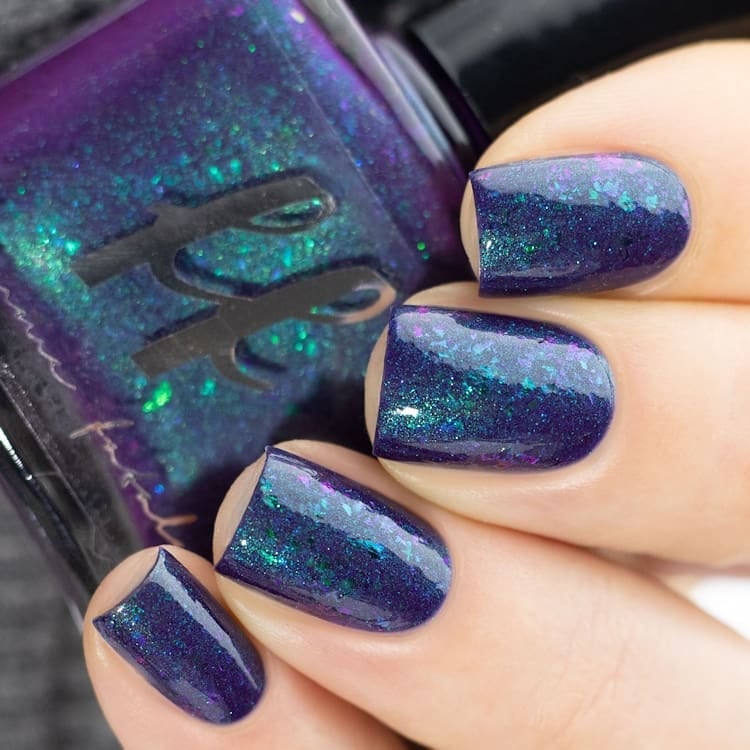 As bonafide beauty aficionados, we've explored nearly every corner of social media to discover the latest and greatest trends and products, from TikTok to Instagram. But there was one bold frontier we hadn't yet dipped into, until now: Reddit. And dip we did, into the under-the-radar world of indie beauty with the subreddit Indiemakeupandmore. The essential brand for magnetically alluring eye shadow? We found it. What product will give you the ultimate dewy glow? We'll tell you (after Reddit told us). Ahead, we've rounded up Reddit's best-loved indie beauty brands you need to add to cart ASAP.
Fyrinnae Cosmetics
Based in the Pacific Northwest, this independent beauty brand takes pride in the fact that its collection of crafted-in-the-US shadows, highlighters, lip products and perfumes are all vegan and cruelty-free. The brand's glitter shadows are its claim to fame, along with the much-adored Pixie Epoxy ($7), a unique glue specially formulated to keep glitter eyeshadow budge-proof and free of fallout.
As Reddit user u/cnyttan noted, Fyrinnae's Lip Lustre ($7) is worth its own thread: "It basically feels like wearing a lip balm but looks like lipstick. It's incredibly moisturizing and feels so so comfortable. Why have I been wasting my time wearing liquid lipstick, which flakes and gets icky on me?? I should have been wearing this!"
Packed with emollient butters, including mango seed butter, and hydrating oils like jojoba and castor seed, Lip Lustres are the lip product hybrid you need to be swiping on ASAP.
Dawn Eyes
Looking to create an ethereal eye look? Dawn Eyes boasts a collection of highly pigmented multichrome eye shadows that look like pure magic. These cruelty-free shadows shift colors in the light to impart a totally alluring look. Pro tip: buff them on with a damp dense brush for maximum color payoff.
Clionadh Cosmetics
Another go-to for iridescent shadows, Clionadh Cosmetics' matte shades are also worth experimenting with, according to Reddit user u/Eldritchjellybean: "I got the Pangea matte shadow and absolutely love how effortlessly blendable it is." We think Aurora (C$6) will be an absolutely dreamy pastel shade for Spring.
My Pretty Zombie
In case the name isn't attention-grabbing enough, rest assured, this edgy indie darling will steal your heart with its legendary MDMA Blush ($9). A universally flattering rosy pink hue with a golden afterglow, it's an easy-to-wear, everyday staple.
Shroud Cosmetics
Reddit users rave about this 100 percent vegan, gluten-free and cruelty-free brand's glitter shadows, and with good reason. From sparkly silver to vibrant green, there's a shimmering shade to create the ultimate statement eye for everyone.
Chaos Makeup
The must-have product from Chaos is almost too pretty to even use. The handcrafted, Texas-bred indie beauty brand's Kaleidoscope Rainbow Highlighter ($26) has won over the beauty community, and not just because it's simply mesmerizing to behold. The pressed powder is glitter-free and easily buildable to help you attain that quintessential glowy-but-not-too-glowy look.
Baby Bat Beauty
This self-proclaimed creator of "cute and creepy cosmetics for your every desire" is a Reddit favorite, especially for its Matte Liquid Lipsticks ($14). Users agree there's no better way to nail an opaque, non-drying lip look, and the range of colors span from everyday nudes and pinks to wow-factor shades of purple, red, and even turquoise. Bonus: They're all talc-, paraben- and gluten-free, as well as PETA certified cruelty-free.
INLOVE Cosmetics
With a commitment to emphasizing the importance of self-love through its mission of "shifting the focus from a perfect you to a better you," INLOVE has gained a cult following of indie beauty enthusiasts. One of its most celebrated products is the Vantage Eyeshadow Palette ($24), a versatile collection of 12 pressed powder shadows that can be used to create looks that range from work-ready neutrals to night-out shimmer shades.
Femme Fatale
There's a subcategory of nail polish known as "thermals, which change color according to temperature — sort of like a mood ring, but in nail polish form. And the crème de la crème of thermal polishes is made by Australian-based indie brand Femme Fatale.
Glaminatrix
Iridescent eyes, here we come. Australian-based Glaminatrix offers a full lineup of shadows, from foiled to matte to duochrome, cementing its position as indie beauty devotees' go-to brand for unforgettable eye looks.