Every editorial product is independently selected by our editors. If you buy something through our links, we may earn commission.
November has finally arrived, and POPSUGAR beauty editors have a lot of new makeup products to be grateful for. Now that we're well into Fall, the colors are deeper and moodier, the textures are richer, and the formulas are more hydrating, and we've tested a wealth of new launches to bring you the very best picks.
Our editors have fallen in love with emollient liquid lipsticks that won't dry out your already chapped skin, long-lasting eyeliners that won't smear should your eyes water from the wind, and bright eye shadows that will stand out even when you're bundled up.
Check out the best new makeup of November, ahead.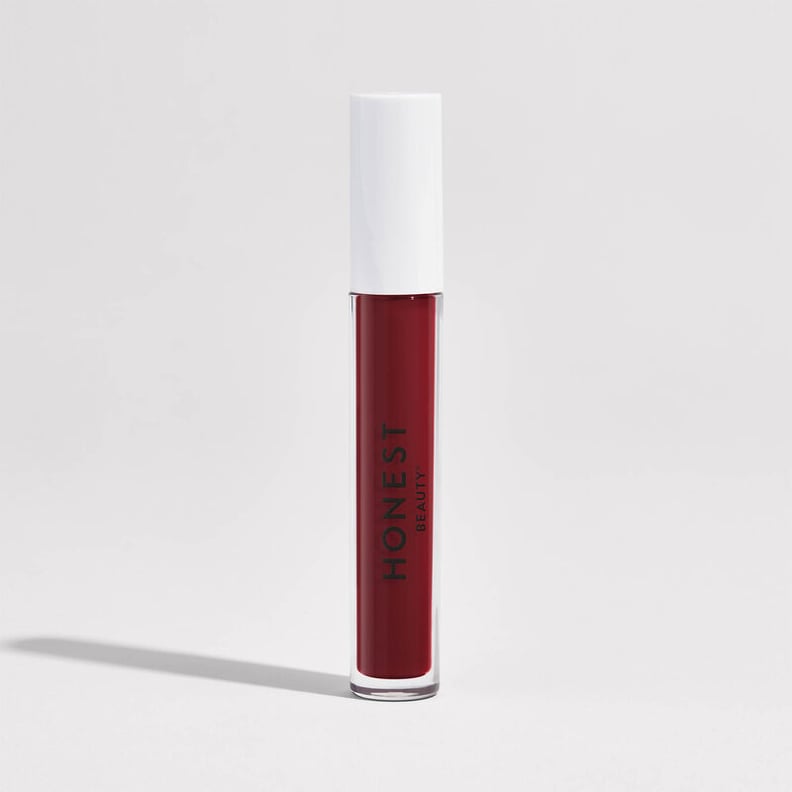 The Honest Company Liquid Lipstick in Love
"I love a good long-lasting lippie, but I can't say I don't question what's in the seemingly indestructible formulas. Honest Beauty's vegan matte liquid lipsticks are powered by clean ingredients but still offer that color payoff I like. The newest shade, Love ($13), is the perfect rich, red hue for fall that I find myself gravitating towards day after day." — Jessica Harrington, associate editor, Makeup.com and Skincare.com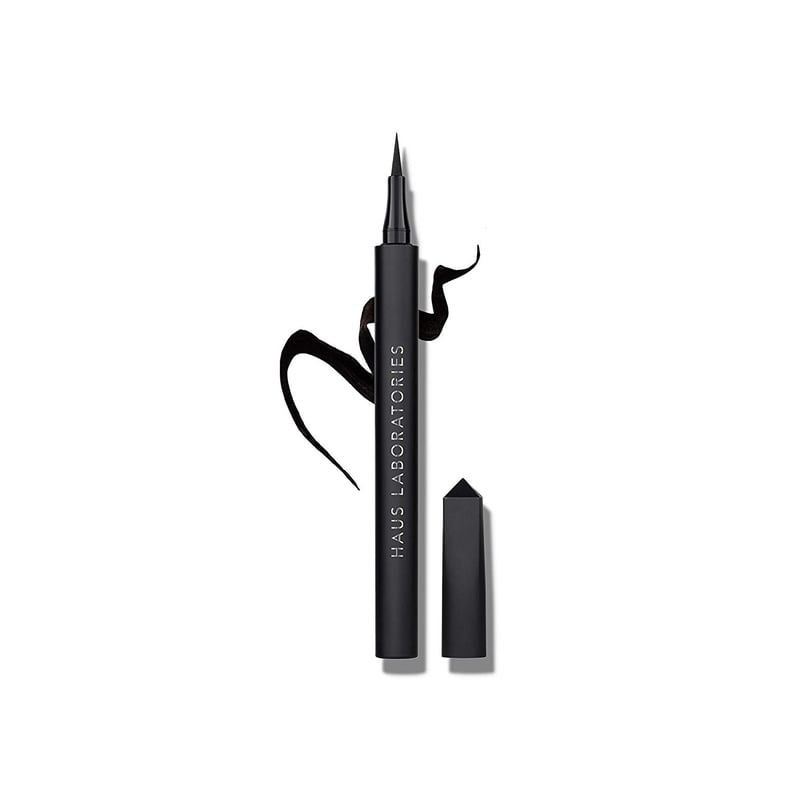 Haus Laboratories by Lady Gaga Liquid Eye-lie-ner Black Felt-Tip Liquid Eyeliner
"Lady Gaga's makeup artist Sarah Tanno once told me she strictly uses matte liquid eyeliner on the singer because it's the only kind that stays on during a sweaty performance, and while my aptitude for dancing is limited to the Carlton, that sounds like a pretty big endorsement. Enter: the Haus Laboratories Liquid Eye-lie-ner Black Felt-Tip Liquid Eyeliner ($20), a jet-black, completely budge-proof formula that's easy to swipe on but won't run like the rest of 'em any time I want to bust a move." — Kelsey Castañon, senior editor, Beauty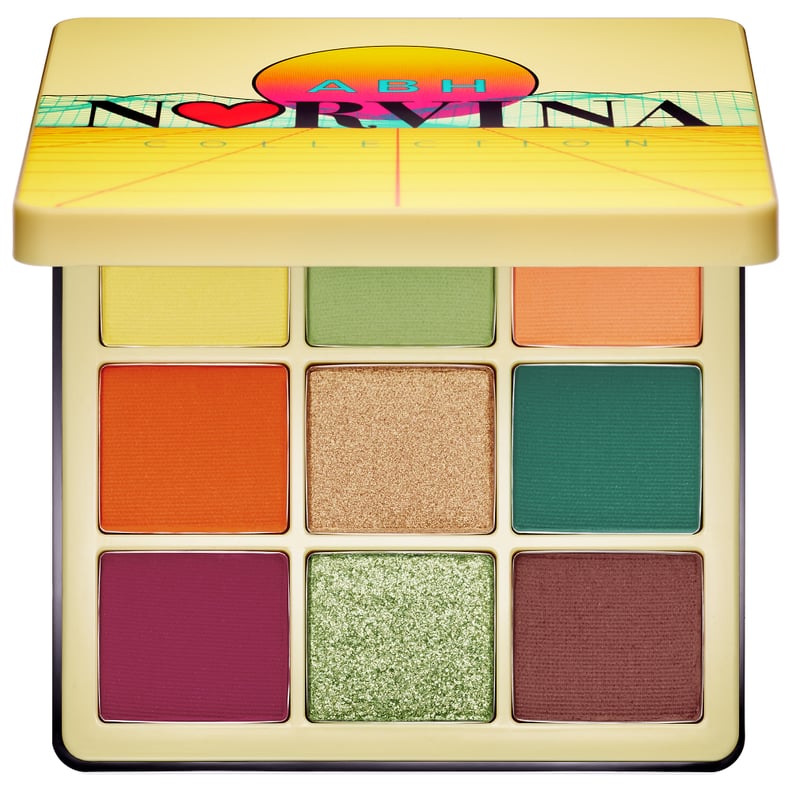 Anastasia Beverly Hills Norvina Mini Pro Pigment Palette Vol. 2
"When I saw the original Norvina palettes, I was entranced by the unique colors, but wondered if I needed that many bright hues. Fortunately, the Anastasia Beverly Hills Norvina Mini Pro Pigment Palette Vol. 2 ($29) palette emerged, and my heart skipped a beat. The washed-out '70s-inspired color scheme includes hues I don't already own, plus it's small enough that I don't mind adding it to my already-stuffed-full drawer. The best part, however, is how silky-smooth, easy to blend, and superpigmented each color is. I can't wait to continue to experiment with these new shades." — Sarah Siegel, assistant editor, Beauty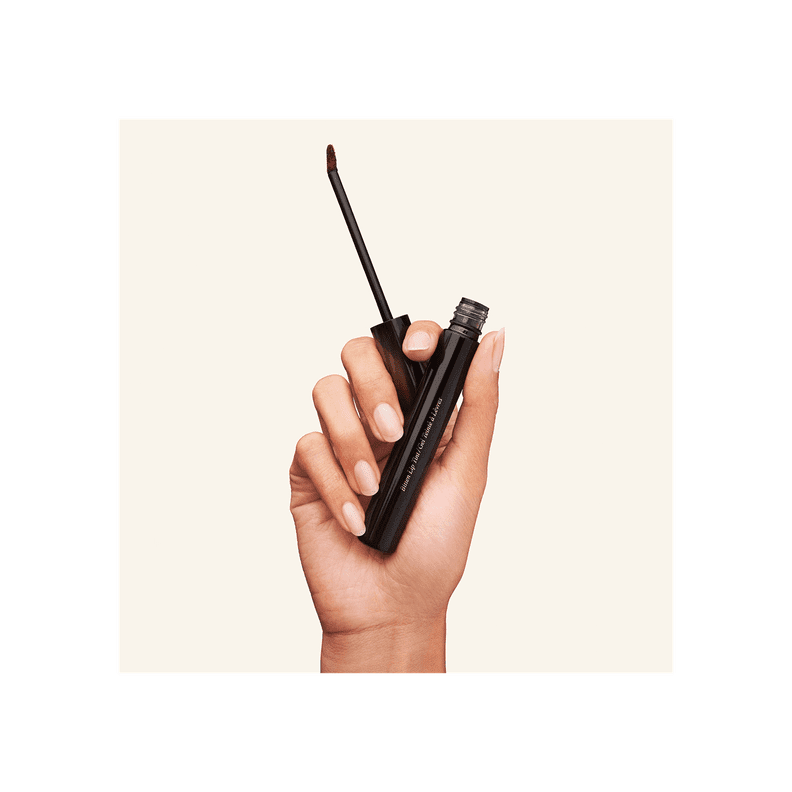 Victoria Beckham Beauty Bitten Lip Tint
"I used to be a big lipstick girl. Red was my signature and I had no qualms about maintaining my bright pout throughout the day. (I was a beauty editor and having a mirror at my desk was basically a requisite.) But, I got a new job and had a baby and suddenly the upkeep wasn't really worth it anymore. Which was cool, until I started noticing my corpse-like face in photos. No lipstick meant I looked washed out and pale — I'm already battling dark circles under my eyes, I don't need to worry about disappearing lips. Thus, my search for the perfect lip balm. I needed something with color, but not messy. Something soothing, but not sticky. Turns out it didn't really exist, until I tried the new Victoria Beckham Beauty Bitten Lip Tint ($34). Its unique lipstick/lip gloss/lip balm hybrid provides the subtle pop of color my lips need to look alive. Plus, it quickly absorbs into skin so I don't have to worry about smears or messes. And best of all? My lips feel soft and smooth all day long." — Amanda Elser Murray, associate director, Native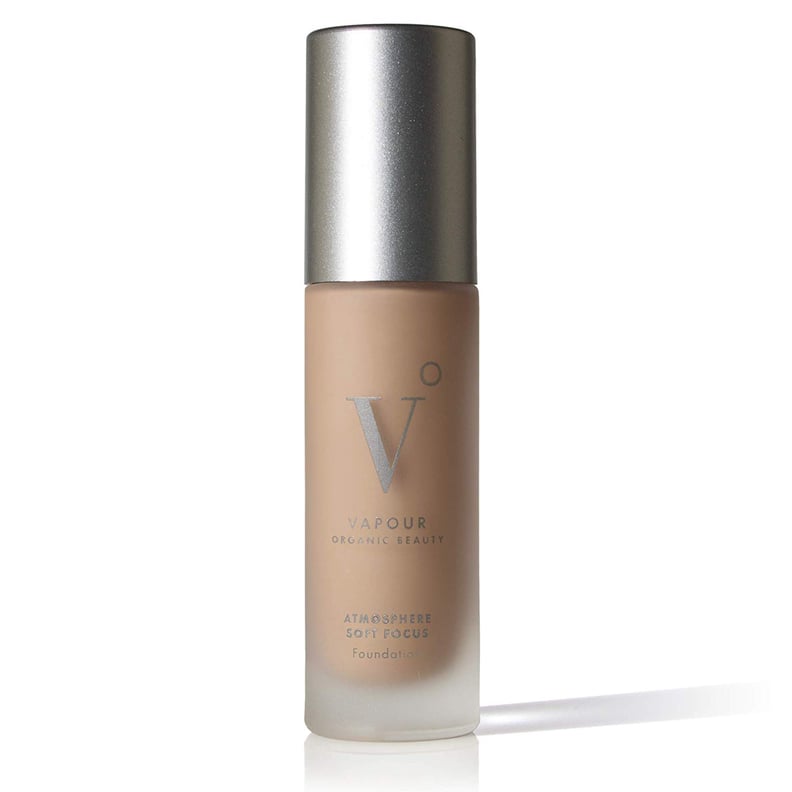 Vapour Organic Beauty Atmosphere Soft Focus Foundation
"Vapour Beauty was singing the clean beauty praises before what you can call 'the clean beauty takeover of 2019,' and I distinctly remember loving all their base makeup even eight years ago. Now, the brand has gotten a big makeover and introduced its new Atmosphere Soft Focus Foundation ($40, originally $50), which has me starry-eyed all over again. First, the formula feels so soft to the touch — seriously, it's like what I'd imagine rubbing a velvet blanket across your face might feel like — but leaves behind the most natural-looking veil of coverage and soft-focus finish. They were making great clean products then, but this new lineup takes the premise to a whole new level." — KC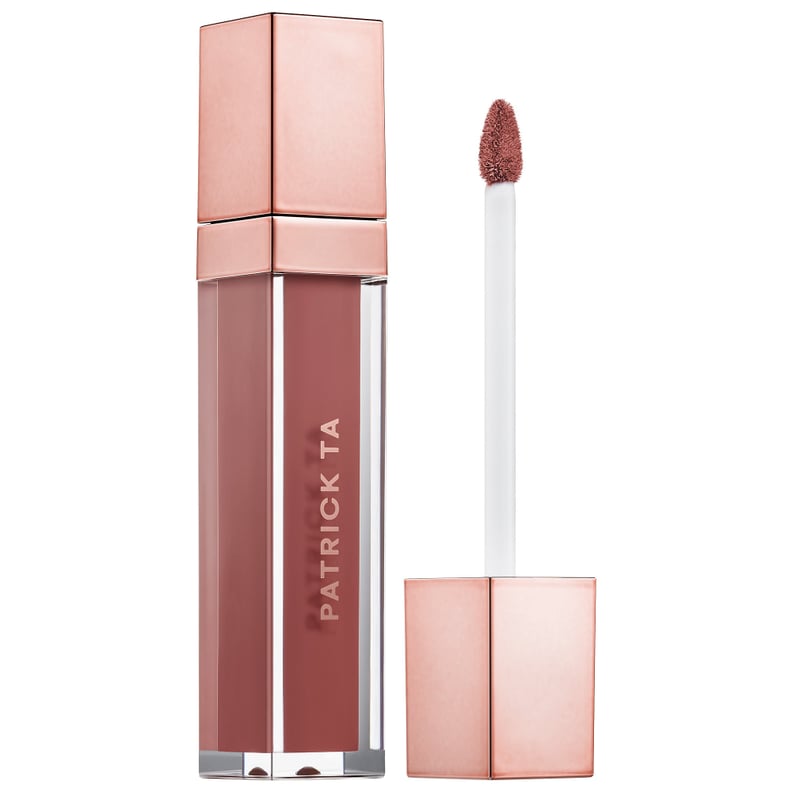 Patrick Ta Monochrome Moment Silky Lip Crème
"I initially wasn't sure what to expect from the Patrick Ta Silky Lip Crème ($24), and wrongly assumed it would be similar to a liquid lip. Instead, the cream felt like a lightweight gloss and gave me all of the color payoff of a conventional lipstick with added shine. It also did not feel the least bit drying, giving my lips a wet-looking finish. The formula also includes hydrating hyaluronic acid, which makes it comfortable to wear all day." — SS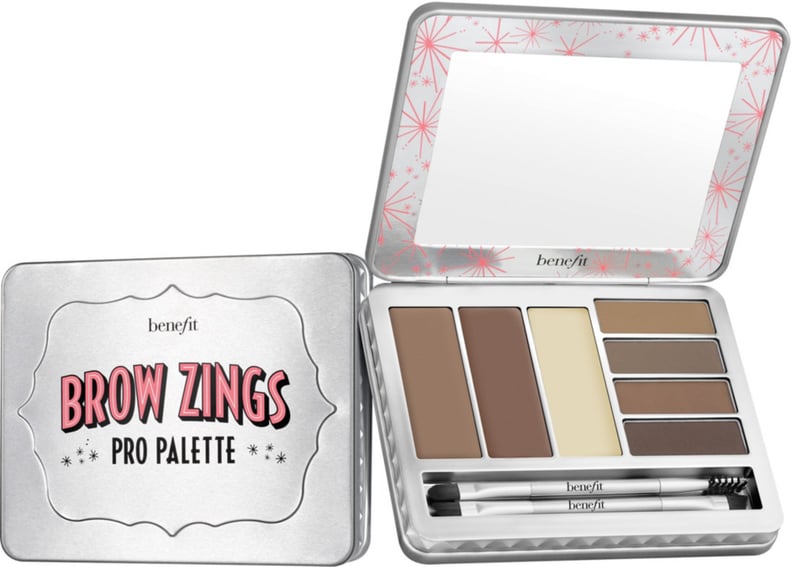 Benefit Cosmetics Brow Zings Pro Palette
"My go-to brow routine involves brushing on a tinted brow gel and . . . that's it. That's all I really have the time to do before I hop in a subway car or Uber to work. This palette, however, has been inspiring me to do more with my brows. With four powders and three waxes that I can easily maneuver to fill in the sparse areas of my brows, a teeny spoolie that fits snug inside of its portable compact (which, by the way, has a huge mirror) the Benefit Cosmetics Brow Zings Pro Palette ($39) has become a staple in my makeup bag for when I'm creating my backseat beat." — Jesa Marie Calaor, assistant editor, Beauty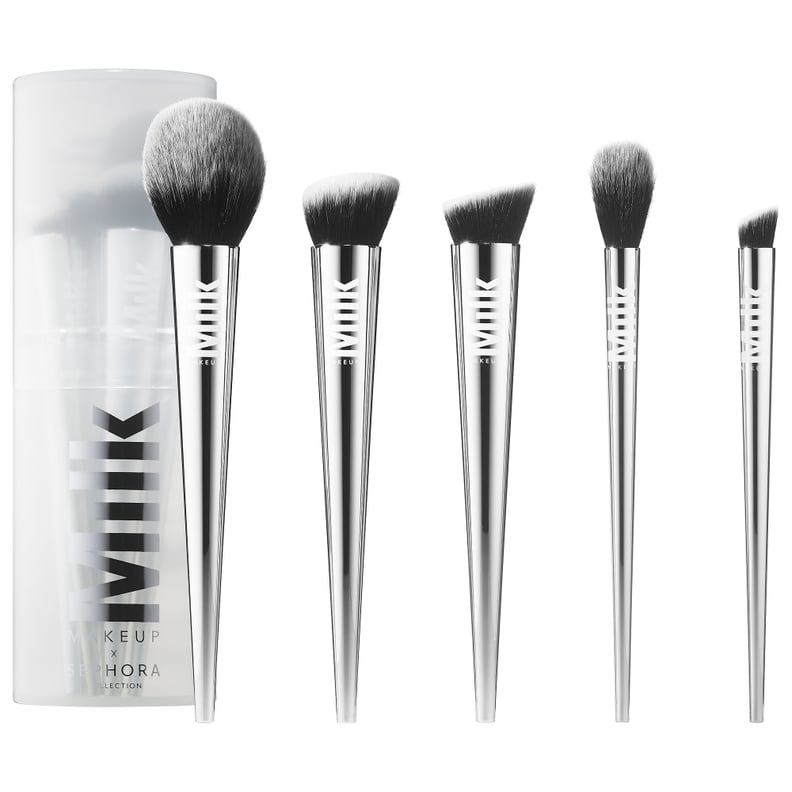 Milk Makeup x Sephora Collection Studio Brush Set
"In need of some stellar, ultrasoft brushes? The Milk Makeup x Sephora Collection Studio Brush Set ($58) aren't just chic, they're also high quality. The set comes in a portable translucent container with five face brushes to use with different makeup products: setting powder, creams, foundation, highlighter, and concealer. Plus, they're cruelty-free, which means I can blend away without guilt." — SS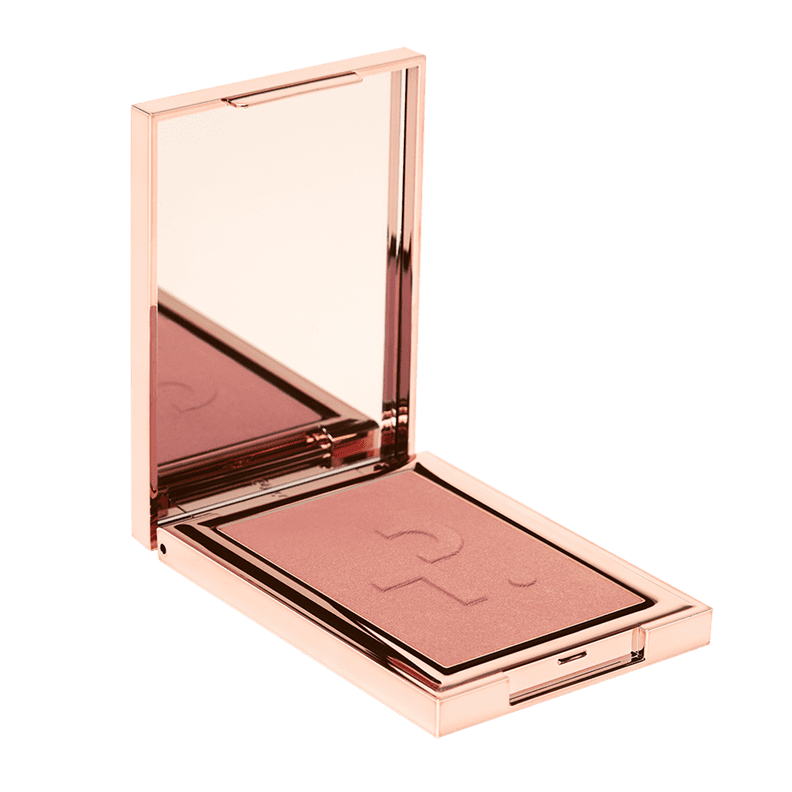 Patrick Ta Beauty Monochrome Moment Velvet Blush
"I think blush might be the most important product in my routine, particularly as my freckles fade and skies get gray. A pop on my cheeks just makes me look much healthier and prettier, and I've found my new go-to for the season. The velvety texture of the Patrick Ta Beauty Monochrome Moment Velvet Blush ($32) is so luxe to apply, and each shade is more beautiful than the next. She's Sincere is a soft peach, which added a nice warmth to my pale complexion. The large vertical mirror inside the rose gold compact is also a plus." — Joanna Douglas, head of Native Content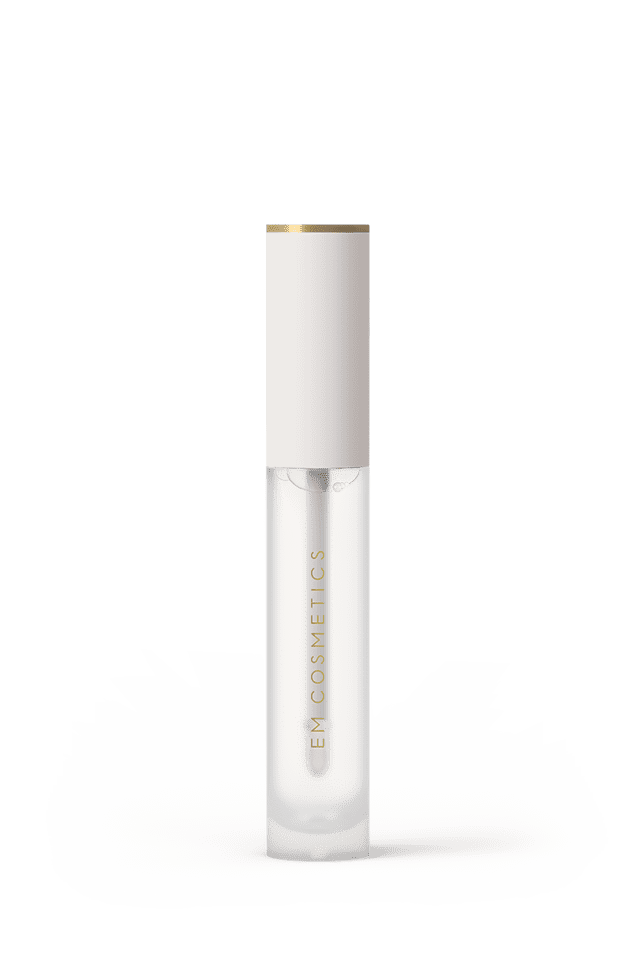 Em Cosmetics Quartz Morning Dew Crystal Lip Gloss
"I have to admit, I was pretty reluctant to embrace the lip gloss trend (I couldn't get over the flashbacks to middle school when my hair used to get stuck in it). But the new Em Cosmetics Quartz Morning Dew Crystal Lip Gloss ($20) is a game changer for me. The high-shine gloss makes my lips look glass-like, sans any stickiness, and feels comfortable and hydrating." — JH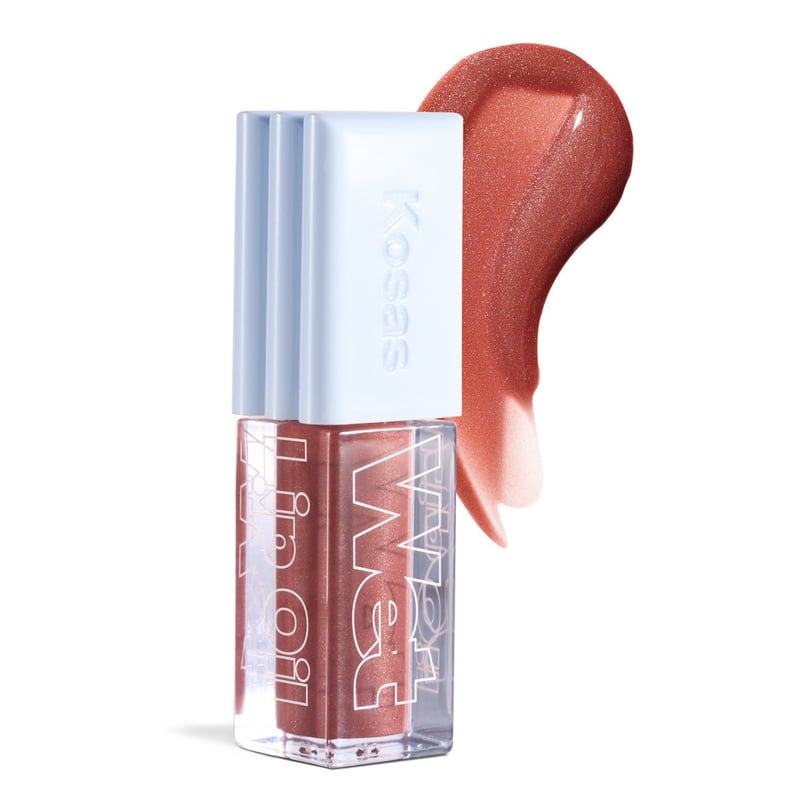 Kosas Wet Lip Oil Gloss
"I can't get enough of every shade of the Kosas Wet Lip Oil Gloss ($27). When you unscrew the pale blue top of the gloss, a slightly curved and skinny doe-foot applicator emerges, making it easy to precisely apply the product. While the formula is a little tacky to the touch, it's nothing like the sticky lip gloss tubes of the early 2000s that your hair would stick to on a windy day. Instead, these glosses are so comfortable to wear, you'll probably forget you have them on. The single best part of the glosses, in my opinion, is the slightly sweet scent that reminds me exactly of Stewart's Orange n' Cream Soda, my favorite childhood treat." — SS