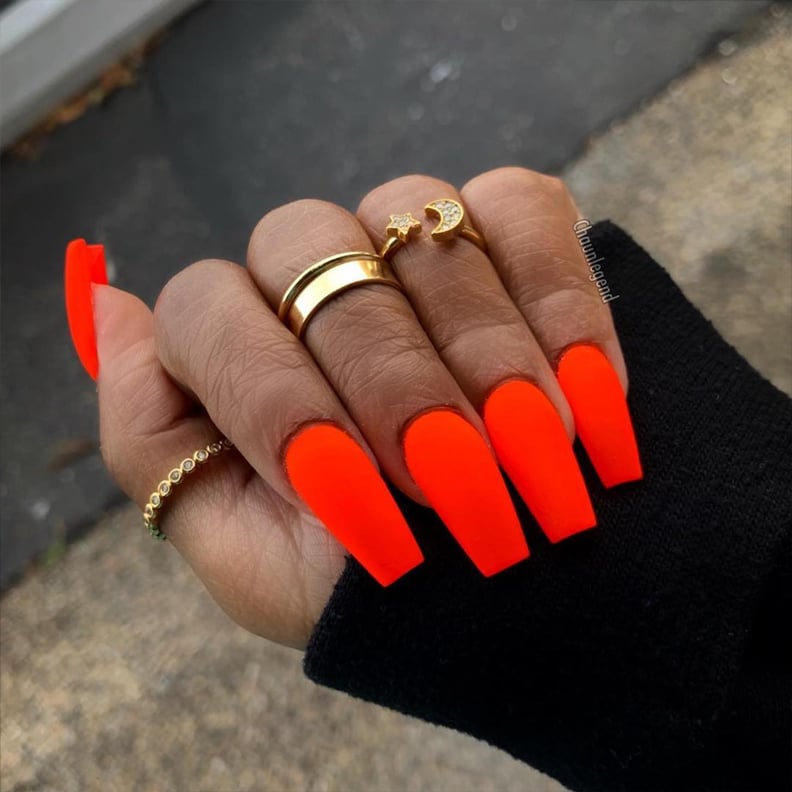 This year was a huge time for nail trends as celebrities and beauty devotees elevated the category from afterthought to star of the show. The usual seasonal colors got swapped for bolder shades, retro trends returned, and nail art took to new 3D heights.
The most popular nail styles ranged from intricate designs with added accessories to new unexpected color palettes, making it easy to get creative with your manicure. The looks are so diverse, there's sure to be one you'll want to try out. Check out the biggest nail trends of the year ahead.
The French Manicure
This year, the 2000s trend came back in a big way with more variations than we could keep track of. While some beauty-lovers went the classic light pink and white tip route, others experimented with gradient effects, neon tips, and even patterned varieties. The shape of the tip changed, too, with some nail artists painting them in angular or pointed shapes for a modern update.
Green Nail Polish
All shades of green got plenty of appreciation this year, not only in clothes but also in nail polish. Celebrities like Kendall Jenner chose hues like pistachio, while Rihanna and Billie Eilish opted for shades of neon lime.
3D Nails
You can thank Cardi B herself for popularizing this trend. While not all nail looks were blinged out like the rapper's go-to manicures, this year, gems, charms, and decals reached new heights of popularity. Nail accents no longer need to lay flat, leading to endless possibilities of creative designs.
Neon Nail Polish
We spotted neon everywhere this year, on the nails of celebrities and our friends alike. While some people opted to wear the hues all over their manicure, others used the florescent shades just on their tips.
Year-Round Pearly White Nail Polish
White used to be reserved for just the Summer months, but the pearly hue is now a year-round manicure shade. Manicurist and brand founder Jin Soon Choi previously told POPSUGAR that the hue was trending for Fall as well. "The pearl element adds an elegant dimension that is ideal for ushering in the new season," she explained.
Jelly Nails
Translucent nail finishes dominated our Instagram feeds over the Summer, resembling the popular jelly sandals of the '90s and giving us major nostalgia. The jelly nail look is achieved with false transparent nails or a sheer colored tint polish on top of your nails.