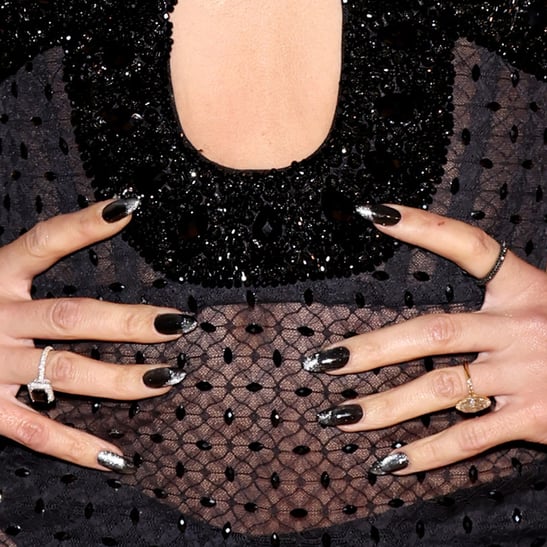 Cat-eye nails are taking over Instagram once more. The popular manicure trend was big in the early 2010s, but it's making a comeback. If you're baffled by this trend, we don't blame you. The process for how to do cat-eye nails involves some unique nail tools, such as metallic polish and a magnet. This creates an effect that resembles the distinctive finish of a cat's eye with a line running down the center of the nail. The final result is a cross between a shimmer and soft velvet, creating a very special manicure.
Jenna Dewan, Sydney Sweeney, and Ashley Tisdale have all worn the nail design recently, further proving its popularity. Cat-eye nail designs come in all manner of colors: black, red, pink, purple, green, blue — the list goes on and on. Most nail salons should be able to give you a cat-eye design on your nails if you request it and show them a reference photo, but it's also possible to do at home.
Cat-Eye Nails Tutorial:
Step 1 — Paint the Base of Your Nails: First, you'll want to give yourself a basic manicure (cut, file, and buff your nails into the desired shape). To make the manicure look even more feline, you can file your nails into a thin almond shape to resemble claws. Then, paint your nails with the color of your choice.
Step 2 — Apply Your Magnetic Cat-Eye Polish: Next, you'll need a special cat-eye nail polish designed specifically for this trend. It contains magnetic metallic pigments that are moved around with a magnet to create the unique finish. Some of these polishes contain color, eliminating your need for a base, while others are more of a topcoat.
Step 3 — Move the Magnet Over Your Nails: Next, you'll need a cat-eye nails magnet. The key to making your nails look like cat eyes is to move the metallic pigments around by hovering a small magnet over your fingernails. Depending on how you point the magnet, the pattern of the metallic polish will change.
Step 4 — Apply a Topcoat: Once you've achieved your designed cat-eye pattern, seal in the polish with a topcoat. And you're finished.
Check out some examples of cat-eye nails ahead to inspire your own manicure.
— Additional reporting by Sarah Seigel
Pink Cat-Eye Nails
This cat-eye manicure includes pink nails with one green accent finger.
Silver Cat-Eye Nails
Silver cat-eye nails have a shimmery finish that resembles jewelry or metal.
Pink Cat-Eye Nails
These hot-pink cat-eye nails really pop.
Purple Cat-Eye Nails
Purple and black make for a great combo when getting a cat-eye design.
Blue Cat-Eye Nails
These blue cat-eye nails include a hint of black to add dimension.
Black Cat-Eye Nails
Black cat-eye nails can feel really dramatic and luxe.
Green Cat-Eye Nails
This green cat-eye design is over a black base.
Blue Cat-Eye Nails
Turquoise isn't commonly seen with cat-eye nails, but it looks just as good.