11 Travel Makeup Bags That Will Protect Your Most Prized Beauty Products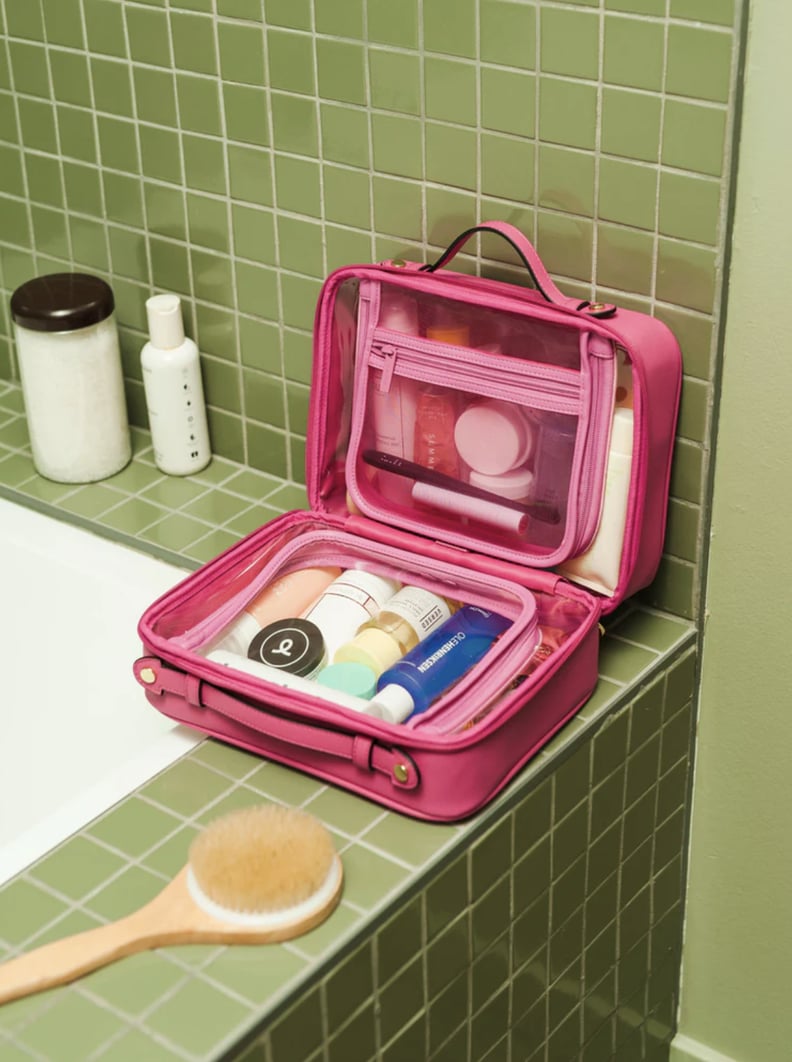 Calpak
Calpak
As POPSUGAR editors, we independently select and write about stuff we love and think you'll like too. If you buy a product we have recommended, we may receive affiliate commission, which in turn supports our work.
Whether you're an avid traveler always on the go or a beauty-lover whose most prized possession is their cosmetic and skin-care collections (we totally get it!), a quality travel makeup bag is arguably one of the most worthwhile investments you can make. Hear us out: with a travel makeup organizer, you can keep all of your beauty essentials safely tucked away, organized, and ready to go at a moment's notice. The products also help to make travel a breeze — whether you're in need of something compact that will fit in your checked suitcase or are searching for a clear travel makeup bag that you can easily take through TSA, there are so many different product styles, all designed to align with you and your lifestyle.
While you're feeding your wanderlust this year and embarking out on a busy season of holiday travels, consider investing in one of these 11 quality travel makeup bags to make your next hotel stay, road trip, or journey through airport security, a little more painless. We've searched for the cutest, most convenient bags so you can finally ditch your old plastic sandwich bags in favor of something more long-lasting. From clear makeup bags that are TSA-approved to travel makeup bags with compartments and even a space-saving hanging toiletry bag style that will allow you to see all of your favorite beauty products in full-view, these are the best travel makeup bags to take on your next jet-setting adventure.
— Additional reporting by Sarah Siegel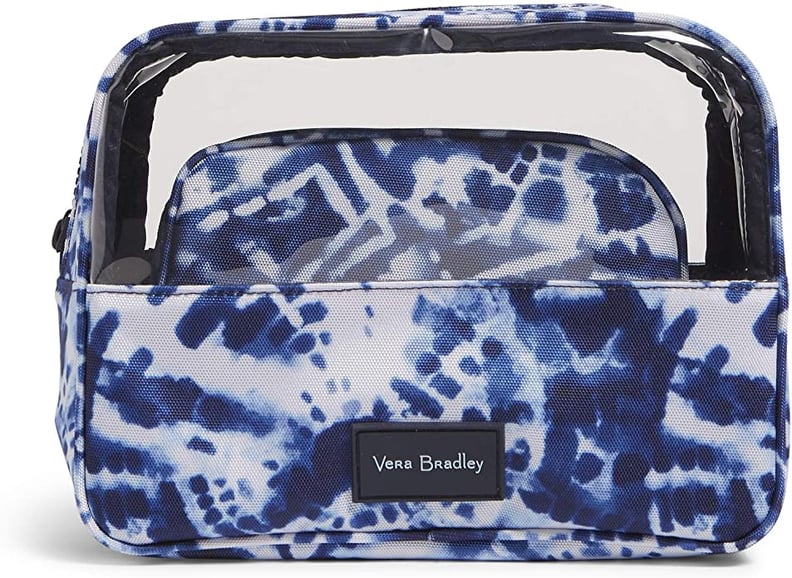 Most Stylish Travel Makeup Bag: Vera Bradley ReActive Cosmetic Makeup Organizer Set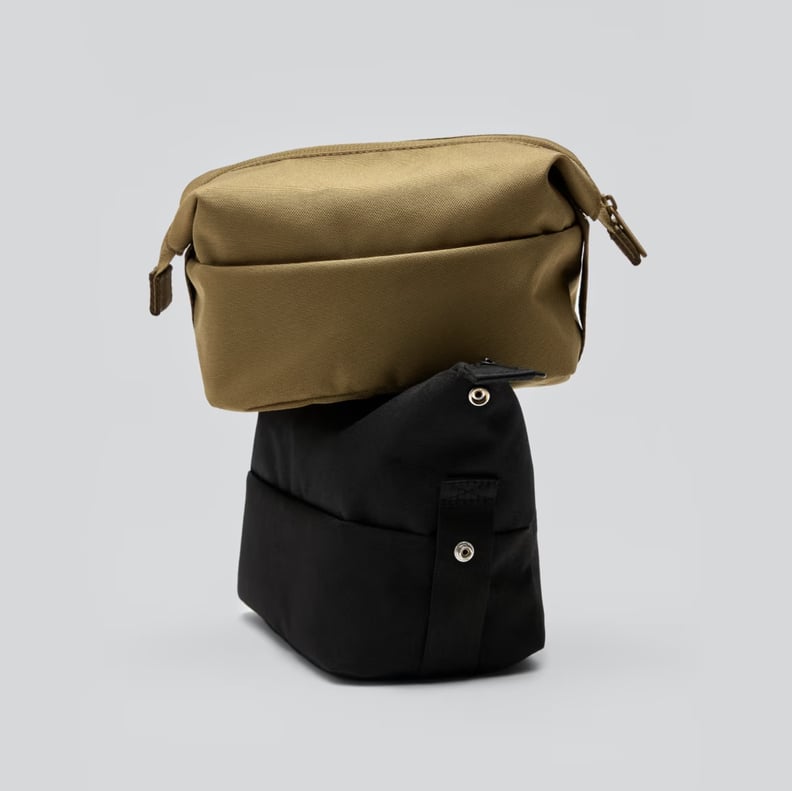 Best Sustainable Travel Makeup Bag: Everlane The ReNew Catch-All Case
We love products that are as pretty and practical as they are eco-friendly, too — just like this Everlane The ReNew Catch-All Case ($35). The cosmetic bag is crafted from 100 percent recycled polyester material, making it a sustainable alternative to some of the other styles on this list. Plus, it's even designed with five interior drop-in pockets that allow you to easily organize all of your makeup products.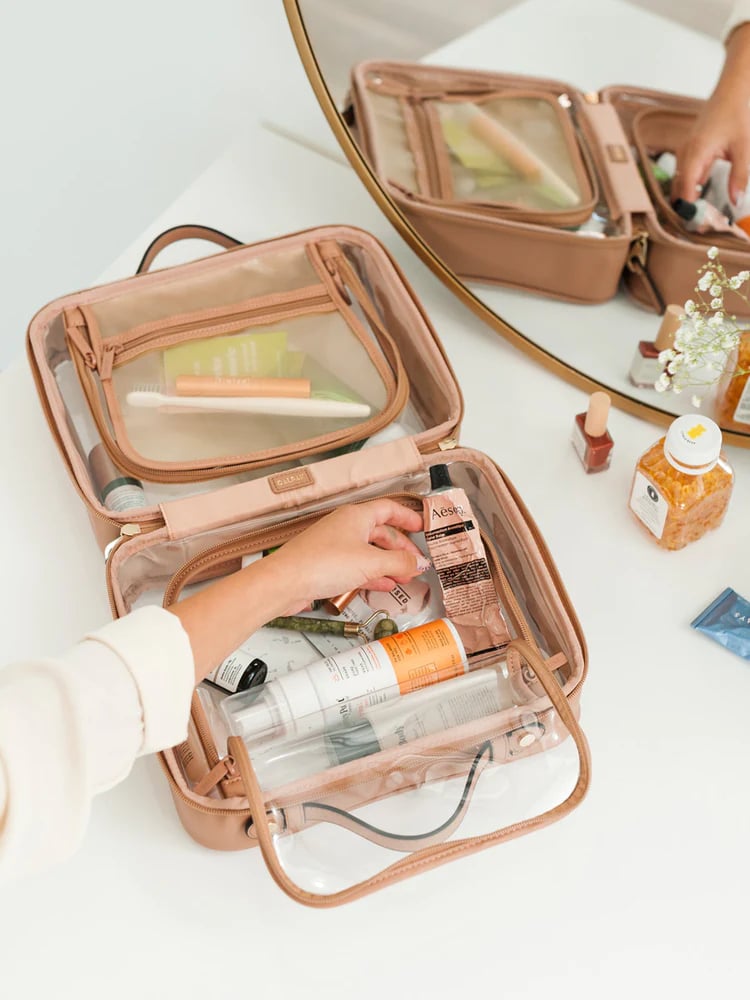 Best Clear Travel Makeup Bag: Calpak Clear Cosmetics Case
Clear travel makeup bags are an essential if you're heading out for a short trip and just need something that's TSA-approved to store in your carry-on bag. This Calpak Clear Cosmetics Case ($76, originally $95) is especially chic, as it features a caramel-colored lining and boasts two spacious zippered compartments.
Best Hanging Travel Makeup Bag: Bagsmart Toiletry Bag
If you're anything like us and have a habit of cluttering your hotel room with all of the products you crammed into your suitcase, then this Bagsmart Toiletry Bag ($23, originally $25) is a great space-saving solution. The travel toiletry bag will allow you to easily carry all of your beauty and skin-care products, and then seamlessly hang the product in your closet for ease.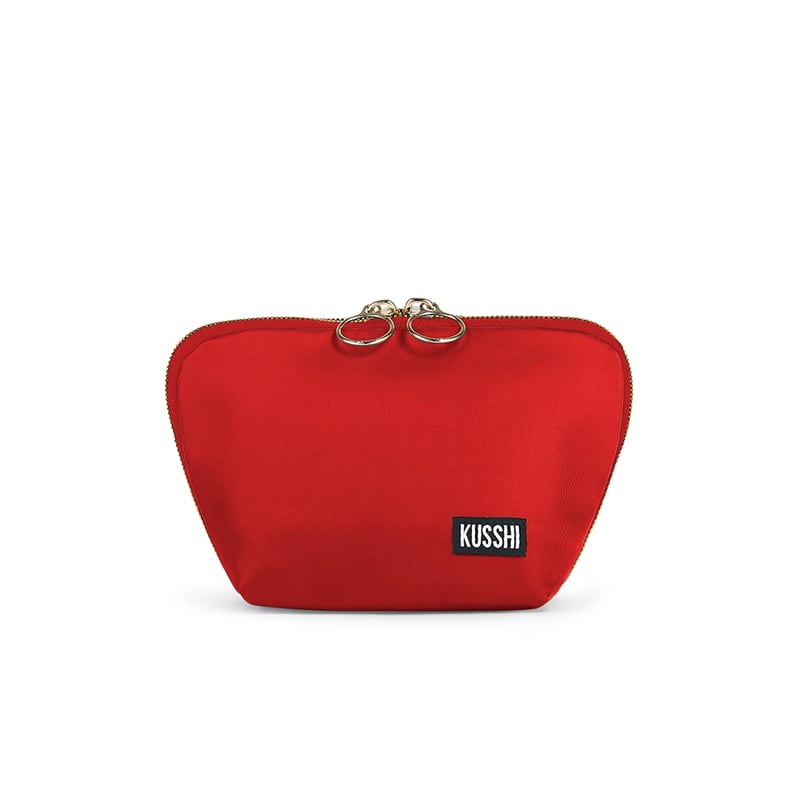 Best Compact Travel Makeup Bag: Kusshi Everyday Makeup Bag
While there are certain items we can forgo when traveling, beauty products are always an essential regardless of the duration of the trip or destination. This Kusshi Everyday Makeup Bag ($45) is compact and totally cute! Thanks to the small nature of this travel makeup bag, you can take all of your must have cosmetics on the go with you and still have ample room left in your suitcase, too!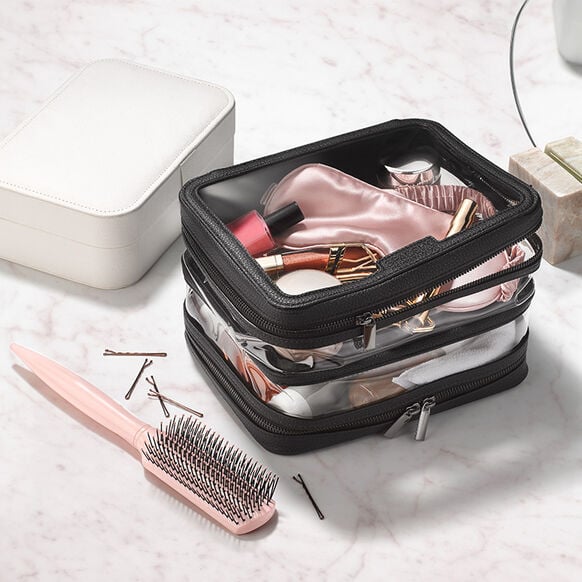 Best Travel Makeup Bag With Compartments: Space NK Double Travel Bag
If you value organization when traveling, then you'll love the look and feel of this Space NK Double Travel Bag ($60). The clear toiletry bag boasts ample interior space. Plus, with its divided compartments, you can separate your makeup and skin-care products accordingly.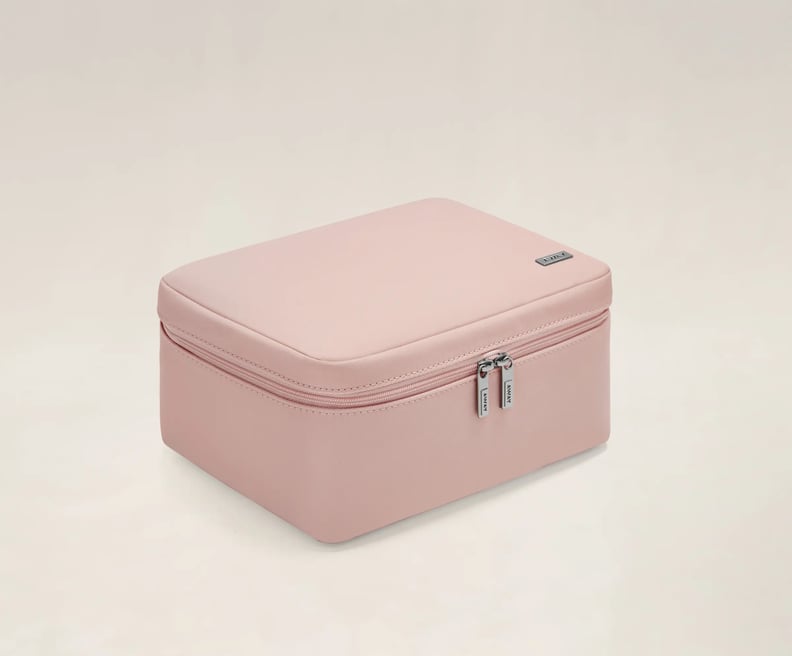 Best Overall Travel Makeup Organizer: Away The Cosmetics Bag
If you're looking for a makeup organizer that has it all, look no further than this Away The Cosmetics Bag ($75). With a bottom spill-proof compartment, the travel essential is sure to keep all of your liquids organized and upright. If the pink coloring isn't your vibe, the bag is also available to shop in black.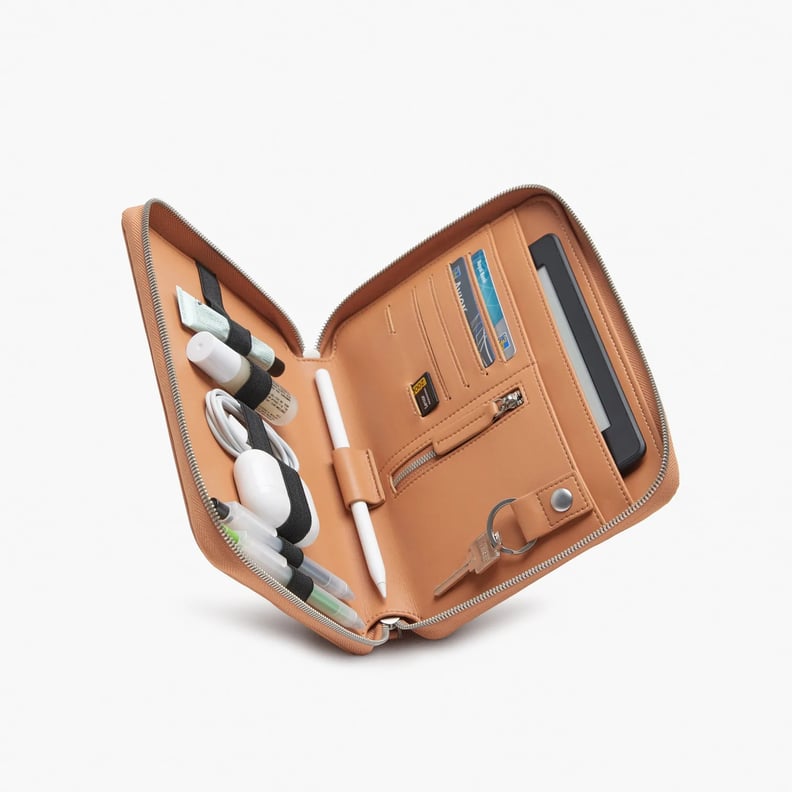 Best Travel Makeup Bag With Brush Holder: Monos Metro Folio Kit
When it comes to packing up our toiletries and skin-care products for a trip, we typically prefer taking it all in a single bag so that it's easier to transfer everything and seamlessly take it out at the airport or on our flight, if needed. This Monos Metro Folio Kit ($60) gives travelers the freedom to do just that, especially with its brush holder detailing!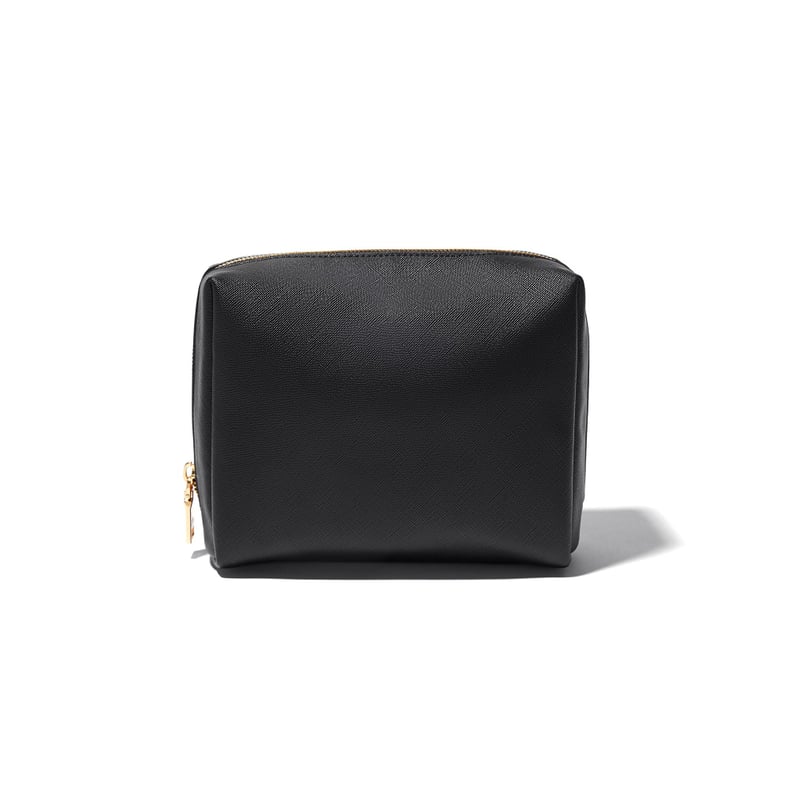 Best Heat-Protecting Travel Makeup Bag: OTM Monaco Makeup Bag
Add this OTM Monaco Makeup Bag ($145) to the list of things we never knew we needed, but now suddenly can't live without. The heat-protecting makeup bag helps to ensure that all of your makeup products are safely stored away and protected from even the hottest temperatures. Take it on your next tropical beach getaway for a taste of its full capabilities!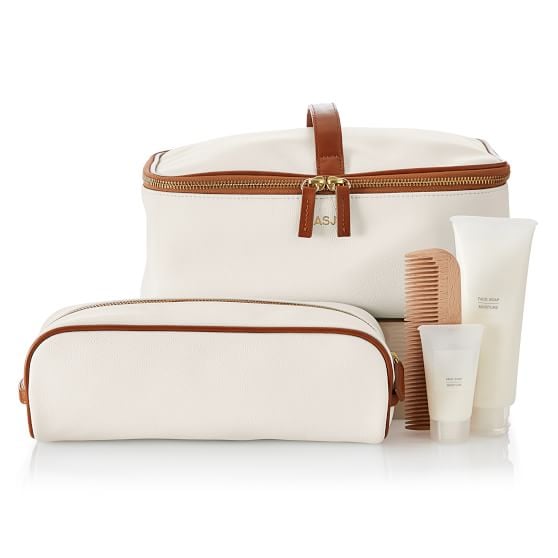 Best Travel Makeup Bag Set: Mark and Graham Concourse 2-in-1 Cosmetics Case
Why get only one travel makeup bag when you can get a whole set? This Mark and Graham Concourse 2-in-1 Cosmetics Case ($119) provides even more interior space to hold all of your travel essentials, as it comes in two separate bags. The camel-colored lining also helps to elevate the cosmetics set with a timeless touch!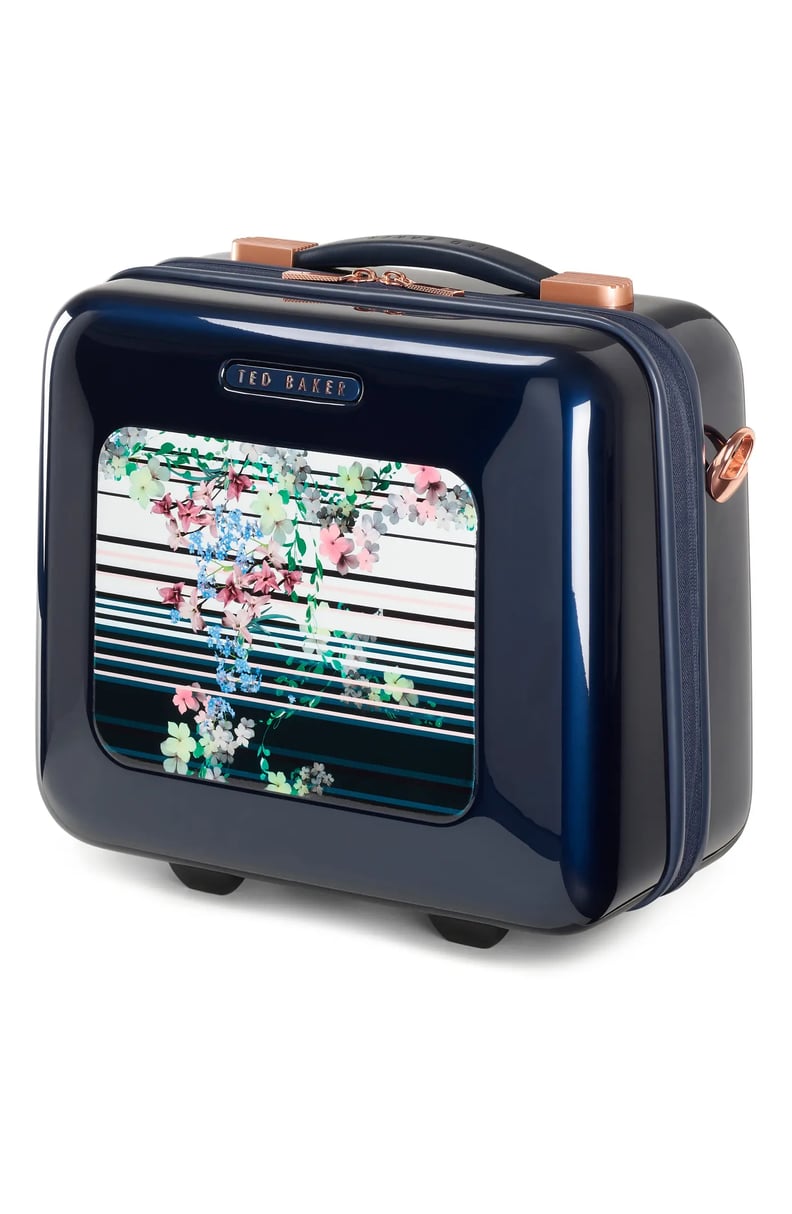 Best Hard-Shell Travel Makeup Bag: Ted Baker London Take Flight Vanity Case
If you want something that will last for the long-term, then you can't go wrong with investing in a hard-shell travel organizer like this Ted Baker London Take Flight Vanity Case ($295). With its structured frame, the makeup case provides a bit more durability than the average makeup bag.