Black Women Athletes Are Changing Beauty Ideals in Olympics
What We Love to See: Black Women Olympians Doing What They Want With Their Hair and Nails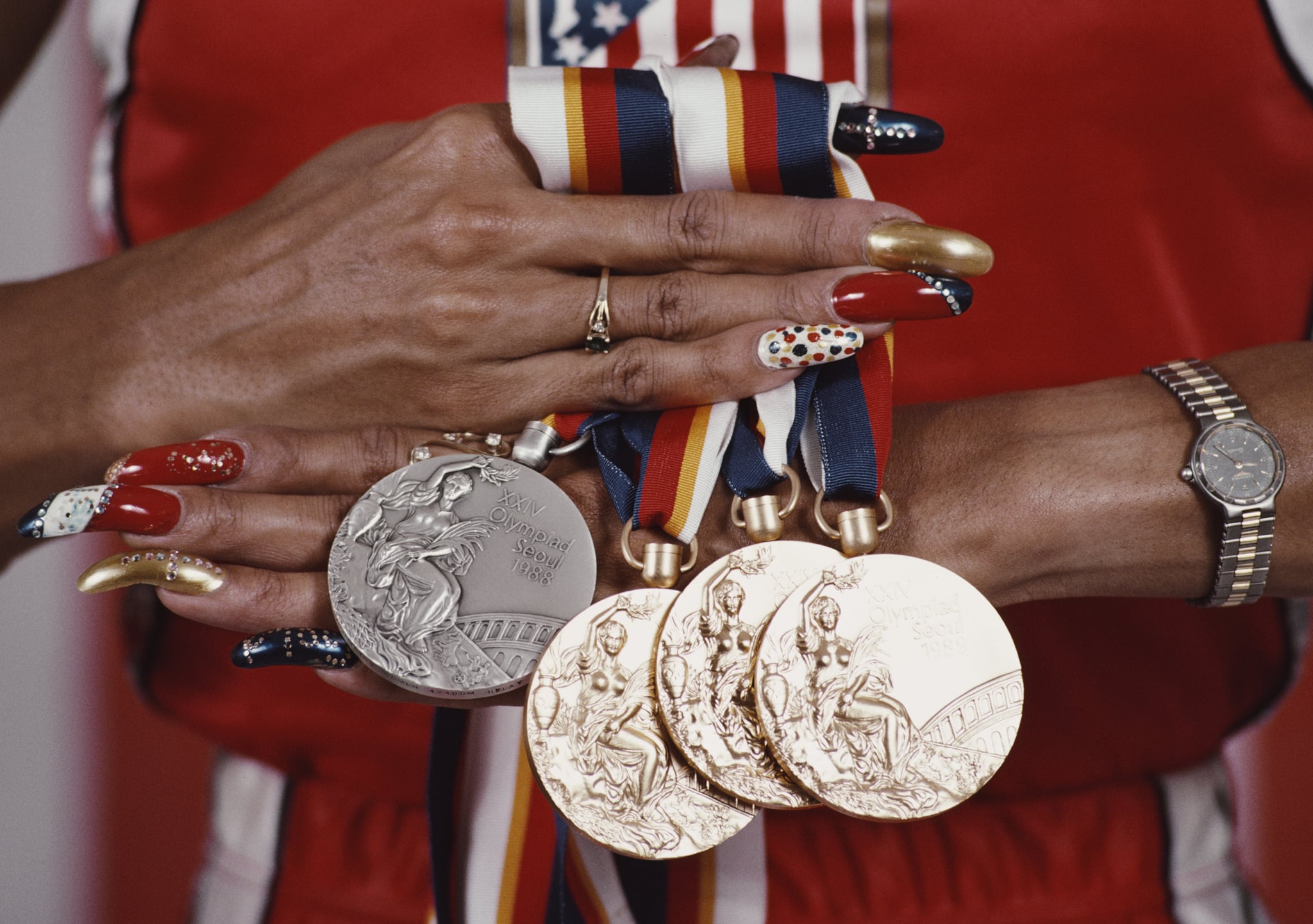 Image Source: Getty / Tony Duffy
Professional athletics and beauty have never been mutually exclusive. Whether it's the bright lipstick and long nails worn by the iconic track star Florence Griffith Joyner or the glamorous and long-wearing makeup seen on WNBA players, athletes have always found ways to express themselves through hair, clothing, and accessories — to an extent. Unfortunately, complete freedom of this kind of expression isn't always granted to Black athletes, especially if they are Black women.
For years, the appearance of Black women athletes has been under surveillance and picked apart by the public: being a "palatable" Black person has been a means for survival for centuries. Enslaved women would be forced to wear wraps on their heads because European slave owners found coarse and kinky coils offensive. Slaves who worked off of the fields wore hairstyles similar to those worn by 18th-century Europeans, because those styles were more "acceptable." Centuries later, entrepreneurs like Annie Malone and Madam CJ Walker created Black hair-care lines that included products meant to straighten kinky hair. Having straight hair was an assimilation tool to gain access to social and economic opportunity. This idea of sticking to the status quo and not standing out in beauty or fashion has trickled its way into our dominant culture.
"In a lot of these spaces, even in athletics, we are expected to tone down our creativity and more."
Influencer and stylist AK Brown told POPSUGAR that this has long been an expectation for Black women specifically. "In a lot of these spaces, even in athletics, we are expected to tone down our creativity and more," Brown said. "It's almost like code switching for us when we go into our 9-to-5, we either dress down or [we] don't use the colloquial terms that we would use around other fellow Black people. We're not able to express ourselves through our creative culture."
Slavery, colonialism, and the resulting oppression in its aftermath have sewn themselves into the depths of Black beauty standards and resulted in the creation of the "acceptable Black person" image. As such, beauty trends that don't fit within that European palatability parameter like long acrylic nails and colorful hair are perceived as "ghetto" or "unprofessional" when worn by a Black person.
A study conducted by the Perception Institute found that Black women suffer more anxiety about their hair compared to women of other races. Hair, nails, and clothing shouldn't matter in the workplace — and certainly not in the athletic arena — but unfortunately, it does happen . . . and it happens often.
It's hard to forget the 2012 and 2016 Olympics when Gabby Douglas was publicly tormented for her hair. Instead of discussing her talent as a gymnast, people flooded Twitter with critical comments about her appearance. Now, in 2021, the Tokyo Olympics have banned Soul Caps, a swim cap designed to accommodate Black natural hair textures that don't fit in traditional caps, during competitions because they don't follow "the natural form of the head."
Yet through all of the tweets, opinion pieces, and public criticism, it seems Black athletes are no longer concerned with being "palatable." It's been amazing to watch athletes show up with bold lipstick, bright nails, and braids or colorful hair and qualify for the Olympics, like shot putter Raven Saunders and track stars Christina Clemons and Sha'Carri Richardson.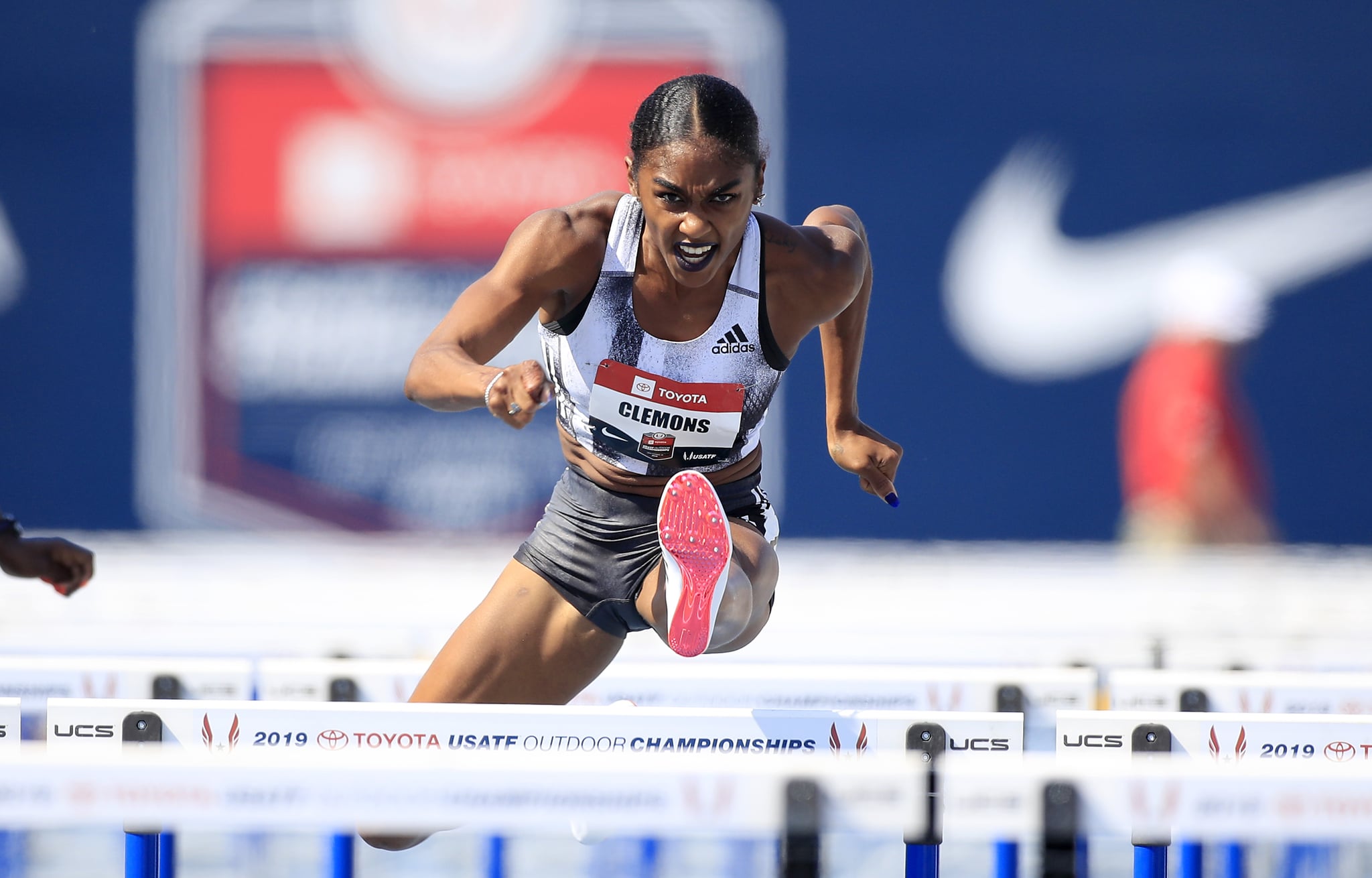 Image Source: Getty / Andy Lyons
These Olympians have been an inspiration to both current and former Black athletes. Etinosa Ogbevoen was a competitive swimmer for 15 years. She had an early understanding that swimming was a white sport. "I just didn't want to draw more attention to myself by having different colored hair or wearing my natural hair out," Ogbevoen told POPSUGAR. "I wasn't a person who was gonna stand out."
Ogbevoen has even felt apprehensive about taking risks with her own hair, but she was happy to see the athletes at this year's Olympic Trials. "I was scared to get colored hair, but to be an Olympian coming up with orange hair, long acrylics, Dorito earrings, and green hair, [is] like, 'Yes, finally, just show up as you are.'"
Eunice Boateng, a former runner for Canada's world team and now D1 track athlete at Syracuse University, is highly aware of the "acceptable Black athlete" image. "I understand that you can be Black, but not too Black," Boateng said. "I'm honestly tired of Black women not being able to be ourselves in the sports world." Boateng's photos have been used for track and field posters, and she said that if she wore colorful hair, her image may not be used for the school's promotional content.
Boateng has seen Richardson run at track meets. "She shows up, and she's herself," Boateng said. "This girl [had] some bright pink hair and was zooming everybody. I was like, 'Who is this?'"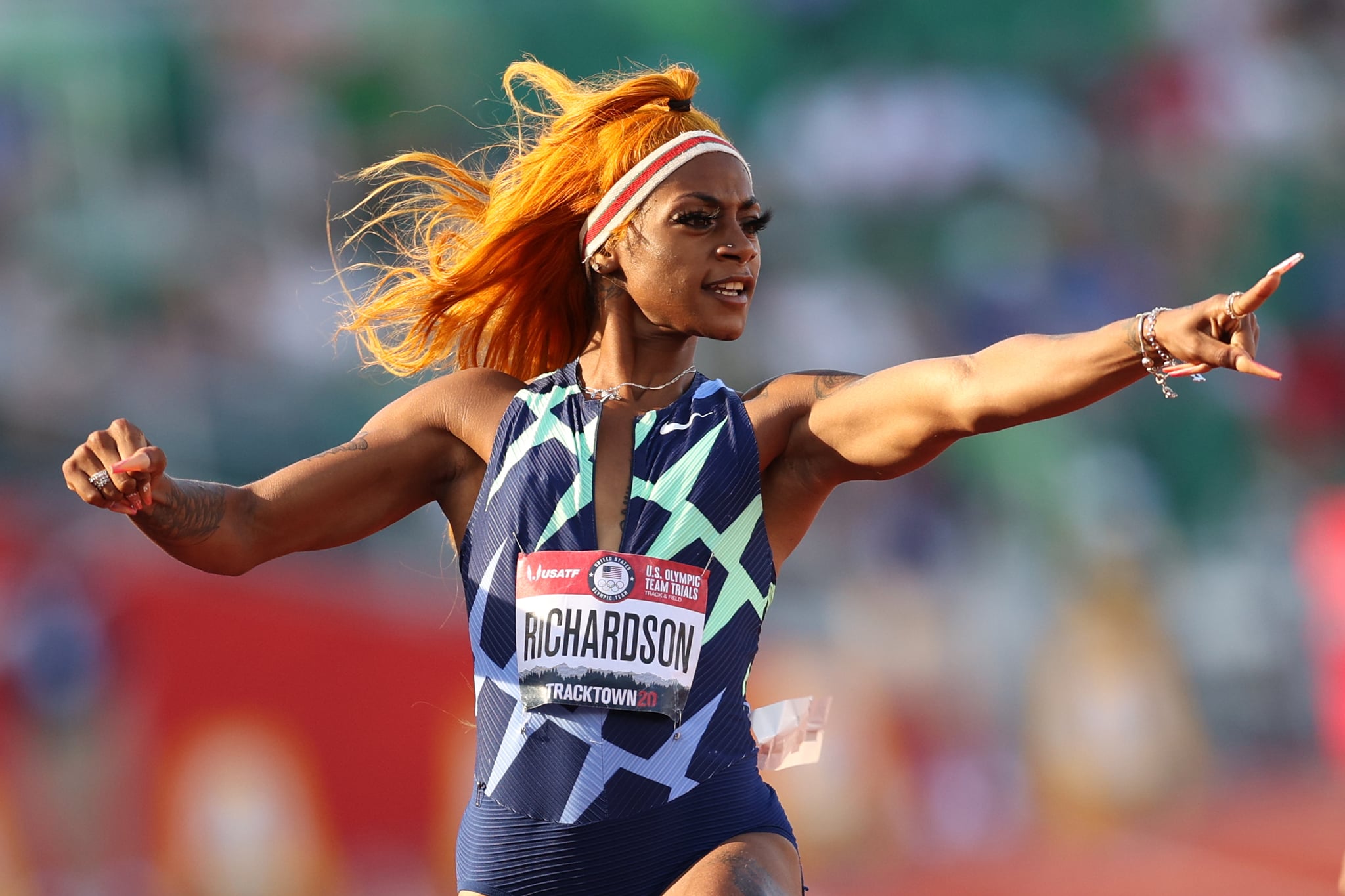 Image Source: Getty / Patrick Smith
Boateng remembers Richardson's confidence. "I think it's absolutely beautiful on our end that we're being unapologetic about ourselves as Black women now," Boateng said. "But at the same time, I know that [there's] such fear in many individuals' hearts because it doesn't fit the status quo." Though Richardson will no longer be competing in the Tokyo Olympics, her talent, confidence, and unapologetic attitude will be missed.
This year's Olympic Trials have ignited many emotions, but one thing's for certain: the color of your skin, hair, and nails doesn't stop you from being excellent.