If the beauty industry has shown us anything over the last few decades, it's that makeup is for everyone. People of all genders, skin tones, ages, sexual orientations, and abilities are able to experience the power of transformation — whether that comes from throwing on some red lipstick at the office or executing a glitter cut crease for a TikTok tutorial. And, despite makeup being primarily recognized as a visual medium, it's enjoyed by many in the visually impaired community.
"Society views beauty as a visual thing — because that's how most sighted people experience beauty — but there are so many layers to beauty beyond what it looks like," says Molly Burke, YouTuber and content creator. Burke was diagnosed with a genetic disorder called retinitis pigmentosa at age 4 and lost most of her vision at age 14. "I'm fortunate that I feel just as confident with makeup as I do without, because I can't see myself. I don't do it because I like the way it changes my appearance, I'm doing it because I love the self-expression and self-care elements. I love that every morning, I take 20 minutes for myself to do my skin care, my makeup, and to pick out an outfit that is going to show the world how I'm feeling that day."
"I'm fortunate that I feel just as confident with makeup as I do without, because I can't see myself . . . I'm doing it because I love the self-expression."
Burke discovered her penchant for beauty at a young age through her mother. Although Burke was born legally blind, as a child she could still see a bit and grew up watching her mother put on lipstick. As time went on, Burke's vision began to slowly deteriorate, but her love for makeup never faded. By the time she turned 12, her mother agreed to let her experiment and, not knowing how to teach someone visually impaired the correct way to approach cosmetics, enlisted the help of professionals. That Christmas, she took Burke to a MAC counter and "had a makeup artist pick out products that were age-appropriate. Then the makeup artist built out a full routine for me and taught me which products went where."
Once Burke had her kit and a rudimentary idea of how to apply her makeup, it all came down to practicing her technique over and over again. Practice is a unifying experience for makeup users, but unlike her sighted counterparts, Burke wasn't able to rely on her vision to assess her progress. "Sometimes, I would walk out with mascara all over my face and my parents would, very lovingly, burst out laughing," she says. "At the time, there was no one who was blind teaching me how to do this. I didn't have a blind older girlfriend or anyone to look to on social media who was blind. I just did it all by trial and error."
As time went on, Burke not only got to know the products in her arsenal and how to use them, but she also picked up some helpful tricks that helped her feel confident in her abilities without being able to rely on her sight. "Something that was useful for me in the beginning was using a sample-size mascara," Burke says. "Having a shorter wand allowed me to have more control, because my hand was so much closer to my eye. Even just having shorter makeup brushes made it much easier for me. I would also count how many times I'd put a stroke in an eyeshadow pan and then count as I was blending the product into my eyelid."
Over the years, she's discovered other makeup application techniques she finds helpful, which she then shares online with her followers and YouTube subscribers. Burke may not have had a blind YouTuber to look to when she was younger, but she's certainly setting out to be one other people can learn from.
Since launching her YouTube channel in 2014, Burke has been able to grow as a content creator in the beauty, fashion, travel, and lifestyle spaces, representing a monumental shift in disability representation within the social media sphere. "When I went blind, it was the darkest time in my life," Burke says. "I was really struggling, and I knew that I could give up or I could try to find a way to turn that pain into purpose. The fact that 14 years later, I get to live with purpose, do what I love, and actually help other people who are blind feel less alone — it's the most incredible experience."
As creators like Burke have come up and flourished on social media, it's inspired others in the visually impaired community who also love makeup to do the same. That is the case with Talya Reynolds, an Atlanta-based makeup artist who has two degenerative eye conditions — strabismus and coloboma — that prevent her from seeing out of her left eye. Growing up Reynolds was bullied for her disability, so makeup became a means of escape. Before long, it turned into one of her biggest passions.
Like Burke, Reynolds built up her skillset through plenty of practice, and while she does have sight in her right eye, she still faces challenges in doing her makeup. "Lashes have always been one of the hardest things for me because I have to close my right eye to put the lashes close to the lash line," she says. "I have no vision without my right eye to see where I'm putting the lash on, so I have to use my other senses and really visualize my face and where to apply the lash."
Although their circumstances are not the same, both Burke and Reynolds have had to adapt their routines, using beauty products that were not designed with them in mind. While some brands have made headway to create more accessible packaging, there's much more that needs to be done.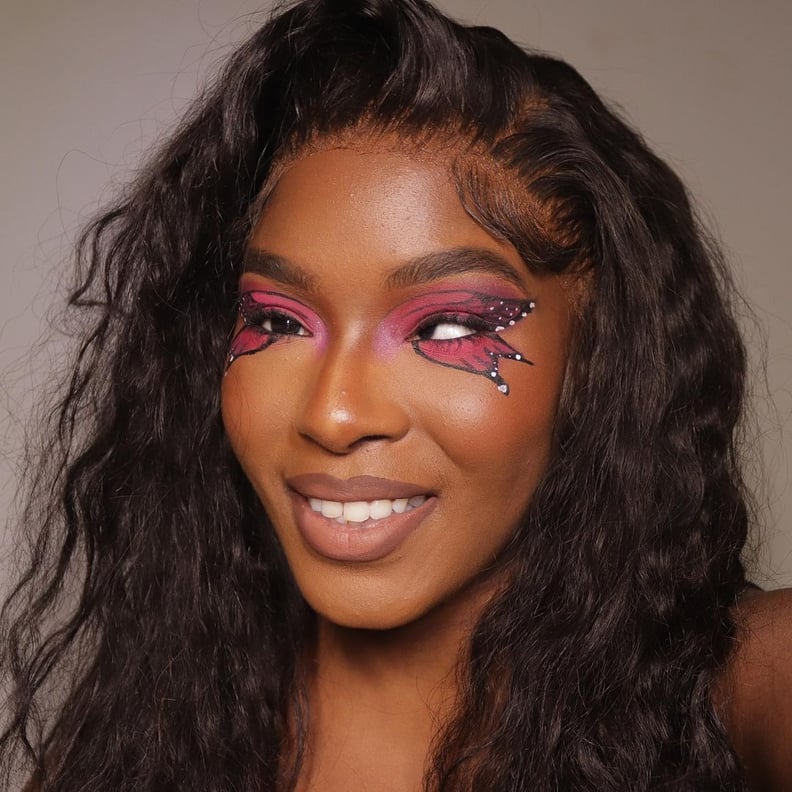 There's no one way to look at making the beauty industry more inclusive to the visually impaired community. And you need to look no further than Burke and Reynolds to recognize how accessible beauty can take various forms. Although both women are legally blind, they, pun intended, see the world very differently. Therefore, when a brand is creating accessible products, it's important they understand visual impairment from a variety of distinctive perspectives.
"There are a number of brands that are putting braille on their packaging, and while it's far from the standard and I can certainly critique the approach, I prefer to celebrate the small changes because we can't expect perfection overnight," Burke says. "Small changes are still positive changes in the right direction, even if they haven't knocked it out of the park right away. Also, something that's super easy for brands to do is have the QR codes on their packaging be raised. That way, as a blind consumer, I can feel where the QR code is, I can scan it using apps on my phone, and then my phone can read me the product name and what's in it."
Still, braille and raised QR codes are just the tip of the iceberg when it comes to ways that brands can be more inclusive. Fewer than 10 percent of legally blind people can read braille, and for those who can, braille is often only included on disposable packaging — not the products themselves. This makes tactile symbols a game changer for those with severe or total blindness.
For those who may have low vision or partial blindness, they may perceive accessible beauty through a different lens. While they may not read braille or use QR codes to shop independently, color-coded products can make a big difference. Additionally, products that amplify the vision they do possess can help along the way. "Magnifying mirrors are a helpful gadget," Reynolds says. "They really help me to be able to see the tiny details with my right eye, and that's a plus. Or even something as simple as an eyeliner stamp has been really beneficial, because you know that messing up your liner can mess up your whole look."
In order for brands to become more accessible and inclusive, they need to work with creators like Burke and Reynolds who deeply understand where changes need to be made. Although they didn't choose their circumstances, they do strive to make the world a better place for people with visual impairments. Burke is making her mark sharing her experiences navigating life as a blind person in a sighted world, as well as giving visually impaired people her seasoned tips and tricks along the way. For Reynolds, she's transforming others with her makeup artistry and making a lasting impact.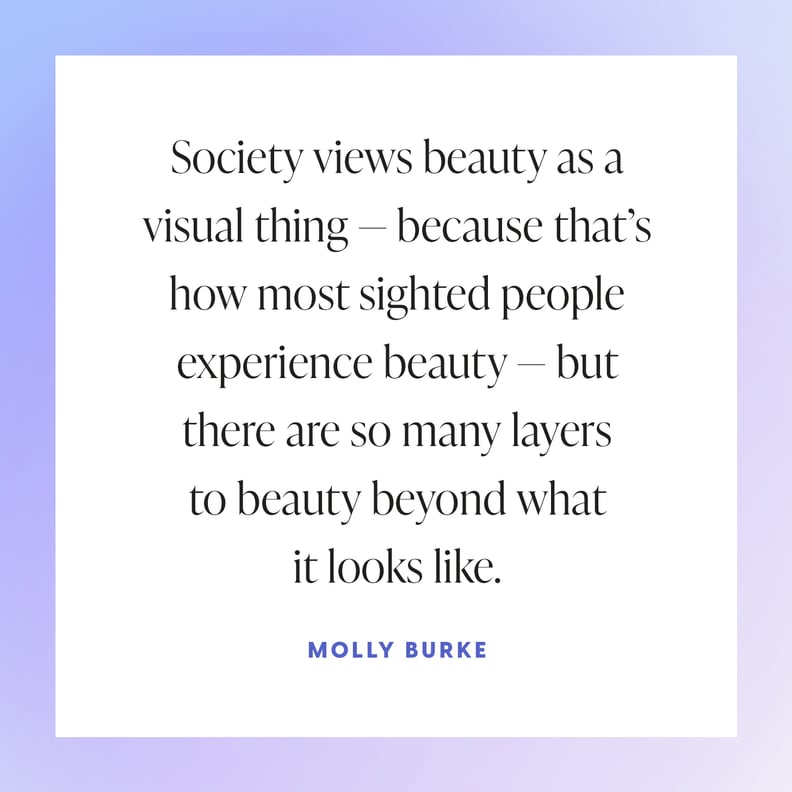 "During one of my first years doing makeup professionally, I remember doing three sisters' makeup for prom," Reynolds says. "[One of them was] in my chair and her sister was like, 'Be careful when you go over her eye.' She explained that her sister had a prosthetic eye that she was really insecure about. I'd remembered seeing this girl at school and she always wore a bang. I used to do the same thing and tried to do everything I could to fix it. But now I feel like God made me this way for a reason."
Reynolds decided to give her a pep talk. "I told her, 'You're beautiful. Don't ever feel like you're less than. Don't ever strip your beauty away; you're special in your own way,'" she says. "I feel like that gave her confidence to really go all out with her makeup for prom. That made me feel good knowing that I made her feel beautiful from not only doing her makeup, but from relating to her on a deeper level."
Far too often, the able-bodied world focuses on what disabled people can't do. However, if you've learned anything from Molly Burke and Talya Reynolds, it's that disabled people are resilient, adaptive, and creative. They've taken to a world that throws challenges their way and they find ways of overcoming. Those within the visually impaired community continue to defy society's expectations of them — all while wearing a bright-pink lip or a sharp cat eye.