Body Contouring: Cost, Recovery, Photos
All About Body Contouring, a Celebrity-Loved Treatment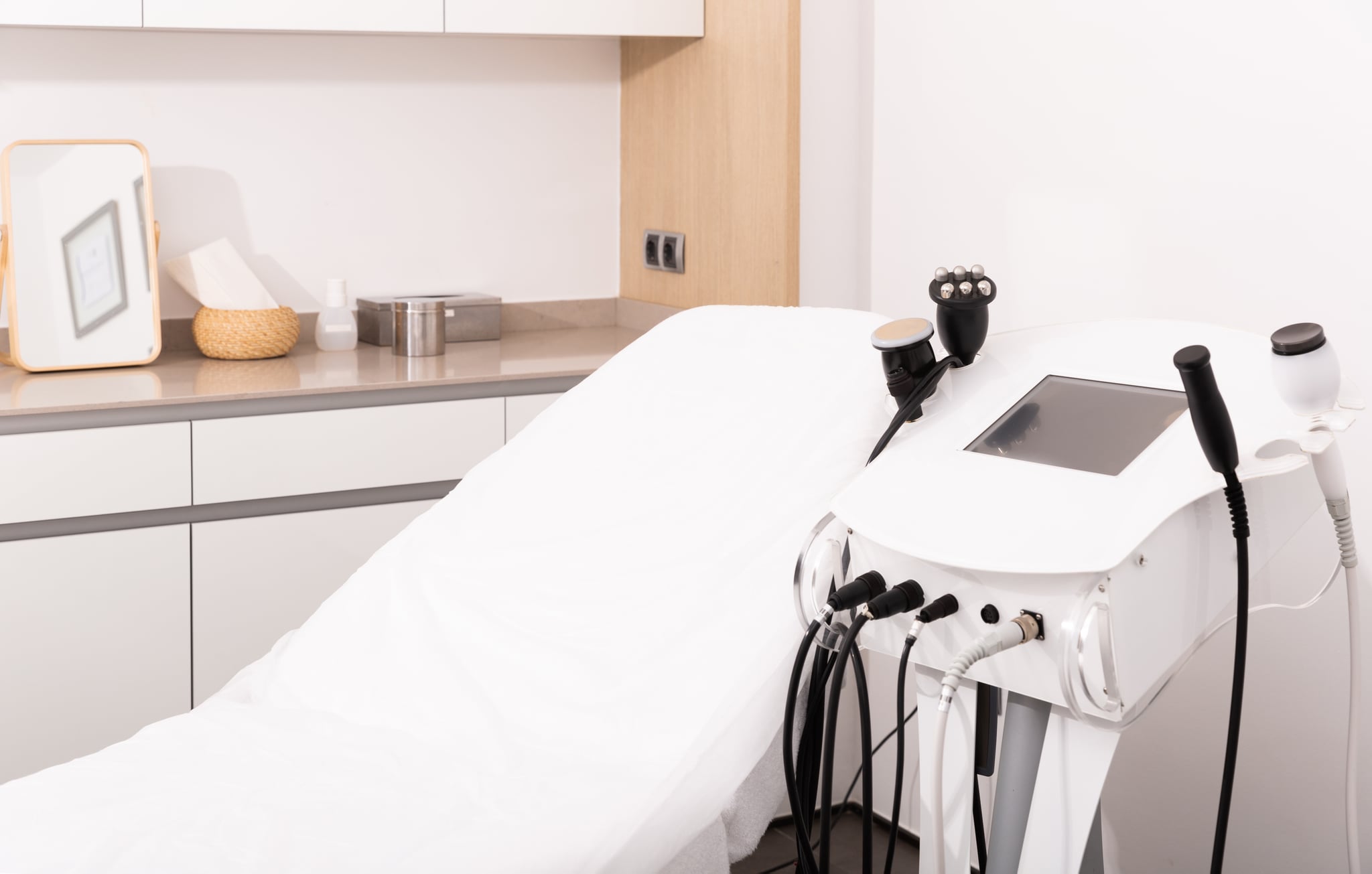 Image Source: Getty / JackF
There are two types of body contouring: surgical and nonsurgical.
Nonsurgical body contouring targets fat cells to tighten skin and temporarily minimize the appearance of cellulite.
There are a variety of different types of nonsurgical body-contouring procedures.
The world of cosmetic and plastic surgery is vast. Some procedures are fairly well-known and understood — take breast augmentations and buccal fat removal, for example — but others are a bit of uncharted territory. For many people, body contouring falls into the latter group.
As more people open up about the work they've had done (celebrities included), the world of aesthetics is becoming a bit easier to understand. No matter what your goals are, you have a range of options available to you — and they don't all require you to go under the knife or needle. Body contouring, specifically the nonsurgical treatment, has reached an all-new level of popularity among patients looking to make tiny tweaks to their appearance, whether that's their legs, arms, stomach, or butt.
"This is just the beginning for non-invasive and minimally-invasive body contouring procedures," says board-certified plastic surgeon Darren Smith, MD, FACS, in a press release. "The field is developing at warp speed."
Procedures like liposuction, breast lifts, and tummy tucks are all considered to be surgical forms of body contouring, while nonsurgical options include treatments like CoolSculpting, Emsculpt, and Morpheus8. But that's only the beginning. To learn more, keep reading.
What Is Nonsurgical Body Contouring?
"Body-contouring procedures can be broken down into nonsurgical and surgical procedures," Brian A. Pinsky, MD, FACS, board-certified plastic surgeon at New York Plastic Surgical Group, tells POPSUGAR. "Nonsurgical procedures have the benefit of minimal downtime, but the results may take multiple treatments and are often less immediate and less predictable than surgery."
These options typically involve handheld devices administered at a doctor's office under the care of physicians, physician assistants, and nurse practitioners. While the exact technology differs from treatment to treatment, it can involve anything from radiofrequency to lasers and electromagnetic energy. The common denominator is that all of them don't require local anesthesia or incisions of any sort and can be done in just a few hours. The main appeal of nonsurgical body-contouring treatments is results with little to no recovery period or scarring.
Types of Nonsurgical Body-Contouring Treatments
CoolSculpting: CoolSculpting is one of the most popular nonsurgical body-contouring procedures available. "CoolSculpting uses cryolipolysis, otherwise known as fat freezing, to freeze the fat cells in the treated area," Dr. Pinsky says. "Following treatment, the body will naturally eliminate the dead fat cells, which can result in up to 20 to 25 percent reduction of stubborn fat in the treated area over time." The procedure doesn't address excess skin or skin laxity — only fat reduction. The average cost of CoolSculpting is around $3,200, according to the company's website, and requires two or more sessions.
Emsculpt and Emsculpt Neo: Emsculpt Neo is a device that causes muscle contractions by combining radiofrequency and electromagnetic energy to help build muscle mass and decrease fat. The average cost of Emsculpt and Emsculpt Neo is around $4,500 for a package of four sessions, which is the amount typically recommended to see noticeable results.
Morpheus8: Morpheus8 is great for tightening skin. It uses radiofrequency microneedling to stimulate the production of collagen. Kim Kardashian has spoken about getting Morpheus8 to tighten her stomach. In August 2022, she shared a photo on her Instagram Stories post-treatment that said, "This is a game changer!!!. . . I think this is my fave laser but it's painful lol but worth it!" Morpheuse8 costs between $500 and $1,200 per treatment, and it's typically recommended you undergo between one and five sessions.
Emtone: BTL Aesthetics' Emtone uses thermal and mechanical energy, simultaneously emitting both radiofrequency and targeted pressure, to reduce the appearance of cellulite. Realself reports that Emtone costs around $2,000 on average, and though you can begin to see a difference in just one treatment, two to four are recommended for best results.
Then you have a handful of noninvasive body-contouring procedures that are used in tandem with surgery, like Vaser Liposuction and BodyTite Liposuction, to make results all the more impactful.
How Long Does Nonsurgical Body Contouring Last?
Due to the variety of nonsurgical body-contouring treatments out there, there's no one correct estimate as to how long the results will last. "The longevity of the result is affected by individual factors such as age, genetics, weight fluctuations, and lifestyle," Dr. Pinksy says.
Nonsurgical Body-Contouring Recovery
Again, recovery varies from treatment to treatment, but because nonsurgical body-contouring procedures are minimally invasive, it's generally pretty light. Most of these are in-office treatments, meaning you'll be able to go home afterward and be back to work either immediately or in a day or two.
Nonsurgical Body-Contouring Side Effects
The side effects of nonsurgical body-contouring procedures like CoolSculpting, Emsculpt, and Morpheus8 vary, so it's best to consult with your provider before undergoing treatment to better understand the risks. In general, with these types of devices, bruising, swelling, soreness, and redness around the treatment area are common. However, more serious complications are possible.