POPSUGAR Photography | Eric Helgas
POPSUGAR Photography | Eric Helgas
The year was 2016: the Instagram brow was thriving, cream contour tutorials were sweeping YouTube, and most of us had no less than five liquid lipsticks in every bag we owned. It was an interesting time in beauty to say the least. Fast forward to 2020 and things look a whole lot different — and undoubtedly more minimal — especially when it comes to trending eyebrows styles.
There aren't many ways to sculpt, flick, and fill our brows that we haven't seen or tried ourselves yet. That being said, there are ways those techniques have continued to evolve. Ahead, we asked the pros to predict four trends in particular that are set to dominate the year. So, whether you're still searching for your go-to brow style or just down to experiment, see them for yourself ahead.
2020 Brow Trend: Laminated Brows
Are you an avid fan of award season? Follow an ever-growing roster of makeup artists on Instagram? You've likely noticed your favorite celebrities and models sporting laminated brows: full, almost "shiny" brows that appear to grow upwards.
According to Jared Bailey, Global Brow Expert at Benefit Cosmetics, the look originates from a beauty treatment. "Brow Lamination is a process that you can use to re-direct the hair growth of your brow," he said. "It's actually a perm solution — you apply a chemical to relax the bend, then brush them up and lay plastic wrap over them to set the direction you desire." But if a temporary, low-commitment option is more up your alley, a brow gel with a strong hold will give you a similar effect.
2020 Brow Trend: Untouched Brows
If your approach to beauty skews more hands-off, perhaps untouched brows are the style you'll want to try. Essentially, they're brows that look, well, untouched — yet still mindfully cared for. That might mean they're perfectly arched, but have a few stray hairs sticking out, or it might appear as though hairs toward the front of your brows are somewhat "unruly."
At Evertrue Salon, master therapist Michelle Wu says some clients choose microblading to achieve this style. "We microblade these extra strands in for a natural look that says, 'I was born with these brows and haven't touched them.'"
2020 Brow Trend: Perfectly Imperfect Brows
You might be noticing a trend by now. Similar to the pared-back approach we're seeing in other makeup and skincare categories, 2020 is the year for working with and appreciating what you've got — even emphasizing it. Enter perfectly imperfect brows.
Have a bald spot or two? What about that scar you got as a kid? Instead of filling it in and covering it up, this brow style encourages you to embrace it. Of course, you can still use your favorite products to brush and shape, but try to factor in any imperfections. This might just be the secret to your signature brows.
2020 Brow Trend: Slim Brows
Okay, okay hear us out: pencil-thin brows from the '90s aren't part of 2020's trend forecast, but slim ones are. Contrary to what you might assume after scrolling through Instagram, thick brows aren't for everyone — and that's okay! Remember what we said about working with what you've got?
Whether you have naturally thin or sparse brows or once over-tweezed and the hair never grew back, this might be the perfect option for you. The brow basics — shape, arch, filling in certain areas — still apply here, but instead of going thick and full, it's all about keeping it simple and balanced.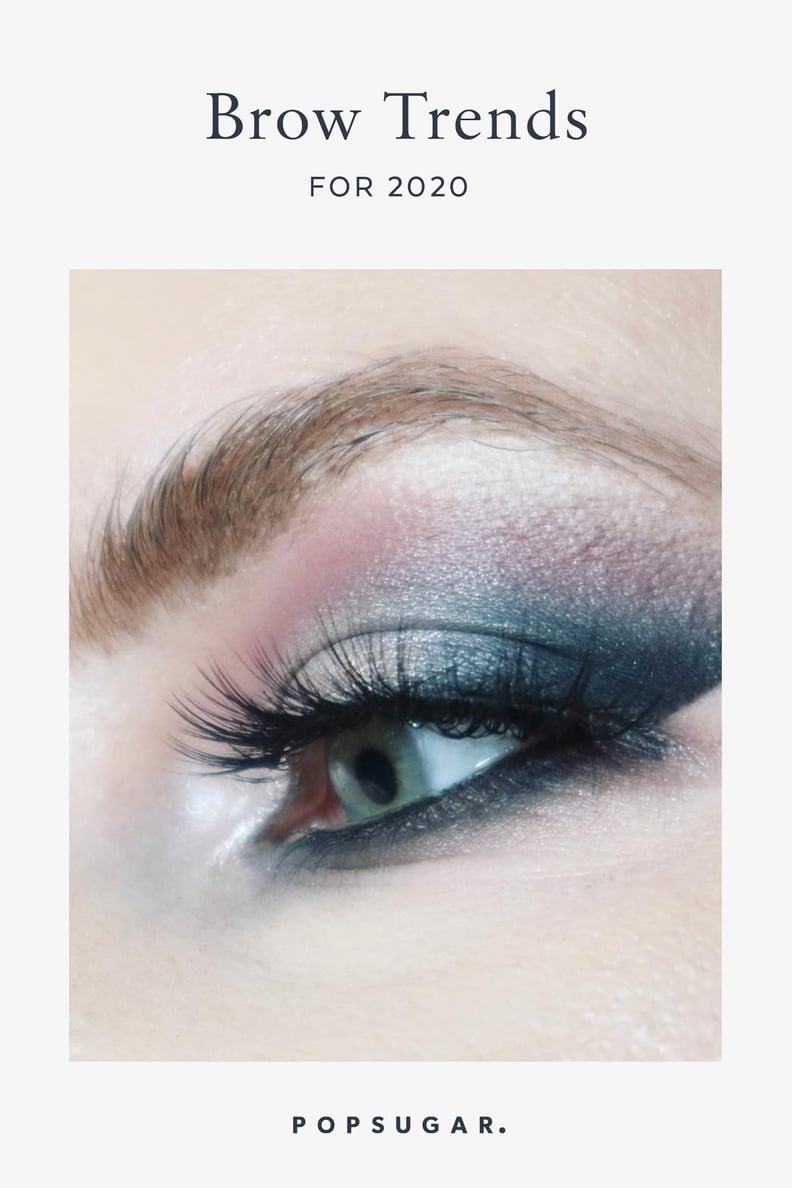 Pin it!