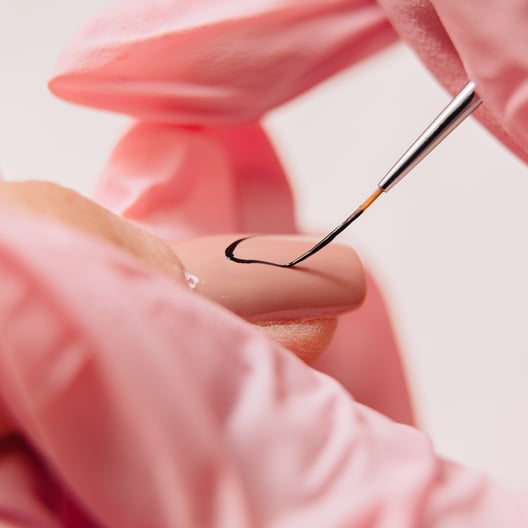 Unlike haircut and color trends, which can be hard to trial without the help of a professional, we love nail-art trends because they're something we can experiment with at home. While glazed-doughnut nails and countless variations of the french manicure are always top contenders, if you're looking for something new and different, allow us to introduce you to the "brushstroke" nail-art trend.
The look is exactly what it sounds like: nail art with strokes that mimic that of a paintbrush. "Brushstroke nail art is spontaneous and fun to mix with different colors," celebrity nail artist Queenie Nguyen tells POPSUGAR. There are two things we particularly love about this manicure design: how versatile it can be, and how easy it is to re-create. "The look is easy to achieve by simply using the nail-polish applicator with no additional tools needed," she says.
Depending on the color scheme you use, the manicure can feel really minimal or bold and impactful. During New York Fashion Week, for example, Lana Condor arrived at the Tory Burch spring/summer 2022 show wearing a brushstroke manicure by her go-to nail artist, Thuy Nguyen. Condor's take on the trend featured a clear base with strokes of white and black polish and gold foil for some added sparkle. To give the look a fall spin, use neutral shades like brown, white, black, and beige nail polish, or you can go the vampy route with deep reds, purples, greens, and black.
Ahead, Nguyen is sharing how to re-create the look at home.
How to Re-Create Brushstroke Nails
Start by painting your nails with the base coat of your choice. You can use a color or let your naturals shine through by sticking with a clear lacquer. After that layer completely dries, you're ready to create your brushstroke design. "Use the nail-polish applicator to lightly brush on the polish in no uniform direction," Nguyen says. "Use different colors to overlap and create definition to the overall look."
The secret to getting that stroke pattern and not a solid line of color is in the pressure you use. "Be sure to not press the applicator or nail-art brush down too hard on the nail surface to create a more feathery feel to the strokes," she says. Once you've achieved your desired look with the varying strokes of color, you can seal in the design with a clear topcoat or add a few more details to dress up the look. "Add little details like dots or gold flakes or rhinestones to glam up the brushstroke look for special occasions."
Ahead, get inspiration for your own set of brushstroke nails.
Lana Condor's Brushstroke Nails
Brown-and-White Brushstroke Nails
Rainbow Brushstroke Nails
Blue, Gold, and White Brushstroke Nails
Brushstroke Nails With Gold Foil
Green, Peach, and Gold Brushstroke Nails
Blue, Yellow, and White Brushstroke Accent Nails