Why You May Regret Buccal Fat Removal Later
You May Regret Getting the Buccal Fat Removal Procedure Later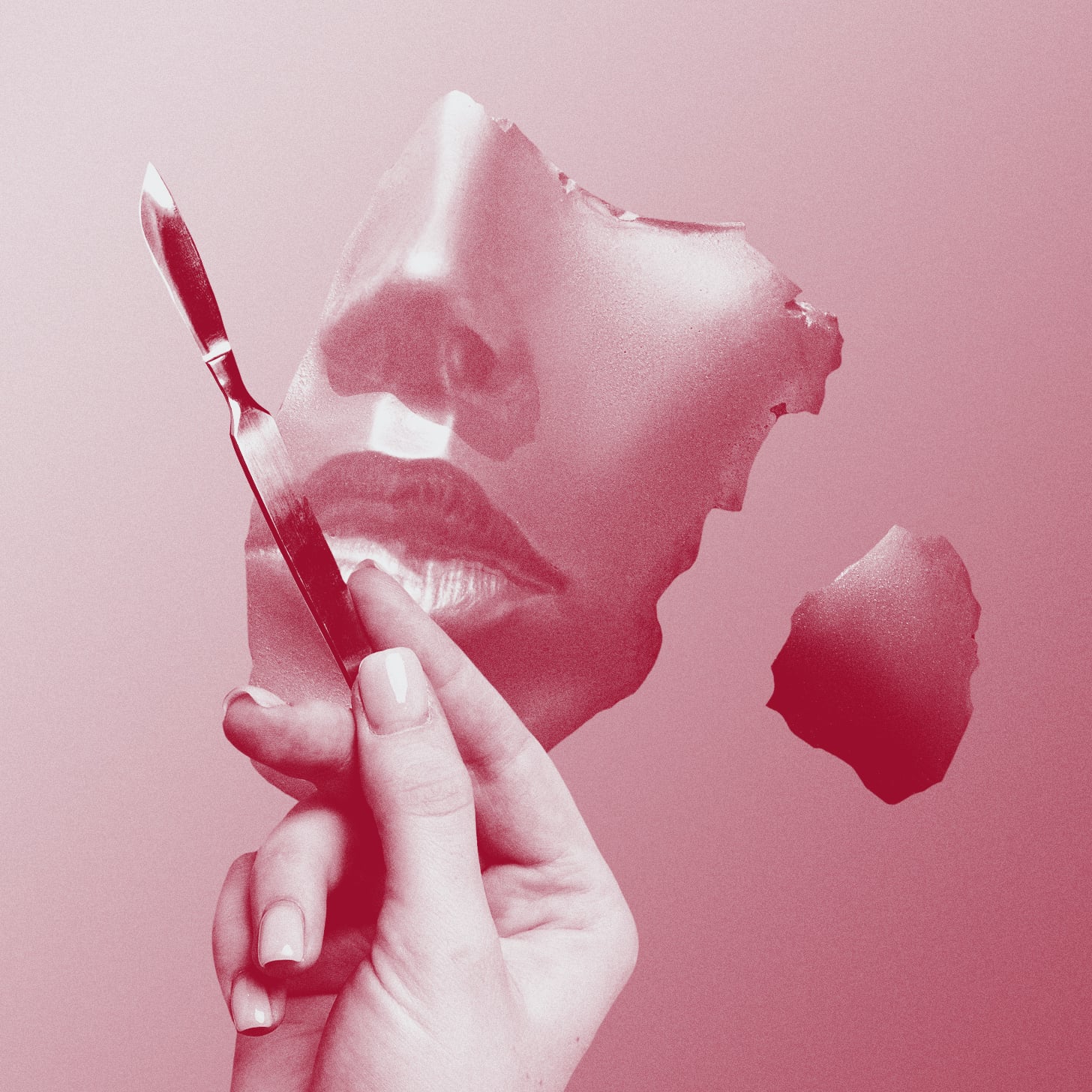 Buccal fat removal is all anyone can talk about right now, thanks to countless TikTok videos and A-list celebrities like Chrissy Teigen confirming they've undergone the procedure. Reddit threads, however, can be found from patients who have regrets years later post-op. That is something Sam*, who got buccal fat removal at 20, is all too familiar with.
"I instantly went from looking young for my age to looking older than my own mother overnight," they say. "Now that I'm approaching 30, it's only gotten worse. The soft, feminine curve of my face has been replaced by uneven, 'baggy'-looking cheeks."
While options for reversing the effects of a fat graft procedure exist, they are limited — and pricy. Here, we're exploring the rise, and potential pitfalls, of the trending surgery.
The Rise of Buccal Fat Removal
There are a few driving forces behind the recent buccal fat removal buzz, including Teigen's revelation of the surgery in 2021. Interest has only increased since then, spiking from approximately 20,000 searches on Google a week in November to 212,000 searches a week in December. The corresponding hashtag on TikTok has been flooded with before and afters, garnering more than 174 million views. More young people than ever before are exploring it as an option — perhaps because about 62 percent of TikTok's users are between 10-29 — to shed "baby fat" in their face for a more chiseled, sculpted look.
The Controversy Around Buccal Fat Removal
Still, the buccal fat removal procedure isn't without controversy, and some experts have expressed concern about the long-term effects. "A youthful face is more round and full," says double-board-certified facial plastic surgeon Jennifer Levine, MD. "When you remove buccal fat, the face may look more sculpted, but you may look older." Someone in their early 20s may find the results satisfactory for the time being, having achieved a contoured face, but that is subject to change as collagen production slows. "As you age, the face loses volume, so without the buccal fat, the face [may] look older, more gaunt, and saggy."
The deep and superficial fat pads of the face change over time, especially in your 20s, but once buccal fat is removed, it doesn't replenish. "Your body can't make more," Dr. Levine says. That means additional cosmetic procedures may be needed to restore volume in the cheeks if desired. "Five years from now, we may find that dermal fillers have become popular to correct previous buccal fat pad augmentation," says board-certified dermatologist Elyse Love, MD, FAAD.
For Sam, that's what makes the procedure one of their "biggest regrets."
What to Keep in Mind Before Getting a Buccal Fat Removal Procedure
Surgical options for reversing buccal fat removal exist but are limited. Fat grafting, volume-replacement fillers, biostimulatory fillers (which give a short-term plumping effect, such as Sculptra), and hyperdilute Radiesse (which is just Radiesse that has been thinned with saline solution and lidocaine) are some of the most common remedies. "The patient may also need lifting with procedures, such as Ultherapy or even a surgical facelift," Dr. Levine says. (Ultherapy is a procedure for treating wrinkles in the neck and chest.)
"The biggest concern with the buccal fat pad removal trend is that it is a permanent solution to a current aesthetic trend."
Determining if you're the right fit for this procedure is less about age and more about your specific anatomy and end goal. "There are certainly patients that would benefit from buccal fat removal," Dr. Levine says. The procedure itself isn't bad — it just shouldn't be a trend. "The biggest concern with the buccal fat pad removal trend is that it is a permanent solution to a current aesthetic trend," Dr. Love says.
The permanency of the procedure needs to be top of mind — as it should be for all plastic-surgery solutions. This isn't something you can play and experiment with without risk. Dr. Levine echos this sentiment by saying, "It is important that permanent procedures are not performed as part of a trend."
If you are unhappy with your face shape or the volume in your cheeks and this has been the case for quite some time, buccal fat removal may be a great, safe, and effective solution. You also may have other, less permanent options available to you.
"There are other combinations of procedures that can produce a sculpted look without buccal fat removal," Dr. Levine says. This includes Evoke (facial remodeling technology that targets the tissue and muscles under the skin), masseter Botox (aka jaw Botox), and chin and cheek filler. Botox and filler offer a long-term yet still temporary solution for approximately six to 12 months in the case of filler and four to six months for Botox. No matter which route you choose, it's best to consult with a certified doctor who specializes in the procedure.
*Name has been changed at the request of the interviewee.
Image Source: Getty / Yulia Reznikov Vagengeym_Elena and Photo Illustration: Aly Lim