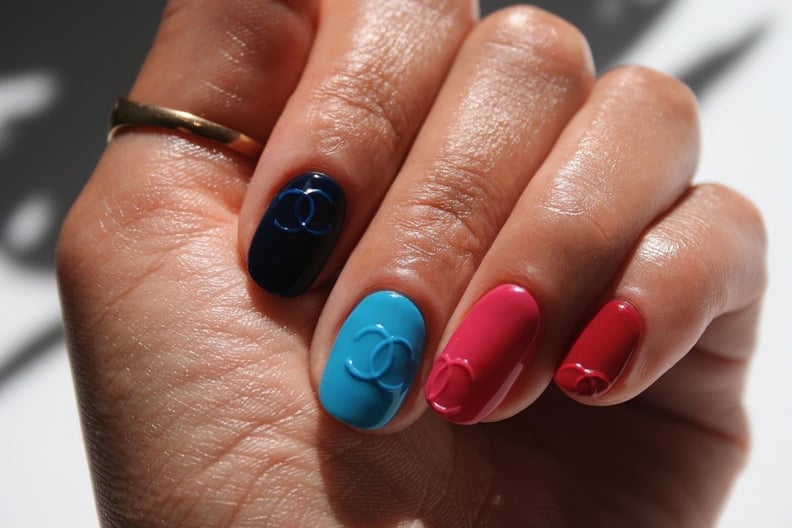 Imarni Nails
Imarni Nails
As POPSUGAR editors, we independently select and write about stuff we love and think you'll like too. If you buy a product we have recommended, we may receive affiliate commission, which in turn supports our work.
Some of the chicest things in life are embossed: designer purses, fancy notebooks that are often too pretty to write in, and now, our new favorite nail-art trend. More than your average nail design, the unique embossing process adds a three-dimensional element that can make even the simplest manicure feel extra special — and incredibly stylish. Just take the gorgeous color-blocked look above created by nail artist Imarni.
According to Imarni, embossed nails aren't entirely new, but this logomania take on the trend is — and it's the prettiest version we've seen yet. When dreaming up the look, it should be no surprise that Imarni was inspired by the embossed CCs on Chanel's lust-worthy handbags (which on nails look just as lust-worthy). And while the simplest way to re-create the look would be to head to the nail bar, where technicians can use gels and powders, you can, in fact, do this at home, said Imarni.
For the manicure, Imarni didn't use any fancy equipment, just a fine liner brush, the new Le Vernis nail polish shades in Chanel's summer 2020 collection — Melody, Energy, Rhythm, and Sailor — and an incredibly steady hand. "You would assume that this look was created by shaping the CCs out of acrylic, then painting them onto the nail, like 3D art," she told POPSUGAR. "I knew that technique would result in losing the sharp definition of the CCs, so I actually created this look using only Chanel Le Vernis nail colors."
To create the design, Imarni first prepped the nail with two coats of the chosen nail colour, and once dried, she added a top coat to seal the color in. Next — and this is where the steady hand and creativity come in — she carefully painted the CC logo using a fine liner brush, repeating this step three times (ensuring each layer was completely dry before painting the next) to build up the texture and create the embossed effect. Once all three layers of the CC design were complete and totally dry, Imarni painted over just the CC logos using a high-shine top coat, making use not to go over the rest of the nail, to give the embossed effect extra definition.
The best part about this manicure? Unlike a lot of 3D-effect or embossed manicures, which require gel lamps or acrylic products, this one only requires a few of your favorite nail polish shades, a thin brush, and some practice and patience. This design goes to show that embossing isn't just for notebooks; it makes an incredibly beautiful manicure, too.
Get a closer look at Imarni's pretty embossed manicure, the nail polishes she used, and the bag that inspired her ahead.