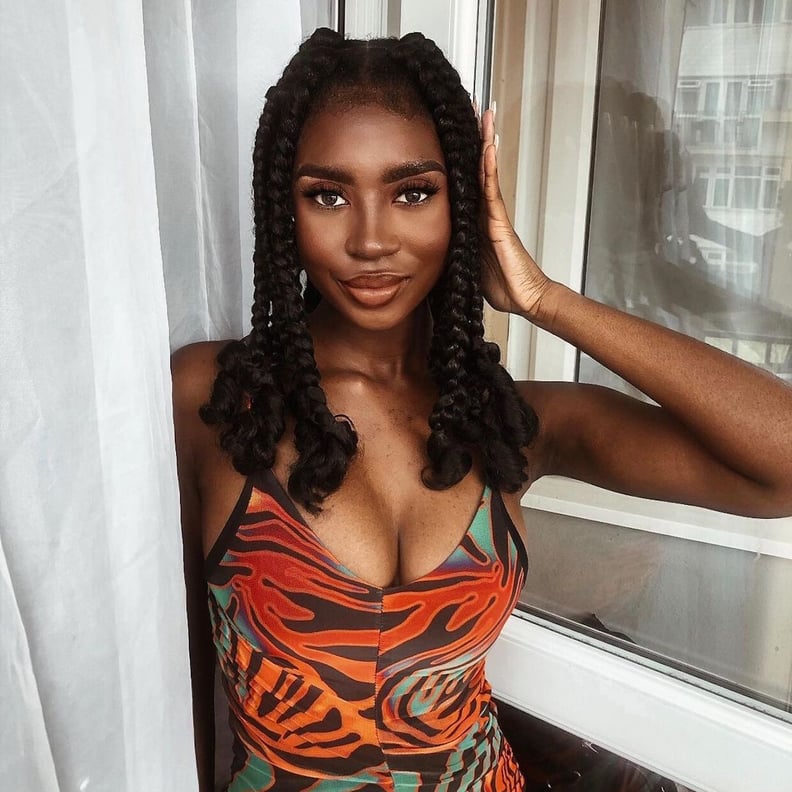 Recently, Pinterest rolled out a feature on its app that allows users to search for hair content by pattern, making it easier for women with various hair types to find beauty inspiration that's catered to their specific texture. With this update, a few hairstyle trends are quickly picking up speed, and that includes "Coi Leray braids," which have seen a 214 percent increase in search on Pinterest over the last month.
Coi Leray braids, named after the rapper Coi Leray who famously rocked the style, are jumbo knotless braids with a curled ends. "These braids are such a fun, unique look and are super trendy right now," Jamila Powell, founder of Naturally Drenched and owner of Maggie Rose Salon, told POPSUGAR. "The best part about Coi Leray braids is that you can put your own spin on them and tailor them specifically to your own style and taste."
Popular ways to dress up the style on Pinterest and Instagram include adding beaded hairties and different colored braiding hair into the mix, and making the curls at the end of the knotless braids longer or shorter, depending on your preference.
"Although this hairstyle might look difficult and overwhelming at first glance, Coi Leray braids are actually super doable and easy to achieve," said Powell. "Start off by making sure your hair is dry and moisturized, then section stretched pieces of your hair using a rat tail comb, making sections for as many braids as you would like to have." Start forming the braids using your own hair and slowly add in braiding hair.
"Once you braid your hair to your desired length, use rubber bands to tie the ends, leaving a bit of the hair out. Repeat this process on the rest of your head. Next, take perm rods to wrap the hair at the ends and dip them in boiling hot water to achieve that curly, bouncy look — I recommend using these Brittny Long Wave Rods ($3) from BeautyBeez. Once this step is complete, lay your edges and remove the rods from your hair."
Get inspiration for your own Coi Leray braids ahead.