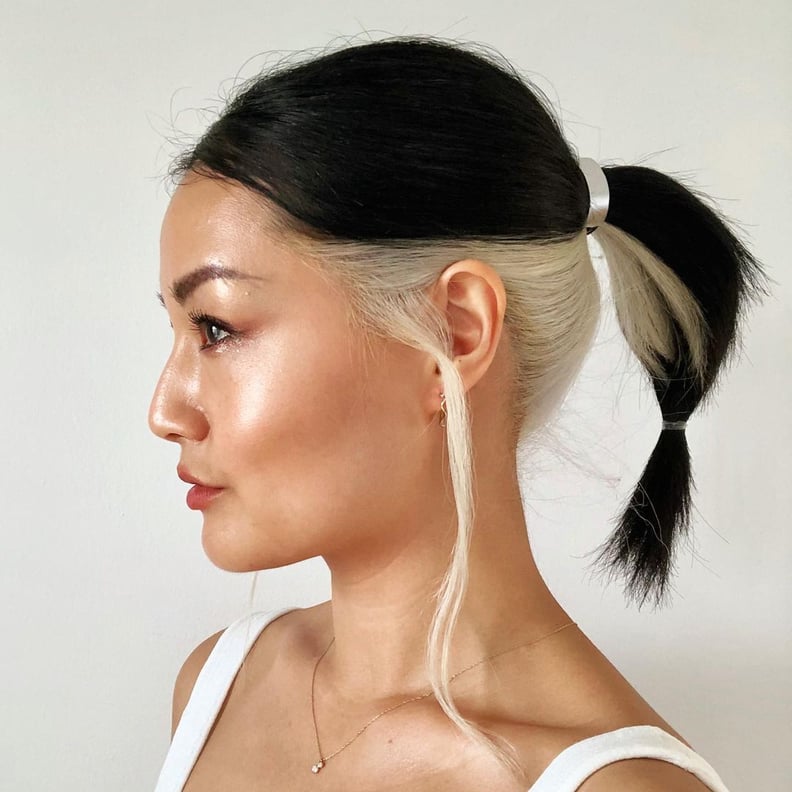 Bold hair colors and summertime belong together. Case in point: Billie Eilish and her bright platinum blond hair, or Britney Spears and her pink tint. If you're looking to shake up your look in an even bigger way than just going pink, blue, or blond, try the "Cruella" hair-color trend.
This edgy color is inspired by Cruella DeVil (the Emma Stone version) but with a twist that makes it super wearable. "After going through 2020, quarantines and lockdowns, people can get away with bolder looks," Devin Toth, stylist at New York City-based Salon SCK, told POPSUGAR. "There are a few different versions of this hair-color trend — the most popular block color version is making the bottom half of your head platinum and the top half of it black."
"There are a few different versions of this hair-color trend."
In need of some proof of just how wearable this hair color is? Check out Selena Gomez's latest blond shade, which features her signature dark hair color peeking out from underneath. If it's cool enough for her, it's most certainly cool enough for us.
The "Cruella" hair-color trend also looks amazing with a ponytail or updo, making it perfect for warm weather — just look at Sable Yong's bubble ponytail by NYC-based colorist Elizabeth Hiserodt, as an example. "[This] looks really cool in a ponytail that's brushed straight back — not too high or too low — just right where the line between the two colors are."
The color block style works on all hair types, but Troth recommended exercising caution when going blond depending on your base. Then, to keep the new shade from turning yellow, be sure to use a purple shampoo when you wash and hydrate your ends often. "I also recommend periodically using Shu Uemura Essence Absolu Overnight Hair Serum ($69) so that your hair color can thrive without sacrificing its health and integrity."
Find more "Cruella" hair-color trend inspiration ahead.