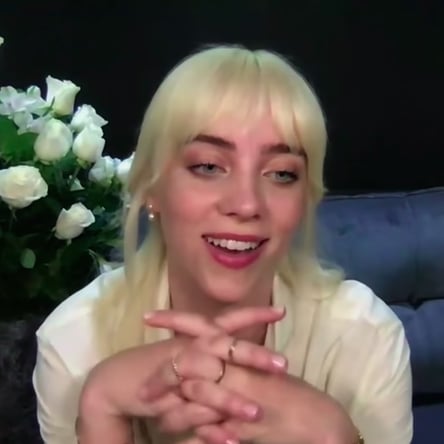 Billie Eilish is a master of disguise. The singer recently appeared on The Late Show to primarily discuss her upcoming sophomore album and standout Vogue cover, but she also took some time to confirm the conspiracy theory that she wore a wig prior to publicly sharing photos of her platinum look, as many fans had suspected. In fact, she was wearing said black wig with neon-green roots in her last Late Show interview in February.
"I was wearing a Billie Eilish wig."
"I was just as blond then as I am now. I was wearing a Billie Eilish wig," Eilish told host Stephen Colbert. "I have pictures from that day, that I took right before that, with fully blond hair and the exact same outfit." She went on to explain that in order to attain the blond color in a healthy way that wouldn't damage her hair, she needed to gradually go lighter, and so she wanted to fully wait until the process was complete before making the big reveal. Her solution for that in-between period? "I literally ordered a Billie Eilish Halloween costume wig on Amazon." She added, "It was awful. It was the ugliest thing I've ever seen . . . Don't do that."
Eilish eventually had a professional wig made and then of course shared the first photos of the blond hair in March. Eilish insisted, however, that she wasn't trying to be sneaky just for the sake of it: "I wasn't trying to play a prank on the internet. 'Oh god, she Hannah Montana-ed us.' No, I just looked f*cking crazy underneath and I needed to look not crazy." Watch the fascinating revelation ahead, then look back at the prior interview in question.
Watch Billie Eilish Talk About Her Blond Hair on The Late Show
Here's Billie Eilish Previously Wearing a Billie Eilish Costume Wig on The Late Show
See Photos of Billie Eilish's Blond Hair