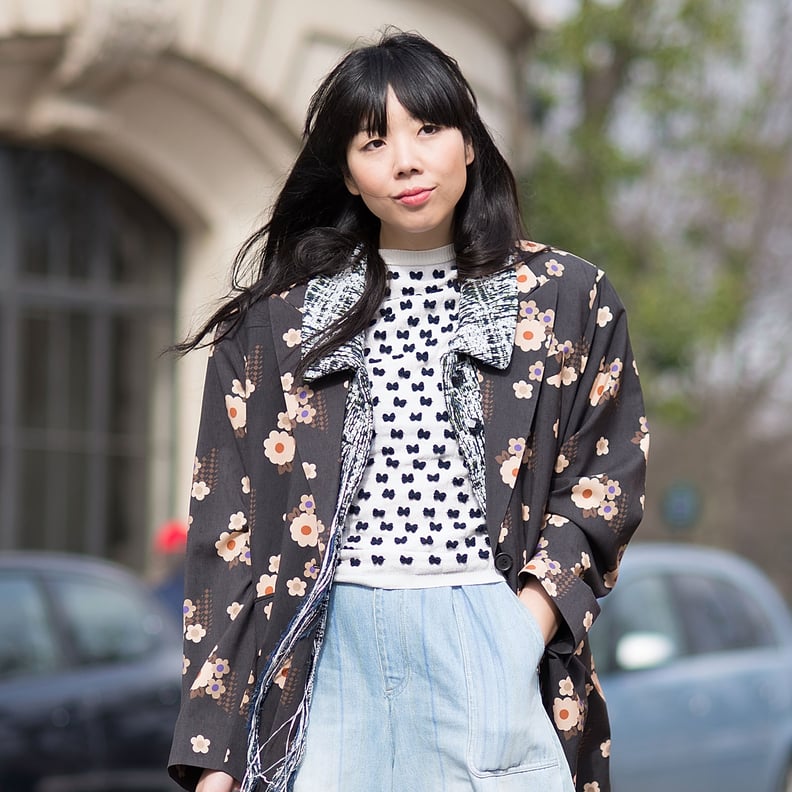 Curtain bangs are a popular retro hairstyle making a comeback.
If you have long hair, this is the perfect style for you.
Everyone from J Lo to Olivia Rodrigo have paired curtain bangs with their long hair.
A new season is here, which means there's yet another opportunity to risk it all and get bangs. Curtain bangs — also known as fringe bangs — have been popping up all over Instagram, and they're giving off major '70s vibes. This middle-part hairstyle features face-framing bangs on each side, making them a good transitional look if you've ever been hesitant about venturing into bang territory. Plus, while they look good on any hair length, we especially love them on longer hair.
Curtain bangs are longer than your typical bangs and have wispy ends, giving you a ton of volume and a laidback look. Not to mention, they're generally a lower-maintenance option compared to other bang styles. It's a flattering cut for any face shape that gives you that effortless "I woke up like this" look. Even celebrities like Jennifer Lopez, Hilary Duff, Annie Murphy, and Olivia Rodrigo have caught onto this shaggy-chic trend.
Ahead, we rounded up a bunch of hairstyles that will inspire you to get curtain bangs and leave your hair long.
Brunette Curtain Bangs with Long Hair
Red Curtain Bangs with Long Hair
Straight Curtain Bangs with Long Hair
Piece-y Curtain Bangs with Long Hair
Blended-In Curtain Bangs With Long Hair
Wispy Curtain Bangs on Long Hair
Balayage Curtain Bangs with Long Hair
Wavy Curtain Bangs With Long Hair
Balayage Highlighted Curtain Bangs With Long Hair
Pink Curtain Bangs With Long Hair
Orange Curtain Bangs With Long Hair
Violet Curtain Bangs With Long Hair
Blond Curtain Bangs With Long Hair
Fringe Curtain Bangs With Long Hair
Short Curtain Bangs With Long Hair
Straight Curtain Bangs With Long Hair
Caramel Curtain Bangs With Long Hair
Shaggy Curtain Bangs With Long Hair
Textured Curtain Bangs With Long Hair
Warm-Blond Curtain Bangs With Long Hair
Curly Curtain Bangs With Long Hair
"Shimmer" Highlight Curtain Bangs With Long Hair
Multi-Tone Red Curtain Bangs With Long Hair
Highlighted Curtain Bangs With Long Hair