As POPSUGAR editors, we independently select and write about stuff we love and think you'll like too. If you buy a product we have recommended, we may receive affiliate commission, which in turn supports our work.
Ninety percent of my conversations with colleagues and industry experts over the last few months have included the phrases, "Is your skin freaking out, too?" and "Same here, damn maskne."
As someone with combination skin who struggles with keeping hormonal breakouts at bay on a good day, the last five-going-on-six months has proposed a bit of a challenge for me — between the heat and the humidity, the face masks, and the stress of a global pandemic. It's caused my face, particularly around my chin and mouth, to break out with multiple inflamed, uncomfortable pimples. (Which of course, causes me to stress over my skin more and only aggravates the situation.)
Aside from upping my exfoliation to help get rid of dead skin cells and face masking — the skin-care kind — multiple times a week, I've been on the hunt for new acne-fighting ingredients to really help me get a handle on this issue. The launch of the new Dr. Dennis Gross Blemish Solutions Acne Eliminating Gel couldn't have come at a more opportune time.
I got to meet with Dr. Gross himself (virtually, obviously) to learn about the new product ahead of its unveiling and at the end of the very informative presentation, he welcomed questions about the product and acne in general. I couldn't blurt out, "Will this help with maskne?" any faster. I swear at that moment all of the other beauty editors in attendance leaned in closer with anticipation. The answer: definitely.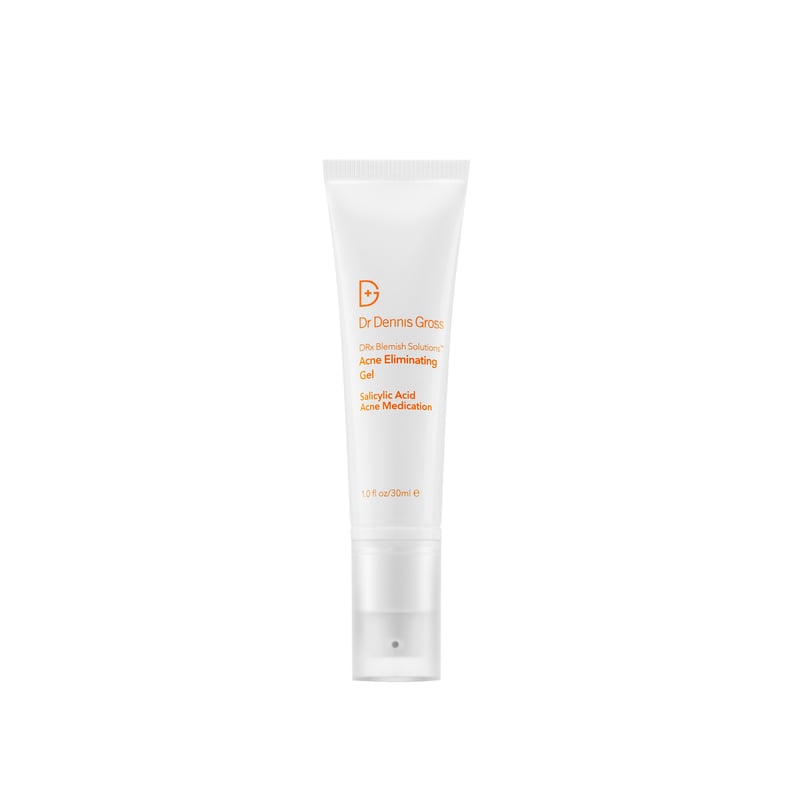 The Dr. Dennis Gross Skincare DRx Blemish Solutions Acne Eliminating Gel ($40) is loaded with acne-fighting ingredients — some you've definitely heard of and others that you haven't. The first ingredient being two percent salicylic acid, the gold standard for eliminating pore-clogging, acne-causing debris. It also contains AHAs to gently exfoliate and reveal smoother texture. Niacinamide, otherwise known as vitamin B3, reduces inflammation and redness. And last but not least is monk pepper. This new and unheard of ingredient helps control oil production by correcting the oil chemistry in the skin at the hormonal level.
Before Using the Dr. Dennis Gross Blemish Solutions Acne Eliminating Gel
Because my breakouts are concentrated on my chin, I only applied the acne gel to the lower half of my face after cleansing and toning in my nighttime routine. The gel blends easily into skin and doesn't feel sticky or drying. A little bit goes a long way so a single pump is more than enough for my chin, jaw, and around my mouth. It doesn't take long for it to absorb — in the meantime, I apply my eye cream. You can layer on other serums on top of it, which I do, without experiencing any pilling or weird reactions.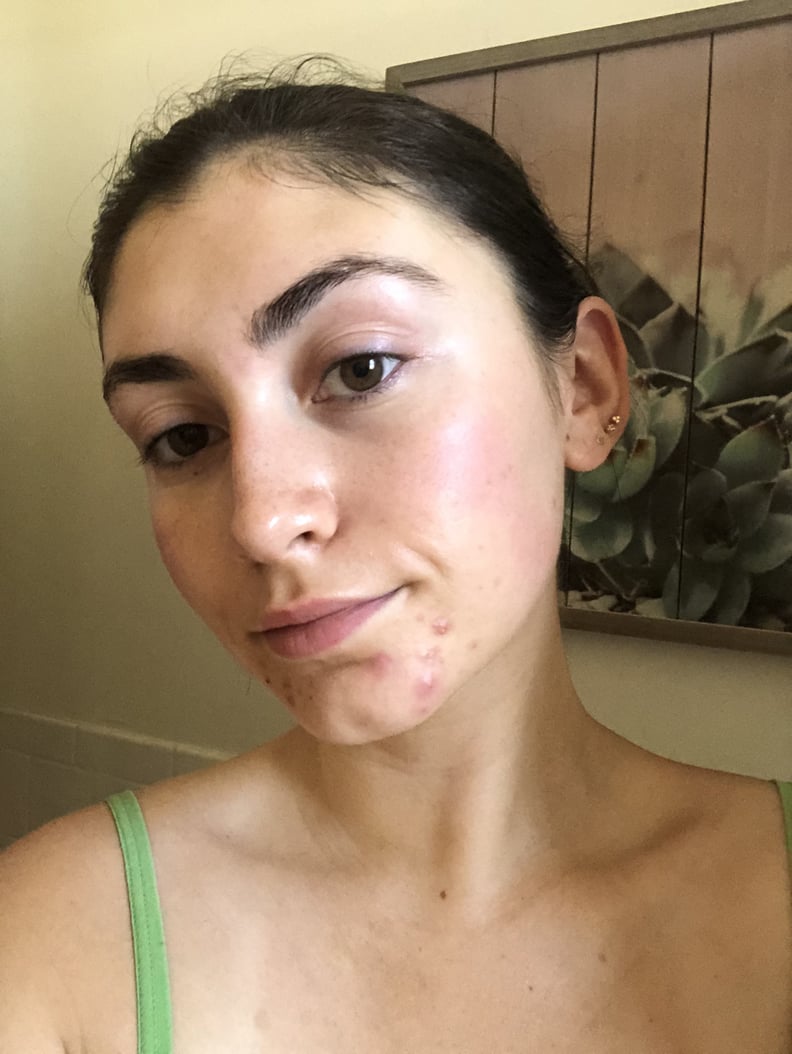 3 Days After Using the Dr. Dennis Gross Blemish Solutions Acne Eliminating Gel
After using the gel for three days I decided to snap another photo to document my progress. I know that real results take much longer to occur — at least a couple of weeks to a month is standard — but I could already see a difference in the redness and inflammation in my acne. While the pimples were still there, no new ones popped up and the existing ones seemed to be healing. I continued using it every night in my skin-care routine on the bottom half of my face. The best thing about this acne gel is that I experienced none of the dryness or peeling that is usually synonymous with starting a new acne treatment.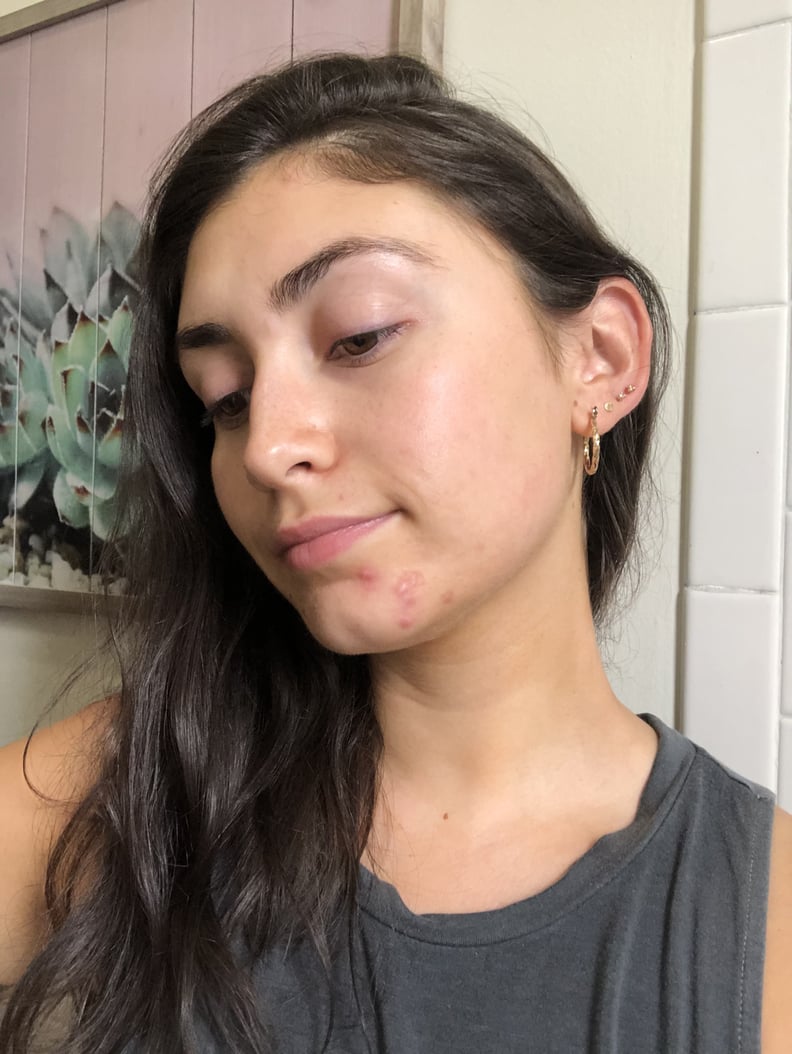 2 Weeks After Using the Dr. Dennis Gross Blemish Solutions Acne Eliminating Gel
Let me preface this after photo by saying: my skin takes a long time to heal from breakouts. Even after the pimple goes down, I usually deal with hyperpigmentation and a raised bump for a couple of weeks. After two weeks of using the Dr. Dennis Gross Skincare DRx Blemish Solutions™ Acne Eliminating Gel ($40), I could see some real results happening.
The breakouts on my chin were less irritated and were finally starting to fade. While the deeper bumps were still visible, it's a large improvement from the inflamed, active pimples that popped up two weeks ago. As for the tiny whiteheads that I was experiencing, those were gone. The acne eliminating gel has earned a permanent place in my skin-care routine and I can't wait to see what my skin looks like after a month.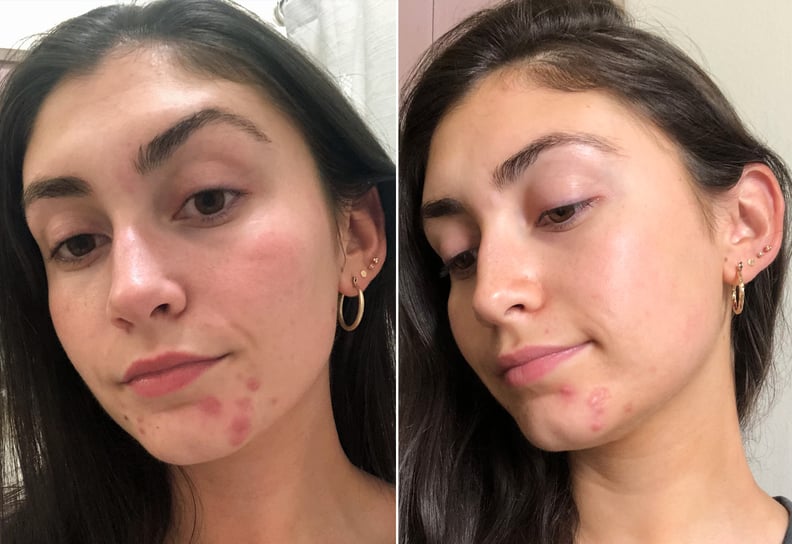 Before and After: Two Weeks