As POPSUGAR editors, we independently select and write about stuff we love and think you'll like too. If you buy a product we have recommended, we may receive affiliate commission, which in turn supports our work.
Netflix's "Do Revenge" is cinematic proof that vengeance is that much sweeter when you have a flawless cat eye and butterfly clips in tow. The moment Drea (played by Camila Mendes) struts on screen in her Y2K-inspired half-up, half-down braided hairstyle (with face-framing pieces, no less), we understand there's a cutthroat attitude underneath her lip-gloss-laden exterior. With every turn of her head, new details are revealed: colorful accessories, subtle twists in the curve of her plaits, and eyebrows so sharp, they could cut the tension between Drea and Eleanor (Maya Hawke) like a knife.
As the movie delves deeper into Drea and Eleanor's friendship, their makeup and hairstyles — yes, including Eleanor's major bob transformation — tell a story all their own. For makeup department head Ellen Arden and hair department head Katie Ballard, creating the looks was a taste of nostalgia.
"I was really inspired by some of the looks Angelina Jolie wore in 'Hackers' and in editorials she was doing in the '90s."
"When we meet Drea, we can see inspiration from 'Clueless' and 'Cruel Intentions,' as well as inspiration from '90s supermodels, especially Karen Mulder," Arden tells POPSUGAR. "Eleanor's polished makeover look has Fern Mayo [from 'Jawbreaker' (1999)] all over it. However, I also love to pay homage to characters and looks that are not on your typical list of favorite '90s movies."
The best example is when, later in the film, you see a change in Eleanor's appearance. "For that aesthetic shift, I was really inspired by some of the looks Angelina Jolie wore in 'Hackers' and in editorials she was doing in the '90s," she says. "These looks had goth-grunge elements and were strong and edgy, perfect for the badass version of Eleanor."
Combining the '90s teen-movie aesthetic with modern runway inspiration and the vibrant Miami vibe, Arden and Ballard were able to beat the Atlanta heat and pull together a succession of badass beauty looks. "I always like to work in tandem with the hair department head to ensure that the look of the character we are designing is cohesive and makes visual sense," she says. Together, and with the help of costume designer Alana Morshead, the pair defined Drea and Eleanor's retro style. "Once costumes were approved, Katie and I would share our ideas and visions for the characters and begin sorting out each character's cinematic evolution."
Ahead, see behind-the-scenes photos of the "Do Revenge" cast — including Mendes, Hawke, Alisha Boe, Sophie Turner, and more — in the hair and makeup chairs, and shop some of the products Ballard and Arden used to create their iconic Y2K styles.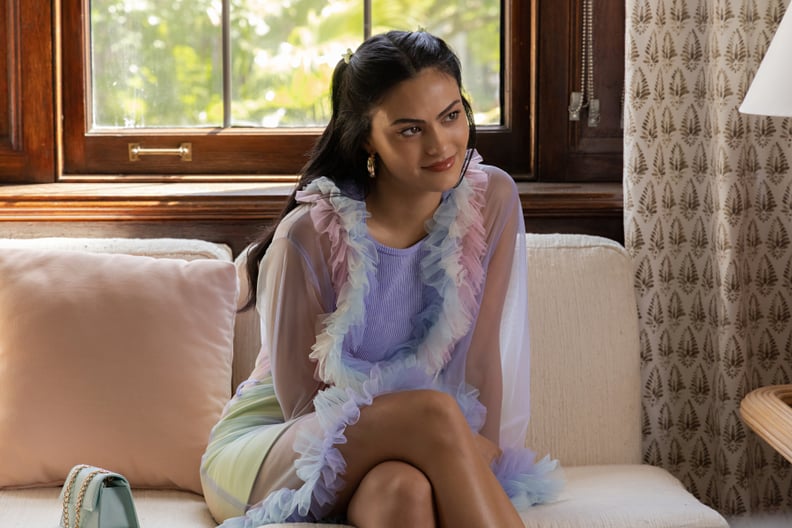 Behind Camila Mendes's Hair and Makeup in "Do Revenge"
In coming up with beauty looks for Mendes's character, Drea, Ballard and Arden worked closely with the "Riverdale" star to create a look that was equal parts polished and edgy. "Drea had so many different looks for the film and so many makeup changes on any given shooting day," Arden says. "Cami had a lot of ideas of who Drea really was and knew exactly what look Drea would pair with her outfits. Cami is also super insightful and detail oriented, so she brings a lot to the table when she is preparing for her character."
For Ballard, working closely with Mendes helped shape Drea's look and keep everything on point — from her wardrobe to her makeup to her hair. "It was such a collaborative effort with Cami, and she's so in tune to all those details, so we wanted to make sure that everything was perfect before she stepped out of the trailer for those looks," Ballard says, adding that she used the colorful rubber bands from a bracelet-making kit to add a pop of color to Drea's hairstyles. "She'll tell you, too: she's gotta tweeze her eyebrows, like, every day. It is definitely a look that takes a little bit of time to pull together."
Every look in the film was worthy of screenshotting for future hair inspiration, but Ballard's favorite one for Drea is the hairstyle she wears to the ring ceremony. "[It] ended up being the look for her, which I actually didn't expect," she says. "We just did a nice bun and her nice little spikes coming out of the top, and for me, it was the chef's kiss on that scene."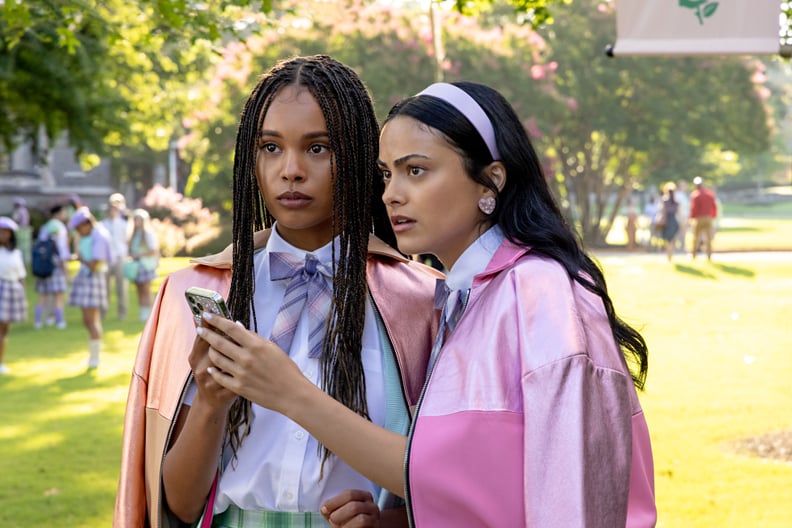 It's no surprise that Mendes's hair alone took two hours to pull off for each scene. Inspired by a range of '90s movie icons — including Cameron Diaz, Jennifer Aniston, Alicia Silverstone, and Julia Stiles in "10 Things I Hate About You" — Ballard used Mendes's hair to further convey her story arc.
"There is a bit of a story arc with her hairstyles."
"There is a bit of a story arc with her hairstyles and in her look altogether that we would ride on, but the specific styles would come together after the costumes," she says. "We still kept [Drea] smooth and polished looking [at the beginning] because she's still elitist, so she still does her hair accessories and all of that and has her look together, but it's not quite as rigid. And then as all of this turmoil starts unfolding in her life as the sex tape is released, that's when she starts to get more snatched."
The rigidity of Drea's hair reaches its peak during the climax of the film, when she confronts Eleanor about sabotaging her. "She softens again as things start to resolve themselves, and to me, the pinnacle of that is the very last scene where she and Eleanor are driving off in the convertible together. She's got her little butterfly clips, and we left her texture softer there. That was her carefree moment at the end of it all."
For Arden, illustrating Drea's emotional journey through her makeup was equally enjoyable. "As we follow Drea throughout the film, we see her mania slowly devour her," she says. "Her typical precise and controlled polished looks slip into a more extreme offbeat territory meant to depict her total loss of control."
For Drea's lips, Arden used the Pat McGrath Labs MatteTrance Lipstick ($39); MAC lip pencils in Spice ($21), Stripdown ($21), and Cork ($21); and MAC Lipglass ($21) and Sunnies Face Fluffmate Lipstick in Nudist ($85, originally $96). Arden also used the Pat McGrath Labs Mothership VII Eyeshadow Palette in Divine Rose ($128) and Pat McGrath Labs Mothership II: Sublime ($128) for Mendes's eyes.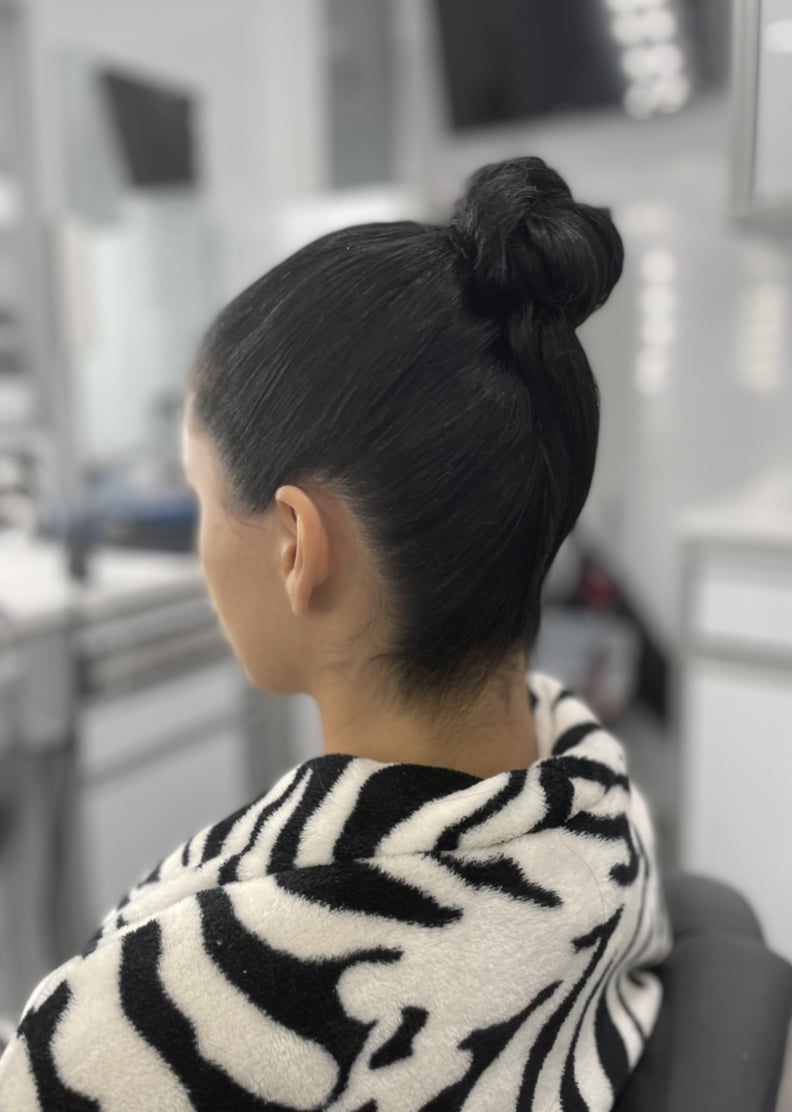 For most of Mendes's looks, Ballard stuck to a handful of tools to control any frizz on the humid set, namely Fatboy Water Wax ($20) and Kevin Murphy's Sessions Spray. "First, I iron [the hair pieces] and make sure that the bends in the ends were perfectly symmetrical because it's very important," Ballard says about creating Drea's signature face-framing pieces. "Then I would go in with the Fatboy Water Wax and polish them. Then I would do a fine layer of Kevin Murphy's Session Spray."
Up against the blazing summer heat in Atlanta, these products came in handy daily for Ballard and the cast behind the scenes. "The Water Wax and the Sessions Spray always came out of my bag when we were doing her more snatched looks because it's not supposed to look soft," she says. "Everything was supposed to look intentional and in its place."
"Everything was supposed to look intentional and in its place."
Another go-to for Ballard on set was Reverie's Milk ($42), which she used to stabilize looks and add touch-ups. "It's a leave-in conditioning treatment with just a tiny bit of hold, and the reason I like that is because I can layer it on their hair all day as they move and the humidity gets at it," she says. "I can also execute style changes without a lot of product buildup. It's so light that your hair feels clean and fresh, but there's enough hold in there that it can smooth out the flyaways and add a bit of shine. All around, I used that on her every day."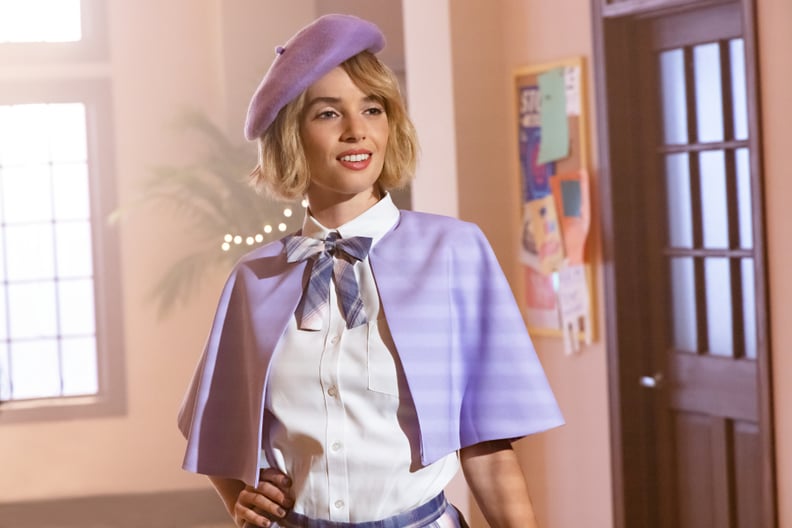 Maya Hawke's Hair and Makeup in "Do Revenge"
Where Drea is polished and flawless, Eleanor starts out as simpler, with no makeup and long, shaggy hair. "Maya's hair at the beginning was to convey her state of mind," Ballard says. "It was purely to convey the fact that she does not give a sh*t. Her hat says, 'I hate it here.' You're able to see that she's not happy in the environment she's in; she doesn't fit into the environment she's in."
As Eleanor's character develops, so does her style, leading to one of the film's most memorable scenes: Eleanor's hair makeover.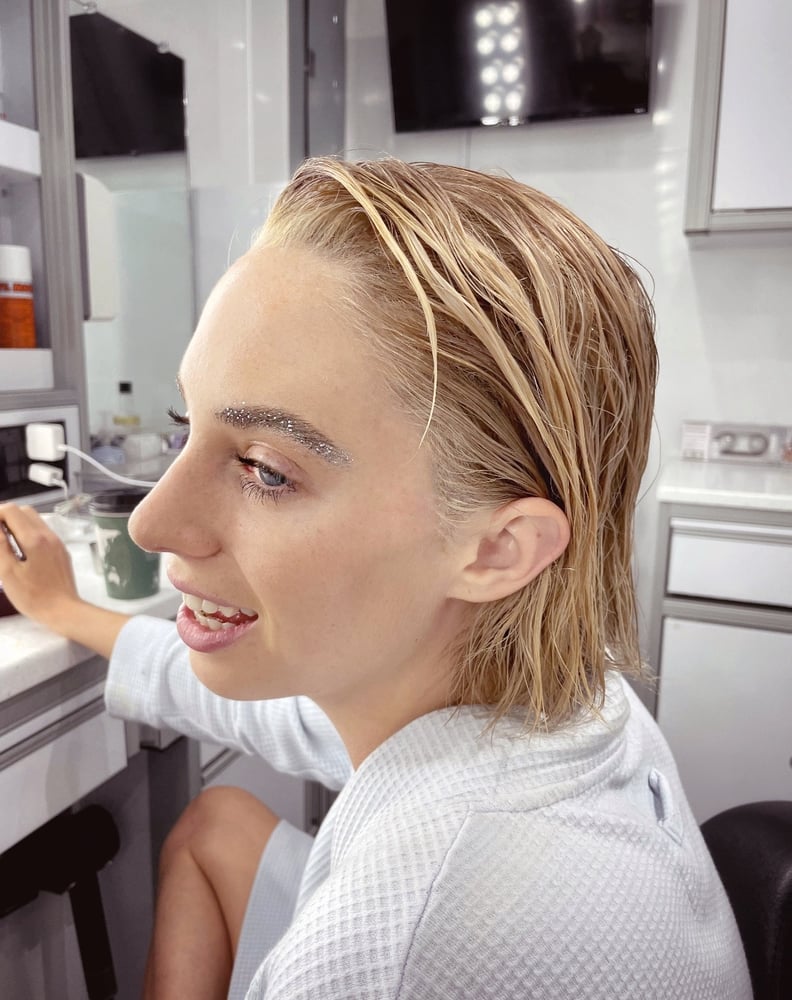 "When I first read the script, I was like, 'Oh, yeah!'" Ballard says of Hawke's hair transformation. "I get excited whenever I see those hair transformations . . . It was a huge deal." Due to tight timing constraints, the beauty team wasn't sure if Hawke's makeover would make it on screen.
"Luckily, I have a lot of experience with finding ways to pull wigs together on a very short turnaround and I am a wigmaker myself, so oftentimes, there are things that I can do to help pull it together," Ballard explains. With the help of wigmaker Robert Navarre, Ballard was able to make the transformation a reality. Planning ahead, she requested extra detailing around Hawke's hairline to perfect the wet, slicked-back look she wears to the admissions party. "We were afraid that we weren't going to be able to do it, but in the end, it amazingly ended up working for us," she adds.
To maintain and style the wig, Ballard used Kevin Murphy's Staying Alive ($30), Kevin Murphy's Sessions Spray Flex ($34), and Reverie's Milk.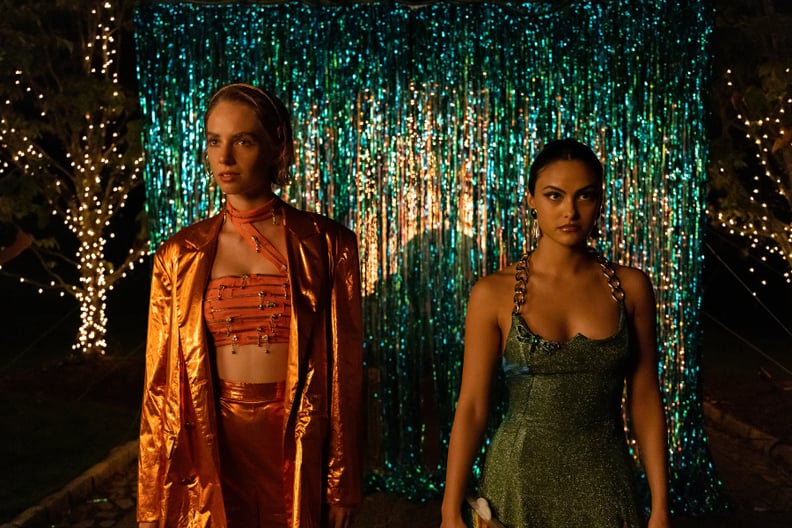 While the entire movie is a love letter to the '90s and 2000s, Arden and Ballard both agree that their work saw its shining moment during the admissions-party scene. "I keep saying that my biggest moment in the film was Maya's admissions-party look," Ballard says. Arden continues, "For Eleanor, the makeup was simple and edgy mixed metals with dewy skin, an orange shimmer wash on her lips, and a silver glitter brow. Drea's makeup in that moment was fierce and sharp with a glossy lip." For Eleanor's galactic eyebrow look, Arden used Lemonhead.LA Spacecase Glitters ($198), the same glitter set the rest of the cast wore during party scenes.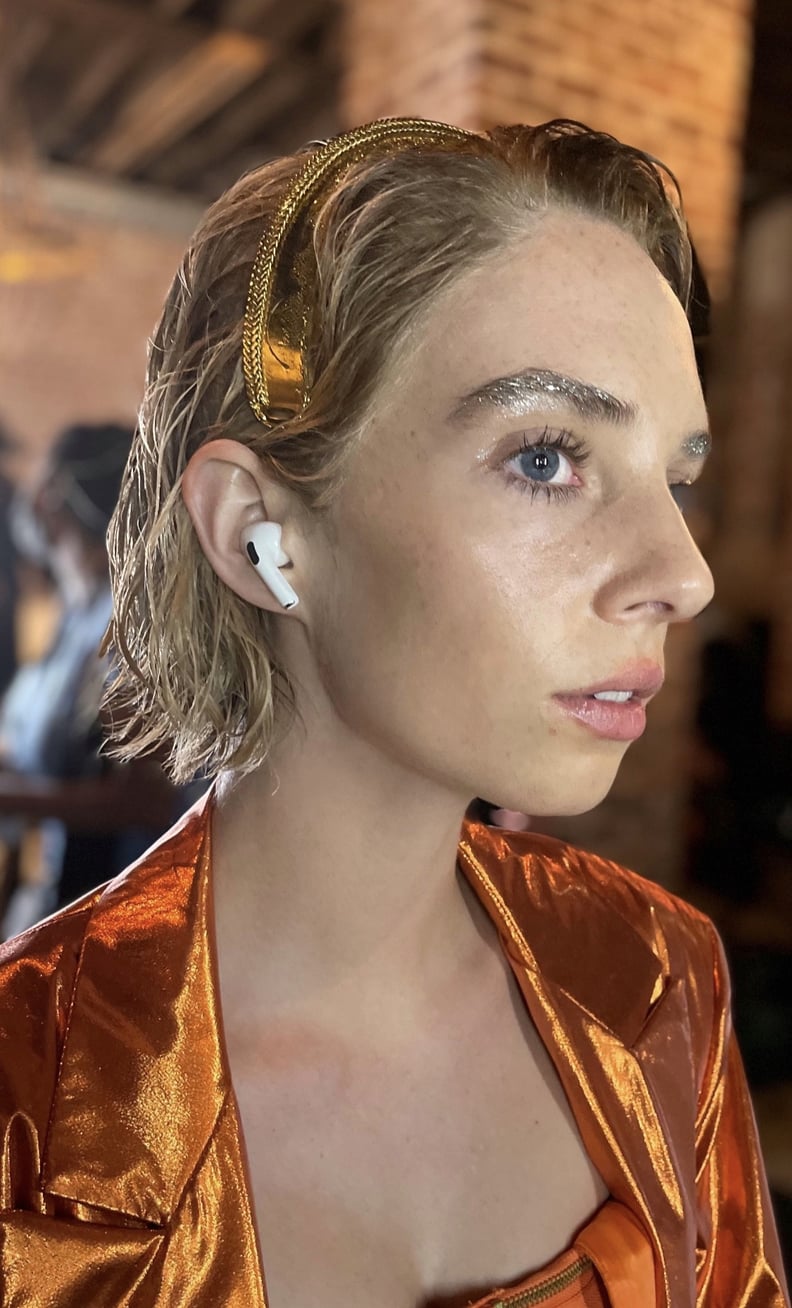 "For Eleanor, her makeup goes from soft and sweet to bold and vicious at times," Arden points out. "This helps us see those moments when Eleanor feels empowered by her upper-hand domination." We get a full taste of Eleanor's onscreen transformation during the bathtub scene after she's revealed her true motives to Drea.
"Eleanor begins to wear a deep-red lip as she begins spiraling, a juxtaposition to the soft and calm colors she had worn until the moment she begins to feel empowered by her revenge plot," Arden continues. When Eleanor reaches the peak of her emotions, she stares into the mirror and smudges her lipstick off in what has since become one of the most iconic scenes of the movie. "For this moment, I used a heavy application of Vendetta by Pat McGrath Labs," Arden says. "The name of the lipstick is so fitting for the moment! The heavy application of the lip color makes it appear slightly darker in the dimly lit room than in the hospital room, however, we needed maximum smear!"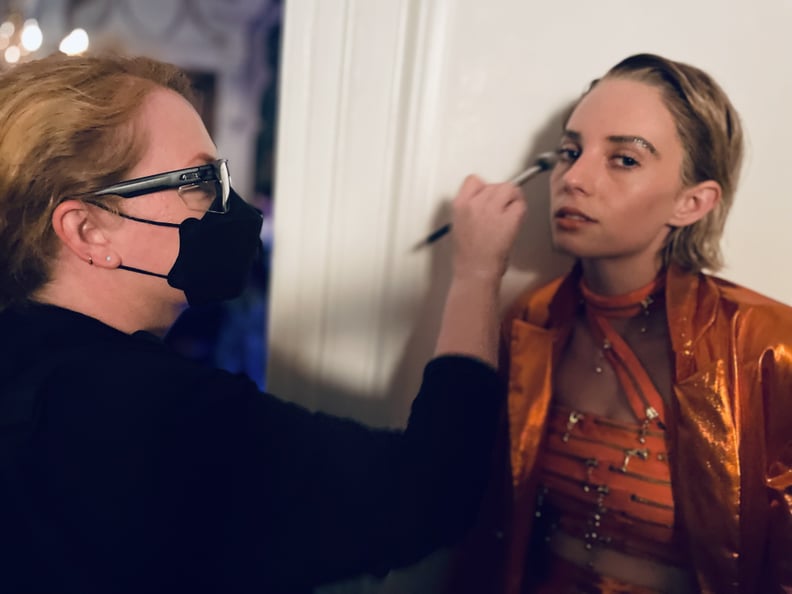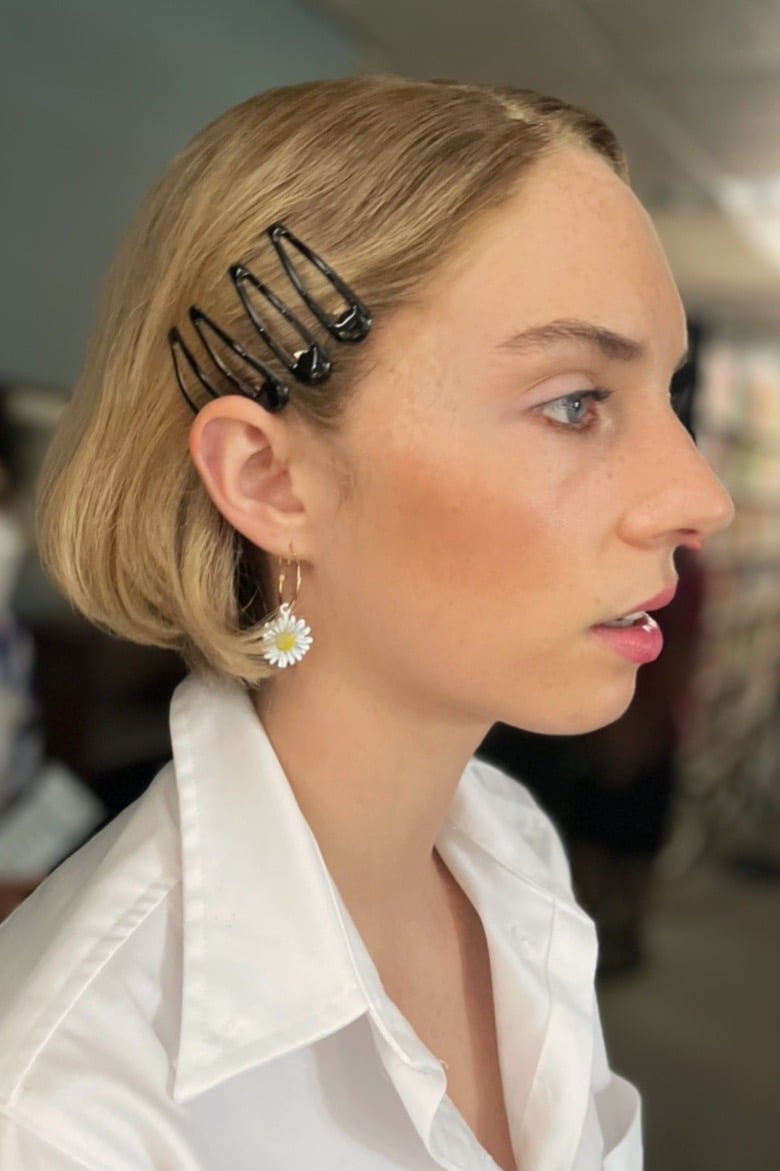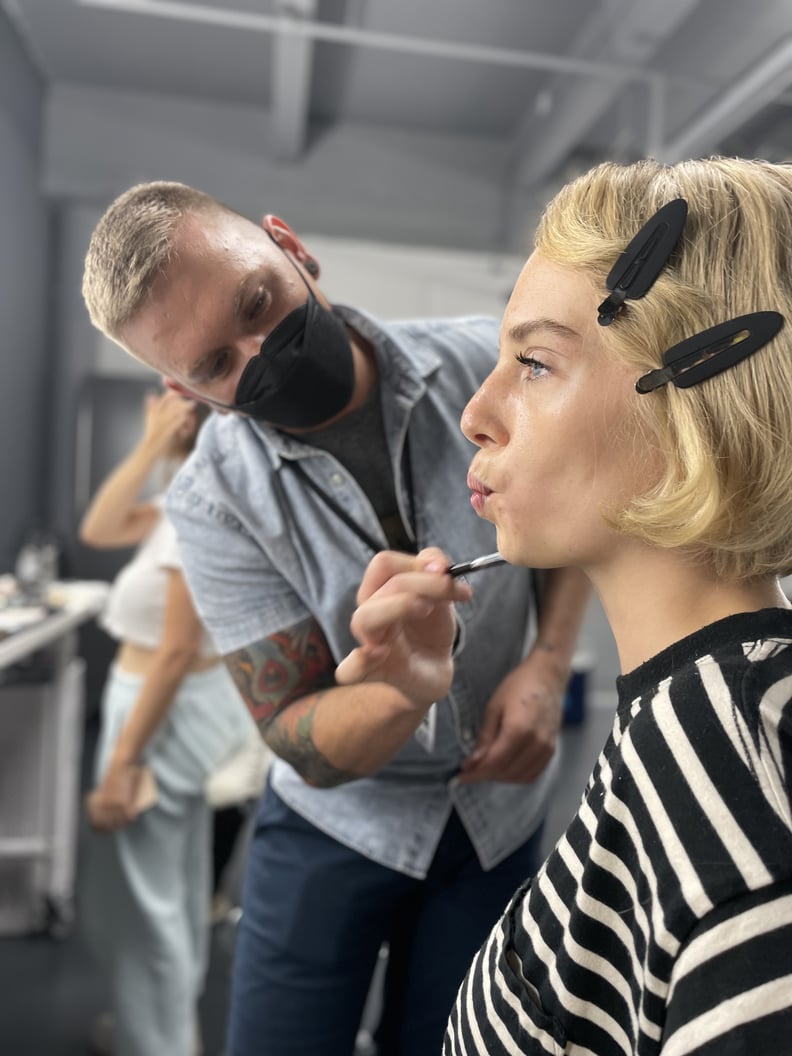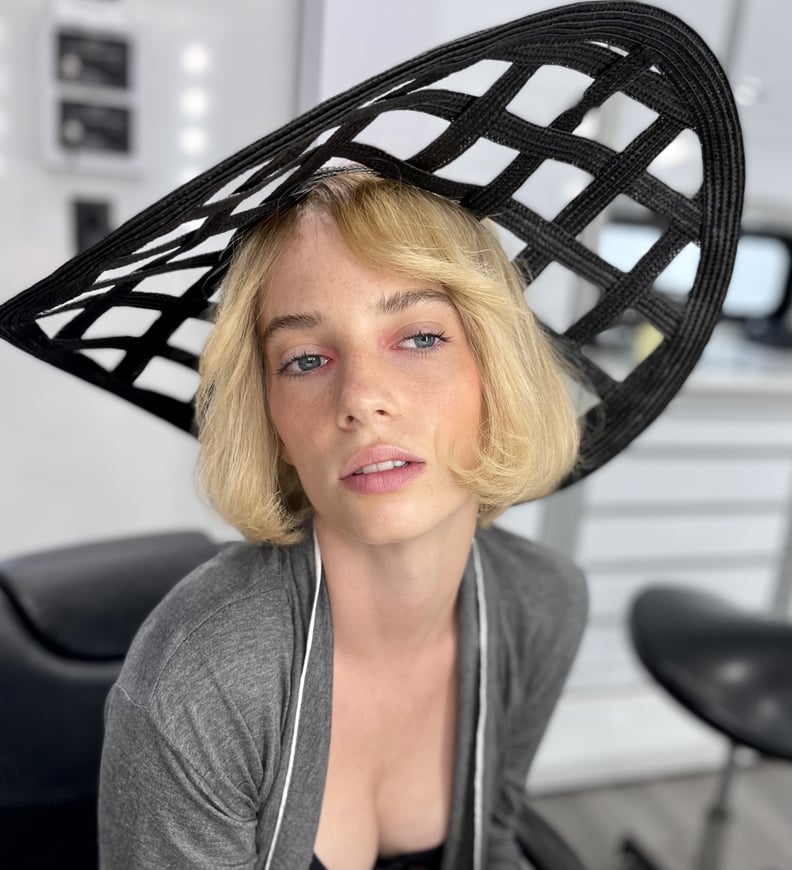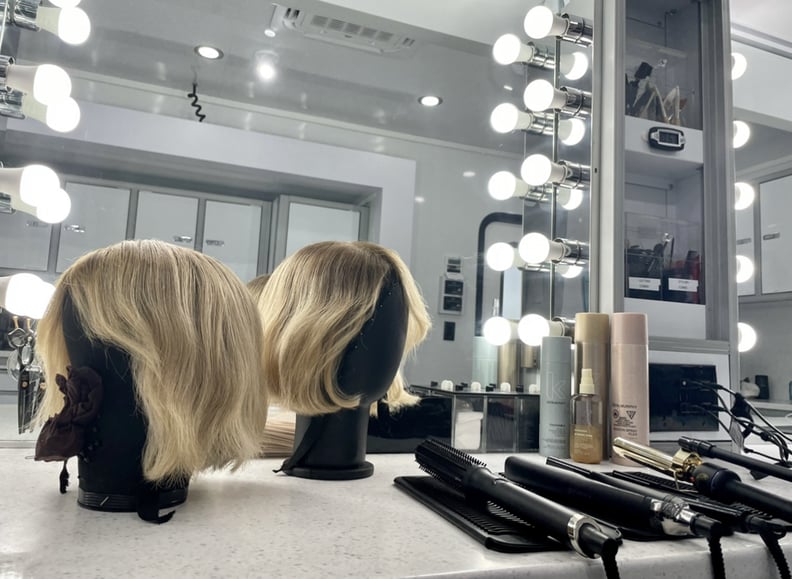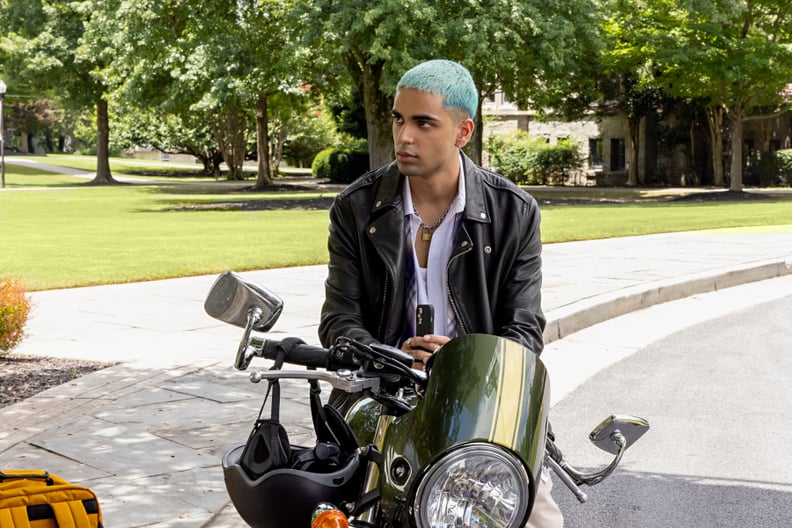 Rish Shah's Hair in "Do Revenge"
For Rish Shah, who plays Drea's love interest, Russ, in the film, the electric blue in his hair was no coincidence. In addition to adding to his character's bad-boy persona, the drastic change in hair color was something Shah had been itching to try for months. "Rish and I are great friends," Ballard says. "We had just worked together on 'Ms. Marvel,' and the color came together in a really amazing way," Ballard says, detailing a time when she dyed Shah's friend's hair pink, making the "Do Revenge" star eager to try the look for himself. "While we were doing it, Rish was dying. He was like, 'I want to do this to my hair so bad, but I could never change my hair because of work.'"
A month later, the pair met again on the set of "Do Revenge," and Shah's wish became a reality. "One of the first conversations I had with [Jennifer Kaytin Robinson], our director, was that she wanted to color his hair pastel, and it just could have not been more perfect," she says. "Rish really wanted to color his hair lavender, and it would have looked amazing on him, but the uniforms at the high school, some of them are lavender. We just felt it would be really weird for his hair to match the costumes, especially given that his character is this bad-boy artist."
From there, Shah and Ballard used Good Dye Young's Sky-High ($18) shade to achieve his final onscreen look. "We lifted him to a pale yellow so it would be a really soft pastel when we put the Sky-High on there," she explains. "From there, it was just maintenance. It was about every 10 days that we would touch up his hair and make sure it all stayed looking the same and it lined up really well with his fade. It was a really fun transformation to do on Rish."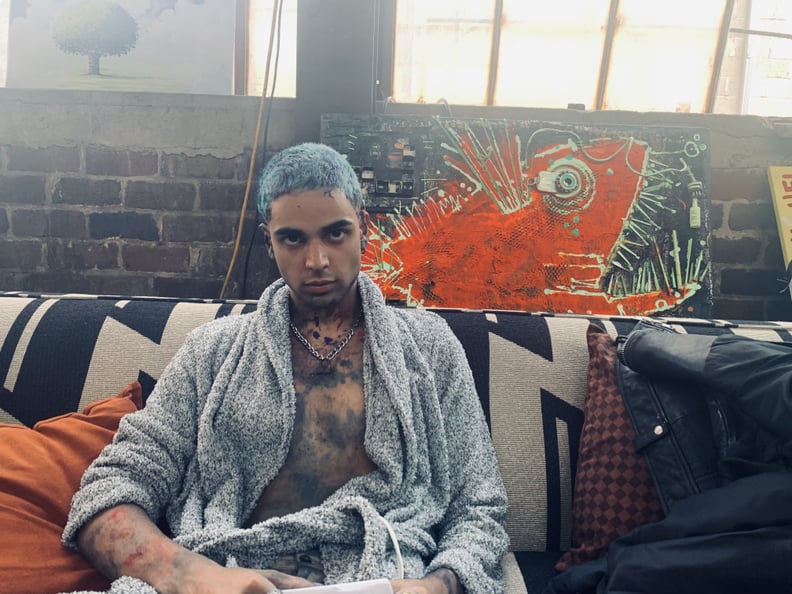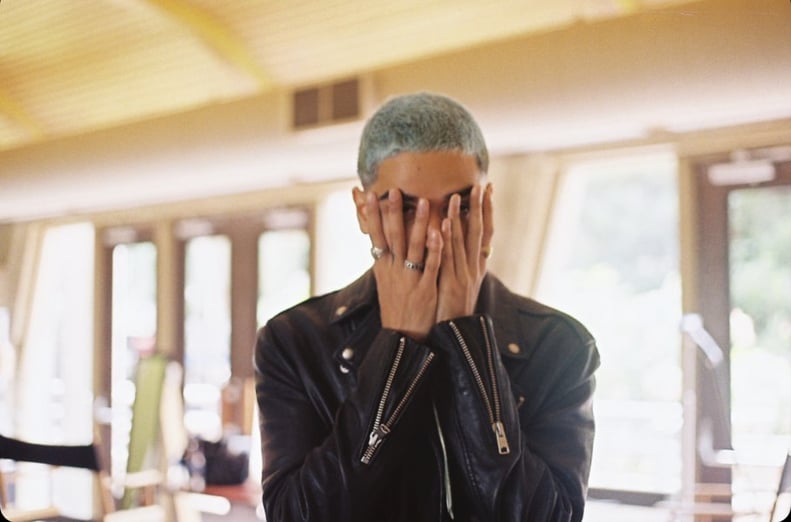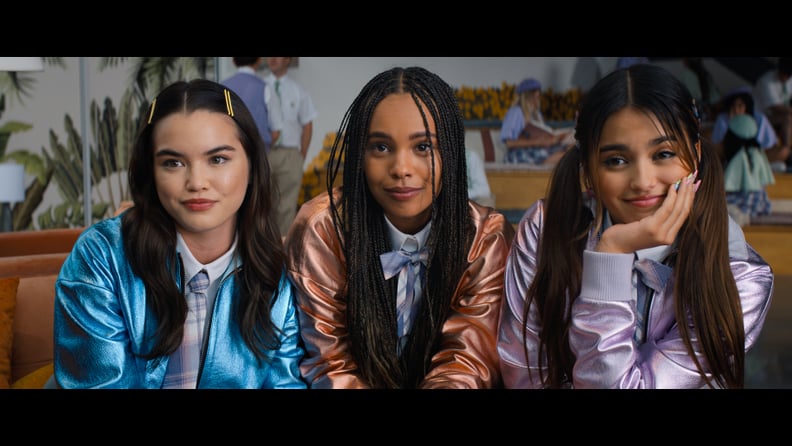 Alisha Boe's Hair and Makeup in "Do Revenge"
In addition to Mendes and Hawke, Alisha Boe had several moments to shine on screen, showing off impressive hair and makeup looks that made us wish she were our high-school BFF. "Alisha Boe's character, Tara, also had some gorgeous looks," Arden says. "Working with makeup artist Ashley Langston, we created several amazing looks for Tara. I knew I wanted to keep her super fresh but also for her to look like the coolest girl you have ever seen. Her makeup was kept low-key with pops of color paired with the perfect lip."
Like her costars, Boe was also given a full '90s/2000s makeover, complete with chic hairstyles and a ton of glitter. "We created a mix of dewy, fresh skin with pops of color, glitter, or gems and often paired those things with an iconic '90s lip or a signature '90s eye color," she says. "Fortunately, the '90s were back in full effect when we began filming 'Do Revenge'! So there were lots of throwback products available on the market or things that resembled many of the iconic products that would have been used in the original '90s movies."
For these looks, Arden used products such as the Trish McEvoy Finish Line Liquid Shadow Transformer ($26) and Chantecaille Future Skin Gel Foundation ($82).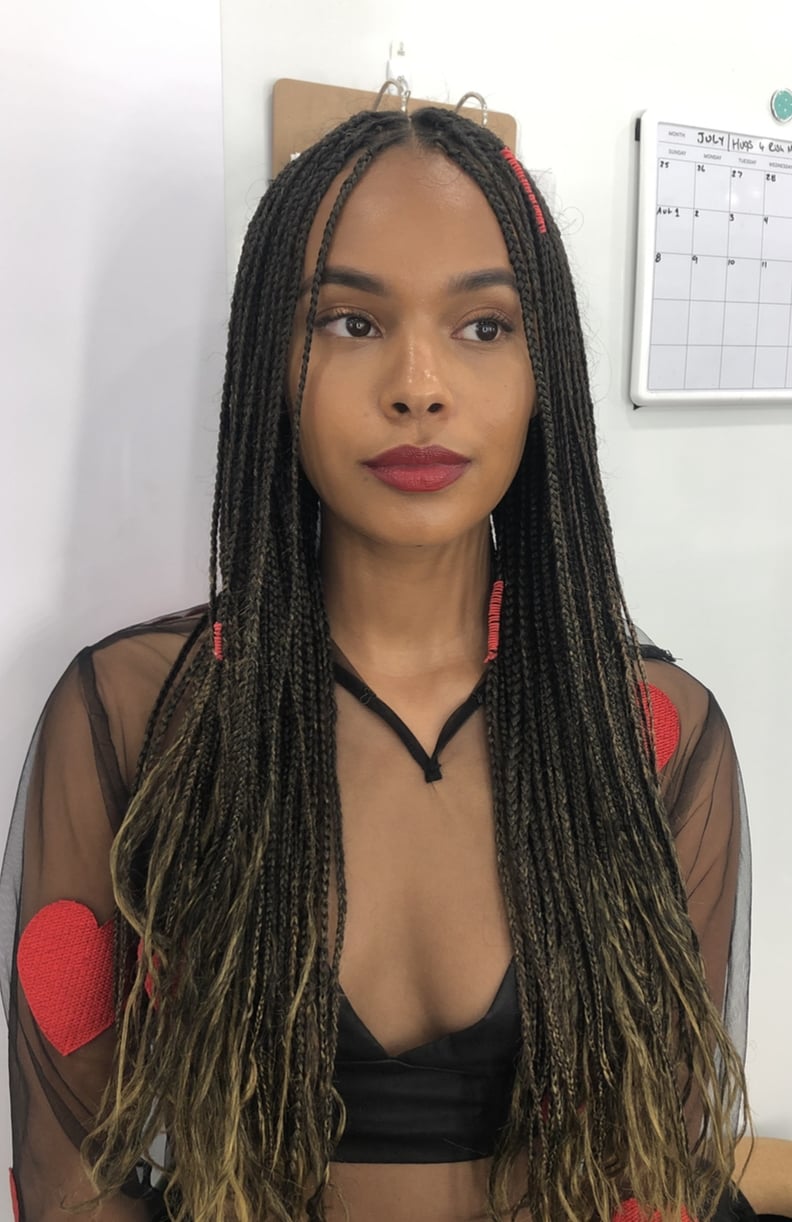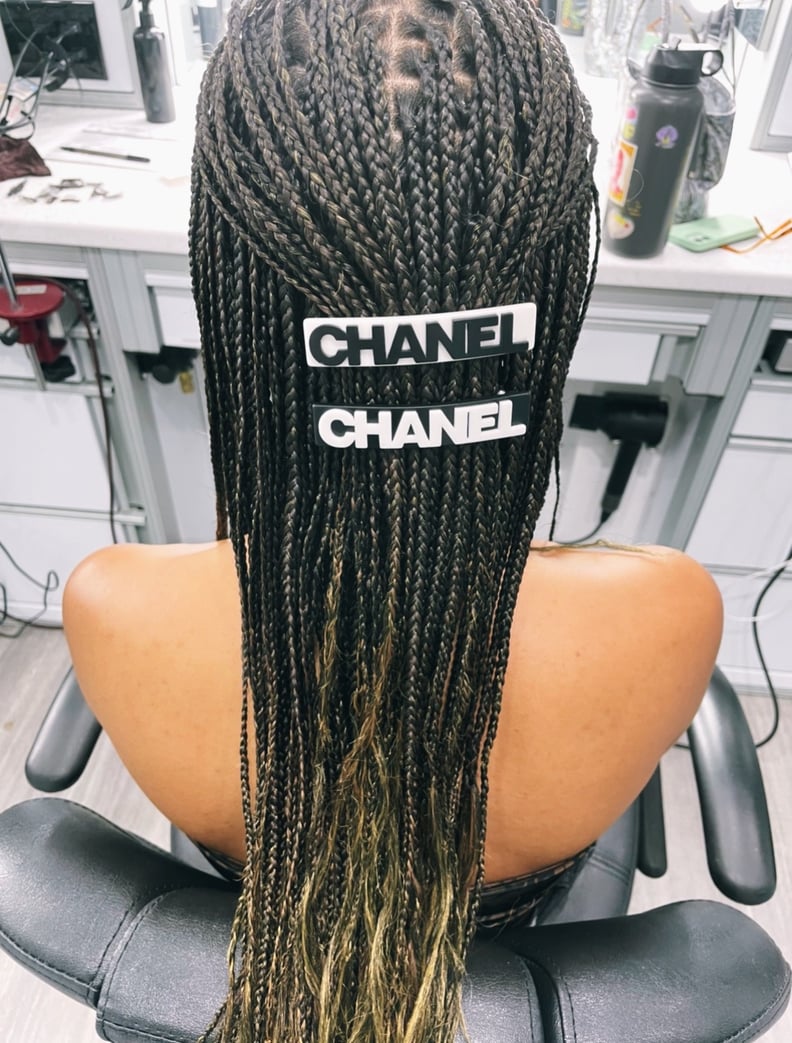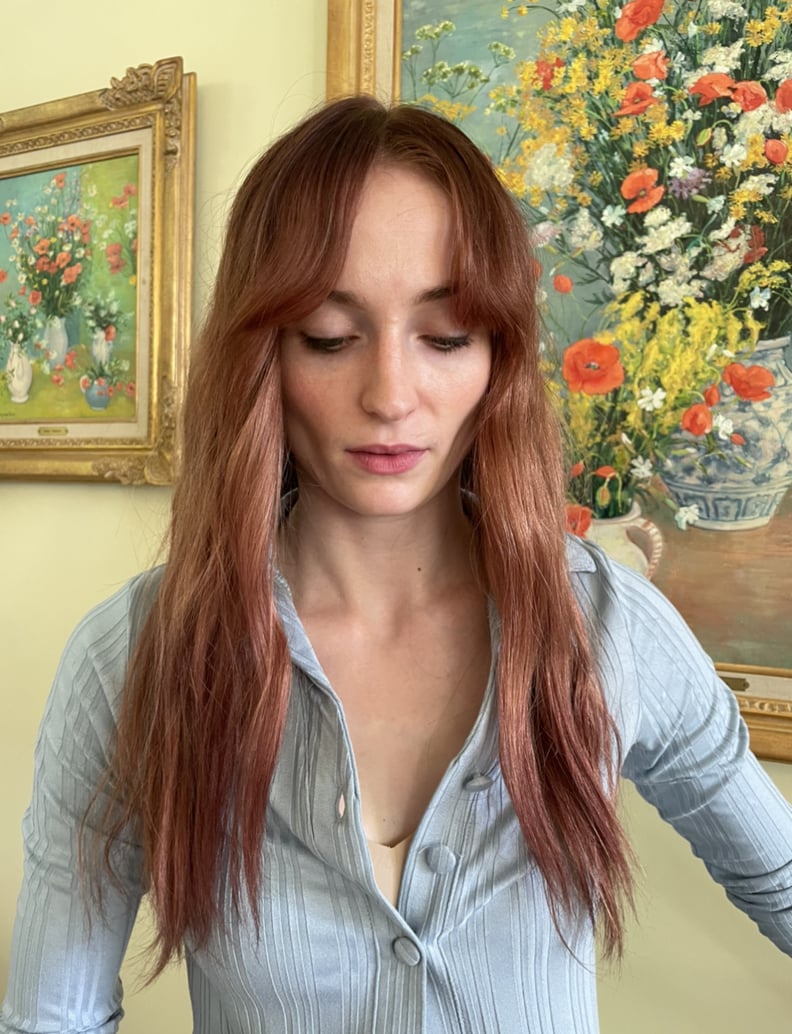 Sophie Turner's Hair and Makeup in "Do Revenge"
For many viewers, Sophie Turner's cameo as Erica in "Do Revenge" was one of the highlights of the film, not just for her hilarious performance but also for her immaculate hair and makeup looks. "I also love Sophie Turner's looks in the film, which were applied by my amazing key makeup artist, Leo Satkovich," Arden says. "Our director asked for our department to make her 'high-status c*nt,' and he delivered! When we first meet Erica in the film, she is snatched to the nines."