Dr. Jart Cicapair Tiger Grass Camo Drops Review With Photos
I'm Ready to Throw All My Base Makeup in the Trash After Trying This Product
As POPSUGAR editors, we independently select and write about stuff we love and think you'll like too. If you buy a product we have recommended, we may receive affiliate commission, which in turn supports our work.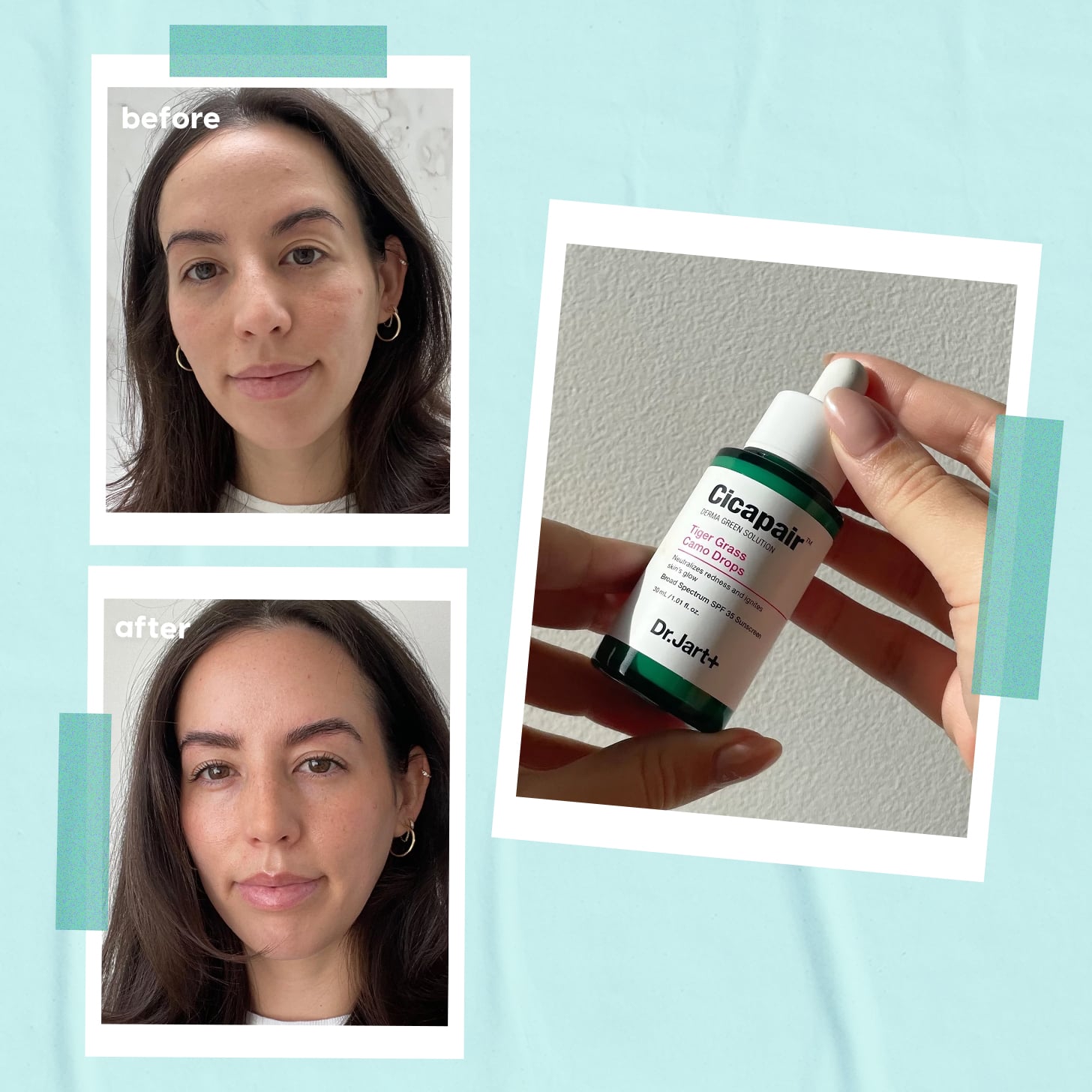 Dr. Jart's Cicapair Tiger Grass Camo Drops Color Corrector has been gaining popularity on TikTok.
TikTok users are loving the base product for its serum-like consistency.
One editor tested out the drops and was impressed with the results.
As someone who loves the "no-makeup makeup" look, it's been a huge struggle finding the perfect base layer for my skin. I want something that feels weightless, offers minimal coverage, and doesn't exacerbate my acne. I've tried tons of different foundations and tinted moisturizers, but I've never really found a product that checks all of my boxes. However, thanks to TikTok, I may have just found the perfect product to complete my everyday look: Dr. Jart's Cicapair Tiger Grass Camo Drops Color Corrector SPF 35 ($46).
I have dry, acne-prone skin, so when testing out new products, I have to be careful. I look for products that won't break me out or make my skin worse. I heard great things about Dr. Jart's Color Correcting Treatment from a coworker, but when I tried it out in place of my moisturizer, I found it too drying for my skin type. Then, when I heard that Dr. Jart's Camo Drops had more of a serum consistency, I couldn't wait to get my hands on them to test it out.
Dr. Jart's Tiger Grass Camo Drops are formulated with tiger grass, which is known to calm redness and soothe irritation. It's also formulated with the brand's proprietary Cicapair technology that includes a blend of hydrating ingredients and anti-inflammatory antioxidants (like niacinamide and arnica extract, respectively). The Camo Drops also have mineral sunscreen with SPF 35.
When it came to application, the process was simple. I completed my normal routine and applied my vitamin C serum, moisturizer, and face oil. I then administered three drops of the Camo Drops directly onto my face and pressed them into my skin, which felt exactly like applying a serum. The drops are a light green color when they're first applied (I know, it's wild), but the color quickly morphed to match my skin tone, which was basically like watching a free magic show.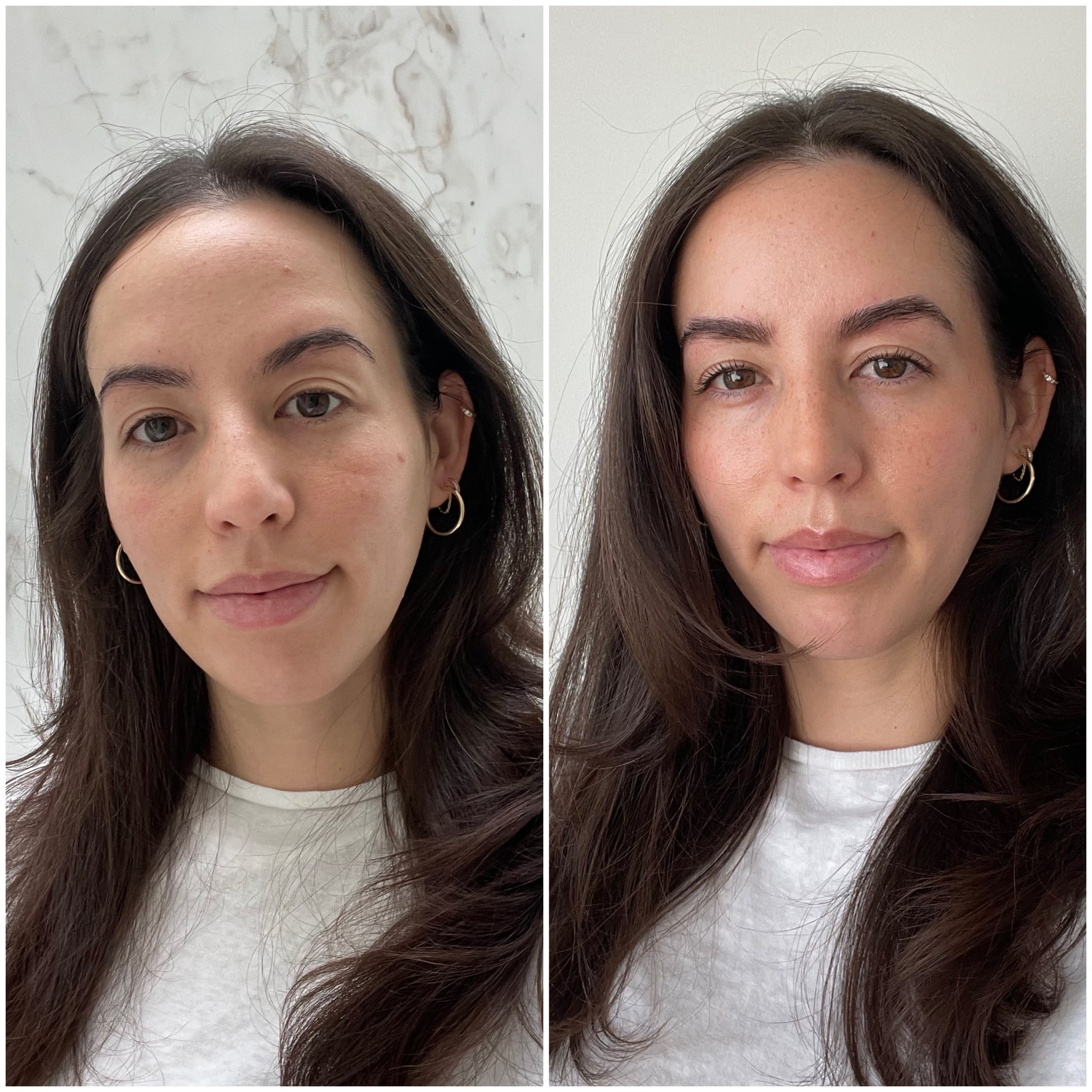 Immediately after applying this product, I knew it was going to become one of my everyday staples. It went on extremely smooth, and it felt completely weightless. It melted into my skin instantly, and it gave my skin the perfect "no-makeup makeup" look. It didn't completely cover up the acne I currently have on my face, but it did do a great job of evening out my skin and covering up dark spots as well as redness. Currently, my skin tone is a lot lighter than normal since I haven't been in the sun, but I'm hopeful that this product will continue to work for me even when I'm much tanner in the summer.
The product wore well throughout the day, and kept my redness in check for almost a full eight hours. By the end of hour eight, I could see it beginning to fade in some areas– but it wasn't too bad. I had completely forgotten I was wearing it until I looked in the mirror before washing my face, which is a testament to how weightless this product truly is.
At $46, although this product is a little on the pricey side, to me, it's absolutely worth it because it's a multi-use product. It's taking the place of base makeup as well as my daily sunscreen, so I'm able to replace two products I use every day with just one product, which is convenient and a time-saver.
I think this product is great for those who are looking to combat uneven skin tone and redness without having to put on a full face of base makeup. I also think this product is a great option for those who tried Dr. Jart's Color Correcting Treatment but found the formulation too drying. I plan to use this product any time I want a "no-makeup makeup" look or any time I'm looking for very light coverage. I read that you can also layer this underneath foundation for more coverage, so I definitely plan on trying that in the future. If you're looking for a product that's lightweight and gives the perfect amount of coverage, these Camo Drops were made for you.
Rating:

Image Source: POPSUGAR Photography / Renee Rodriguez