6 Fall Beauty Products to Pick Up the Next Time You're at Trader Joe's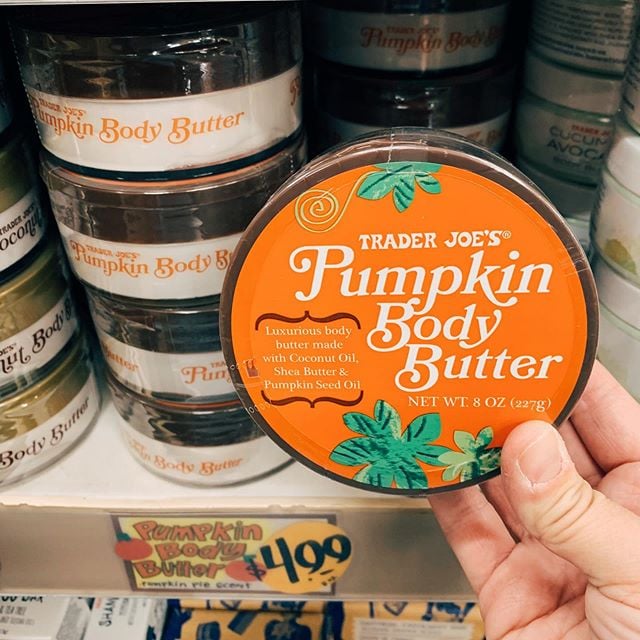 I know I'm not alone in saying that Trader Joe's actually makes me excited about food shopping. No other grocery store elicits that same response. (I mean, I follow them on Instagram. . . that's a whole new level of enthusiasm.) I don't know if it's the low prices, the original options available, or the wide selection of seasonal items (like all of the fall products available right now), but I view a trip to Trader Joe's as a great way to spend a Saturday.
Now that we're officially in the cozy season, you can find a ton of new delicious-looking food and drink products at Trader Joe's, like pumpkin empanadas and spiced apple cider, but the seasonal products don't stop there. Hiding in the beauty section is a variety of fall products to discover.
From warm vanilla-scented body butters to pumpkin sheet masks and lots of candles, fall-lovers will have no trouble finding new products to try. Ahead, we rounded up a few crowd favorites to look for during your next trip to the store.
Trader Joe's Pumpkin Spice Biocellulose Face Mask
This single use face mask is packed with good-for-your-skin ingredients including pumpkin seeds, turmeric root extracts, aloe leaf juice, orange peels, and more to bring hydration and moisture to your skin, and is only $3.
Trader Joe's Pumpkin Body Butter
Trader Joe's beloved pumpkin body butter has returned and it's only $5.
Trader Joe's Apple Cider Foaming Hand Soap
This apple cider scented foaming hand wash is only $3.
Trader Joe's Vanilla Pumpkin Scented Candle
This natural soy wax blend candle will make your home smell like vanilla pumpkin for only $4.
Trader Joe's Warm Vanilla Body Butter
This Trader Joe's vanilla-scented body butter is made with shea butter to leave skin feeling soft, and only costs $5.
Trader Joe's Honeycrisp Apple Scented Candle
The honeycrisp apple candle is a great fall scent for someone who isn't a fan of pumpkin. It's $4.