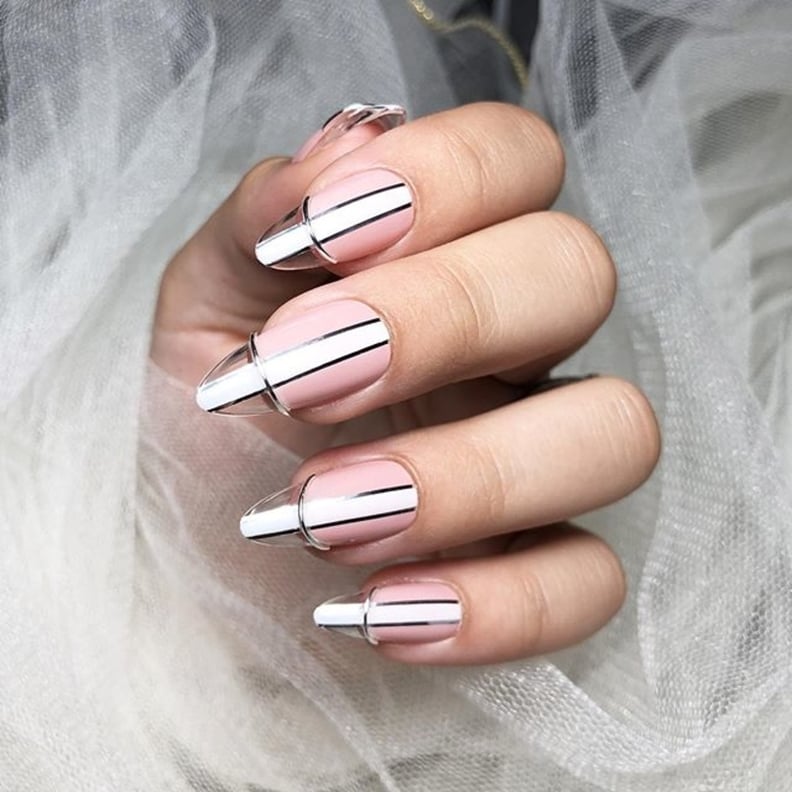 It's official: the french manicure is back. However, in 2019, the classic nail style — with its instantly recognizable icy white tips — has been reinvented in more ways than we can count. Out of all the various styles, there's one version of the design that we think will be huge this year: floating french tips. The floating french, created by nail artist Tracey Lee, takes elements of a traditional french manicure — the stripe of white, for instance — but instead of the stripe running horizontally along the tips, it runs vertical along the nail, from the cuticle all the way to the end of the nail. In fact, for this version of the french manicure, the tip is left completely bare, creating the illusion of a "floating tip."
"I don't feel that the french manicure ever really goes away," Lee said. And as we've seen over the past several months, it just comes back in different ways. For instance, celebrities have been loving french manicures that feature neon-colored tips. We've also spotted reverse french manis and, most recently, negative space or jelly-effect french manicures that feel minimal yet cool. Different versions of the classic design have been seen on the red carpet, backstage at London and New York Fashion Week, and, of course, all over our Instagram feeds. Although we won't tire of the neon hues and reversed tips anytime soon, there really is something special about the floating french tip manicure.
You don't even need to head to the salon to try out the trend. "For many people, the challenging thing about a french manicure is creating 10 perfectly shaped nails," Lee said. "However, it's possible just to incorporate the french [design] on one or two nails, while the rest are full [block] color." With so many ways to revamp it, there's truly no wrong way to try it at home. Luckily for us, Lee gave POPSUGAR the lowdown on exactly how to achieve this at home, and how you can jump on that nostalgic french manicure train but with a fresh, modern twist.
Read on for a step-by-step breakdown, plus other versions of the design that might inspire your next set.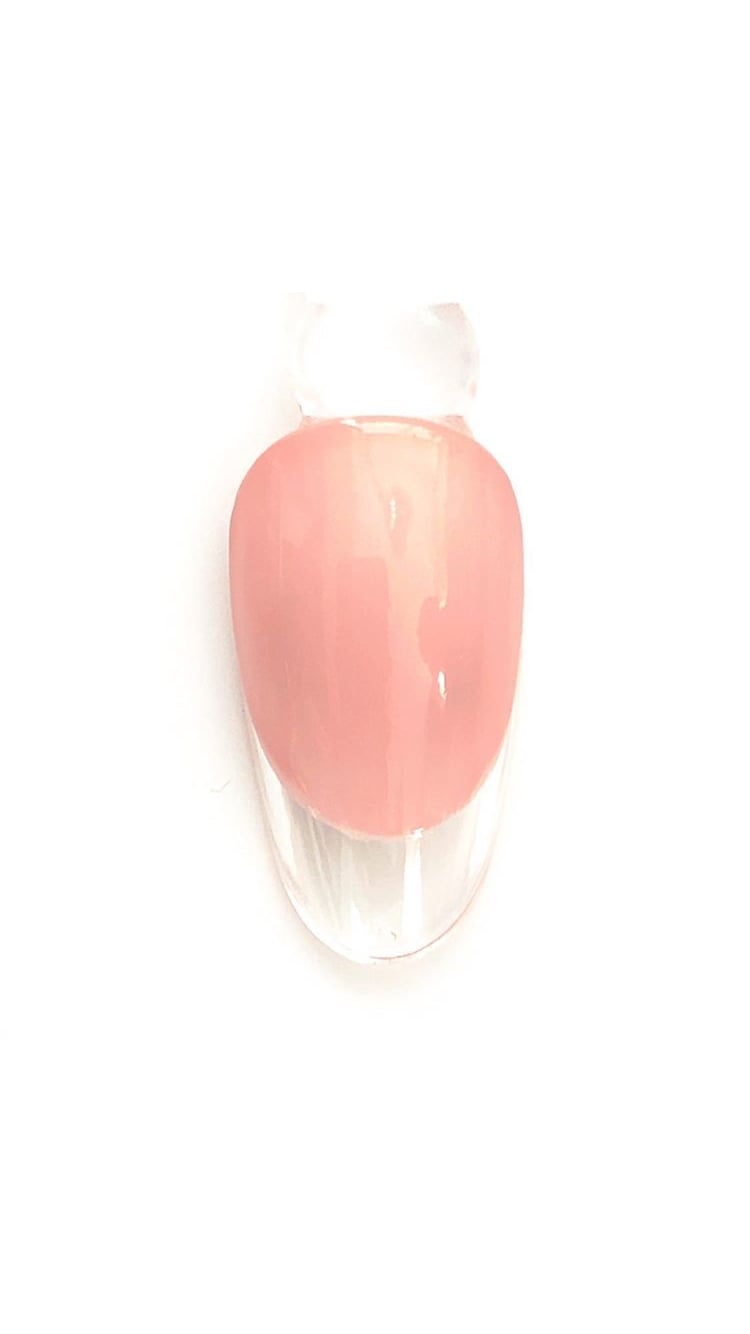 Floating Tip French Manicure: Step 1
The floating french manicure can be done using regular nail polish, but Lee recommends using an at-home gel kit.
First, take an acrylic nail (this is vital to create the floating tip effect) and paint a layer of CND Shellac Pink Pursuit ($14) from the nail bed to a midway point on the nail, being sure to leave a curved tip edge free from color. Let this color layer cure. (If you're using regular polish, allow it to fully dry, which should take approximately 10 minutes.)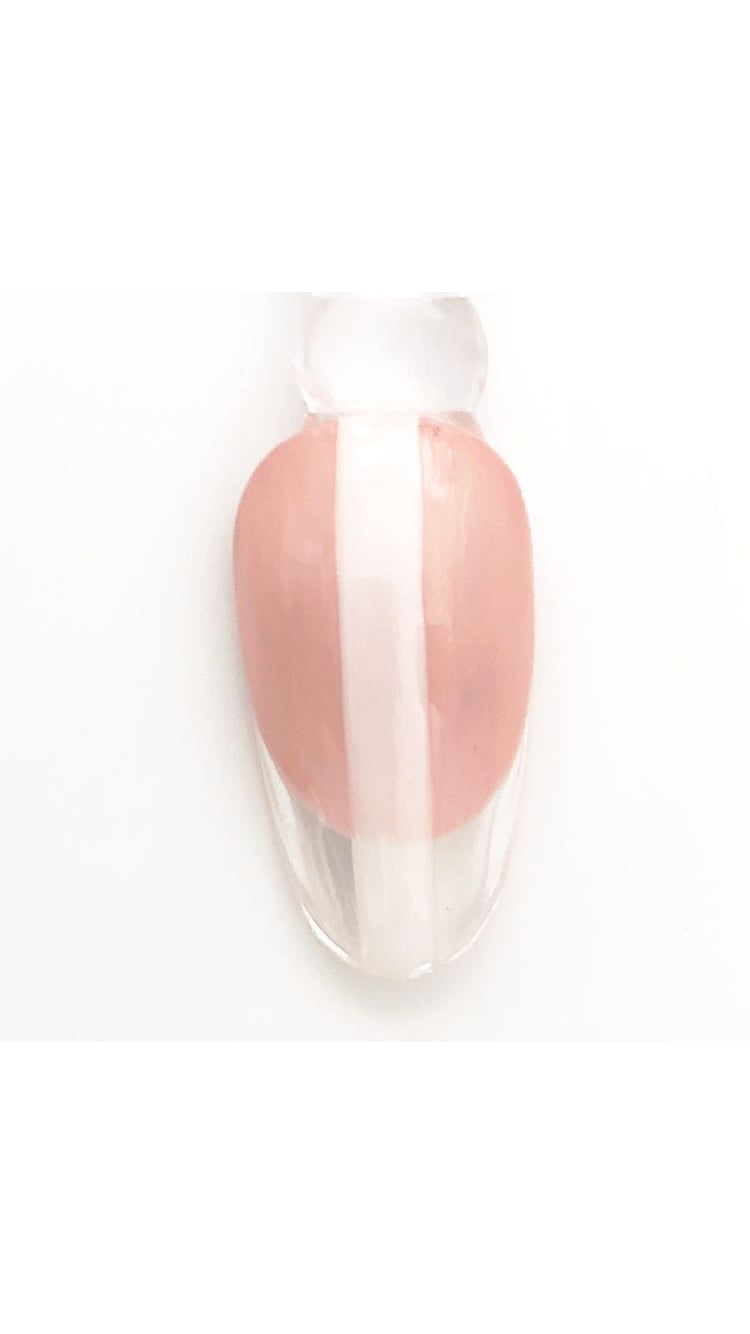 Floating Tip French Manicure: Step 2
Next, take a thin nail polish brush (or striping tape if you're not confident with freehand) and paint a line down the center of the nail from cuticle to tip (including the floating tip) using a white nail polish. Let this color cure if using gel and leave another 10 minutes to dry if using normal polish.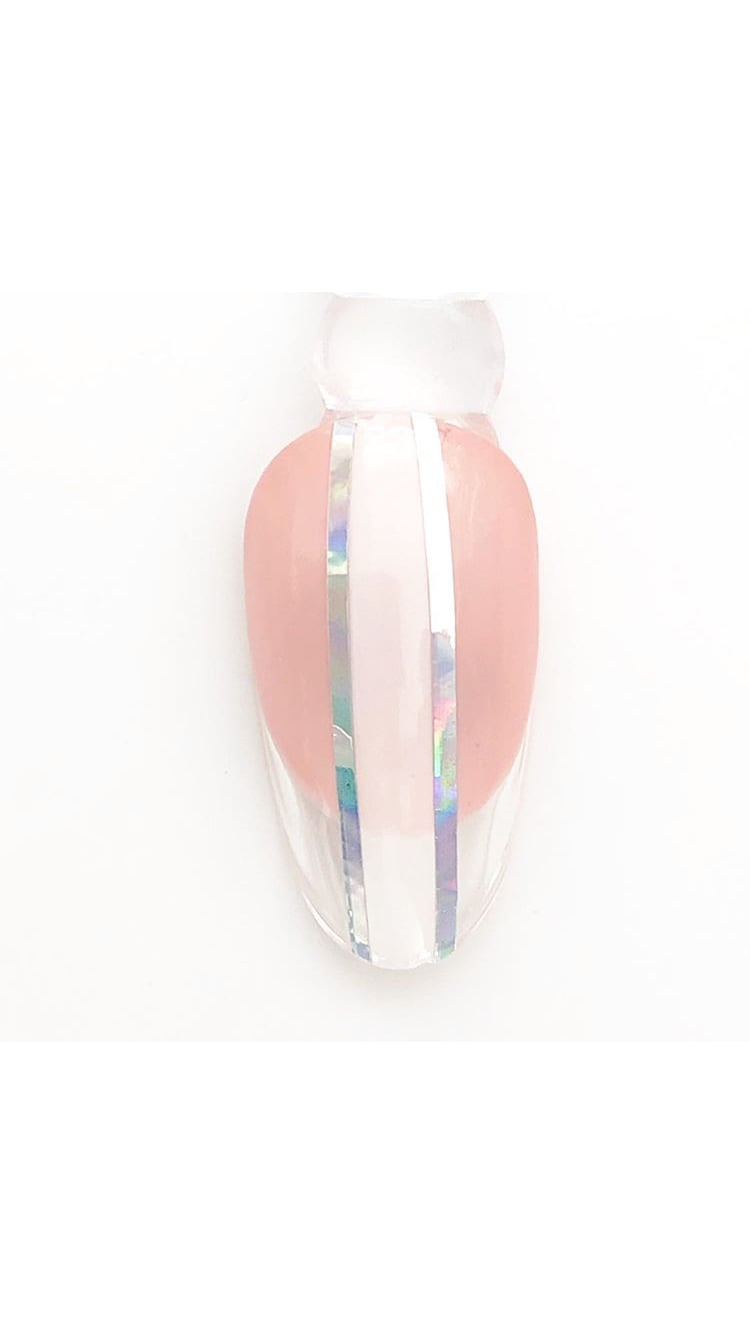 Floating Tip French Manicure: Step 3
Apply two strips of iridescent, silver striping tape along either side of the white line created in step two, and seal with a top coat. Lee's top tip is, remember to trim your striping tape a little shorter than the free edge of the nail to prevent it from peeling during wear. Apply a top coat over the striping tape and either cure or allow to fully dry.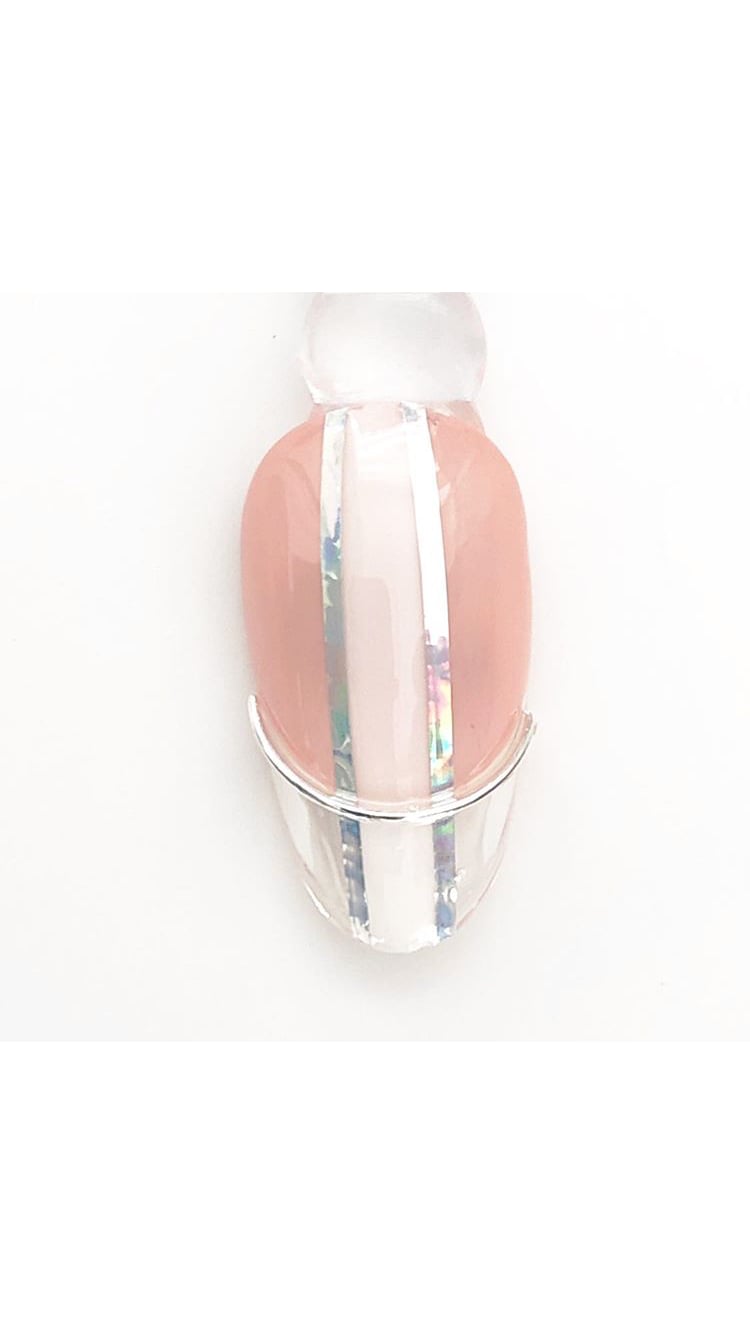 Floating Tip French Manicure: Step 4
Finish off the entire design with Shellac Duraforce ($25) or a good top coat like Seche Vite Fast Dry Top Coat ($6), and place a silver cuff along the "smile line" (floating tip edge). Lee collects various nail art accessories from different countries when she travels, so she doesn't know exactly where her cuff was from, but there are plenty of similar items available from Amazon — the perfect excuse to get creative with it.
After curing or drying, apply a little extra Duraforce along the edges of the silver cuff to ensure it stays in place for as long as possible.
Examples of the Floating Tip French Manicure