Gray Nail Polish Is Trending, and It's About to Be Your Go-To Neutral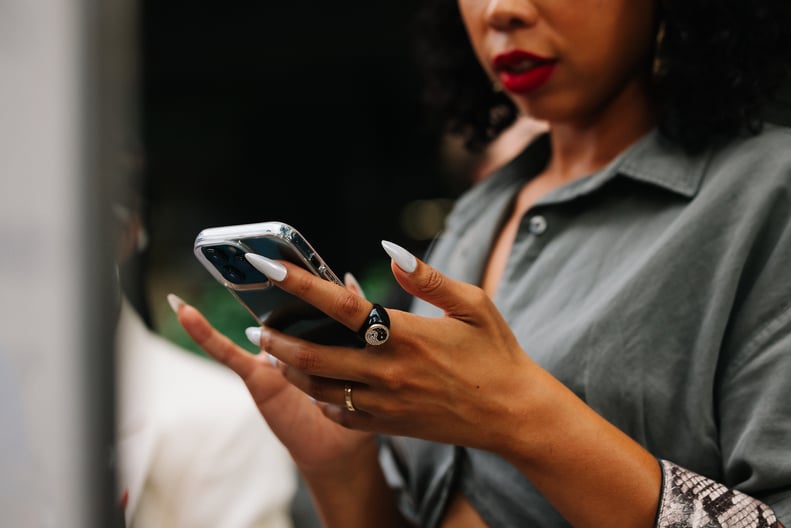 Darrel Hunter
Darrel Hunter
Minimalist beauty is everywhere right now, from what you're seeing on TikTok to the makeup all over the red carpet to the nail-polish colors you find yourself reaching for at the salon. When it comes to the latter, one of the biggest colors that's been trending of late? Gray.
The reason makes perfect sense. "Gray nails are making a mark because they're a contemporary color but also cozy, soothing, and serene," Essie celebrity manicurist Michelle Saunders tells POPSUGAR, adding that the many iterations of the shade encompass "the new nude," making it a more neutral hue. "Gray signifies balance and serenity, and I think sometimes we forget how it feels to be still and neutral. Manicures are part of self-care and the perfect time to find a bit of peace; by choosing the 'gray space' theme, we can give ourselves a gentle reminder of this. Not only will this reflect on your nails but also in your overall appearance."
Plus, when it comes to wearing gray nail polish, you've got options: from chalky, off-white shades to the darker charcoal hues. There's even a colorful side to the gray trend (hello, blue-gray options). That versatility makes it the perfect complement to any outfit or accessory. Gray nails can be cool and calming, or it can be done-up and exciting. It can be subtle or make a fashion-forward statement.
The next time you're at the salon — or just in desperate need of some R&R and want to DIY your own nail art — use the following photos as a source of inspiration. Keeping scrolling for our favorite gray nail ideas out there that will give you instant peace of mind.
Gray Chrome Nails
Chrome nails are one of the biggest trends of the year, and they look even better when paired with a gray polish color. While you typically have to head to the salon to try the trend (the chrome powder top coat is only available in salon), there are a few nail polishes that offer a similar chrome finish that you can do at home. We suggest the CND Shellac Silver Chrome ($15).
Light-Gray Nails
White nail polish was a trend on the runway, but take it up a few shades to a light-gray color for added glamour. We like the JinSoon Nail Polish in Auspicious ($18), which is neutral enough to blend in but bright enough to leave people wondering, "What shade is that?"
Gray Matte Nails
Gray nails don't have to be one-dimensional . . . unless you want them to be, which is where matte polish comes in. Swipe on two coats of your favorite gray nail polish, then top it off a matte top coat for the perfect cool-kid finish.
Gray Nails With Glitter
It's easy to add a glitter finish to any gray manicure. Just pick your gray nail polish of choice — like the dark charcoal shown here — and then swipe on two coats of a sheer, shimmery lacquer, like the Orly Shine On Crazy Diamond ($11).
Blue-Gray Nails
If you're still not a fan of gray, then try a hybrid shade like this blue-gray color. You can buy Sephora Formula X in Fathom ($8) for a similar look or mix up your own original hue. Green-gray and brown-gray options would work, too.
Gray Nail Crystals
Gray acrylic nails, especially when filed in a sharp stiletto or pointed shape, can look even more grand with a few bejeweled details. Ask your manicurist to apply a smattering of crystals along the cuticle line of your nail base to make the gray look pop.
Gray "Skittles" Nails
Can't choose just one shade of gray? You don't need to with the "Skittles" nail trend, which sees a different color on every nail. You can even add in a fun matte, glitter, or chrome finish to add extra flair.
Gray Marble Nails
Like a kitchen countertop, adding in marble details to your manicure can elevate your gray nail look. The choice is yours: do a swirl on multiple fingers, or keep it to one accent nail.
Gray Nail Art
Usually nail art is a mix of bright colors, but why not make it more work appropriate with varying shades of gray? Try a darker hue with a shiny or pearlescent finish, and mix in silver rhinestones or fine lines across the nail for an edgier look.