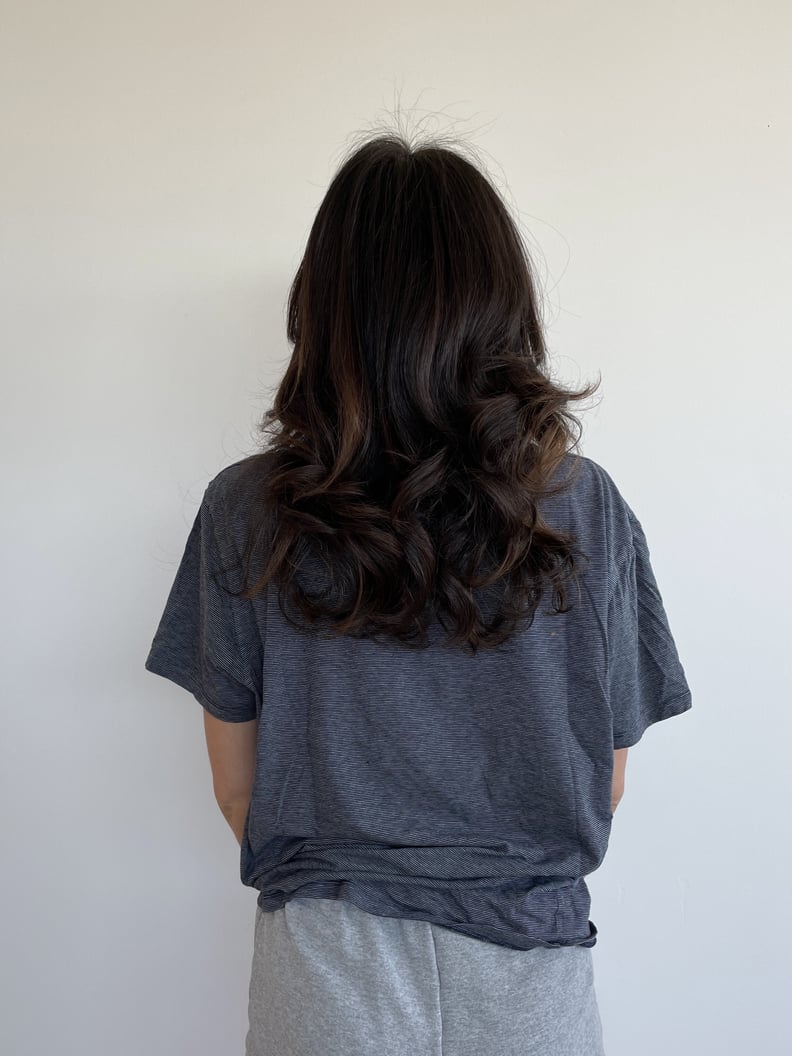 POPSUGAR Photography | Renee Rodriguez
POPSUGAR Photography | Renee Rodriguez
As POPSUGAR editors, we independently select and write about stuff we love and think you'll like too. If you buy a product we have recommended, we may receive affiliate commission, which in turn supports our work.
An affordable round brush from Guzjdj recently went viral on TikTok.
The product has a unique 360° shape that's meant to give hair more volume.
Our editor tested the brush and was impressed with the results.
If I had a physical list of everything I've tried in order to achieve better hair, it would be 10,000 pages long. You name it, I've tried it — from the TikTok famous "hair detoxing" to reverse hair washing and everything in between. Most of the things I've tried have two things in common: I found out about them on TikTok, and they actually work. So whenever I see a viral hair hack or product on the app, I'm always willing to give it a try. Enter: the Guzjdj 3D Bomb Curl Hair Brush ($10), a hair tool that recently went viral for its ability to give hair the bouncy blowout that dreams are made of.
This round brush isn't your run-of-the-mill styling tool. It's in the shape of a sphere, and to be honest, it kind of looks like something out of the movie "Hellraiser." The real question was: would a hair tool that looked like it was straight out of a horror film give my hair a salon-worthy blowout? The short answer: absolutely.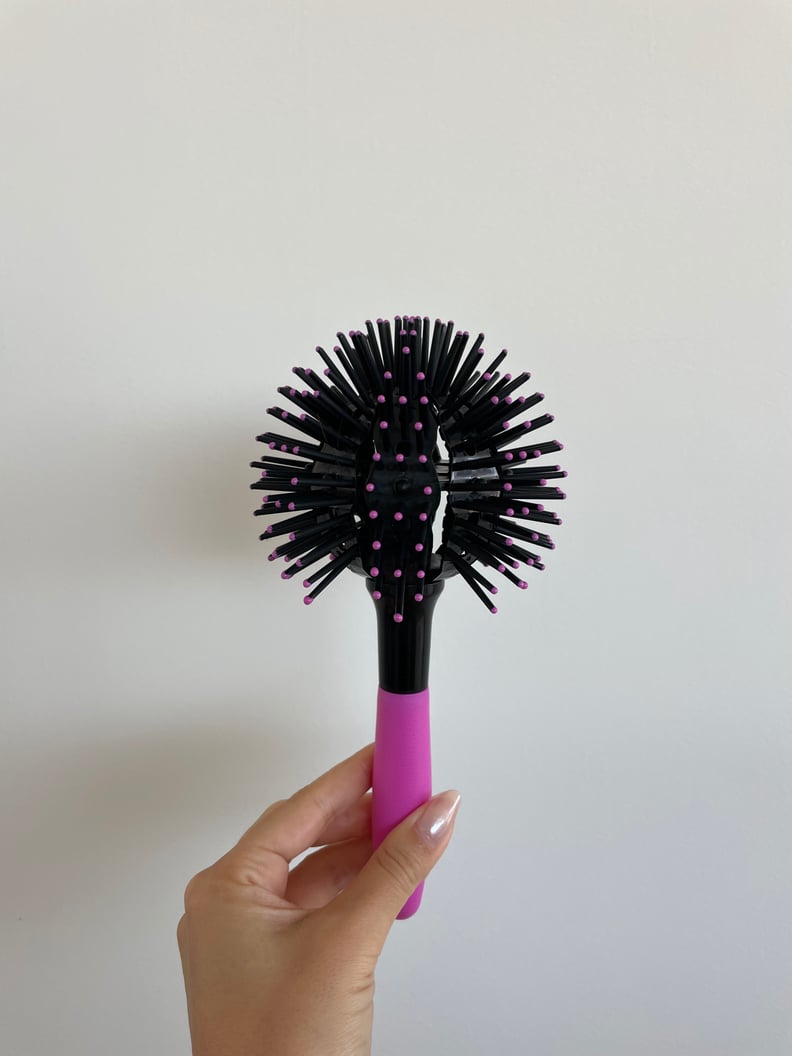 I have fine, frizzy hair, and I typically wash and dry it once or twice a week, which means I need my blowout to last. The first time I tested out this brush, things didn't go so well. I hadn't watched any videos on how to actually use it (other than what I had seen on TikTok), so I tried using it as a normal round brush. It left my hair flat and lifeless, which was definitely not what I had been hoping for. I didn't want to give up on the product after using it just once, so I spent some time watching a few more videos on TikTok. I learned that there was a certain technique to giving your hair big, voluminous curls while using this brush.
Before starting, I blew out my bangs and the top section of my hair and set those areas up in velcro rollers. (This step isn't necessary, but I opted to do it because I have tons of layers.) From there, I took a small section of hair and clipped the rest of my hair up at the top of my head. I divided the hair I left down into two sections.
Then, I took a one-inch piece from one section and placed the round brush underneath the hair at the area closest to my scalp. I turned on the blowdryer and began blowdrying while at the same time twisting the brush inward, in a circular motion, while also pulling down at the same time. I knew I was using the brush correctly because as I drew the brush downward, the hair outside of the brush was spiraling and making a curl. I repeated those steps twice until my hair was completely dry. I was left with an almost perfect spiral of hair that looked similar to what I would get when using a curling iron.
I repeated those steps on all sections of my hair until everything was completely dry. When I looked in the mirror, I was beyond happy with the results.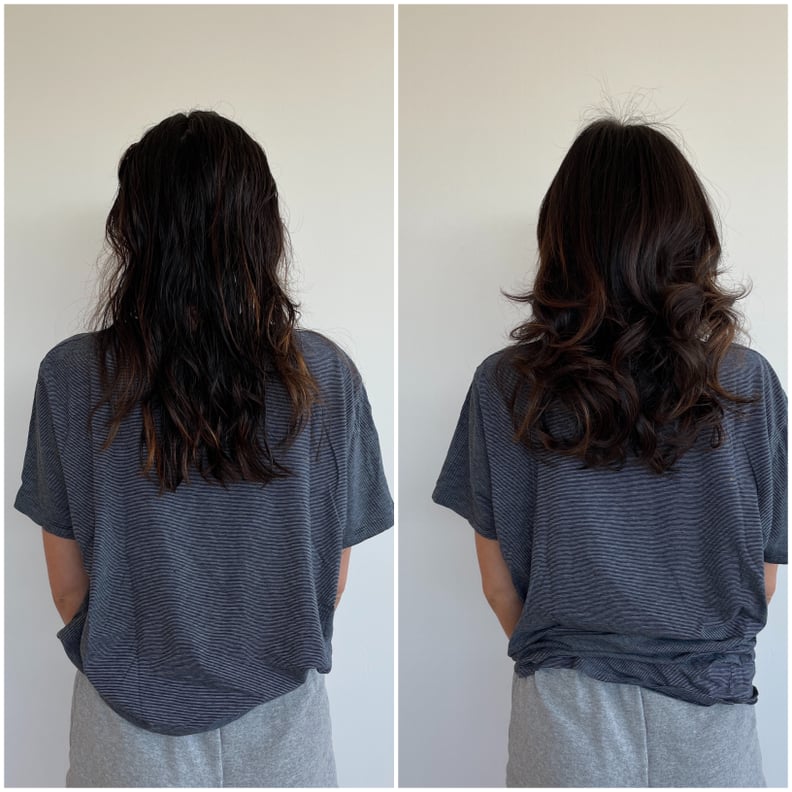 My hair had bounce, it had volume, and it felt softer than ever. The bottom line was that this $10 hair tool did more for my hair than any of the other expensive round brush I've used in the past. It definitely took a little trial and error, but in the end, it left my hair looking fantastic, if I do say so myself.
Rating:
★★★★