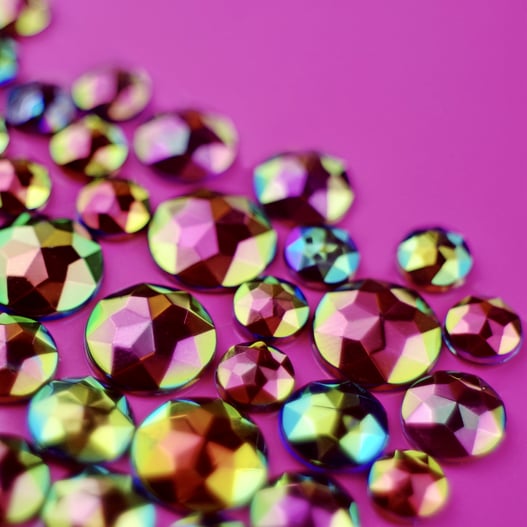 As POPSUGAR editors, we independently select and write about stuff we love and think you'll like too. If you buy a product we have recommended, we may receive affiliate commission, which in turn supports our work.
Channel those Y2K beauty vibes because the hair trend you never knew you needed has arrived. The gem hair stamper, which scatters crystals throughout your hair, is going viral on TikTok — and we are predicting it to be the beauty trend of festival season.
Irish TiKTok user Sophie Murray demonstrated how to use the hair stamper on social media, and the video has since gained a whopping 7.8 million views and almost a million likes. Followers were quick to comment they had purchased the contraption, known as the Blinger, at lightning speed to introduce some summer sparkle to their beauty regimen, while others reminisced that they had a similar gadget during the 90s and early aughts.
You can get your hands on the Blinger ($30) on Amazon right now, but we're warning you: the price has surged thanks to the high demand. There are still some of the bargain Blingers left at Walmart for $20 if you're quick.
While there's no denying we love the Blinger and wish we'd kept our childhood beauty toys into adulthood, there are a number of ways to accessorize your hair for maximum impact. Take a look at these TikTok hairstyles that will see you glisten this festival season.
Festival Hair: Gem Hair Stamper
Festival Hair Idea: Glitter Roots
If crystals aren't your thing, but you're after a glitter look this festival season, try mixing glitter with gel. Try the Barry M Glitter Fixer Gel ($6) and mix in the Barry M Pick n Glitz Fierce (currently sold out on Amazon). Paint it onto your hairline or in your parting, like @gillianxgrace, and you'll be shimmying in shimmer in no time. Just beware: washing it out is likely to give your shower a little glitter makeover, too.
Festival Hair Idea: Crystal Sheets
For Met Gal-worthy hair, look no further than hair stylist @hairwithlinda . She demonstrates crystal sheets stuck on with eyelash glue layered over a sleek ponytail, with added hair extensions to really pack a style punch.
Festival Hair Idea: Tinsel
If you watched "Euphoria" — and, let's face it: who didn't? — this trend is for you. Plus, tinsel hair works just as well for festive season as it does for festival season. Like @_charlotte.calvert , simply tie strips of the sparkly stuff into your hair for a chic way of adding hints of glitz and glamour. Try the Amazon Hair Extensions ($11), which come in lots of color options, and add as much or as little as you like.
Festival Hair Idea: Jewelry Gems
To get the blingiest hair without a stamper or glue, try adding in some hair jewelry like @saramitic04. Simply twist in the Glass Rhinestone Hair Spinners ($5) and you're good to go. Just don't dance too aggressively as they might end up in your drink, on the floor, or tied up in knots, so keep the headbanging to a minimal with these accessories.
Festival Hair Idea: Glitter Spray
For a more subtle shimmer, give a hair glitter spray a try, like this Lime Crime Unicorn Hair Star Mist ($16). Perhaps the easiest look to achieve, as seen via @andreeapletea, just spray all over for a maximum-impact-minimum-effort look that glistens under the sun.