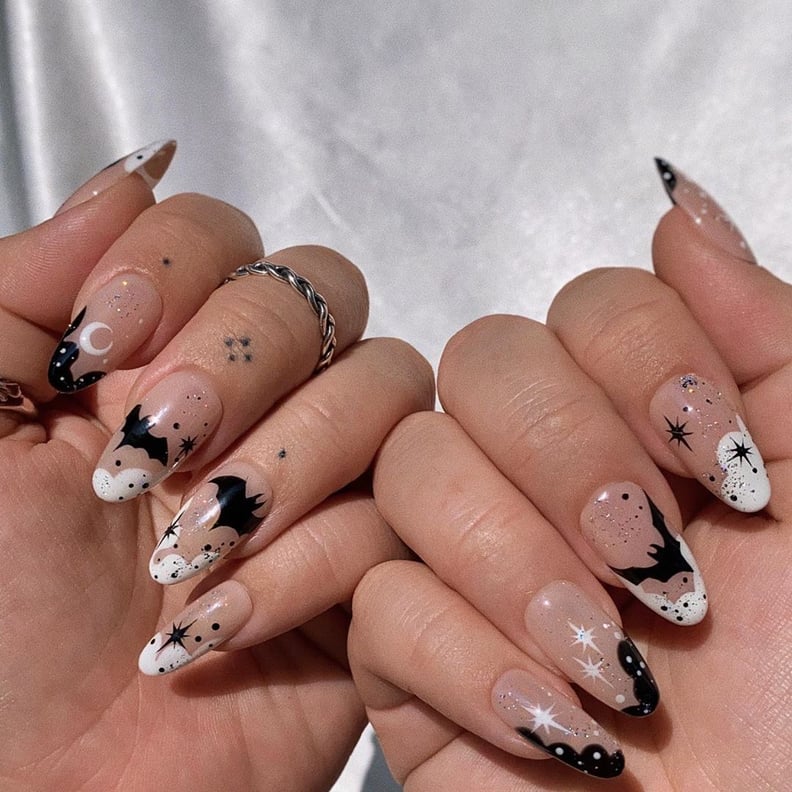 There are a lot of decisions to be made surrounding Halloween: what to dress up as, where to get your costume, what hair and makeup should go along with it, and of course, the all-important question of what your actual holiday plans will be. But arguably the hardest decision of them all is landing on what your Halloween manicure will be, which is why we're partial to allowing our zodiac sign to choose for us.
We often have trouble picking just one nail-polish color at the nail salon, so Halloween-themed nail art brings us to a whole new level of indecisiveness. From spider webs to tiny black bats to candy-corn designs, there are a lot of possibilities when it comes to your spooky manicure. Using the stars as a guide and allowing the universe to provide you with a Halloween nail design is much easier — not to mention fun.
Whether you're a creative Taurus or a sentimental Cancer, you can find the perfect Halloween manicure for your zodiac sign ahead.
Capricorn (Dec. 22-Jan. 19): Spider Webs
As a Capricorn, you're practical but also ambitious. A unique design like this shimmery spider-web manicure fits your personality.
Aquarius (Jan. 20-Feb. 18): Mismatched Designs
The mismatched nail-art trend represents your rebellious, imaginative, and original personality. Try a Halloween manicure that utilizes different designs to make a statement.
Pisces (Feb. 19-March 20): Orange Starry Sky
As a Pisces, you're known for being affectionate and very artistic. Your Halloween nail design is a romantic starry night sky.
Aries (March 21-April 19): Blood-Dripping Tips
Aries are confident and dynamic, and your Halloween nail-art should reflect that. You're not afraid to rock spooky, blood-dripping tips.
Taurus (April 20-May 20): Batty Sky
A dreamy manicure that mixes stars, bats, and crescent moons matches the Taurus's strong, sensual, and creative personality.
Gemini (May 21-June 20): Fall-Toned Colors
As a Gemini, you tend to be a bit indecisive. A versatile and simple fall-toned manicure will fit your minimalist style.
Cancer (June 21-July 22): Nostalgic Designs
A cutesy Halloween-themed manicure with a nostalgic feel is great for sentimental and compassionate Cancers.
Leo (July 23-Aug. 22): Bold Spooky Designs
The key personality traits of a Leo are dramatic, outgoing, and fiery. We can't think of a better fit than a nontraditional, bold Halloween manicure.
Virgo (Aug. 23-Sept. 22): Candy Corn
As a Virgo you're creative but also practical — an abstract candy-corn design will please both aspects of your personality.
Libra (Sept. 23-Oct. 22): Simple Ghosts and Cats
Libras are very social, but they prefer things to be balanced and orderly. A clean, crisp Halloween manicure with simple, playful designs on each finger is fitting for you.
Scorpio (Oct. 23-Nov. 21): Colorful Bats
As a Scorpio, you're unapologetically bold and passionate. Your Halloween nails should be colorful, like this purple bat design.
Sagittarius (Nov. 22-Dec. 21): Witchy Tips
You're adventurous, extroverted, and free-spirited through and through. You can't go wrong with a unique, witchy Halloween manicure.