Harry Styles's Tattoo Collection Includes a Nod to Olivia
There are a couple of things we know for certain about Harry Styles's tattoos: he has a lot of them (probably more than we know about) and he rarely (save for a few times) opens up about what each design means to him. The "Don't Worry Darling" actor and "Harry's House" singer got his very first — a tiny star etched on his left bicep — in 2012 on his 18th birthday. And things have only snowballed from there.
Styles doesn't speak about his tattoos often, yet he keeps doodling all over himself. Some ink he's gotten on a whim (like "big" on his big toe) while others carry more sentimental value, like for family members. He even has a tattoo on his thigh that says "Olivia," presumably for his ex-girlfriend, Olivia Wilde. Fans first stopped the ink in July 2023 while the singer was boating in Bolsena. Some of the designs Styles has even done himself.
How Many Tattoos Does Harry Styles Have?
While the exact number of body art etched on Styles' body is unconfirmed, we can say for sure he has somewhere north of 60+ tattoos these days . . . so far. Who knows what — or how many more — he'll get in the future. As for what we do know, and if you too are curious to know what each one means, we're sharing the information we've collected on Styles' tattoos. As for the rest of them, we'll just have to admire them and their mystery.
Disclaimer: while we did our best to be comprehensive, don't be mad if we missed one or three — like we said, we're sure he has many more where that came from
.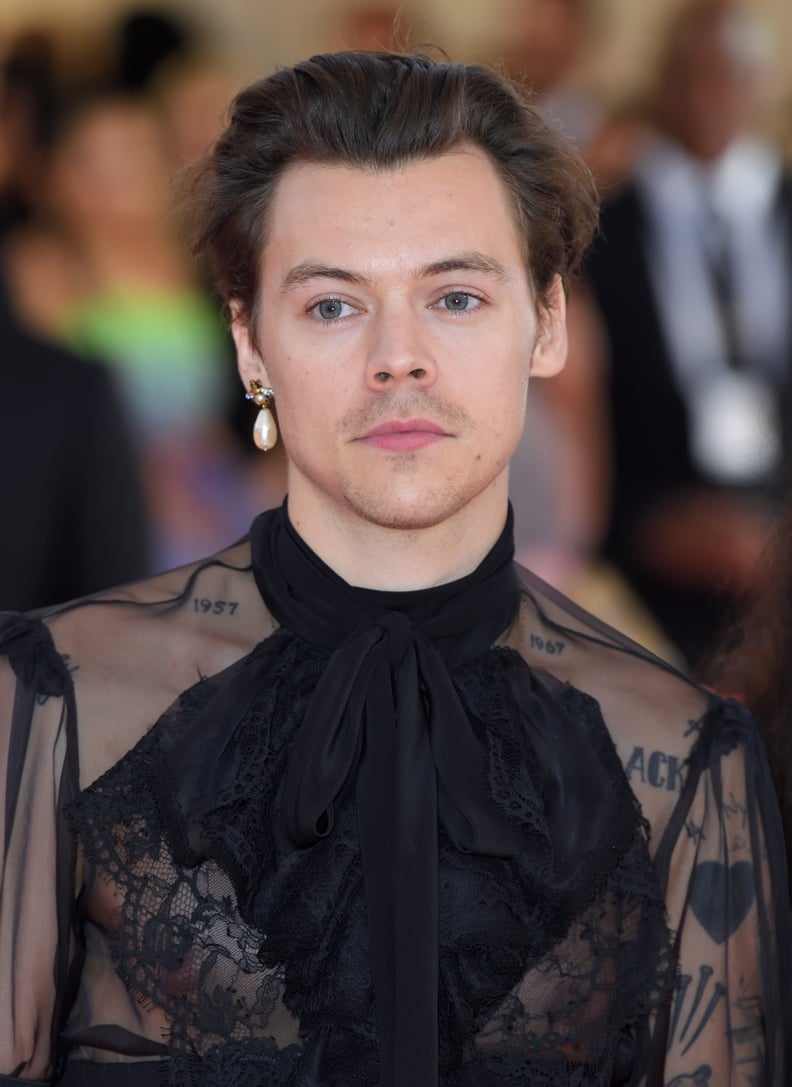 Harry Styles's Collarbone Tattoos
Styles has two dates tattooed on his collarbones: 1957 and 1967. His dad, Des, was born in 1957, and his mom, Anne Twist, was born in 1967.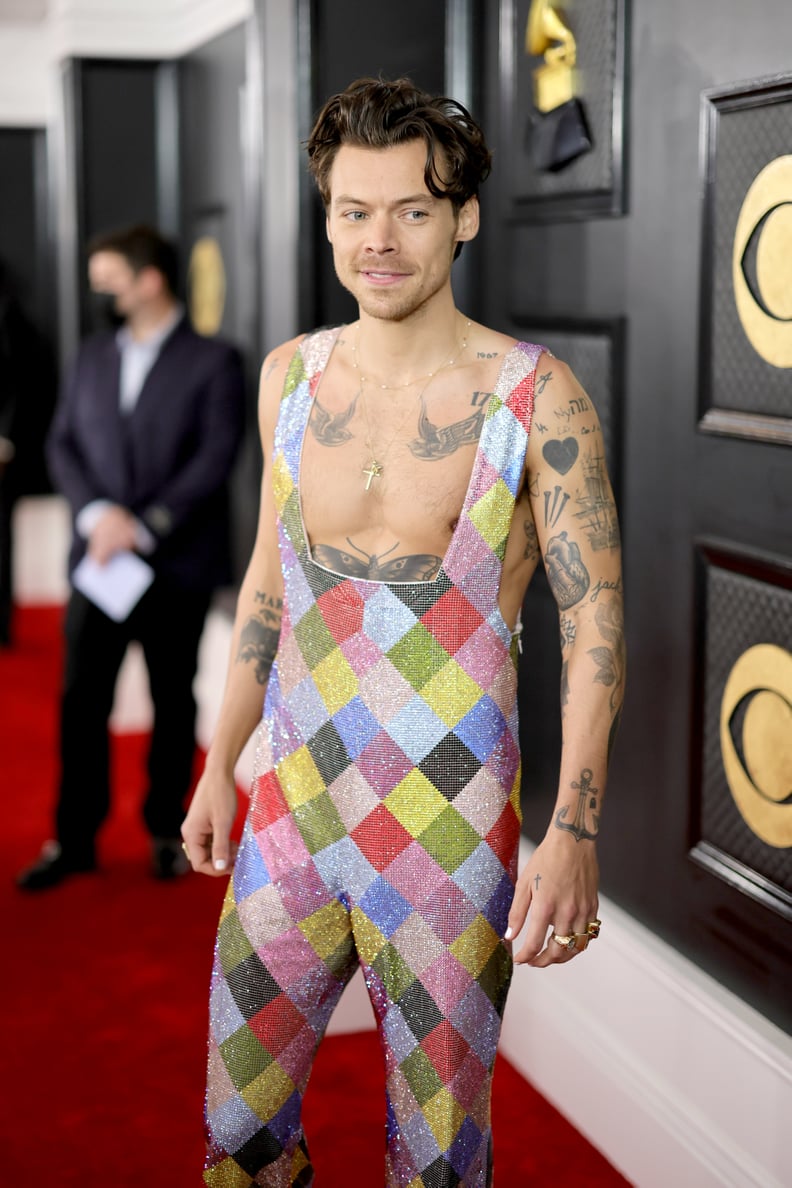 Harry Styles's Left Upper Arm Tattoos
"Late Late" Tattoo
The story behind this tattoo is a great one: One Direction played a game of Tattoo Roulette on "The Late Late Show With James Corden" in 2015, and when Styles lost the game, he had to get "Late Late" tattooed on his arm live on the show.
Ship Tattoo
Styles' ship on his left bicep has always been a fan favorite. The tattoo artist who did it said Styles wanted an English ship to remind him "that he's homeward bound."
Green Bay Packers Tattoo
Styles has long been a fan of the NFL team and got a tattoo of the Green Bay Packers logo on his upper left arm on a bet several years ago.
Iced Gem Cookie Tattoo
He has an iced gem cookie in this area of his left arm as well, presumably for his sister, Gemma.
Gemma in Hebrew Tattoo
The Hebrew letters on the top of Styles' left arm mean Gemma, again for his sister.
Pingu Tattoo
This small tattoo on Styles' left arm matches the Pingu character that Ed Sheeran has tattooed on himself. They got them after drinking one night and discussing how much they loved the cartoon.
"Hi" Tattoo
He has the word "Hi" tattooed on his inner left arm, and while fans have plenty of theories behind its meaning, Styles hasn't actually shared anything about it.
Star Tattoo
The star is sitting among the tiny tattoos on his left upper arm.
Clothing Hanger Tattoo
A clothing hanger is up in the same mess as Styles' other small tattoos on his left arm.
"Can I Stay" Tattoo
"Can I Stay" is at the top of his left arm.
Arlo and Jackson Tattoos
Styles has Arlo and Jackson tattoos on his left arm, supposedly for his godchildren.
Fly Tattoo
Fly There's a large flying insect on the inside of Styles' left arm. He has not confirmed their meanings.
Pink Floyd Tattoo
Styles' upper left arm has a small Pink Floyd "Dark Side of the Moon" logo.
Guitar Tattoo There's a small guitar at the top of Styles' left arm, almost on his back.
3 Nails Tattoo
These are on his upper left arm.
LA + NY + LON Tattoos
The three city abbreviations are on his upper left arm, and I can only assume they're three of his favorite places.
Black Heart Tattoo
Both Zayn Malik and former One Direction hairstylist Lou Teasdale also have this tattoo, and whether or not that makes it a friendship tattoo is up to you to decide, but I'm saying it is. You can find Styles' on his upper left arm.
R Tattoo
The "R" near the mermaid on his left arm is most assuredly for his stepdad, Robin Twist.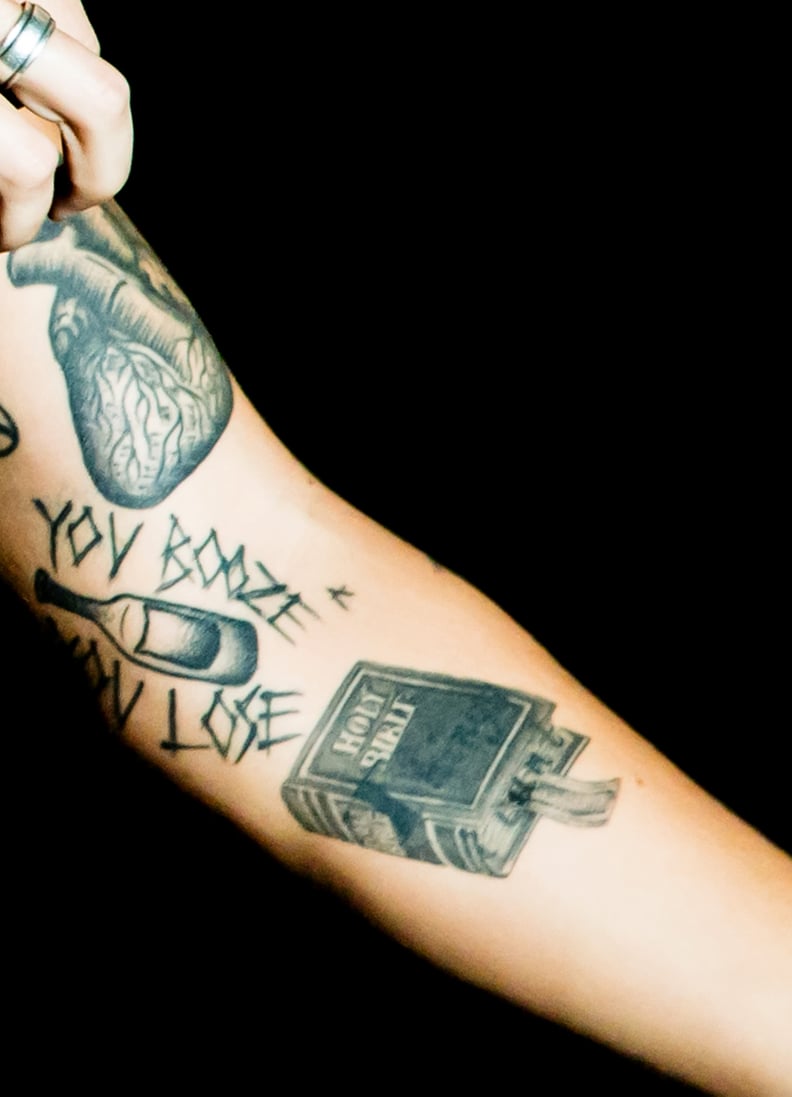 Harry Styles's Left Inner Arm Tattoos
Holy Bible Tattoo
The Holy Bible is covering text that used to say "Things I can't."
"You Booze, You Lose Tattoo
On his inner elbow, Styles has a tattoo of a bottle with the words "You Booze, You Lose" around it.
Anatomical Heart Tattoo
Above the booze tattoo is an anatomical heart design, complete with a lot of shading.
Harry Styles's Left Hand Tattoo
Styles has a cross tattoo on his left hand, which is assumedly a religious nod. The singer doesn't speak openly about religion often, but he has been known to send nondiscriminatory religious wishes to followers on Twitter and wear cross necklaces.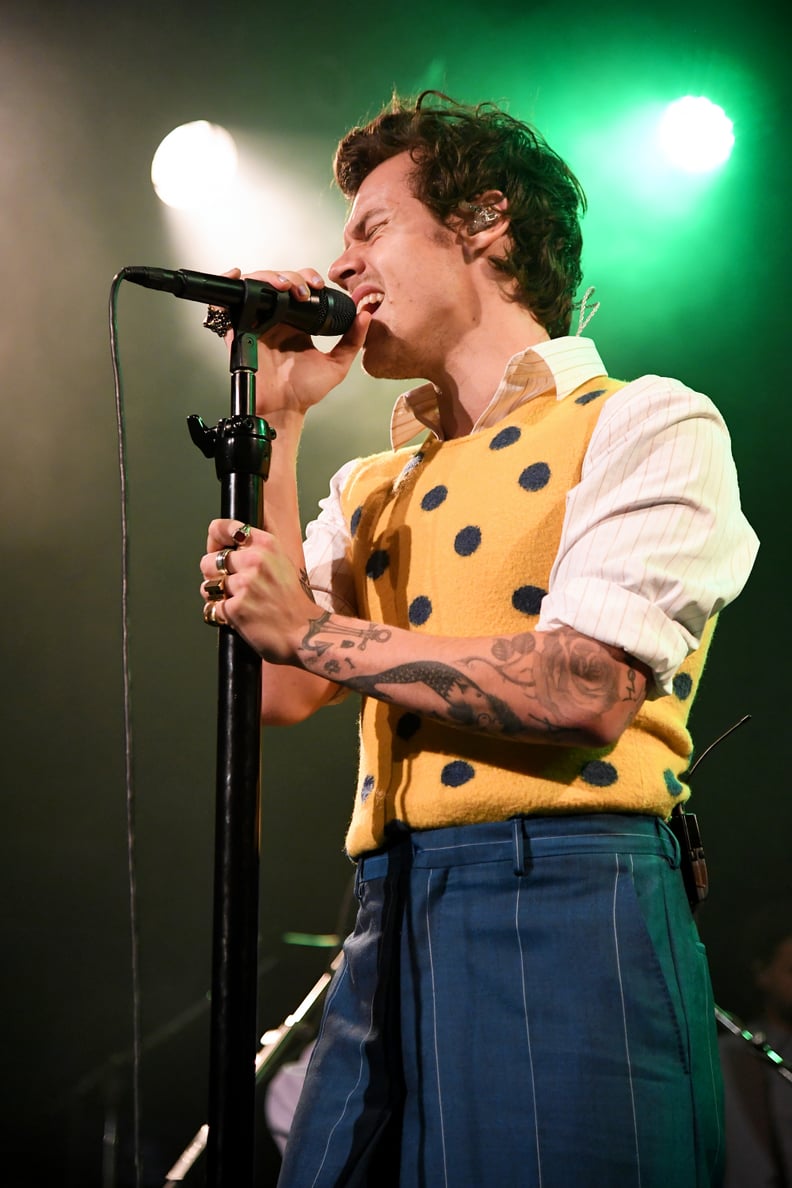 Harry Styles's Left Forearm Tattoos
Mermaid Tattoo
As for the mermaid, well, I don't necessarily know why he got it, though he did tell Hollywood Life in 2014 that it's because he is a mermaid, but he did tell a fan that the mermaid has "saggy boobs" because "Everyone should love themselves for how they are. They shouldn't strive for perfection."
Rose Tattoo
The other big tat on his forearm is the rose. It's unclear exactly why he got it, but it's beautiful.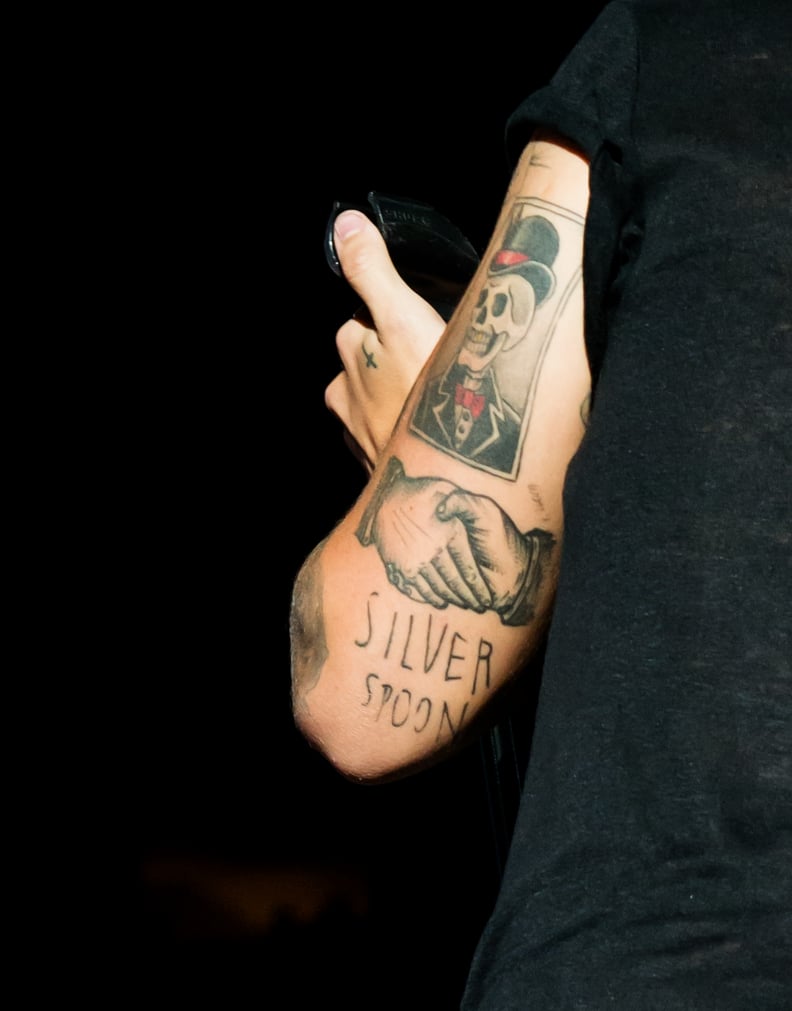 Harry Styles's Left Bicep Tattoos
"Silver Spoon" Tattoo
Styles has several tattoos on the back of his left arm. The words "Silver spoon" can be seen in large letters.
Handshake Tattoo
Above the "Silver Spoon" tattoo are two large hands performing a handshake.
Framed Skull Tattoo
Above the handshake is a framed picture of a skull in a top hat and tuxedo.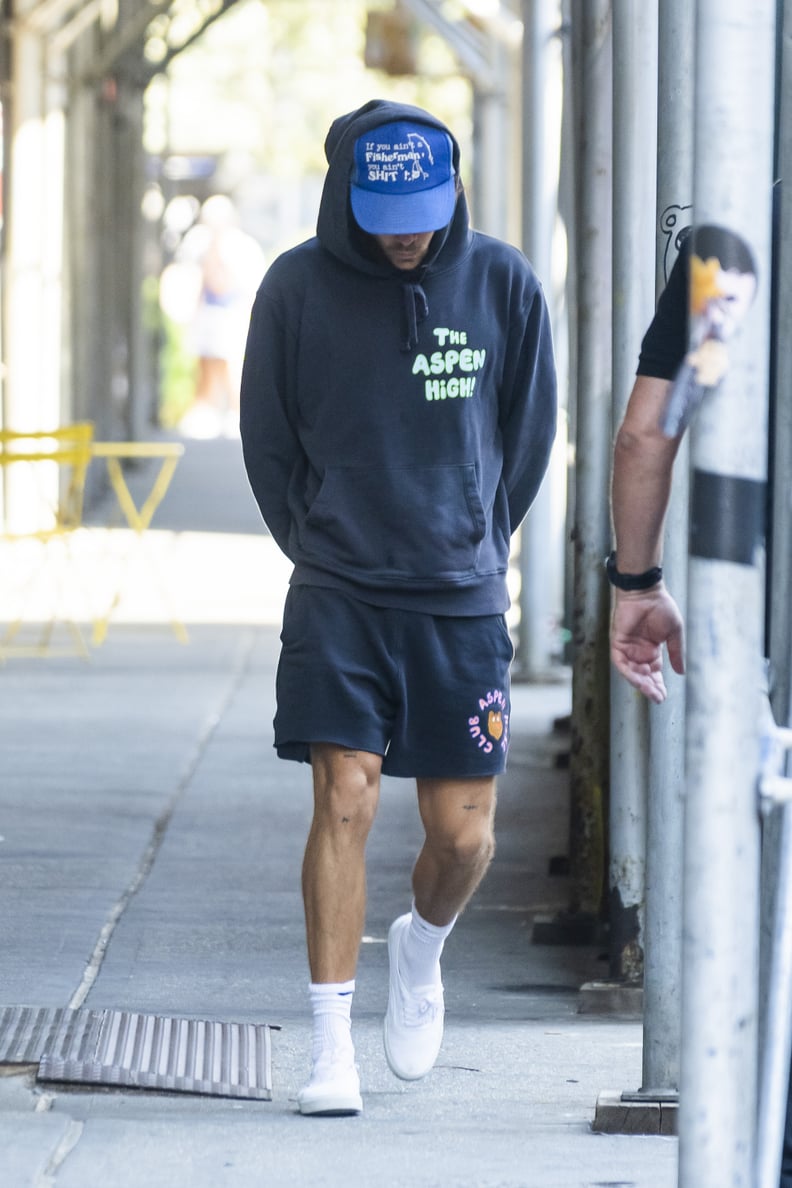 Harry Styles's Knee Tattoos
Styles has four tattoos on his knees that say "oui," non," "si," and "no." The tattoos, which mean yes and no in French and Spanish, are still a bit of a mystery as to motivation, but they are definitely fun.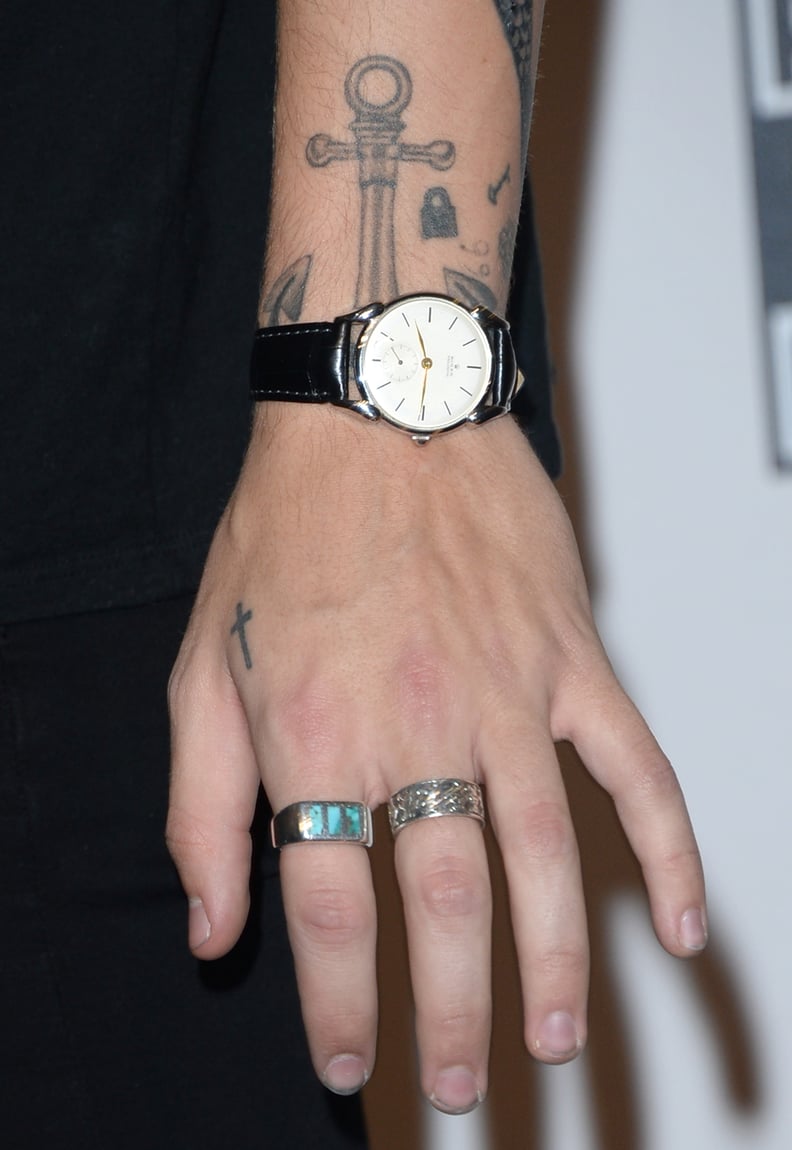 Harry Styles's Left Wrist Tattoos
Anchor Tattoo
One of the more noticeable tattoos on Styles' left wrist is an anchor that covers text that used to say "I can't change." The anchor is in line with his other nautical tattoos, including the ship on his bicep and swallows on his chest.
Padlock and Key Tattoo
Styles has a few scattered tattoos on his left wrist, including a padlock that was inked by Ed Sheeran
Aquarius Symbol Tattoo
He has a small Aquarius symbol, which is his star sign. Next to that is a tiny "99p."
Shamrock Tattoo There's a tiny shamrock on his left wrist, an ode to one of his favorite tattoo shops, Shamrock Social Club in LA.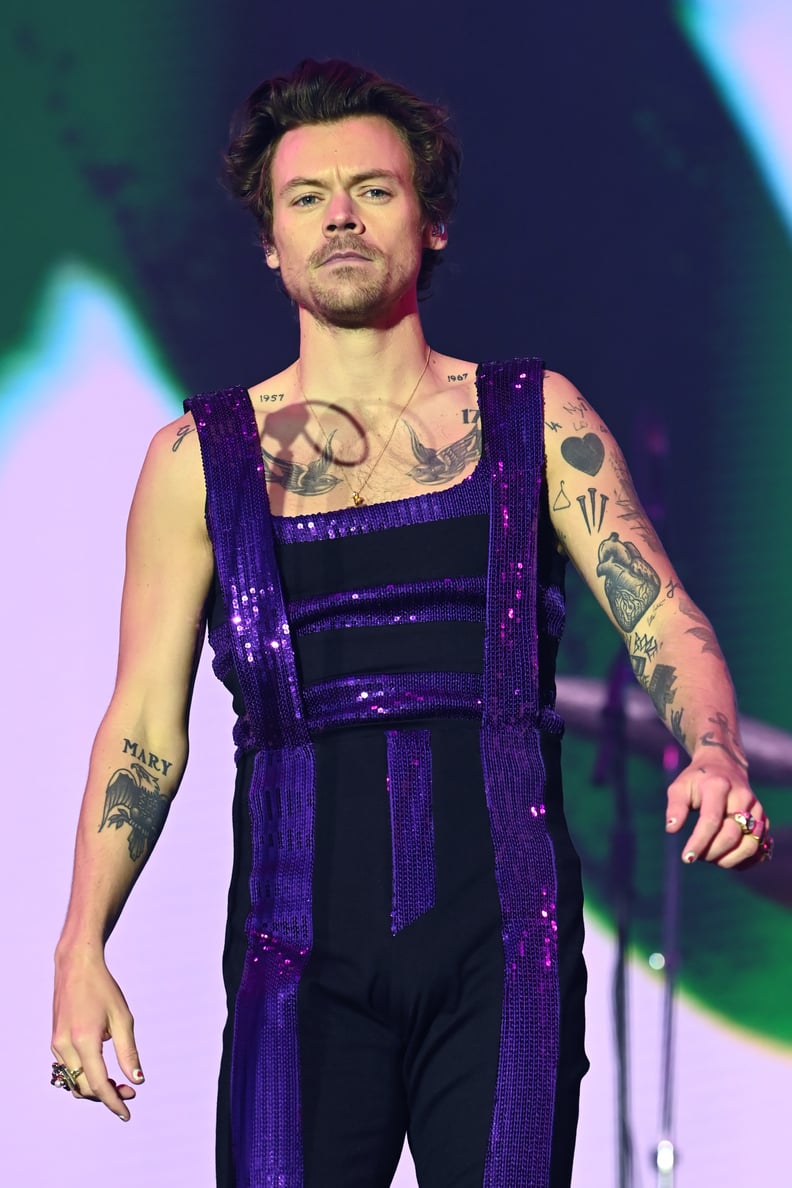 Harry Styles's Right Arm Tattoos
Eagle Tattoo
On Styles' right arm, he has an eagle tattoo covering what used to say "Things I can." He covered the old tattoo a couple years ago but hasn't opened up about why or why he chose an eagle specifically. Though it feels easy to assume the eagle symbolizes freedom, it's hard to say for certain.
"Mary" Tattoo
Above the eagle is the name Mary, Styles' grandmother.
Palm Tree Tattoo
Styles has a palm tree tattoo on the back of his right arm, and while I don't know for certain why he got it, I do know his sister has the same tattoo.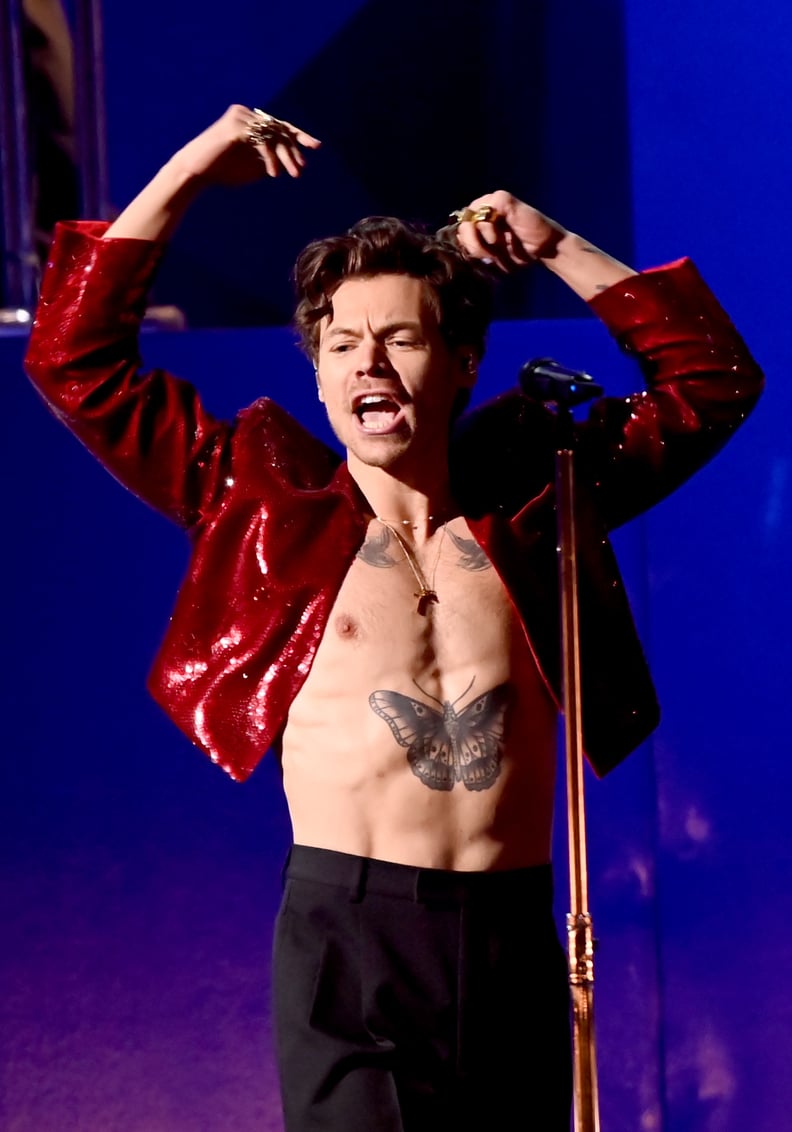 Harry Styles's Torso Tattoos
Swallows Tattoos
Styles' torso tattoos are probably his most iconic. He has two swallows on his chest, and he told "Us Weekly" in 2012 that they symbolized traveling. "I got two swallows on my chest. I like that kind of style of tattoos, like the old sailor kind of tattoos. They symbolize traveling, and [One Direction] travel a lot!" One of the swallows also covers a previous tattoo that was a banner with the word "love" on it.
Butterfly Tattoos
He also has a large butterfly on his sternum that comes out to play often enough, but sadly, Styles hasn't ever shared exactly why he stamped this ink on himself.
Laurel Branch Tattoos
Styles used to have a tattoo on his lower stomach that said "Might as well," but he covered it with a pair of laurels — or fern leaves, depending on who you ask. He hasn't given a reason behind this tattoo, but as you can tell by how many cover-ups he has, he clearly just gets tattoos that make him happy in the moment and sometimes changes his mind later.
Theater Masks Tattoo
Two traditional theater masks are inked on Styles' left side.
Birdcage Tattoo
Styles' birdcage is tattooed on his left side.
SMCL and X Tattoo
Under the birdcage are the letters SMCL, which supposedly mean "smile now, cry later," which ties this all in with the theater masks if it's correct.
17 Black Tattoo
This tat is on Styles' chest, and the tattoo artist who did it told British GQ that he got it because he'd lost some money gambling on 17 black.
Small Cross Tattoos
Styles has a couple small crosses on his chest, presumably for loved ones.
Broken Heart Tattoo
There's a small broken heart near one of his swallows on his chest.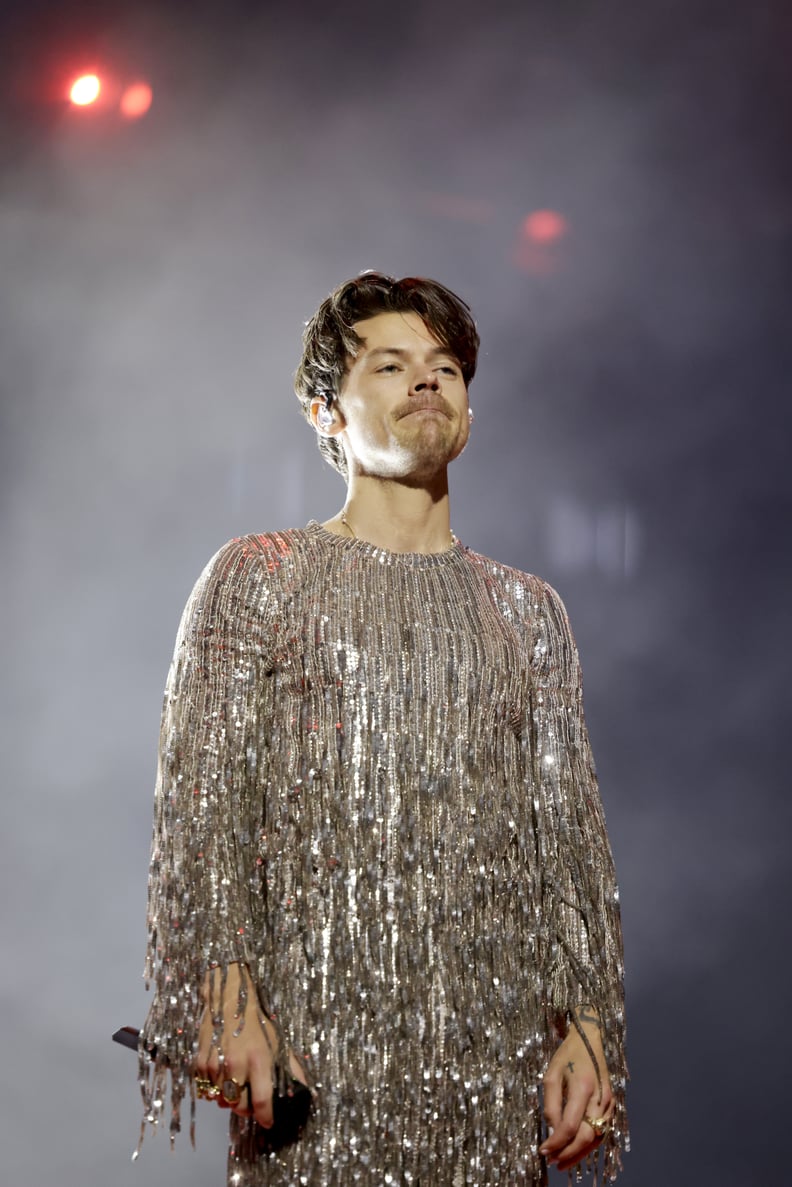 Harry Styles's Leg Tattoos
Tiger Tattoo
Styles has a large tiger tattoo on his upper left thigh that we don't see very often. He hasn't revealed any special meaning behind it, only confirming that it exists and is, in fact, a tiger.
"Brazil" Tattoo
On a trip to Brazil with One Direction in 2014, Styles tattooed the name of the country high up on his left thigh — very nearly on his butt. He often appeared very happy on stage in Brazil, as well as excited to be in the country, so it seems as though he showed his love with a tattoo.
"California" Tattoo
On his right thigh, there's a scribble that reads "California."
"Olivia" Tattoo
Above the "California" tattoo is the name "Olivia," which was first spotted by fans in July 2023. The ink is presumably for his ex-girlfriend, Olivia Wilde.
Never Gonna Dance Again Tattoo
The fronts of Styles' ankles say "Never Gonna" and "Dance Again," most likely for the George Michael song.
Screws Tattoo
On the inside of each ankle, Styles has two small "X"s that are meant to look like the heads of screws. Zayn, Liam Payne, and Louis Tomlinson all also have these, and they got them as a band to stay grounded. Niall Horan is the only one who chose not to get the band tattoo.
"Big" Tattoo
Styles did this one himself: he tattooed the word "Big" on his big toe just for fun.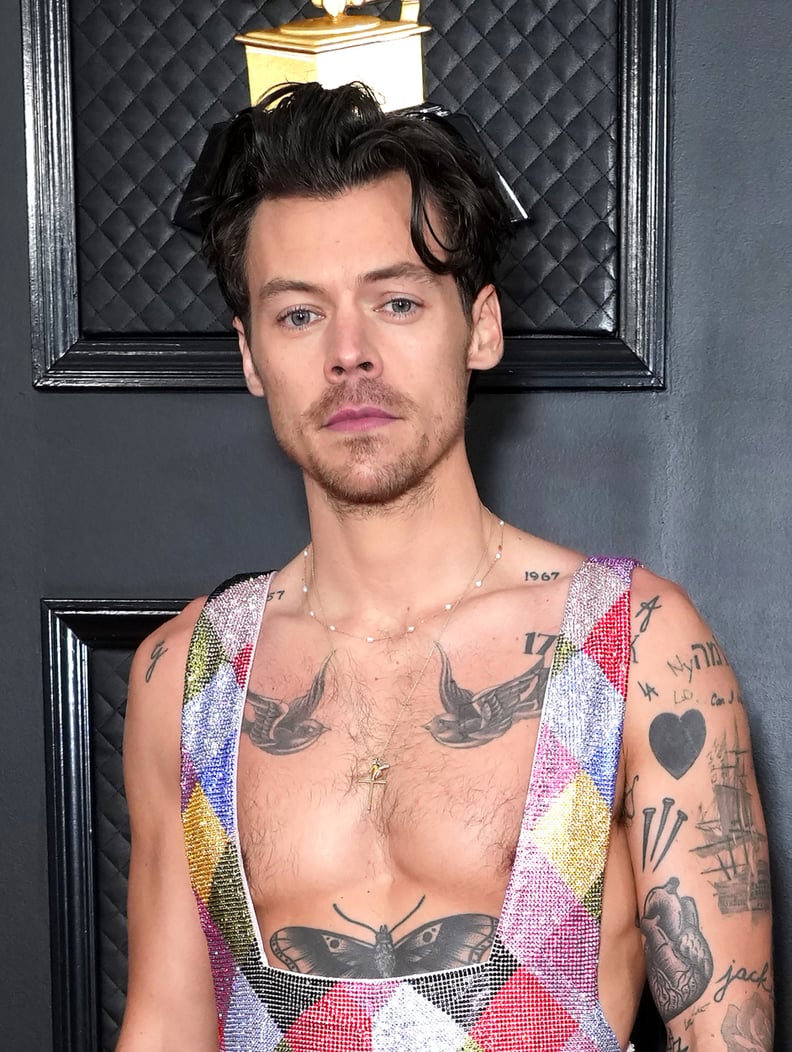 Harry Styles's Shoulder Tattoos
On the fronts of his shoulders, Styles has a "G" for his sister, Gemma, and an "A" for his mom, Anne.