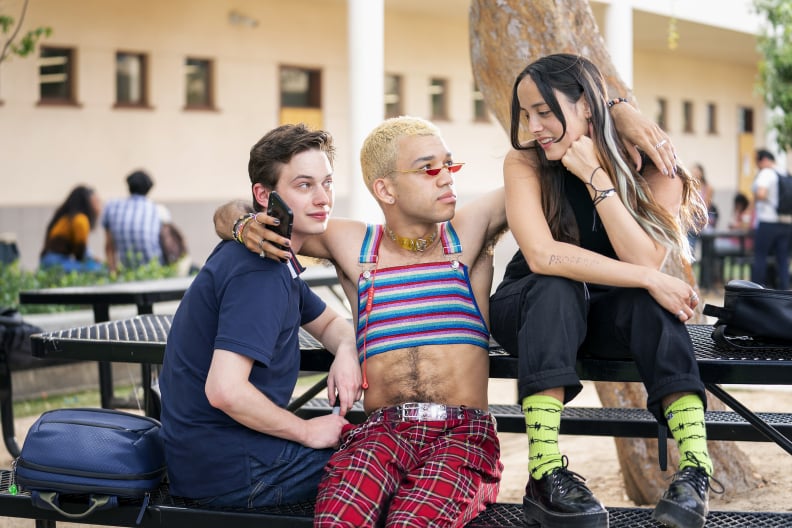 HBO Max
HBO Max
Generation, which just premiered on HBO Max on March 11, follows a group of teenagers in Orange County, California who rule their high school. But this isn't your typical coming-of-age rom-com, and these teens don't fit in with the stereotypical definition of "popular" kids — they embody a newer, and arguably cooler, definition.
The show was created by Zelda Barnz, a Los Angeles teenager, and her father Daniel Barnz, and explores what it's like to be a modern-day LGBTQ+ teen and all of the complexities that come with it. Nothing is off-limits as the show delves into sexuality, identity expression, and finding yourself amid a world ruled by social media.
"It's covering a lot of subjects that these kids are feeling but often times don't talk about," the film's makeup department head Kris Evans told POPSUGAR. "It's an age where they try to express themselves in what they wear and what they look."
Like any good series that mirrors modern life, the appearance of the teenagers in Generation was extremely important. Here's how.
The Meaning Behind Chester's Bold Look
Chester (played by Justice Smith) is the king of the school. He's smart, he's the star of the school's water polo team, and he's not afraid to be his most authentic self with his pastel hair, statement nails, and bold wardrobe. "The beauty of Chester is that he doesn't care," said Evans. "His character completely challenges what we think people are." Hair department head Audrey Futterman-Stern added: "With his character, he wants to be proud of who he is and his sexuality."
There are a lot of elements at play with Chester's look. For his hair, Futterman-Stern pulled inspiration from the wardrobe and her cousin and musician Lou Reed, who she said "had bleached short blond hair with black fingernail polish." That's what inspired Chester's blond hair at the start of the series, which is later dyed a rainbow of colors. The secret to his many hair changes: temporary hair dye. Futterman-Stern used Crazy Color by Renbow Semi-Permanent Hair Color Cream Candy Floss ($13) to get that iconic pink shade.
"What's going on in the show is really going to hit the people watching it, because they're watching themselves."
"It was imperative that every time he had a new outfit, he had a new nail," said Evans. "Sometimes it's two or three outfit changes in an episode, and those nails changed." But not in a matchy-matchy way — the nails were meant to always make a statement. The importance of each characters' manicure, not just Chester's, was also heavily influenced by the cellphone usage in the show.
"A lot of their hands are texting," said Evans. "And there's one episode where the nails play a big role. . ." But you'll have to watch the show for yourself to see what that means.
What It's Like Creating Characters That Look Like Today's Teenagers
Creating characters that look like the teens of today is harder than you might think. "You really need to keep it real," said Futterman-Stern. Evans added: "We want to see the flaws. We want to see their pimples. We want to see that they don't look great every day."
While social media plays an important role in developing the look and feel of each of the characters, Futterman-Stern and Evans stress you have to be careful that nothing is too trendy. "Trends die very quickly," said Evans. "If this shows, goes for, God who knows, maybe two, three, four, five years, you want it to look as fresh in the pilot as it does in season five."
That's why Evans went back in time when doing her research for Generation. She looked at magazines and pop culture moments from the 1980s and '90s to come up with looks that felt fresh. "It's very important that the characters are distinctive and each has a specific look," said Evans. "You don't want them to all look like they came out of the same trailer." It barely takes getting through the trailer to see that they succeeded.
"What's going on in the show is really going to hit the people watching it, because they're watching themselves," said Evans.