POPSUGAR
/ paid content for /
e.l.f. Cosmetics
How to Use e.l.f. Cosmetics Putty Products Together
5 Tips For Using e.l.f. Cosmetics's Popular Putty Products Together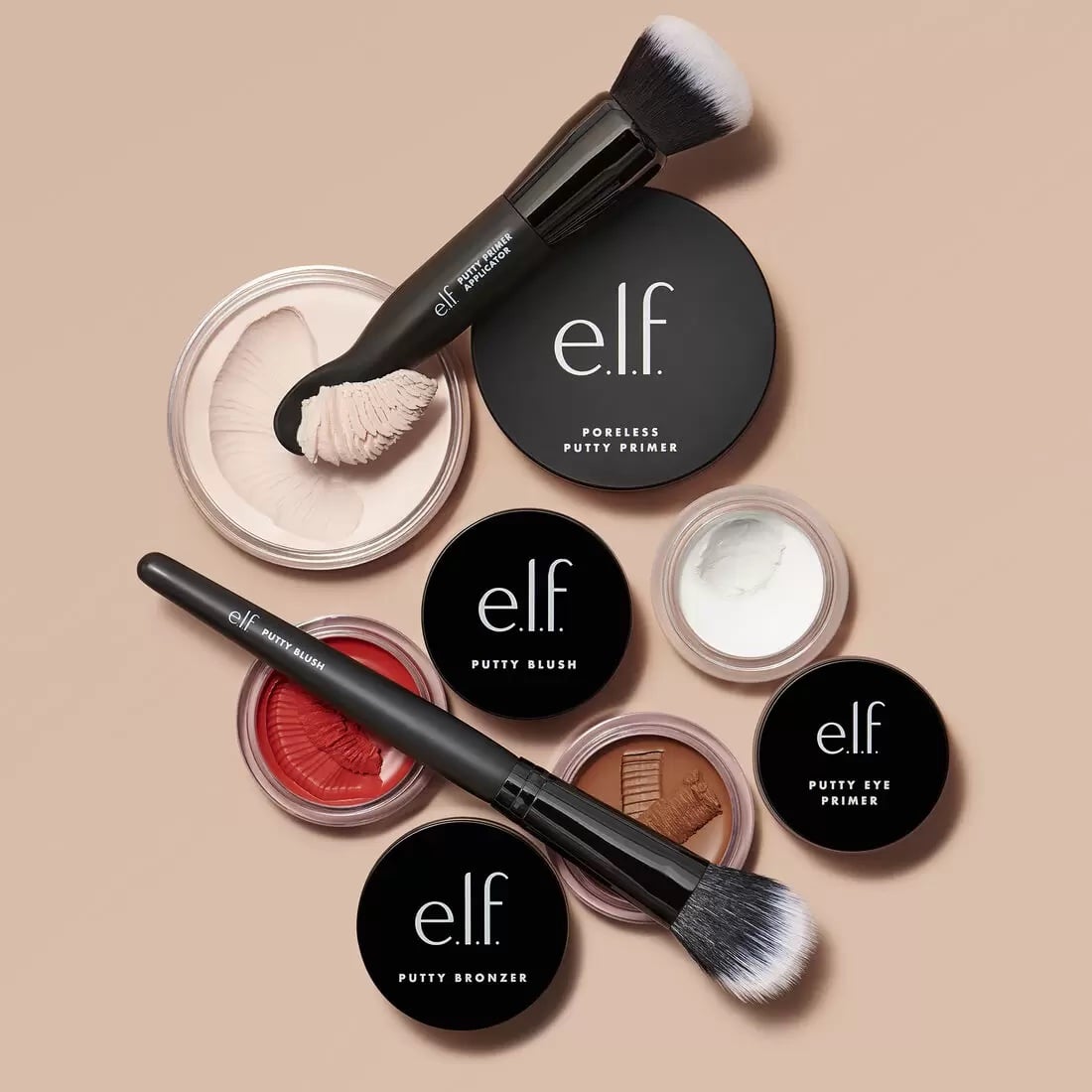 The e.l.f. Cosmetics putty collection is one of the brand's most popular families of products. A quick TikTok search will certainly prove that. As a refresher, the putty fam currently consists of multiple primers (including a limited-edition version that smells like cookies), a blush, a bronzer, and putty-specific application tools.
While these products can be used separately, they do really work well when used together for the same look. Not sure how to make your putty products play nicely together? Read on for five essential tips that will help you get the most out of each product when doing your makeup.
Personalize Your Putty-Primer Choice
While e.l.f. Cosmetics's Poreless Putty Primer ($9) really stole the show on TikTok, you should know the brand actually offers four different putty primers.
The entire putty-primer family consists of the aforementioned Poreless Putty Primer, the Luminous Putty Primer ($9), the Matte Putty Primer ($9), and the Acne-Fighting Putty Primer ($9). While each primer helps to grip onto makeup and smooth the skin, they all have slight differences in what other benefits they offer to the skin.
For example, the Acne-Fighting Putty Primer is infused with salicylic acid to help prevent future breakouts. The Luminous Putty Primer adds a subtle radiance to the skin, making it a perfect choice for a glowy or dewy makeup look.
No matter the Putty Primer you choose, the brand recommends waiting a full 30 seconds before moving onto foundation or concealer.
Coordinate Your Foundation/Concealer With Your Putty Primer
You don't have to play matchy-matchy with your foundation or concealer and your primer per se, but choosing similar formulas can help enhance your desired look. For instance, if you want ultra-radiant skin, you may want to pair the Luminous Putty Primer with a complexion product that enhances your skin's glow as well.
Plan Your Placement For Your Putty Bronzer and Blush
Planning on using both your Putty Bronzer ($6) and Putty Blush ($6) in the same look? It helps to know where you're placing both before you get started. Generally, bronzer is applied to areas like the cheeks, the nose, the temples, and the jawline. The Putty Blush creates a really pretty flush when placed on the apples of the cheeks. Since they have the same consistency and transform into a semimatte finish once on the skin, they look really seamless when placed next to each other.
Blend, Blend, Blend Using a Brush
Of course, to get a seamless look, you need to make sure you're blending out any harsh lines. We've found the best success with applying and blending out both the Putty Blush and Putty Bronzer with a denser brush, like the Putty Brush ($4). You can also use your fingers (just make sure you wash them first) or a sponge, like the Cookies n' Dream Single Scoop Sponge ($5).
Build Up the Products If Needed
Both the e.l.f. Cosmetics Putty Bronzer and Putty Blush have buildable formulas, meaning you can continue to layer them on to build up pigment and create a more dramatic look. We recommend building up your bronzer slowly and then blending out the product before reaching for the blush and doing the same.
Set the Look
To keep your Putty Blush and Putty Bronzer looking fresh throughout the day, you'll want to apply a setting powder, like the Halo Glow Setting Powder ($8), or a setting spray, like the Stay All Day Blue Light Micro Setting Mist ($10).
Image Source: e.l.f. Cosmetics