I Tried Isle of Paradise's New Self-Tanning Butter, and I Can't Believe It's Only $25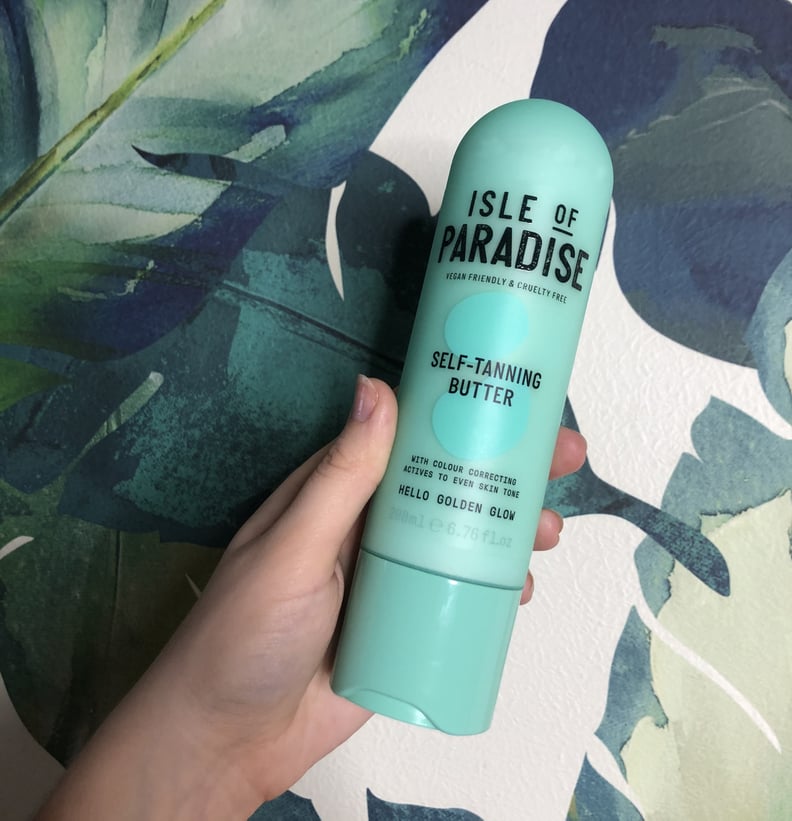 POPSUGAR Photography | Jessica Harrington
POPSUGAR Photography | Jessica Harrington
As POPSUGAR editors, we independently select and write about stuff we love and think you'll like too. If you buy a product we have recommended, we may receive affiliate commission, which in turn supports our work.
If the sun's recent appearance after what feels like the longest winter ever has you thinking about jet-setting off to a tropical destination, then Isle of Paradise's newest launch will be right up your alley. The brand, which is known for its amazing self-tanning products, including the TikTok-famous Isle of Paradise Self Tanning Drops, has a new product launching at Sephora that will help you achieve a beautiful glow without boarding a plane.
The Isle of Paradise Self-Tanning Butter ($25) is the brand's biggest launch for 2021, and, having gotten my hands on a sample to test early, I can see why. It offers the same natural-looking results as the brand's existing products but in a brand-new, velvety-smooth body butter. It comes in an easy-to-use squeeze bottle and has a faint minty-green hue to it, which adds to the product's color-correcting abilities. Vitamin C in the formulation helps brighten skin while aloe vera reduces redness and coconut, eucalyptus, chia seed, and peppermint oils, combined with avocado, give it its ultrahydrating finish.
"The Butter launched as a real demand from our community — we initially created a small batch as part of a gift set, and our audience went wild for it," Isle of Paradise founder Jules Von Hep told POPSUGAR. "Last year drove our obsession with self-care, with so many using self-tan for the first time to boost their confidence and mood at home. We wanted to create something that felt luxuriously easy to use while also giving flawless, natural-looking results at the same time."
Before and After One Application: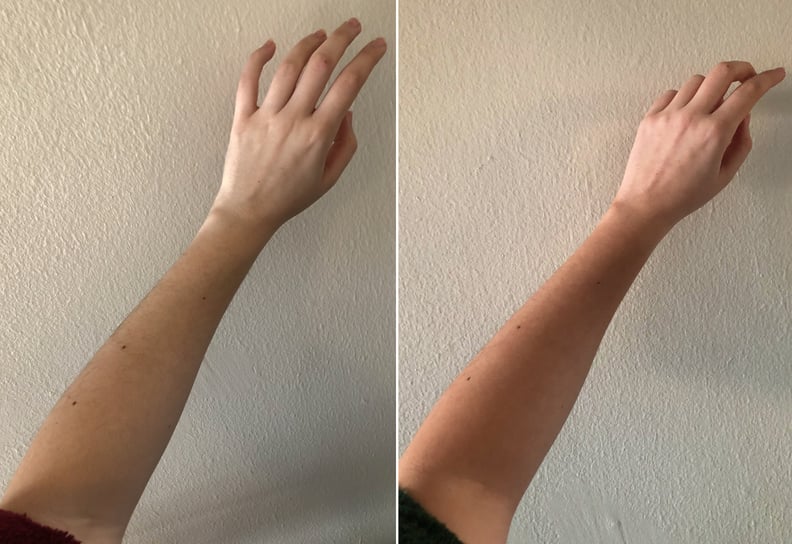 Because the self-tanner is like a lotion, you can apply it right out of the shower in place of your regular body moisturizer — there's no need to wait 24 hours after exfoliating and showering like you have to with other tanning products. It feels rich on the skin, but unlike some other beauty indulgences, this one only adds a couple of extra minutes to your routine. The self-tanner is very forgiving and perfect for beginners who are afraid to try anything superpigmented or with a color guide.
To me, the butter felt lightweight and silky just like a regular moisturizer — it doesn't have a strong self-tanner smell. My favorite thing about the product is how fast it absorbs. Anyone proficient in self-tanning knows "fast-absorbing" rarely actually means within seconds, but this tanning butter lives up to its promise. I always apply self-tanner starting with my legs and working my way up, leaving my arms for last, and by the time I finished my arms, the rest of my body was completely dry — it felt like I had absolutely nothing on. As someone who admittedly spends far too many mornings standing naked in the bathroom waiting for my self-tanner to feel less sticky, this is big. Usually, I wouldn't dare apply a gradual tanner right before leaving the house, but with this, I totally would.
Another biggie: there's no glitter, just a subtle pearlescent shine. Don't get me wrong: I love a good sparkly moisturizer, especially in the summer, but sometimes you want something truly natural-looking. (The lack of sparkle is also what makes this one perfect for year-round use).
Before and After Two Applications: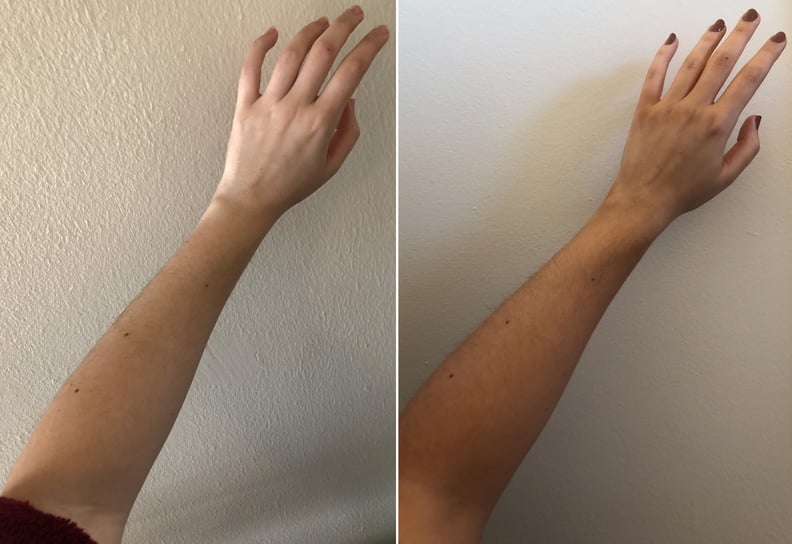 The tan itself takes about four to six hours to develop into a "just-back-from-vacation finish," as Von Hep calls it. One application is great for warming up the skin and giving it a nice glow, but you can reapply to build up the color (which is what I did). Getting a smooth application with the self-tanning butter is easy, but Von Hep has a few tips for making sure you're extra blended. "After I have applied the butter, I wash my palms and in between my fingers followed by taking a tanning applicator mitt and sweeping it over my entire body to ensure absolutely no streaks," he said.
Not only is the Self-Tanning Butter quick and easy to use, but at just $25, you can't beat the price. I know I'll be using it to enhance and maintain my fake — and yet natural-looking — tan for the foreseeable future.
The Isle of Paradise Self-Tanning Butter ($25) is available only at Sephora.com and in store as of March 5.
Rating:
★★★★★