A Guide to Joe Jonas's Unique Tattoos
Joe Jonas isn't the only Jonas Brother with tattoos, but he definitely wins for having the most. His brothers have a few of their own, including a matching design that they got together, but Jonas's collection includes more than 25 designs and counting.
The singer has gotten some pretty interesting pieces in years past. A handful are tributes to his ex Sophie Turner, including what appears to be her eye on the back of his neck and an abstract portrait of her "Game of Thrones" character, Sansa Stark. Others are for his career in music, like the illustration of cake that he got in 2016 to celebrate his hit DNCE song "Cake by the Ocean." He also has a few inks for the other important people in his life, like his grandfather, whom he got a portrait of on his arm. But that's not to say that all of Jonas's tattoos are super personal. He has quite a few fun pop-culture-inspired designs, like the image of Salvador Dalí's "The Persistence of Memory" painting on his shoulder and the fine-line-style crown on his forearm.
Regardless of the design, most of his tattoos have some significant meaning behind them. From touching tributes to his late dog to popular symbols, read ahead to get a closer look at Jonas's tattoo collection and learn what each one means.
— Additional reporting by Jessica Harrington
Joe Jonas's Rope Tattoo
Jonas has a rope tattoo on his right arm that he got in 2012. When revealing the tattoo in an earlier photo, he mentioned in the caption that the rope is a symbolic tribute to his family. "Two ropes (two parents) makes four ends (four brothers)," he wrote.
Joe Jonas's Adinkra Symbol Tattoo
In a post dating all the way back to 2012, Jonas showed off a tattoo of an adinkra symbol. He noted in the caption that the African symbol translates to the phrase, "Help me help you."
Joe Jonas's Hand Tattoo
The singer showed off a tattoo of a triangle with a hand reaching through it in early 2016. He has not shared what the design means, but triangles are said to symbolize wisdom and a deep connection to oneself.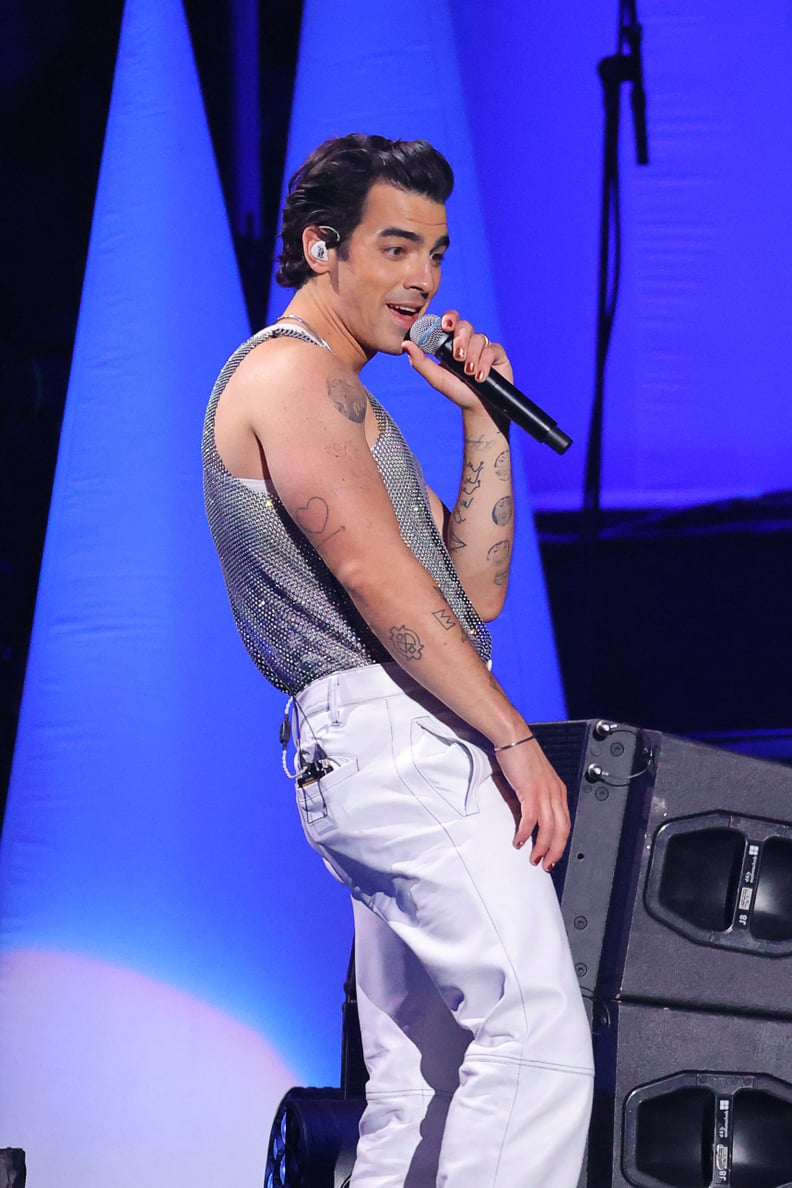 Joe Jonas's Arrow and Heart Tattoo
In 2016, the singer and brother Nick Jonas got matching tattoos. They both got arrows that pointed to each other on opposite arms. The bandmates shared images of their tattoos on Snapchat shortly after they were finished but didn't mention the exact meaning behind it.
According to TatRing, arrow tattoos can have multiple meanings, depending on how they're designed. Some people get them to symbolize taking their lives in a different direction, while others may get them as a way to protect themselves from harm.
Later on, he added the outline of a heart above the arrow.
Joe Jonas's Cake Tattoo
Jonas debuted a cake tattoo in the summer of 2016, which fans speculate is a reference to his band DNCE's most popular song, "Cake by the Ocean."
Joe Jonas's Portrait Tattoo
In 2018, Jonas went to Toronto-based artist Curt Montgomery to get a minimalist design of a woman sitting down and looking over her shoulder. He never shared the meaning behind it, though fans seem to think it's a reference to Turner's "Game of Thrones" character, Sansa Stark.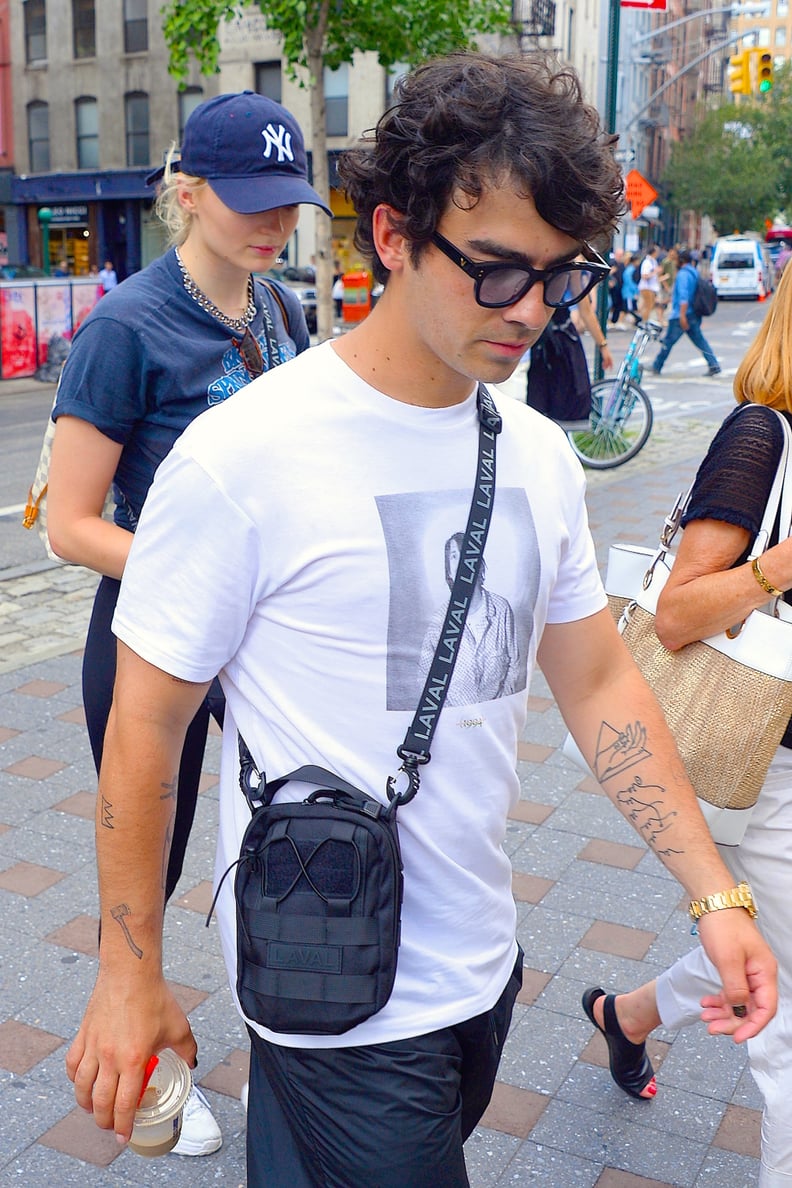 Joe Jonas's 6 Faces Tattoo
Jonas got an abstract tattoo of six faces on the inside of his left arm in 2018. He's never shared the exact meaning of the ink, but it could represent his parents and four brothers.
Joe Jonas's "15" and Dove Tattoos
Judging by a photo shared by tattoo artist Mr. K, Jonas got multiple tattoos in one session back in 2018: a Pablo Picasso design of a woman with a dove, another dove just below it, and the number 15 on his finger. Some fans think that the "15" is a callback to the day he proposed to Turner — Oct. 15, 2017.
Joe Jonas's Grandfather Tattoo
Jonas returned to Bang Bang Tattoo in 2018 to get a portrait of his grandfather on his right arm.
Joe Jonas's Salvador Dalí Tattoo
On his right shoulder is a circular image of Salvador Dalí's "The Persistence of Memory" painting, which he also got at Bang Bang Tattoo. The design is from 2018.
Joe Jonas's "To Infinity and Beyond" and "S" Tattoos
Before getting married, Jonas and Turner got couple tattoos that combine to read "To infinity and beyond" on their inner forearms from the Pixar movie "Toy Story."
On Jonas's wrist, under the text is a tiny "S," for her first name. She has a small "J" on the inside of her wrist.
Joe Jonas's Axe Tattoo
Jonas has an axe on his right forearm that he got back in 2018, but he has never shared what the design symbolizes.
Joe Jonas's Falcon and Crown Tattoos
Jonas has a tattoo of a falcon and crown on his right arm. He got the simple designs in 2018.
Joe Jonas's "Mr. Blue Sky" Tattoo
In 2019, Jonas got the opening lyrics to the Electric Light Orchestra's "Mr. Blue Sky" tattooed in a spiral design on his arm. As noted in his Instagram caption, the tattoo was designed by Daniel Winter.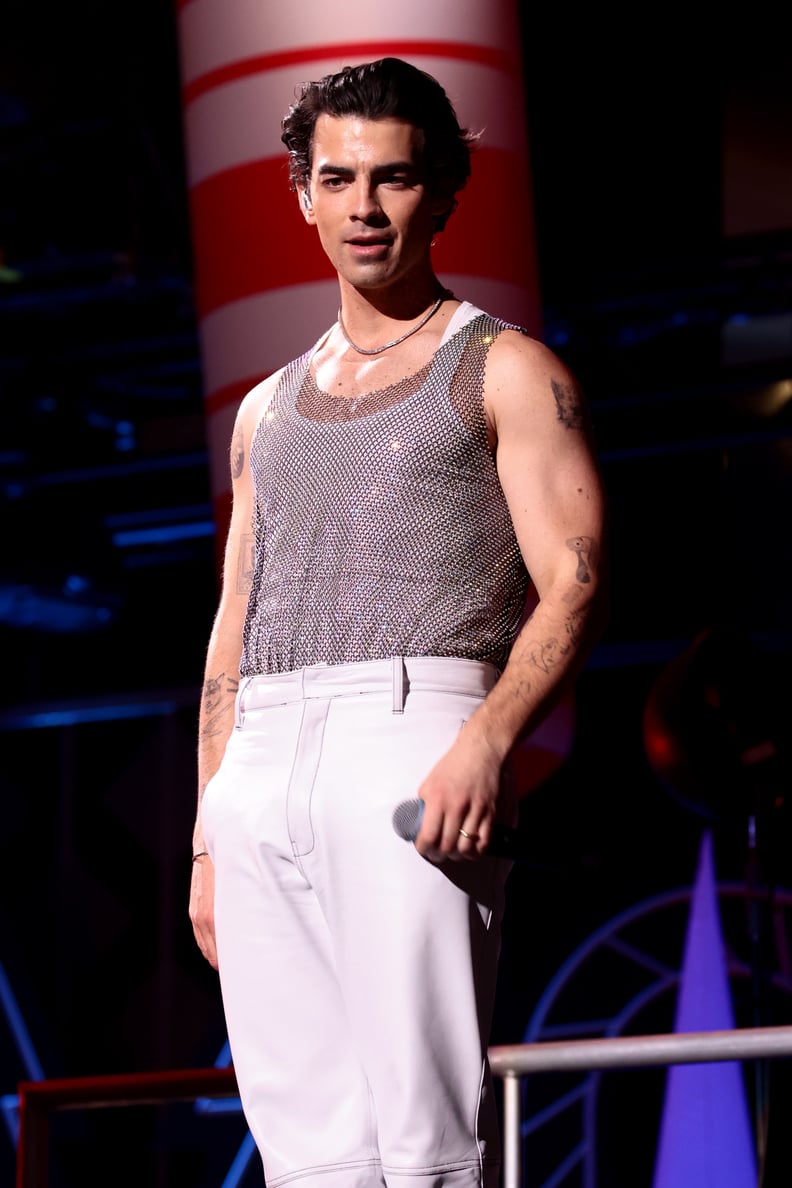 Joe Jonas's Fashion Model Portrait Tattoo
Near Jonas's left elbow is a design of George Condo's abstract "Fashion Model" painting from 2019.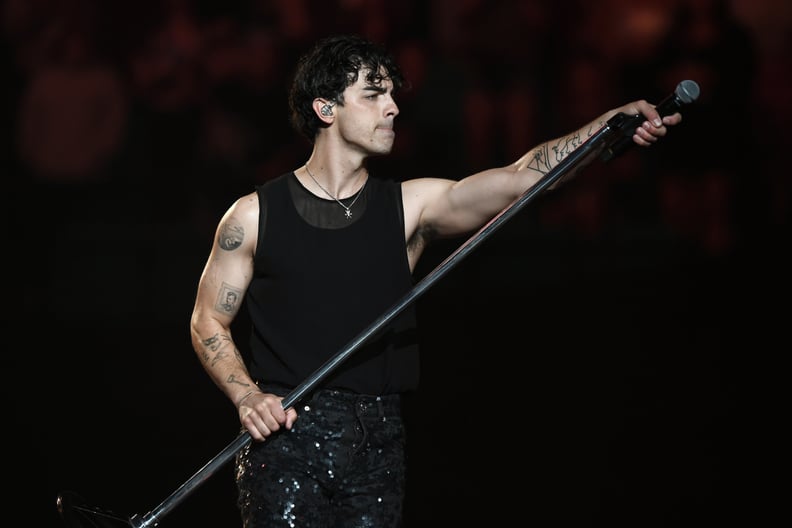 Joe Jonas's Freddie Mercury Tattoo
In 2018, Jonas revealed a line-work portrait of Freddie Mercury on the back of his left arm. He got the ink above another arrow design, to match the one he got on the opposite arm with Nick.
The ink is often hard to spot in photographs.
Joe Jonas's Keyhole Tattoo
In October 2020, Los Angeles tattoo artist NAL shared an Instagram photo of the tattoo that he recently gave Jonas. The design features an eye — one that looks a lot like Turner's — looking through a keyhole.
Joe Jonas's Building Tattoo
On the outside of his left shoulder, opposite of the Salvador Dalí painting, is an illustration of a building. Fans believe it to be of Chateau de Tourreau, which is where he and Turner got married in France during their 2019 wedding.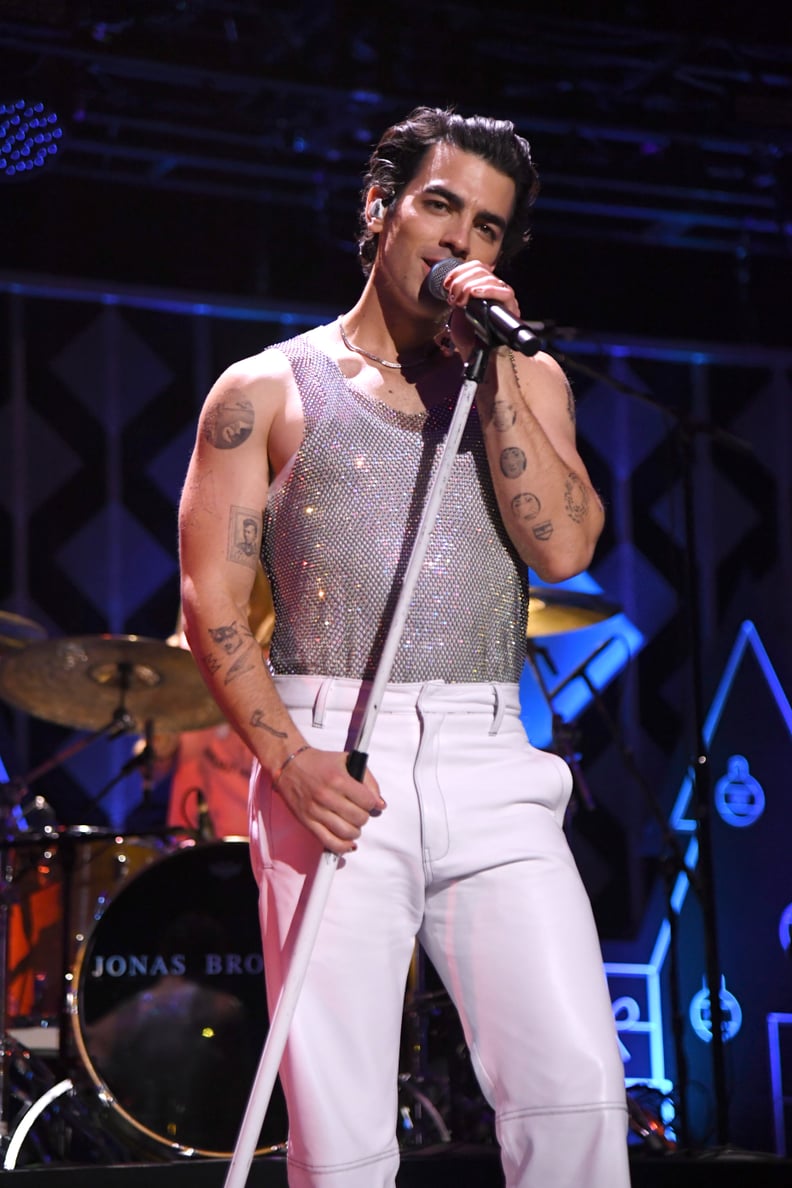 Joe Jonas's "See No Evil" Tattoo
In 2020, Jonas revealed via Instagram Stories three new circular tattoos of a woman's face on his left forearm. The tattoos are supposedly a reference to the proverb "See no evil, hear no evil, speak no evil."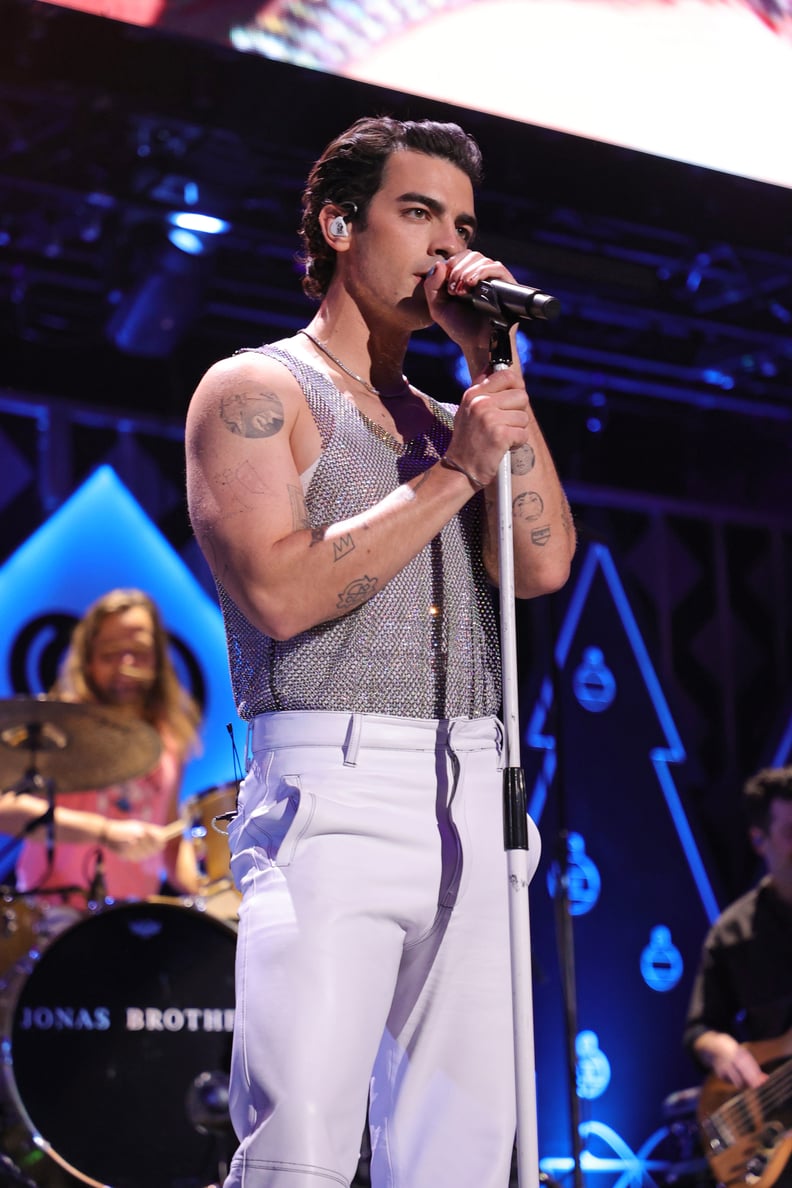 Joe Jonas's Constellation Tattoo
On the outside of his right bicep, Jonas has a fine-line design of a constellation. The ink appears to connect the dots using the moles on his arm, forming a stick figure shooting a bow and arrow.