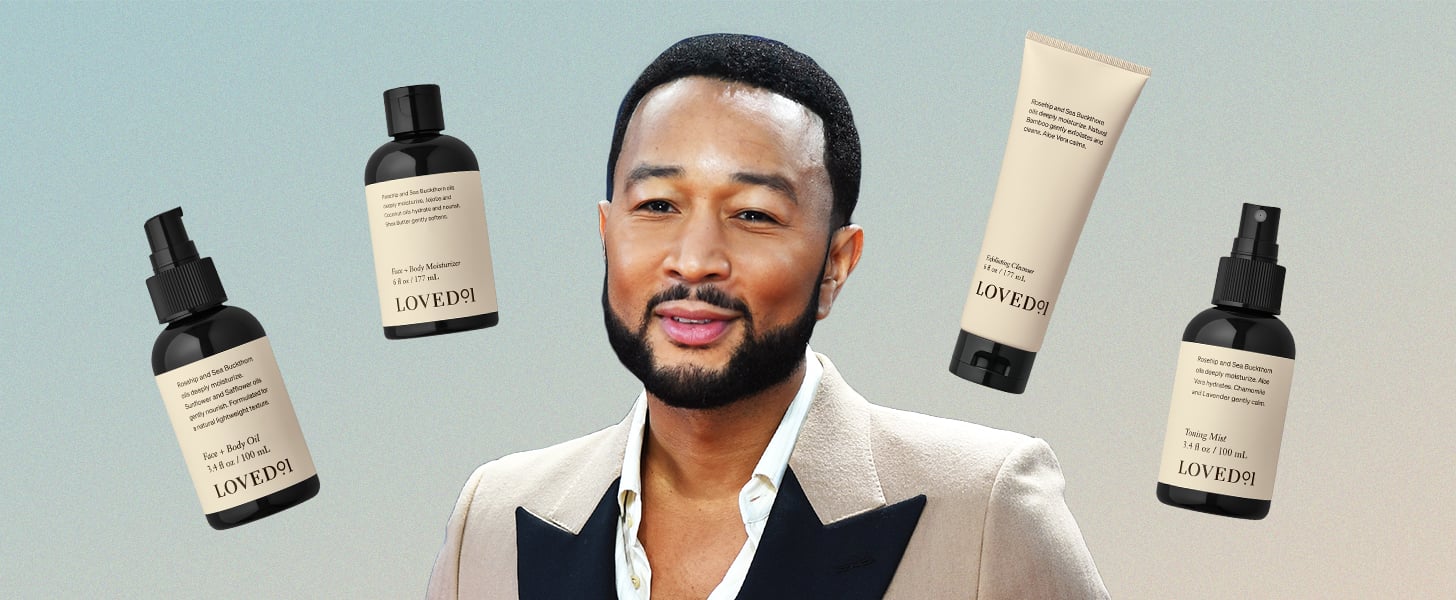 Image Source: Getty / Denise Truscello / Loved01 and Illustration by Becky Jiras
John Legend Talks Loved01 and Skin Care With Chrissy Teigen
John Legend Wants to Spread Love — and Good Skin
Imagine John Legend, age 8, diligently slathering on Vaseline Intensive Care Lotion each night before bed. Same boyish face, same fleeting dimples, same intention: stay moisturized at all costs. "For [people with] Black and Brown skin, we didn't want to be ashy — that was a common thing that was discussed," he tells POPSUGAR. "If you wanted to make fun of somebody, you told them they were ashy."
Flash forward to 2023, and the wider world can attest that Legend's disciplined skin and self-care routine has been fruitful. His visage, through the decades, has remained as smooth as his baritone vocals. Studies have also offered answers to his concerns, concluding that melanin-rich skin does in fact experience significantly higher transepidermal water loss (translation: loses moisture faster) than lighter skin tones. Yet the number of affordable beauty brands catered to Black and Brown people, by Black and Brown people, tracks suspiciously low in comparison to the rest of the market.
This is all to say, it should be no surprise Legend is launching a skin-care line to change that. 'Tis the era of the celebrity beauty brand, after all, but there is a key differentiator here. Loved01 will focus on luxurious face and body-care solutions at an accessible price point, between $10 and $15. Melanated skin will not be an afterthought; rather, it will be the guiding light behind the six inaugural products: a face and body wash, exfoliating cleanser, shave cream, toning mist, face and body moisturizer, and face and body oil.
"People would ask me all the time, 'When are you going to do your own skin-care line?' And, 'What's your skin-care routine?' But we didn't want to just do it because I'm a famous person with good skin," he says. "We felt like there had to be another reason for it to exist." (Loved01 was formulated in partnership with dermatologist Naana Boakye and A-Frame Brands, the company that creates Naomi Osaka's Kinlò and Gabrielle Union and Dwyane Wade's Proudly, among others.)
Equally as important as its mission, Legend says, is the brand's overlaying message. Before landing on Loved01, the team considered "hundreds of names" and ultimately ended up going back to a familiar theme: love.
"LVE is the name of my wine; I've named my albums 'Bigger Love,' 'Love in the Future,' all that," he says. "Love is core to who I am as a musician, as an artist. We made these products because we want to show love to the people who are going to use [them]. Skin care and body care are part of a ritual that you not only do on your own, but you do it with your kids, your spouse, your partner. We wanted this to be part of that expression of love and care."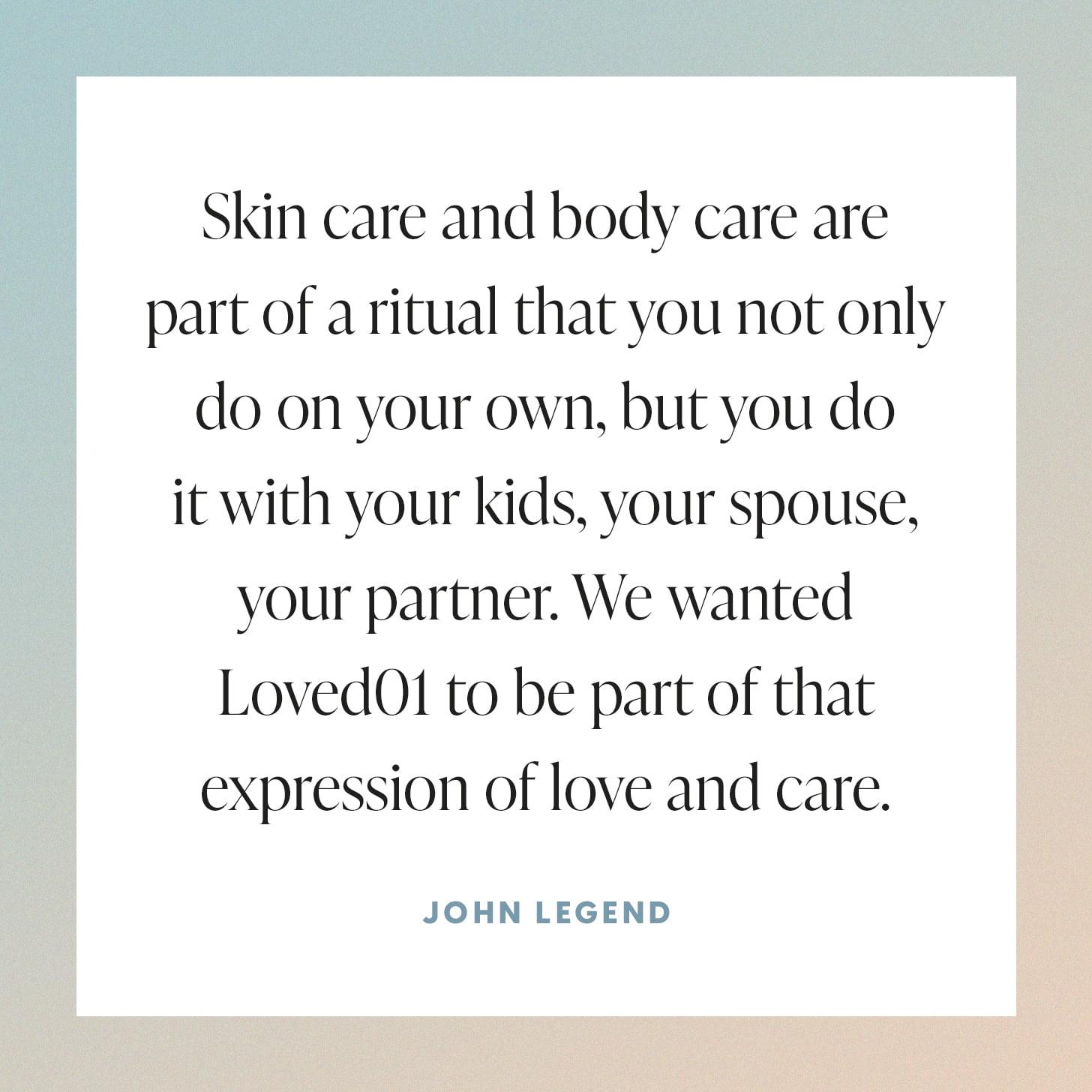 Image Source: Illustration by Becky Jiras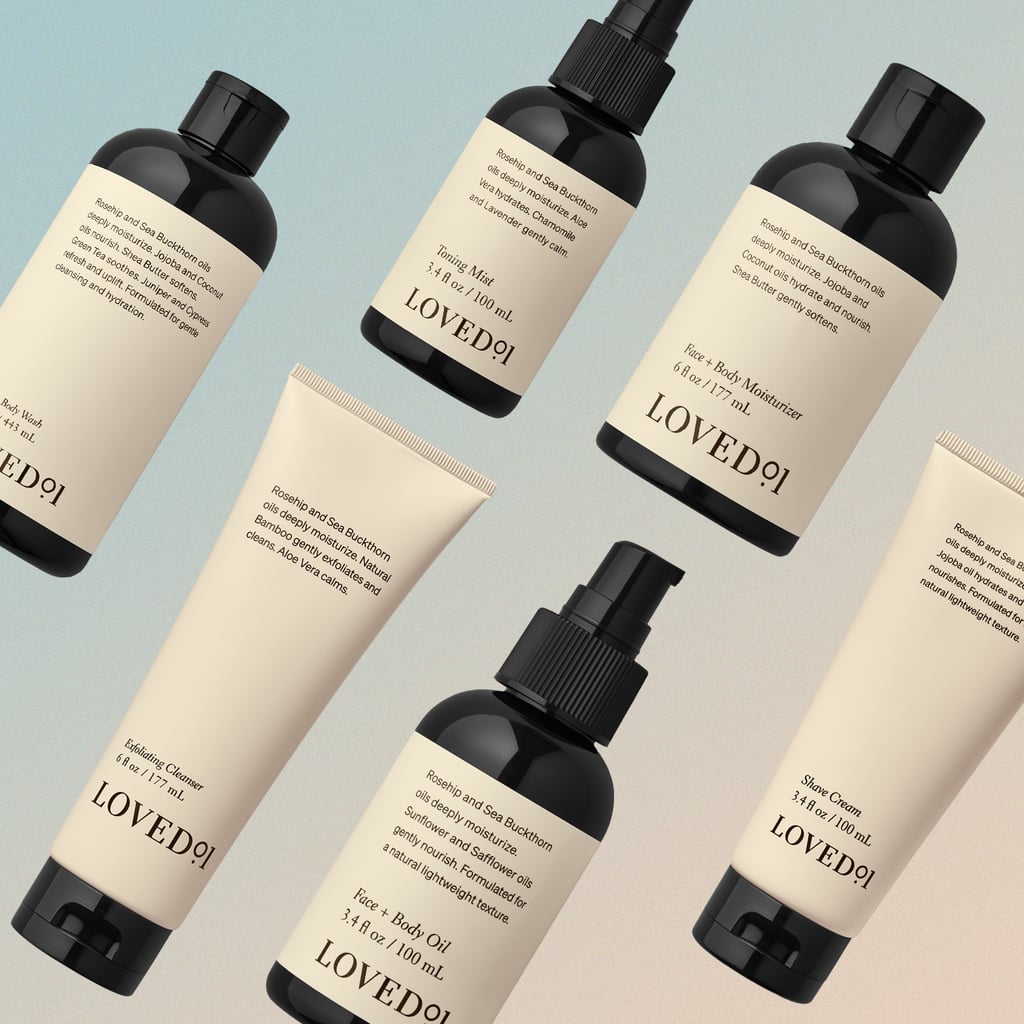 Image Source: Courtesy of Loved01 and Illustration by Becky Jiras
Fittingly, Legend likens the purpose behind Loved01's skin-care products to his song "Good Morning," which he wrote during the earlier stages of his relationship with now-wife Chrissy Teigen. "It's the first song I wrote with Chrissy in mind when we started dating," he says. "'Good Morning' is about starting the day with someone you love and care about. That's what [this brand] is all about: starting your day with this ritual of love."

Since then, there have been many more good mornings (and afternoons, and evenings . . .) shared between the two, side by side hovering over the bathroom sink. "We learn from each other when it comes to skin care because we've been dating for 16 years," Legend says. "That means showering at the same time, being in the bathroom together a lot, trying different skin-care routines. It's a good sign when she likes something we're developing for the world."
For anyone wondering: that means yes, the products themselves have the entire family's stamp of approval. "She loves the exfoliating cleanser; she loves rubbing it on her face and also on her belly. She's quite pregnant right now, and it just leaves her feeling silky and smooth." (Teigen and Legend have since welcomed their third child to the world on Jan. 13.)
Luna and Miles, who are 6 and 4, respectively, may not wholly understand that Dad has launched a beauty brand, but they are certainly learning the ritual of self-care. "Bath time is part of our family bonding. We're making sure we take care of their hair, keeping it healthy and conditioned, and that they understand that taking care of themselves and moisturizing are important parts of their day and night. We try to make it fun, and we're helping them develop good habits for later." Just as a younger Legend did, all those years ago.
Loved01 will be available starting Feb. 1 on the brand's website as well as at CVS stores and online nationwide, followed by Walmart in March.