Julia Michaels Talks About Her Obsession With '60s Glam and Drew Barrymore's '90s Eyebrows
As POPSUGAR editors, we independently select and write about stuff we love and think you'll like too. If you buy a product we have recommended, we may receive affiliate commission, which in turn supports our work.
Julia Michaels is on fire right now. The artist, who's used to receiving accolades for her songwriting for other artists, is finally stepping up as the star of her own show (metaphorically speaking, although we wouldn't be opposed to the idea of her having her own show). In just the last five months, Michaels received a Grammy Award nomination for "If the World Was Ending," dropped a couple of music videos (including one just last week for "All Your Exes"), and appeared in fashion-designer Christian Cowan's fall 2021 campaign (in which she absolutely stunned, obviously). But her most exciting endeavor is still in the works.
"I'm putting out my first album, so I'm focusing on that as much as possible right now," Michaels told POPSUGAR while in the studio. "With my last projects, I wasn't a very visual person and I think this year, just because I've had so much time at home to just think about how I want this album to be, it's made my brain way more visual."
That fact extends into beauty, too — from tattoos to music video makeup. Keep reading for more on the latter inspiration behind her latest video, why she stopped shaving her armpit hair, what her own beauty routine looks like right now, and more.
The Beauty Inspiration Behind the "All Your Exes" Music Video
The music video for "All Your Exes" dropped on April 2 and features glam, gore, and horror with a satirical twist. It's dark, but also humorous in a ridiculous way, which is exactly what Michaels was going for.
"I had had this idea for a dinner party essentially and I told Blythe Thomas (the video director) about it," said Michaels. "She was like, 'That's amazing. What if you were at the dinner table and all of the people at the table with you were dead?' and I was dying laughing — I thought it was so funny." Her inspiration: the 2004 comedy-horror film The Stepford Wives.
It's not all blood and gore (although there is a chainsaw involved); there's also plenty of glam. Michaels sports 1960s-inspired hair and makeup like pastel blue eyeshadow, graphic eyeliner, and a bouffant hairstyle.
"I love sixties glam, with a nineties aesthetic," said Michaels. She's been trying to push herself to be more creative and play with color, hair, and makeup in a way that makes it special. "I don't wear it in my every day, but when I get to sort of play a character, it's always super fun."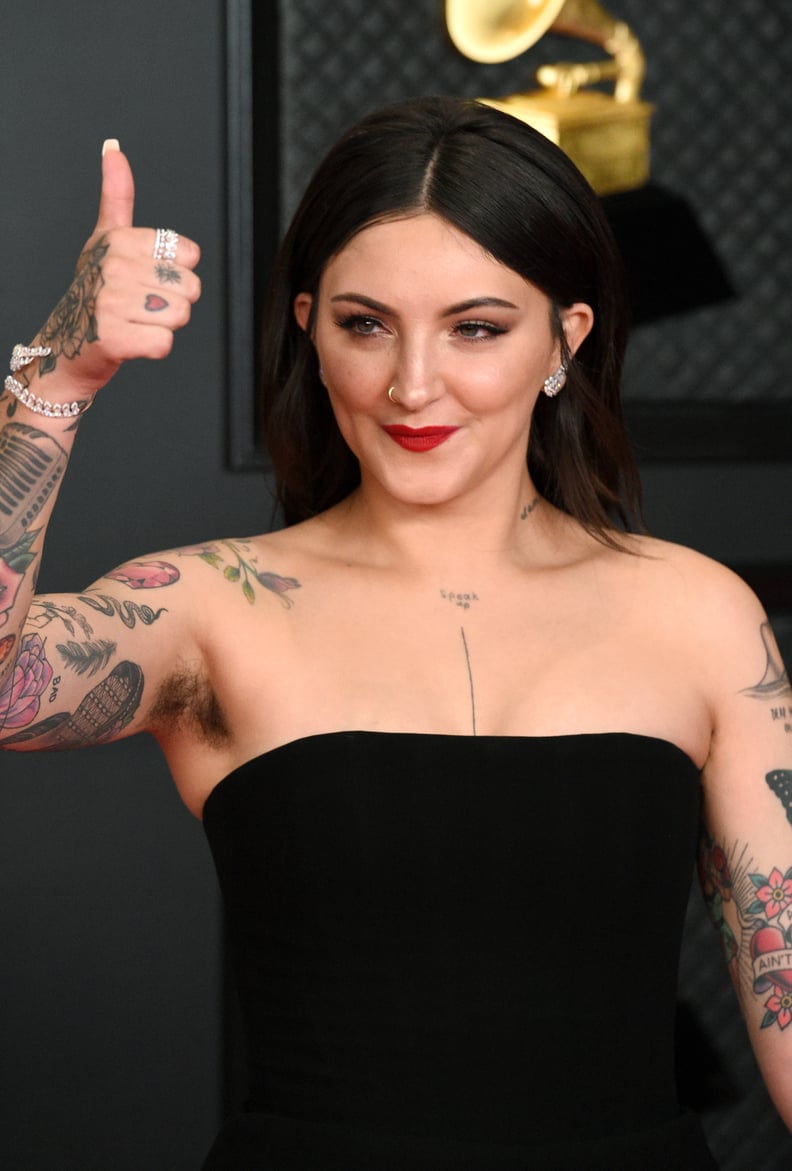 Why Julia Michaels Started Growing Out Her Armpit Hair
Michaels lives very much so by the "you do you" philosophy, even if a majority of the world does not. Back in May of 2020 when she said "social norms can eat an eggplant" and decided to stop shaving her armpits, people had a lot to say about it — and they still do, but she doesn't let it bother her.
"I had taken a trip with some of my friends and [my underarm hair] had started to grow out and when I shaved it, I didn't feel like myself; it was really strange," said Michaels. After talking to her boyfriend about it, she decided to stop shaving the hair altogether and has stuck with it ever since. "I was like, so long as my boyfriend still wants to f*ck me, I'm cool," she said.
There's something really liberating about doing the things that people tell you not to do. If it's something as simple as growing my armpit hair out, I'm down for it.
The reason anyone decides to remove or not to remove their body hair is a personal choice, but for Michaels it's partially about just doing whatever feels right and partially about sticking it to haters. "There's something really liberating about doing the things that people tell you not to do and I get a kick out of that," she said. "If it's something as simple as growing my armpit hair out, I'm down for it. You'd be surprised at how many men comment on my social media still being like 'That's disgusting. You should shave it,' and it's like, why do you feel like you can comment on my body?"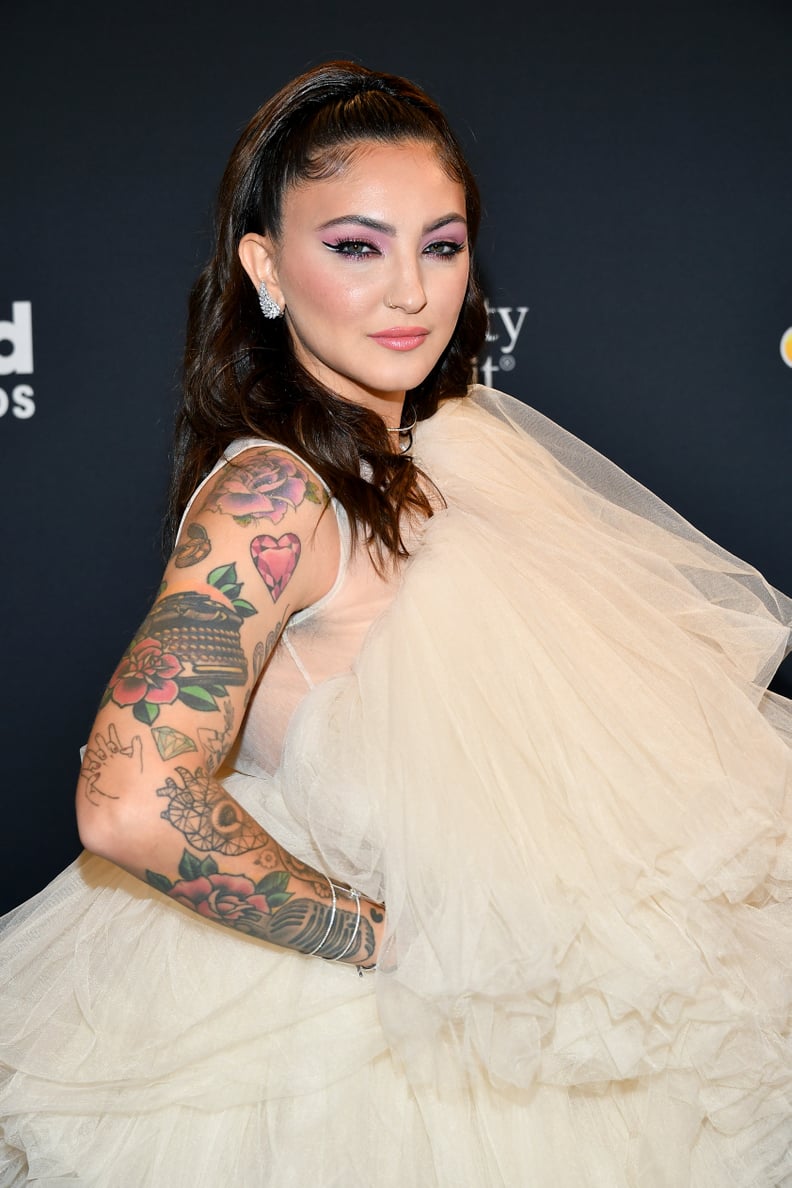 Julia Michaels's Makeup and Skin-Care Routine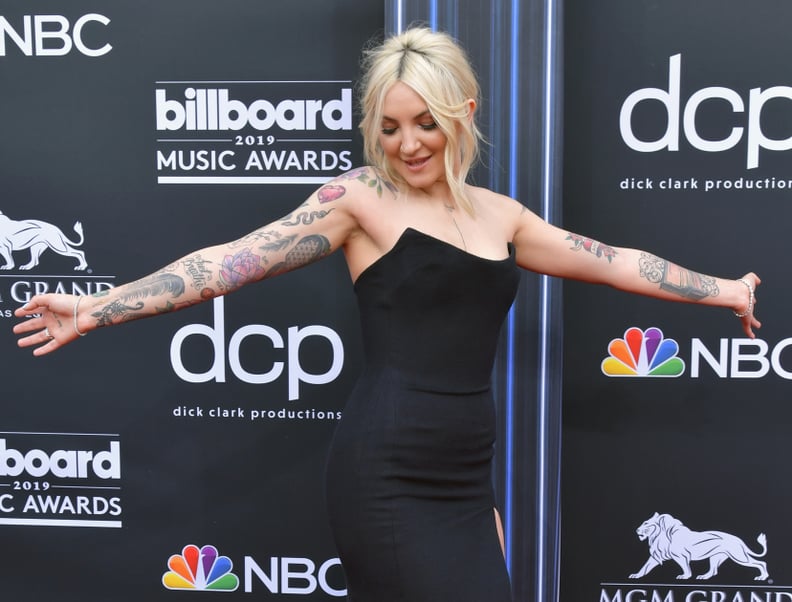 Julia Michaels's Favorite Tattoos
Michaels is decorated with an assortment of colorful and black and white tattoos of all sizes, but she has trouble picking one favorite (although the time she and Gomez got matching arrow tattoos on their hands is up there).
"My favorite one is the one on my throat that says 'speak up,' because I don't very often and I need reminders sometimes to be bold and be brave," she said. "I also have the symbol for perception on my arm. It's two triangles and three circles and it looks fully formed, but it isn't, and I've always found it really interesting how the brain can perceive something as whole, even though it's not."
Then, there is the "colorful artichoke" on her arm: "I got this lotus flower after a breakup, but I didn't do my research and I just went and did it," said Michaels. "When I left, it came out looking like a very colorful artichoke and then I went to my other tattoo artist and I had him put a big X on it and around it, it says 'bad idea' because he was and it was." Hey, at least it makes for a good story now.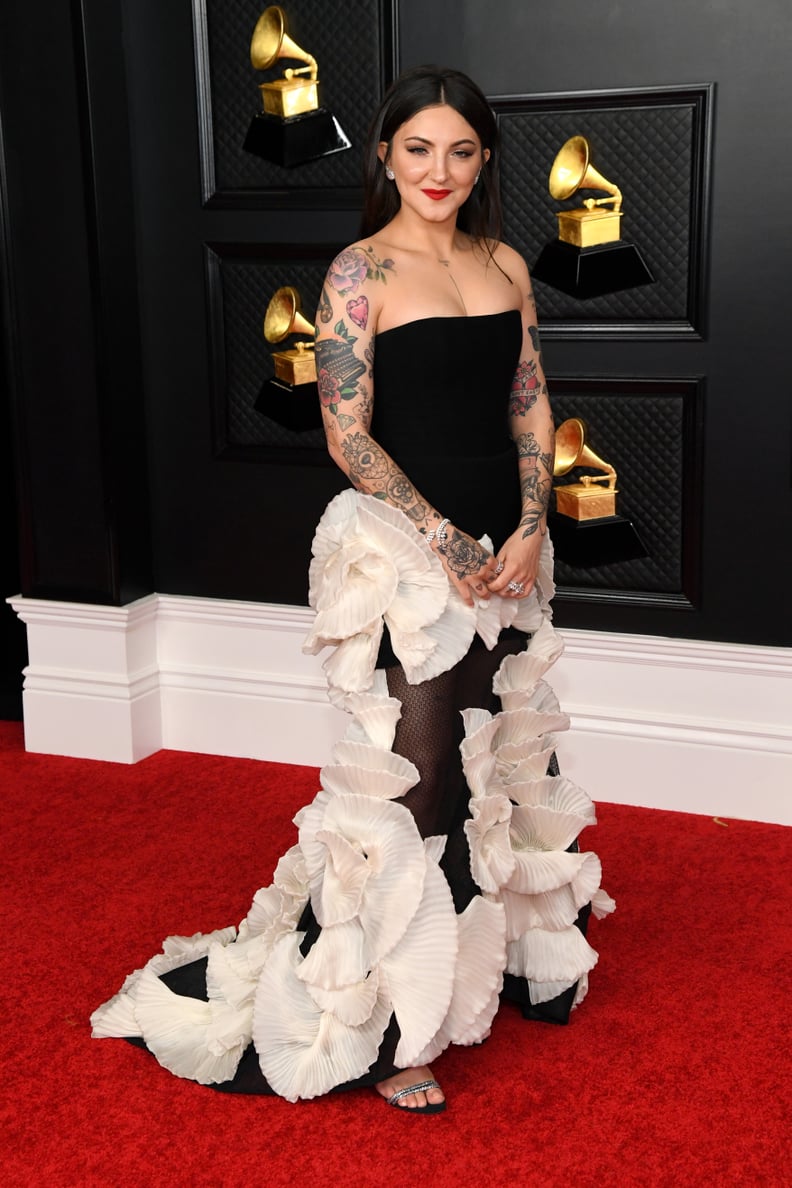 Julia Michaels's Thoughts on Virtual Award Shows
Michaels also proudly showed off her armpit hair on the Grammy Awards red carpet on March 14, which was her first red carpet appearance since COVID-19 shifted things virtual, and she actually enjoyed the experience more than she ever had in the past. "I have pretty bad anxiety, so when you go to an award show, usually there's like 50 photographers screaming at you and you don't know where to look, and you don't know what to do with your hands, and I just feel a little paralyzed," Michaels said. "But this year, there were just four photographers and they were so calm. I was like, 'Oh, this is great. I could do this all the time.'"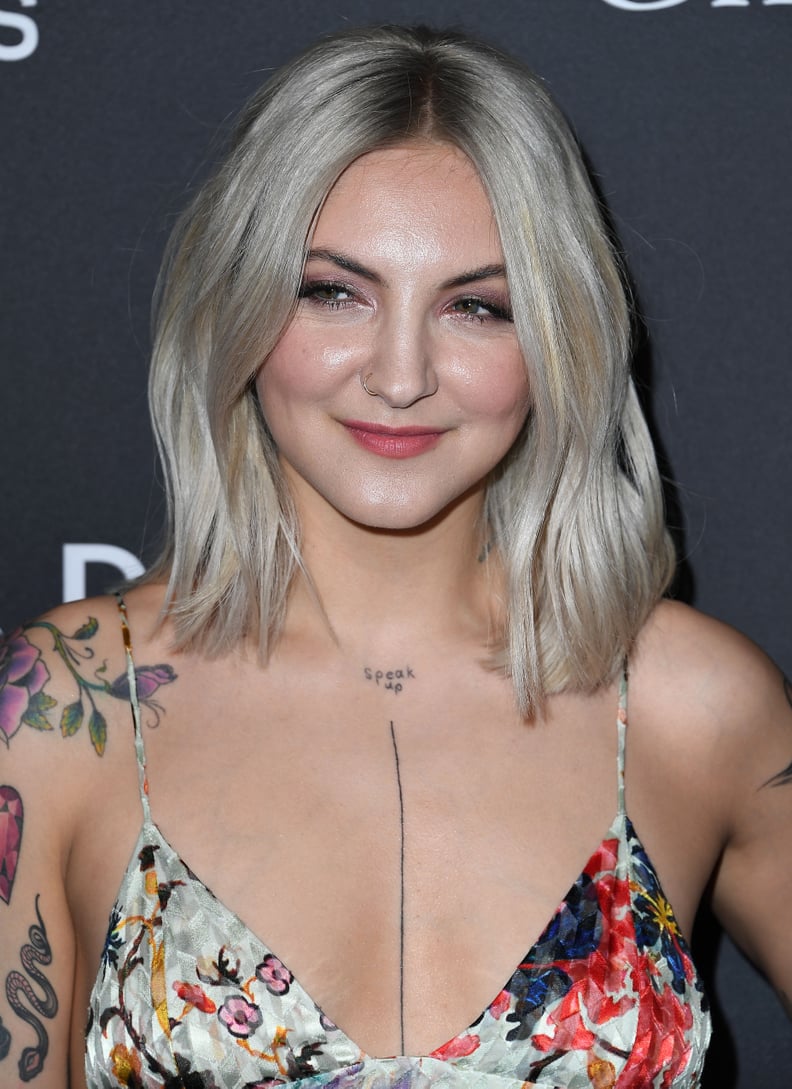 The One Beauty Trend Julia Michaels Wants to Bring Back
On a less serious note than body hair acceptance (but still important just the same), Michaels is also pushing for "thin eyebrow" acceptance. During a time of bushy, bold brows, she's calling for a renewal of the skinny '90s brow à la Drew Barrymore.
"I'm only over [bold brows] because I don't have them myself; I wish I did, but I'm a naturally very thinned eyebrow kind of girl," she said. "As much as I fluff them and I try and do all kinds of things to them, they never look the way I want them to. I'm blessed with thin eyebrows."