Selena Gomez and Nicola Peltz Beckham Get Friendship Tattoos to Ring in the New Year
Selena Gomez has been slowly growing her tattoo collection for years. The "Rare" singer has gotten three new pieces of ink in the last four months alone for a grand total of 17 known tattoos to date. From a delicate number "4" on the inside of her arm to represent her best friends to the large praying-hands mural on her upper thigh and the rose neck tattoo on her upper back, each one of Gomez's tattoos has a special meaning.
Most of her symbolic tattoos are by Keith "Bang Bang" McCurdy from Bang Bang Tattoo in New York City. That includes some of her more recent pieces of ink: the "Rare" tattoo behind her ear, the cross along her collarbone, and a large design on her upper back. To ring in the New Year, Gomez went on a trip with friends, including Brooklyn and Nicola Peltz Beckham, and ended up getting a matching friendship tattoo with Nicola.
Considering Gomez is a master at containing her tiny (and that one not-so-tiny) ink, it's also possible she has more ink skillfully hidden and will be adding onto the collection again soon. Get a closer look at all of Gomez's tattoos and find out what they mean ahead.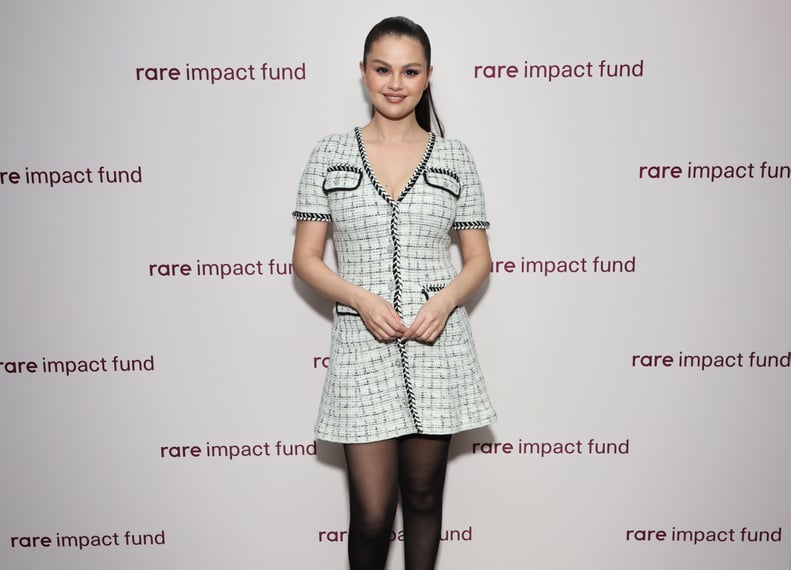 Selena Gomez's "Angel" Tattoo With Nicola Peltz Beckham
While on a New Year's Eve trip to ring in 2023, Gomez got a matching tattoo with her friend Nicola Peltz Beckham. The pair got the word "angel" tattooed on their arms in a cursive font using the delicate fine-line style.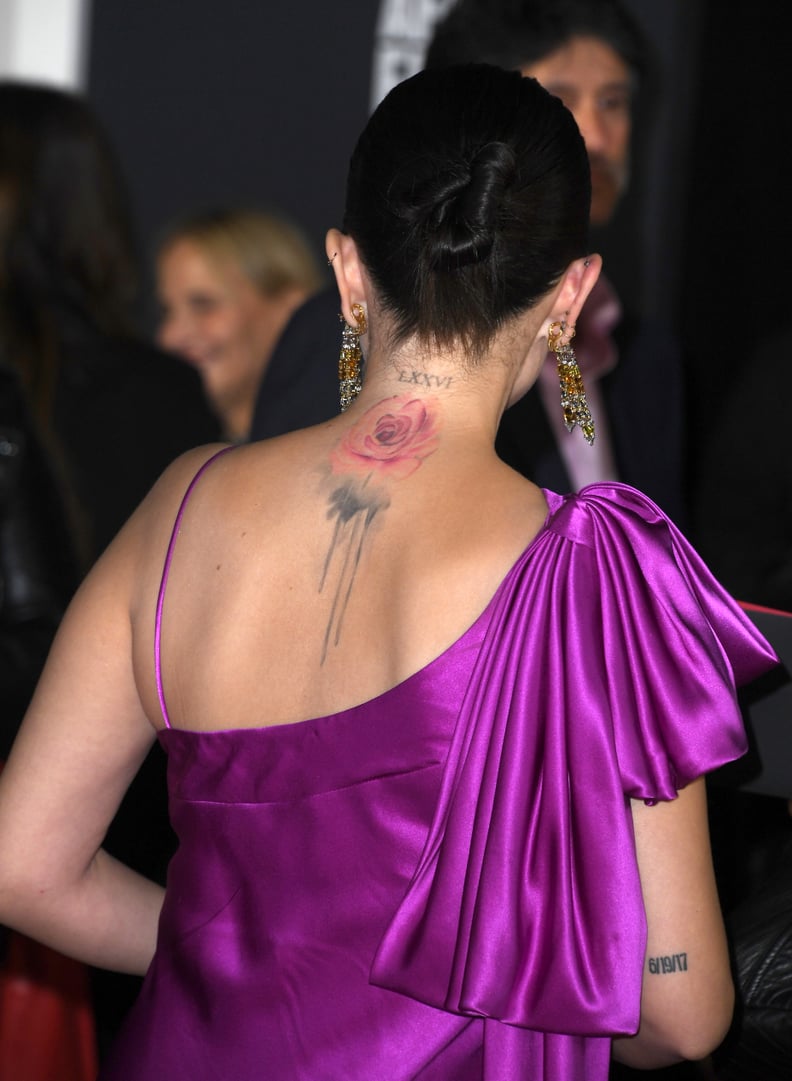 Selena Gomez's Rose Neck Tattoo
In December 2021, Bang Bang gave us a glimpse at Gomez's latest (and largest) piece of ink: a rose tattoo on her upper back. The design is a pink watercolor rose with black ink dripping down the singer's back.
Selena Gomez's Cross Tattoo
In April 2021, Gomez yet again paid a visit to celebrity favorite Bang Bang Tattoo to get a minimal design of a cross on her collarbone, which is likely to symbolize her faith — something the multihyphenate star has spoken openly about in the past.
Selena Gomez's "Rare" Tattoo
To celebrate the release of her album at the start of 2020, Gomez got "Rare" tattooed behind her right ear at New York City's Bang Bang Tattoo studio. In numerous interviews and on social media, the singer disclosed how personal the album was, so it makes sense that she marked the occasion with fresh ink.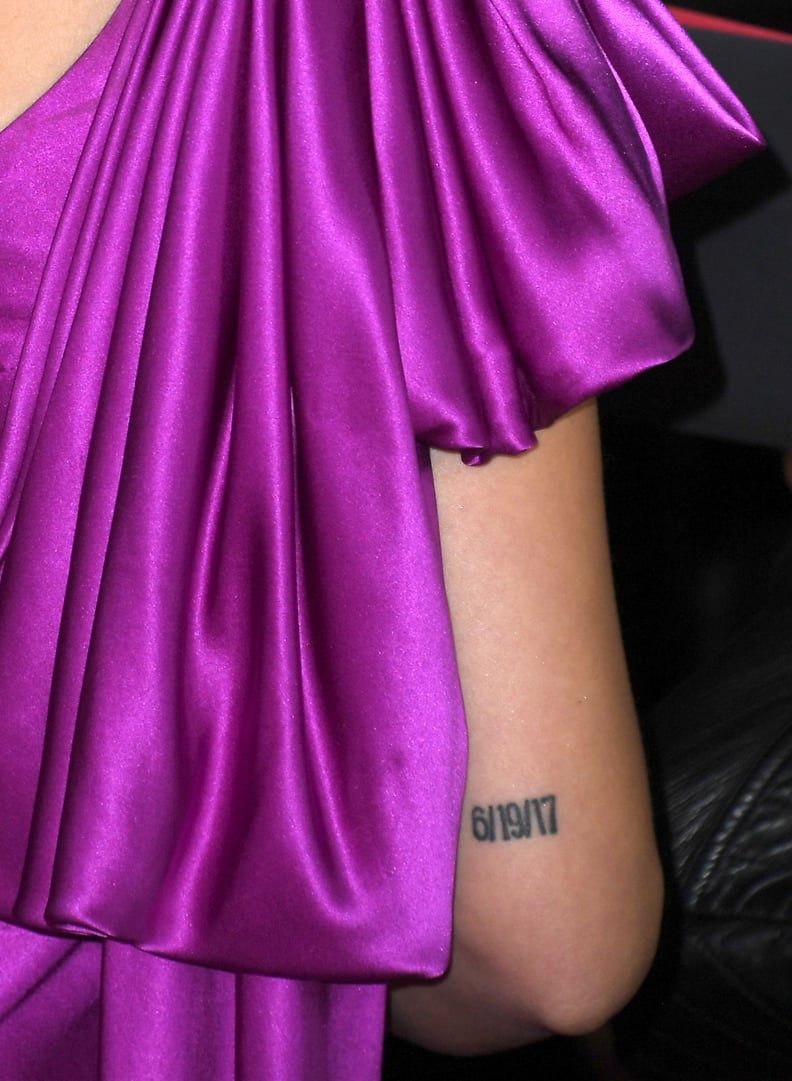 Selena Gomez's 6/19/17 Arm Tattoo
The date 6/19/17 on the back of Gomez's elbow commemorates the date of her kidney transplant. She got the design with the kidney donor, her friend Francia Raisa.
Selena Gomez's Praying Hands Thigh Tattoo
What better time to show off your tattoo than the American Music Awards? Just before taking the stage to perform in 2019, Gomez posted a collage featuring her large masterpiece on Instagram. The tattoo on her upper thigh is of praying hands and rosary beads by Bang Bang Tattoo, again.
Selena Gomez's Arrow Tattoo With Julia Michaels
It's safe to say Gomez is not afraid to get matching ink with her besties. Backstage in November 2019 with music production partner and friend Julia Michaels, the pair got matching arrow tattoos pointing toward each other to commemorate their friendship.
Selena Gomez's "4" Tattoo With Her Best Friends
Gomez and three of her best friends, Raquelle Stevens, Courtney Barry, and Ashley Cook, all got the number "4" tattooed in various areas to symbolize their girl gang during the Summer of 2018. "You Are My 4 For the Rest of My Life," Gomez's caption read.
Selena Gomez's "1" Tattoo With Her Longtime Bestie
On the same day as her "4" tattoo back in 2018, Gomez also got the number "1" tattooed on her rib cage with best friend Courtney Barry. "My actual #1," she captioned the photo.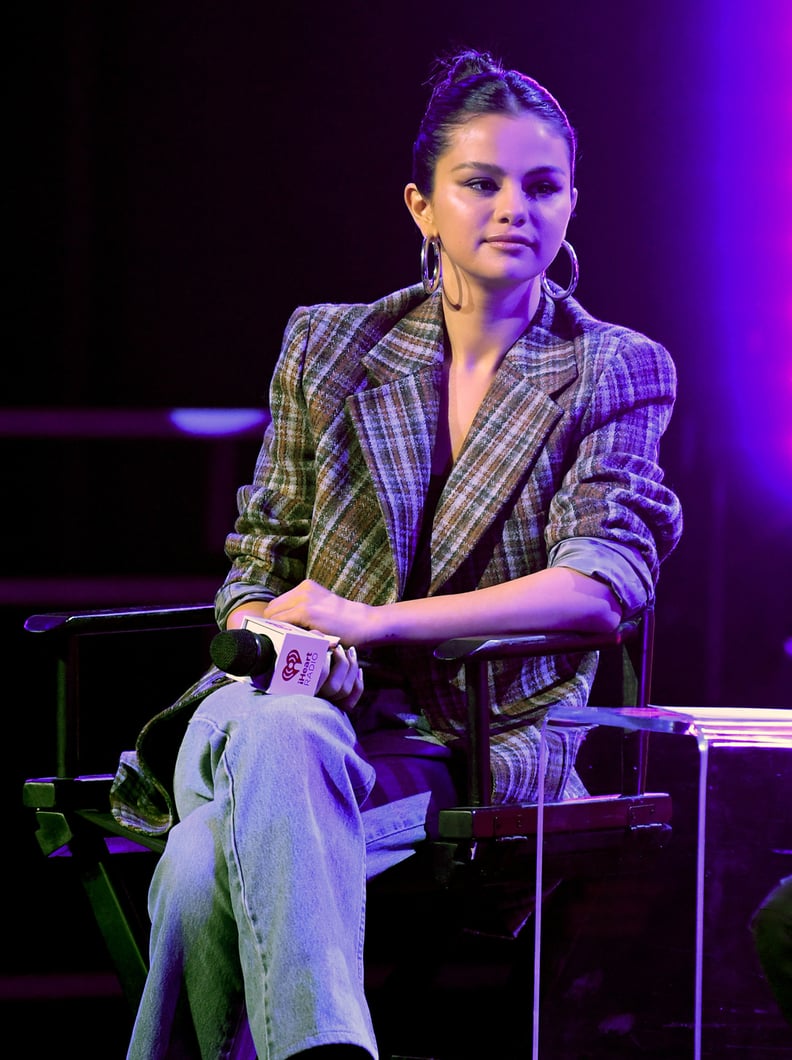 Selena Gomez's Semicolon Tattoo
When 13 Reasons Why wrapped season one in 2017, Gomez (the show's executive producer) and cast members Tommy Dorfman and Alisha Boe all got semicolon tattoos on their left wrists. The punctuation mark is symbolic of Project Semicolon and represents the importance of suicide prevention.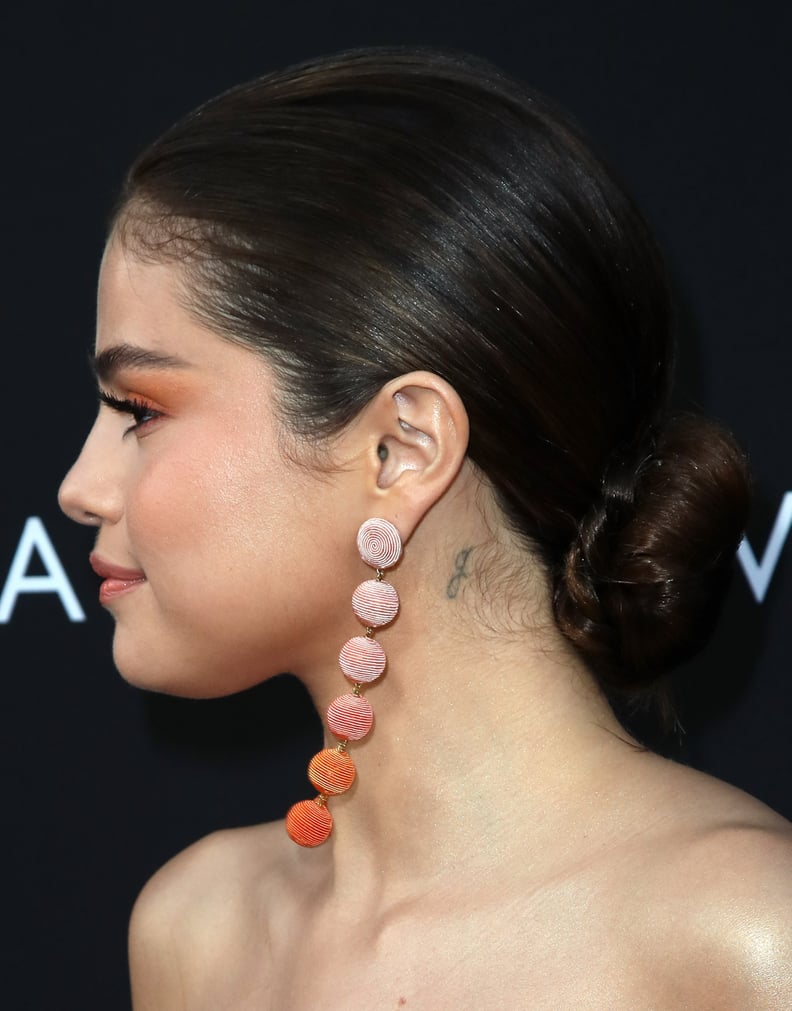 Selena Gomez's "G" Tattoo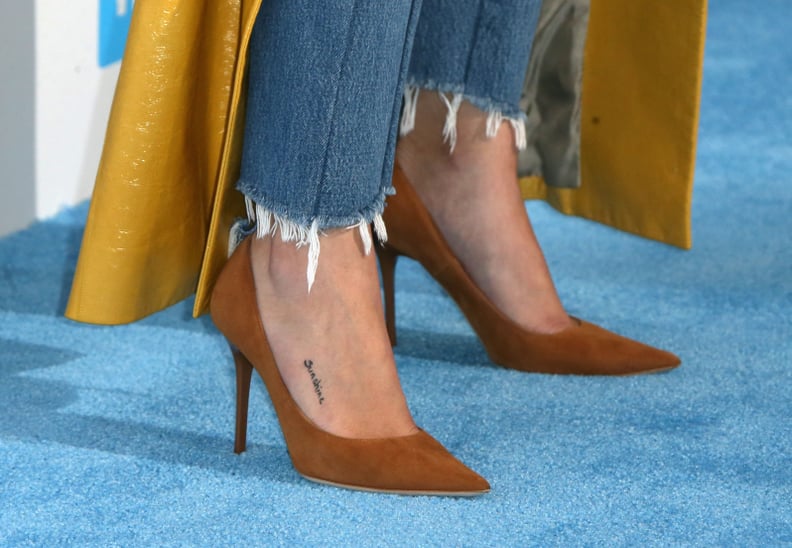 Selena Gomez's "Sunshine" Tattoo
First spotted in 2016, Gomez has the word "Sunshine" inked on her right foot, which is believed to be a tribute to her grandmother. In a photo of the two posted on Twitter, the singer captioned it, "Nana is my sunshine."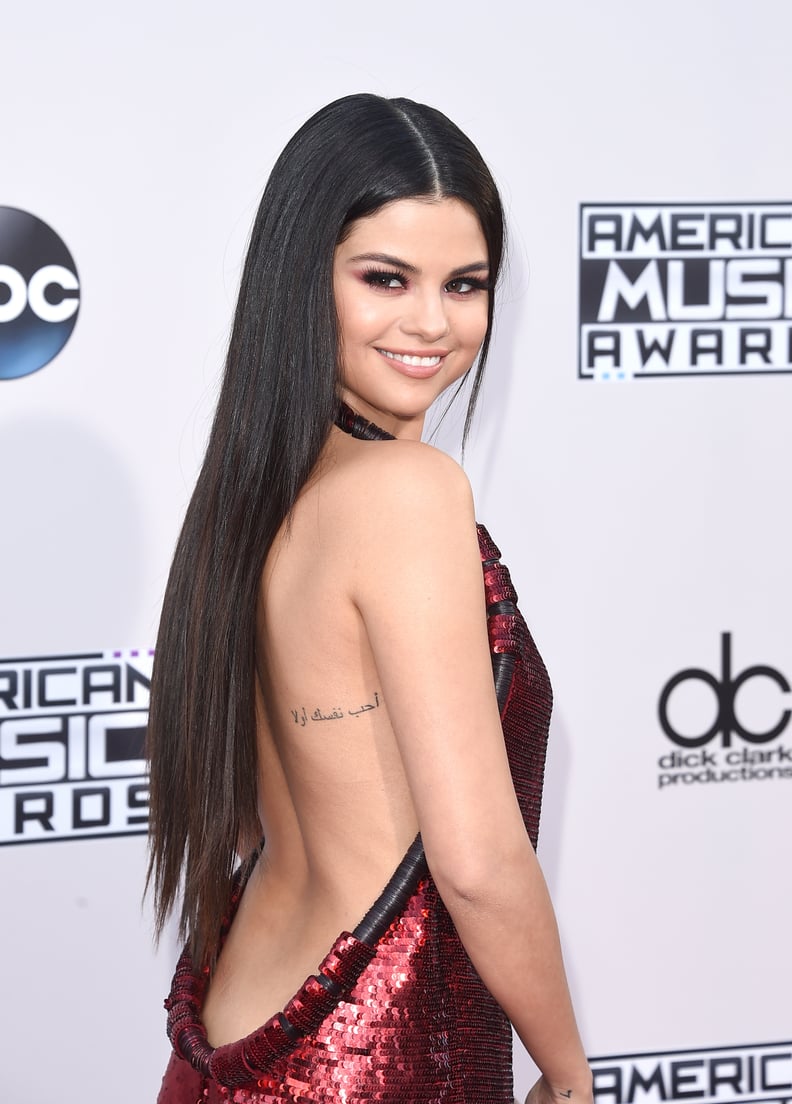 Selena Gomez's "Love Yourself First" Arabic Tattoo
On her back right side, Gomez has the phrase "Love yourself first" tattooed in Arabic. The ink, which she got in 2014, serves as a reminder to the singer to always prioritize herself.
Selena Gomez's Biblical Verse Tattoo
Gomez often talks about her faith and how important it is to her, so it's no surprise the singer has multiple religious pieces. On her right hip, she has the phrase "God who strengthens me," from Philippians 4:13. It's one of her earlier tattoos from 2013.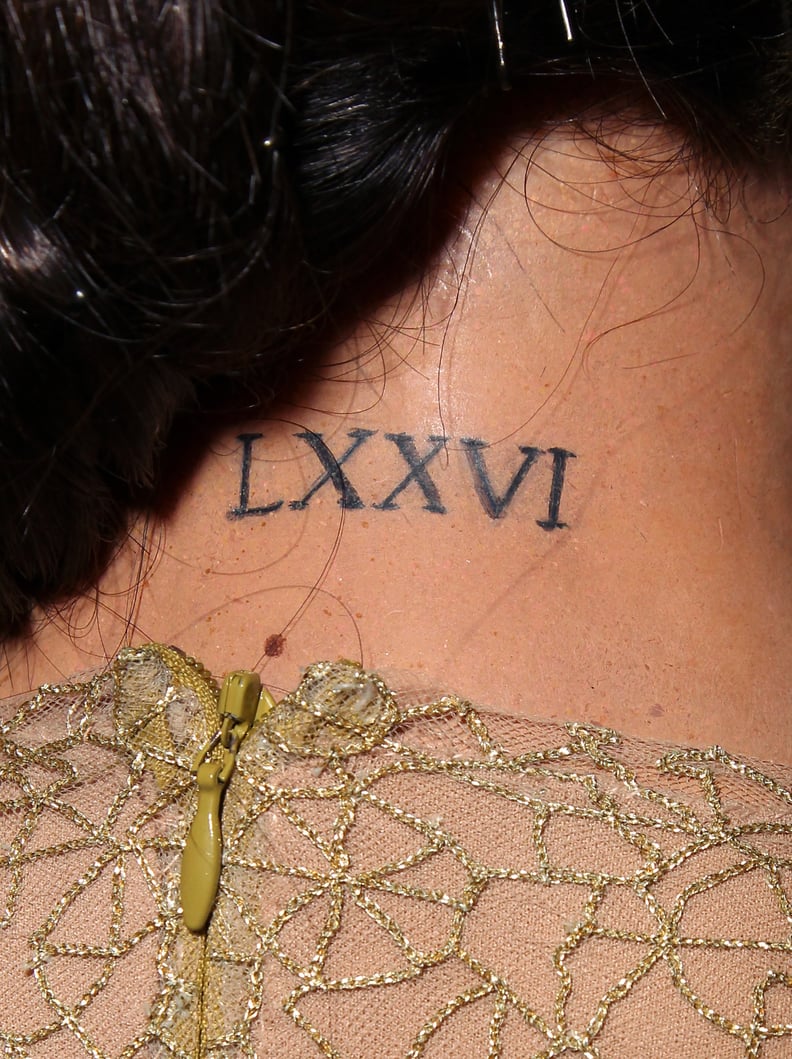 Selena Gomez's Roman Numeral Tattoo
Often hidden by her hair, Gomez has a Roman numeral tattoo on the back of her neck of the number 76. The tattoo is said to be a tribute to a special family member, which she got in 2012.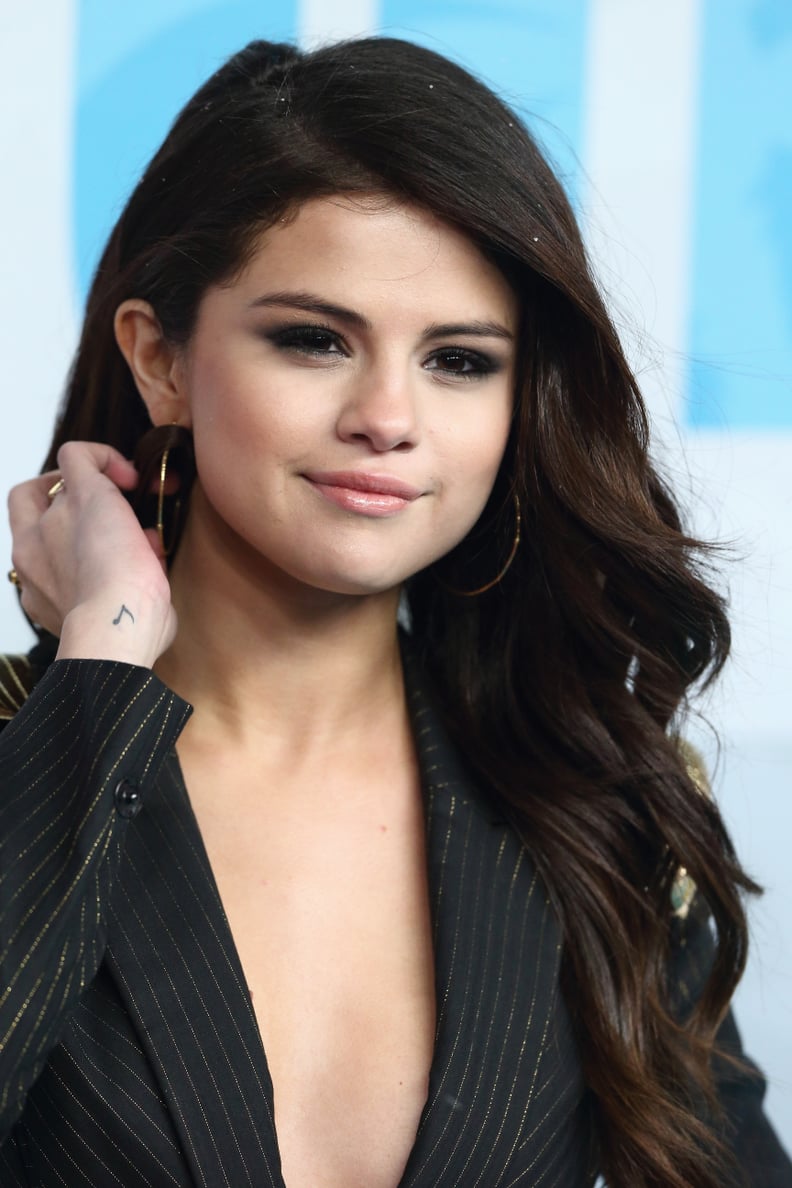 Selena Gomez's Music Note Tattoo
Believed to be the singer's first tattoo from 2012, Gomez has a small music note on her right wrist. There's no need to speculate what this one means — music has always been a key part of her life.