Was Kim Kardashian Gifted Marilyn Monroe's Real Hair?
So, Kim Kardashian Wasn't Gifted Marilyn Monroe's Real Hair Before the Met Gala?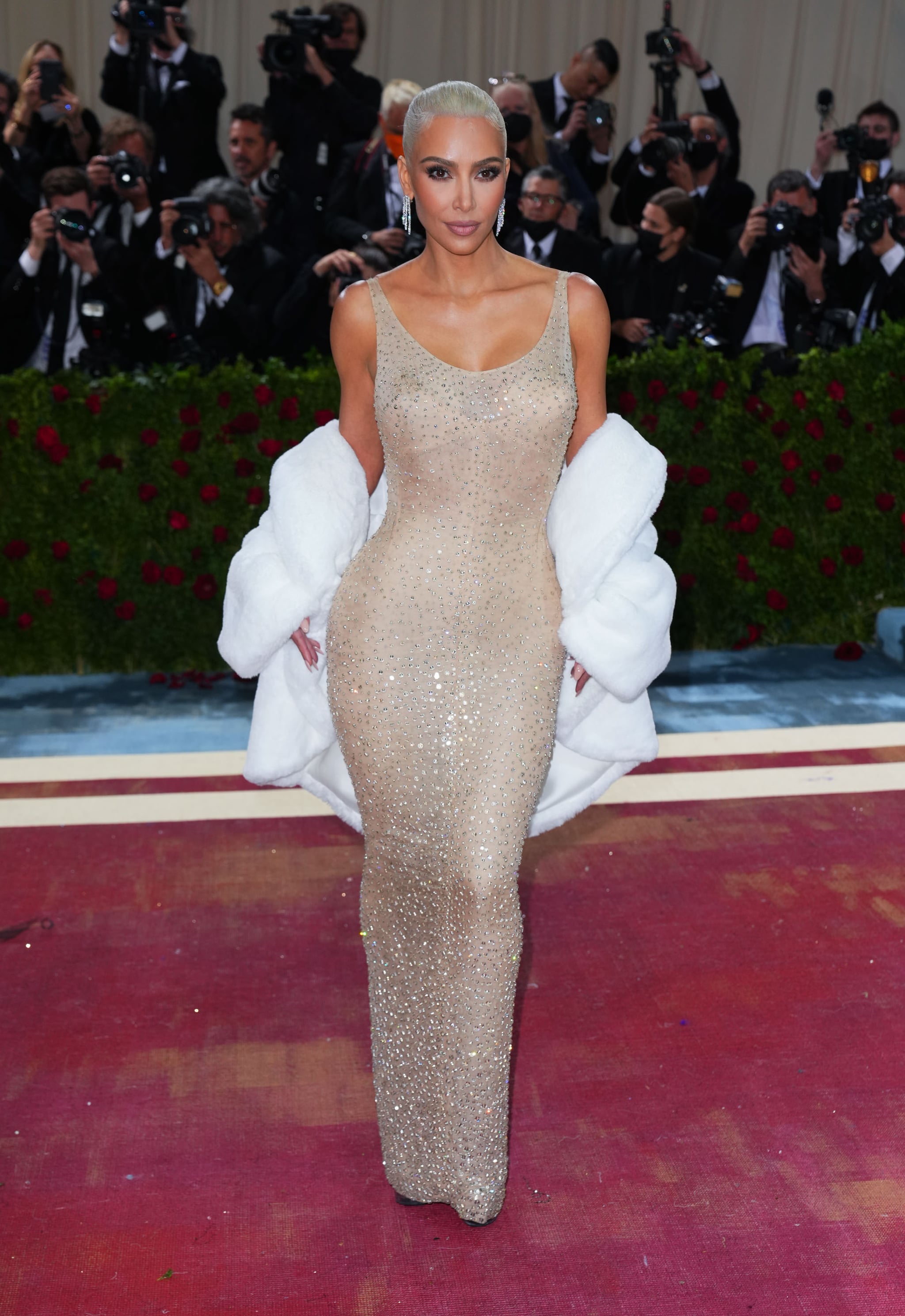 Image Source: Getty / Gotham
Update: Like many things in Hollywood, it appears some things during Kim Kardashian's pre-Met Gala prep are not as they seemed. Before the star stepped on the red carpet wearing Marilyn Monroe's iconic Jean Louis "naked dress," Ripley's Believe It or Not (the company that owns the dress) claimed to have gifted her a lock of the late actor's blond hair. Now, a historian insists that's impossible.
"News Alert: Marilyn Monroe Hair Gifted to Kardashian by Ripley's is Fake," Scott Fortner's Instagram caption starts. (Fortner is a historian and collector, often assisting in authenticating Monroe memorabilia.) The driving evidence he points to is the hairstylist behind the look; Ripley's claims the "lock was clipped by her hairstylist Robert Champion just prior to her Madison Square Garden performance," but Fortner says the receipts leading up to the event (and that have been authenticated) do not match up.
"Robert Champion did not cut and style Marilyn's hair for the JFK gala," he writes. "It was actually the one and only 'Mr. Kenneth' (Kenneth Battelle) who had the honors. Battelle is responsible for Marilyn's famous hairstyle from that night, as documented by a receipt from Lilly Dache Beauty Salon."
Scroll to see the receipts for yourself.
Original post: There was a lot that happened behind the scenes of Kim Kardashian's Met Gala transformation.
In the days leading up to the event, speculation swirled that Kardashian would be pulling from the archives for her gown once she revealed that her dress couldn't be tailored. The rumors were finally laid to rest when she showed up to the carpet in the Jean Louis "naked dress" that Marilyn Monroe wore to sing "Happy Birthday, Mr. President." Kardashian even took it a step further and dyed her hair a platinum blond to further channel Monroe for the night. What fans might not have known, however, is that Kardashian was also gifted a piece of Monroe's real hair.
Ripley's Believe It or Not, the company that now owns Monroe's dress, gifted the star the piece of hair when she arrived for a fitting of the gown. After handing Kardashian a blue box, a member of the team exclaimed, "This is either going to be really cool, or look strange." Once the initial shock wore off, Kardashian vowed that the lock of hair would be sleeping with her every night.
Though Kardashian was reportedly only able to wear the real dress for a few minutes (she revealed to Vogue that she changed into a replica after she climbed the stairs), she has more than enough Monroe memorabilia to remind her of this moment. Take a closer look at her gift below.