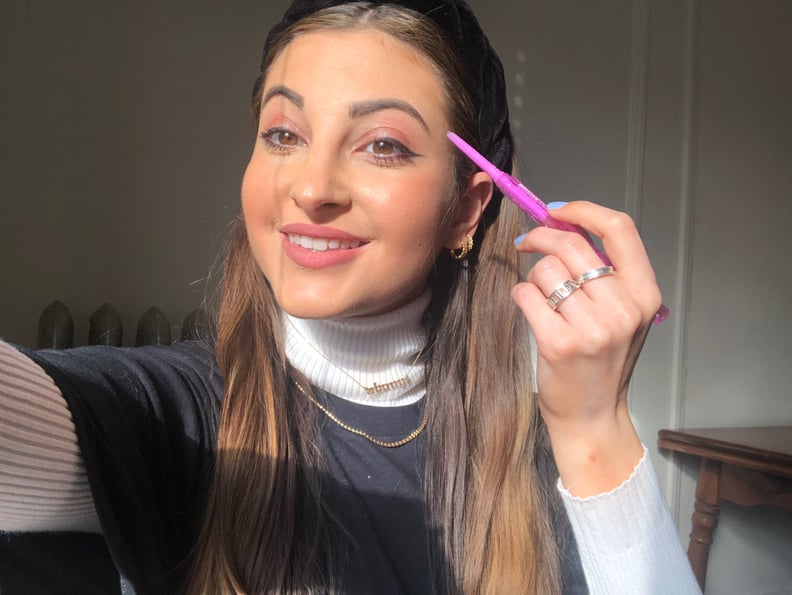 POPSUGAR Photography | Alanna Martine Kilkeary
POPSUGAR Photography | Alanna Martine Kilkeary
As POPSUGAR editors, we independently select and write about stuff we love and think you'll like too. If you buy a product we have recommended, we may receive affiliate commission, which in turn supports our work.
Point blank: I am super picky about my eyebrows. Their shape, my method of keeping them groomed (threading only, please!), and my brow makeup products all play a role in the daring, Broadway-worthy performance my brows put on every single day. In all seriousness, brow makeup has completely changed my entire face throughout the years, and I've had a love-hate relationship with many pencils, brow powders, and gels since. Overly pigmented formulas make my already thick Italian hairs look dark and blocky, while gels almost give too much attention to each hair and make them lose their shape. This is why I've been on the hunt for a pencil that can nail my arches from all angles: one that does it all with lightweight color, a super stiff spoolie, and just the right amount of slant to amplify their natural curve without looking cartoonish.
That's when I learned that clean beauty brand Kosas was dropping the new Brow Pop Clean Dual-Action Defining Eyebrow Pencil ($22) with a triangular pomade tip. Because of its shape, I knew I had to give it a go, so I added it to my testing docket with high hopes, just-threaded brows, and my high school geometry skills.
The angled tip promises an easy application with strokes that resemble hairs, and it promises to take the guesswork out of actually angling the pencil yourself when drawing, shaping, and filling. The formula also has castor oil to help nourish and strengthen brow hairs and panthenol pro vitamin B5 to revitalize and encourage growth. That aspect really sold me as well: using makeup that serves double duty to take care of your skin and hair is always something I look for. Not to mention, its pink jelly packaging reminds me of a gel pen, and as a '90s child, I simply can't turn that down.
First, I popped off the spoolie cap to feel the bristle end — it was extremely stiff but soft — and held it vertically to comb through my brows. It slid right through them with ease, helped brush out some dry flakes I had, and pushed all the hairs in place. Next, it was time to test the pièce de résistance, aka the triangle tip. I started by turning the pencil sideways and using the bottom (the longest side) of the triangle to trace along the lower brow line, from the head of my brow all the way to the tail. Next, I did the same on the upper brow line, then flipped the pencil vertically (so the tip of the triangle faced upward) to connect the two lines with tiny strokes at the head, moving outward to fill in any sparse areas throughout.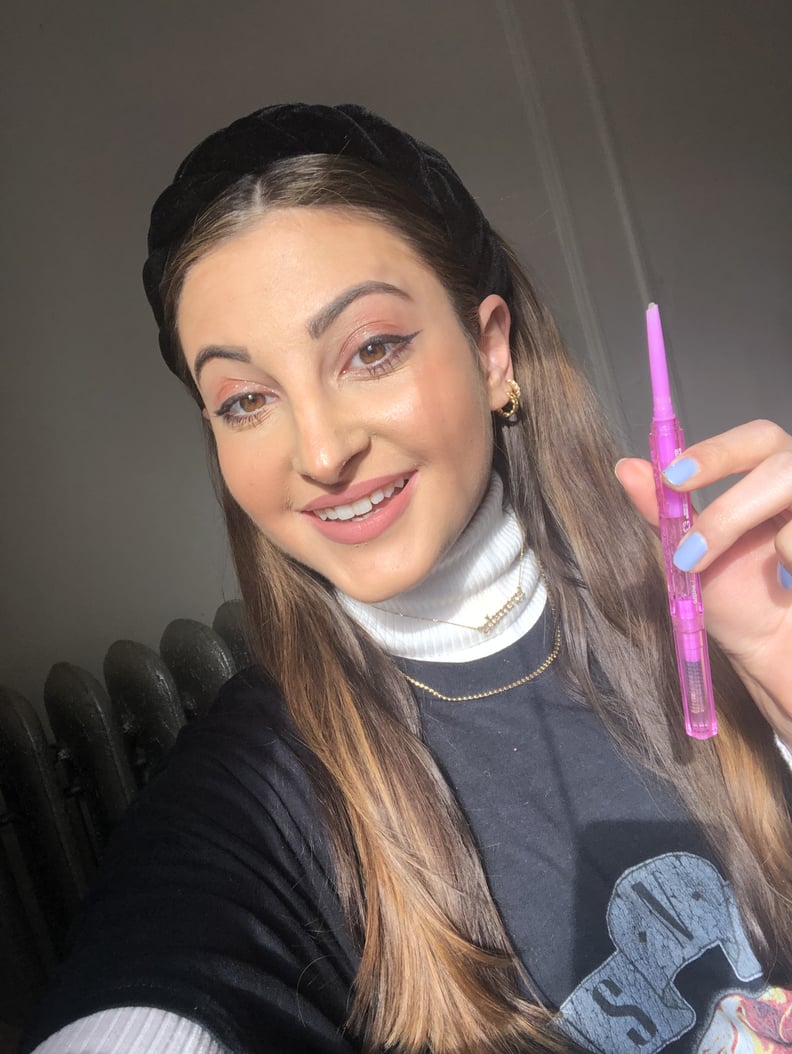 Immediately, I noticed how much fuller my brows appeared. I diffused the color and any harsh lines out with the spoolie end, and the pigment melted in seamlessly and looked super lightweight and natural. I repeated the same steps on the other brow and stood back from my mirror in awe by how quickly I was able to shape and fill them.
This pencil not only shortens my brow routine, it actually helps enhance my natural arch lines without making them appear too drawn-on or cartoonish. Instead, the triangle shape does all the work for you — there's no need to angle your hand or wrist in a particular direction, which can often lead to an overexaggerated shape. Brow Pop accomplishes something that not all makeup pencils (brow, eyeliner, or otherwise) can achieve: you don't have to be good at drawing to use this pencil. In fact, you don't have to be good at geometry, either.
My entire brow routine has become easier, faster, and more efficient since I've started using Brow Pop. It's able to enhance the natural curve of my hairs, combs through them with extreme precision, and most importantly, does justice to the way I like to present my brows, my makeup, and myself. The coup de grâce to my brow pencil search, Brow Pop gets the starring role.