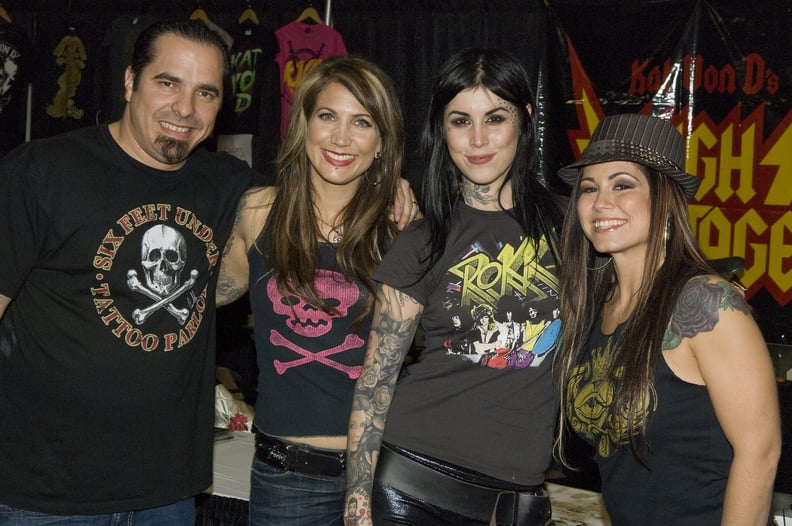 Getty | Markus Cuff
Back in 2005, tattoo artist and entrepreneur Kat Von D became a household name thanks to Miami Ink. Von D ended up leaving the TLC reality series in 2007, and after she opened a tattoo parlor in Los Angeles, she landed her own spinoff, LA Ink. The show ran for four seasons, following Von D and her team at High Voltage Tattoo, and though it's been over nine years since the series ended, you may be wondering what the cast is doing today.
A few members of Von D's crew — like Adrienne Ironside and Naheed Simjee — don't have public social media accounts, but many others do, and here's what they've been up to since their LA Ink days.
Kat Von D
Since the end of LA Ink, Kat Von D has certainly kept herself busy. As well as continuing to own High Voltage Tattoo in Hollywood, CA, Von D launched her own makeup line, Kat Von D Beauty. She later sold it to Kendo Brands in January 2020 after a series of public controversies. She's also debuted two clothing lines and branched into singing by providing vocals for artists like The 69 Eyes, IAMX, Gunship, and Prayers (a musical duo that includes her husband). In February 2018, Von D married artist and musician Rafael Reyes, and together they share one son, Leafer, who was born in November 2018.
Corey Miller
Von D's good friend Corey Miller was the first tattoo artist hired for High Voltage Tattoo, and unsurprisingly, he still works as a tattoo artist today. He's now the owner of Six Feet Under tattoo parlor in Upland, CA, as well as father to three kids: Chloe, Suzanna, and Clay.
Amber "Pixie" Acia
Von D initially hired her close friend Amber "Pixie" Acia to serve as shop manager of High Voltage Tattoo, but she was fired halfway through season one. Acia ended up becoming a big name in the Los Angeles fitness industry as a SoulCycle Master Instructor and founder of Surf Sweat Serve, which is a surf, yoga, and community-service retreat.
Hannah Aitchison
Though she ended up leaving after the season two finale, Hannah Aitchinson was one of the original cast members of LA Ink. After leaving the series, Aitchinson served as a judge on the third season of Oxygen's competition series Best Ink and later moved to Pittsburgh. In 2014, she opened her own tattoo parlor and art gallery, Curiosity Shop, with her husband and fellow artist, Scott White, and they still work there today.
Kim Saigh
Like Aitchinson, Kim Saigh was one of the original tattoo artists hired to work at High Voltage Tattoo but ended up leaving after season two. Currently, Saigh is working at Memoir Tattoo in LA with fellow artist and longtime partner Shawn Barber.
Aubry Fisher
Former Rock of Love competitor Aubry Fisher was hired as shop manager at High Voltage Tattoo in season three, and after she got fired midseason, she began working at Craig Jackman's tattoo shop, American Electric . . . where she also got fired. According to her Instagram page, Fisher is currently based in Los Angeles and working as a contributor for Give Crohn's a Slap From Me, as she suffers from Crohn's disease herself. You can also find Fisher on OnlyFans.
Paulie Tattoo
Though Paulie Tattoo originally began working at High Voltage Tattoo on LA Ink's third season, he later left to work with Aubry at American Electric. According to his Instagram page, he still works as a tattoo artist in Brooklyn, NY, but it's unclear where he's employed.
Amy Nicoletto
Just like Paulie Tattoo, Amy Nicoletto was originally hired by High Voltage Tattoo on a trial basis in season three before she began working for American Electric. After her stint on LA Ink, Nicoletto began working at the Order of the Sacred Crow tattoo and art emporium in Medford, NJ, where she works alongside her longtime love, Geoff Kresge.